Eine Dekade Schlaf
26.10.2021 / A Day's Work:
Minerva and the miscarriage of the brain by Johanna Hedva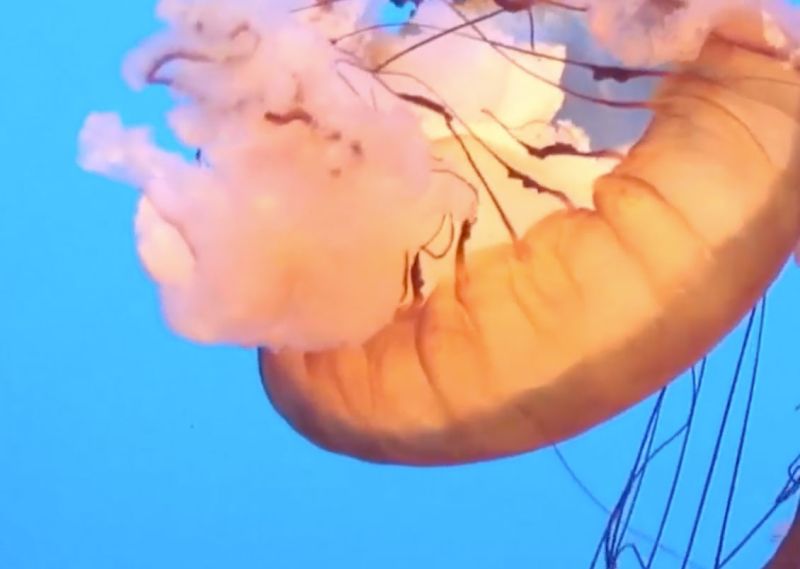 Als Teil des mehrteiligen Projektes A DAY'S WORK sprach Johanna Hedva im Juli über ihr Buch MINERVA THE MISCARRIAGE OF THE BRAIN. Dabei las Jackie Grassmann ihre Übersetzung des Textes, die wir hier veröffentlichen.
 …
More
Eine Dekade Schlaf
26.10.2021 / A Day's Work:
Minerva and the miscarriage of the brain by Johanna Hedva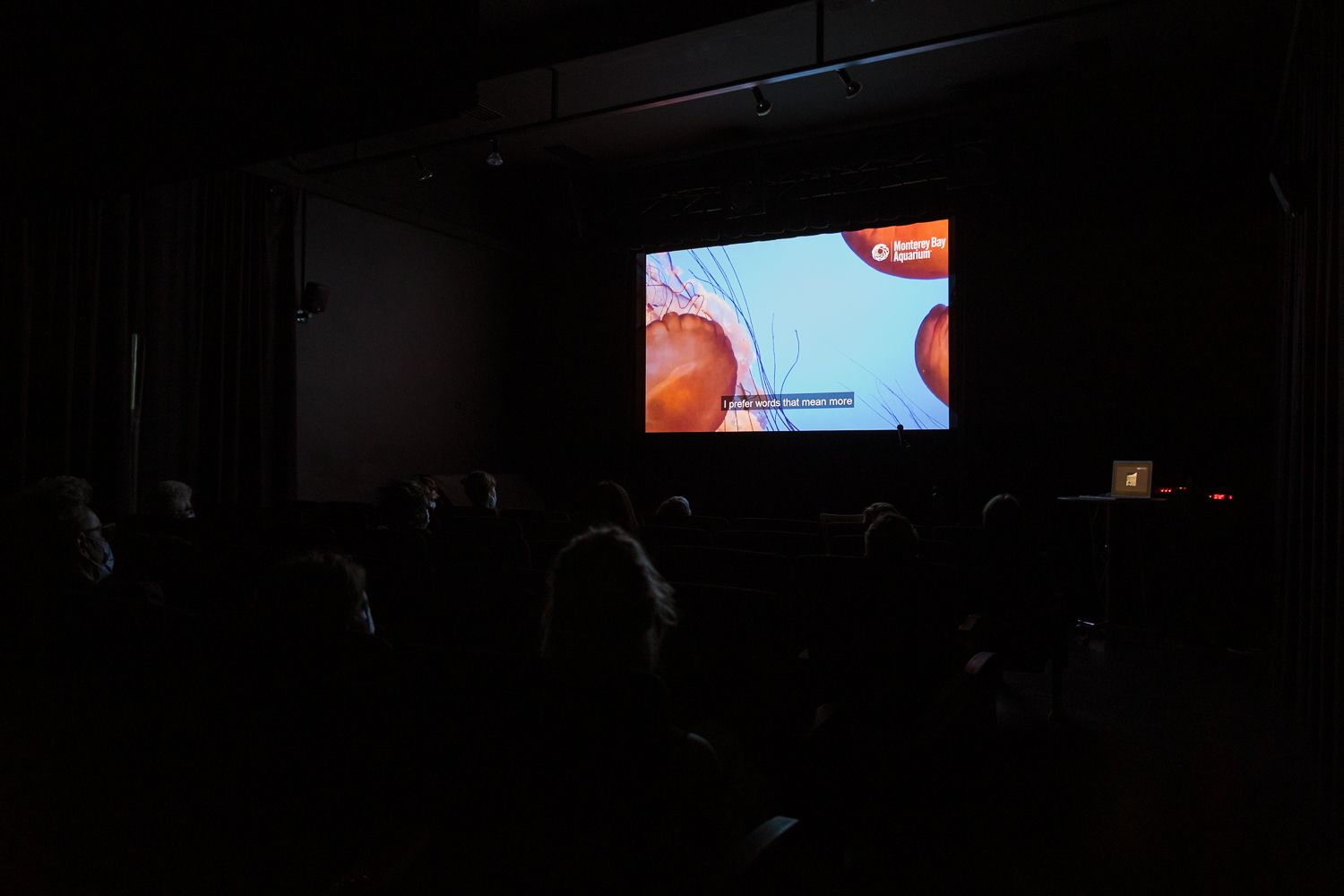 JOHANNA HEDVA
EINE DEKADE SCHLAF
"Du musst nicht um die Toten trauern: Sie wissen schon, was sie tun" - Clarice Lispector
ERSTENS
Ich schlafe 10, 11 Stunden jede Nacht, und das nicht wie die Toten, sondern als ob ich fortwährend sterbe, als ob ich wirklich lebe. Jedes Mal wenn ich einschlafe, seit ich mich das erste Mal erinnere als Kind eingeschlafen zu sein, wenn das klösterliche Schwarz hereinbricht, dieses Schwarz, wie ein Haus, ein Himmel, eine Fallgrube, denke ich, ich werde nie wieder aufwachen, das war's, und dieses sein wird bald ein gewesenes sein. Ein Schock der Todesangst packt mich, manchmal fahre ich dann senkrecht nach oben, jahrelang habe ich laut ausgerufen "Ich will aber nicht sterben!" und mich dann wieder hingelegt und tief geschlafen, mein Schlaf, der sich mit seiner eigenen queeren-intelligenz dahinwindet, ich, die erstickt wird von meinen Träumen, stelle mich ihren Streichen, bis zum Mittag des nächsten Tages, wenn das Erwachen mich findet und mich, wie eine glitschige Hand die ihren Weg durch schwarzes Wasser sucht, wieder aufrichtet, das Licht durchsickert, und dann, mit einem langen behutsamen Atemzug, ein Tag mit einem Ich darin geboren ist. Ich schlafe bis zum Mittag und nichts kann mich wecken. Den Leuten erzähle ich, dass ich morgens arbeite und dabei nicht gestört werden darf. Ich schlafe, ich arbeite. In meinen Träumen arbeite und arbeite und arbeite ich, die harte blanke Arbeit, die in diesem Bereich eben verrichtet werden muss. Ich habe ausschließlich Alpträume – wie ich bereits gesagt habe, harte Arbeit! Ich töte Leute mit meinen bloßen Händen, weil sie mich, oder diejenigen, die ich beschützen soll, bedrohen. Manchmal kenne ich die Menschen in meinen Träumen, die Bedrohungen, meine Schützlinge, mich selbst – und manchmal sind sie mir alle Fremde, und so zu gleichen Teilen mystisch aufgeladen (anagogic) und (bathetisch) abgedroschen – beides ist mir ein Begriff.
Manchmal lauert die Bedrohung nicht in den Menschen, sondern in der Luft. Der Himmel ist ein atmendes Grün, jedes Gebäude birgt ein Labyrinth, kein Bett entspricht meiner Größe, Tunnel, Badewannen, gehören nicht zu mir. Ich töte langsam und auf brutale Weise. Ich reiße Büschel an Haaren aus, bis sie nur den Schmutz der Kopfhaut zurücklassen, wie Unkraut, das man an den Wurzeln herauszieht. Ich fühle die Muskelstränge unter meinen Fingernägeln, wenn ich mich durch die Haut durchkratze, mich zum Inneren der Knochen durcharbeitend. Ich beobachte, wie Versionen von mir ertrinken, während ich in Körpern von Kindern stecke, deren Fleisch von Wellen zerfetzt wird, ihre kleinen Hälse gebrochen, wache ich über ihren zerschlagenen Körpern und überlasse sie dem Ertrinken, weil ich nur atmen kann, wenn ich mich von ihnen lossage. Ich koche die Knochen meiner Mutter in meinen Träumen, weil sie es mir so befiehlt; sie, ein schwarzes Loch hinter meinem Rücken, sagt mir, in mein Ohr flüsternd, dass ich es bin, die den Scheiß in unserer Familie aufräumen muss, ich die Stückchen von ihrem Fett wegwischen muss, die sich auf der Wand, an der Decke und dem Boden festgesetzt haben. In meinen Träumen bin ich mit drei Schwänzen gesegnet und ich benutze jeden einzelnen brutal und mit Präzision und mit wilden zielstrebigen Stößen, ich zerreiße Leute mit ihnen und lasse mich zerreißen. Unermüdlich bin ich in meinen Träumen auf Händen und Knien, ich falle immer aus großen Höhen. Ich liebe meine Träume dafür, dass sie so simpel und klar sind, für ihr Erbarmen.
Mein Schlaf behandelt mich gut. Ich behandle meinen Schlaf auch gut, behandle ihn wie eine Adelige, räume Termine aus dem Weg, um seine Ankunft zu erwarten. Ich bestehe auf meinen Schlaf, weil irgendeiner muss es machen. Professional gesehen, sozial gesehen, ist das schwer. "Könntest du dich schon früher treffen?", "Die einzigen freien Termine sind morgens" "Wir haben mittags geschlossen". "Die günstigsten Flüge gehen am Vormittag". Tut mir leid, sage ich. Ich kann nicht. Ich bin nicht verfügbar. Ich bin nicht verfügbar irgendetwas zu machen, bevor es mittags ist. Weil ich schlafe, weil ich arbeite, weil ich dann die bin, die ich am ehesten, am allermeisten bin und das werde ich für nichts aufgeben, und schon gar nicht für sowas imaginäres wie Zeit oder Geld.
Ich habe den größten Anteil dieses Buches, vielleicht sogar alles darin, im Schlaf geschrieben, was möglicherweise für alle meine Bücher gilt. Wer kann schon sagen, ob ich jetzt wach bin? Du etwa? Ich schreibe, sobald ich aufgewacht bin, aber erst durch das Schreiben werde ich richtig wach. Ich öffne meine Augen, spreche nicht und die Träume dieses Schlafes wehren sich mit allem was sie haben gegen eine unrechtmäßige Aneignung, sie gehen nicht einfach leise. Ich gehe an meinen Schreibtisch, ich spreche nicht, sodass sie sich vielleicht weiterhin wehren, und wenn ich irgendetwas anderes mache, als an meinen Schreibtisch zu gehen, meinen Schreibprozess zu beginnen, sind die Träume sehr schnell entthront mit einem brutalen Schnitt, der endgültig ist, zumindest bis zur nächsten Nacht. Ihr müsst verstehen, dass es nicht "mein" Schlaf ist. "Ich" gehöre "ihm".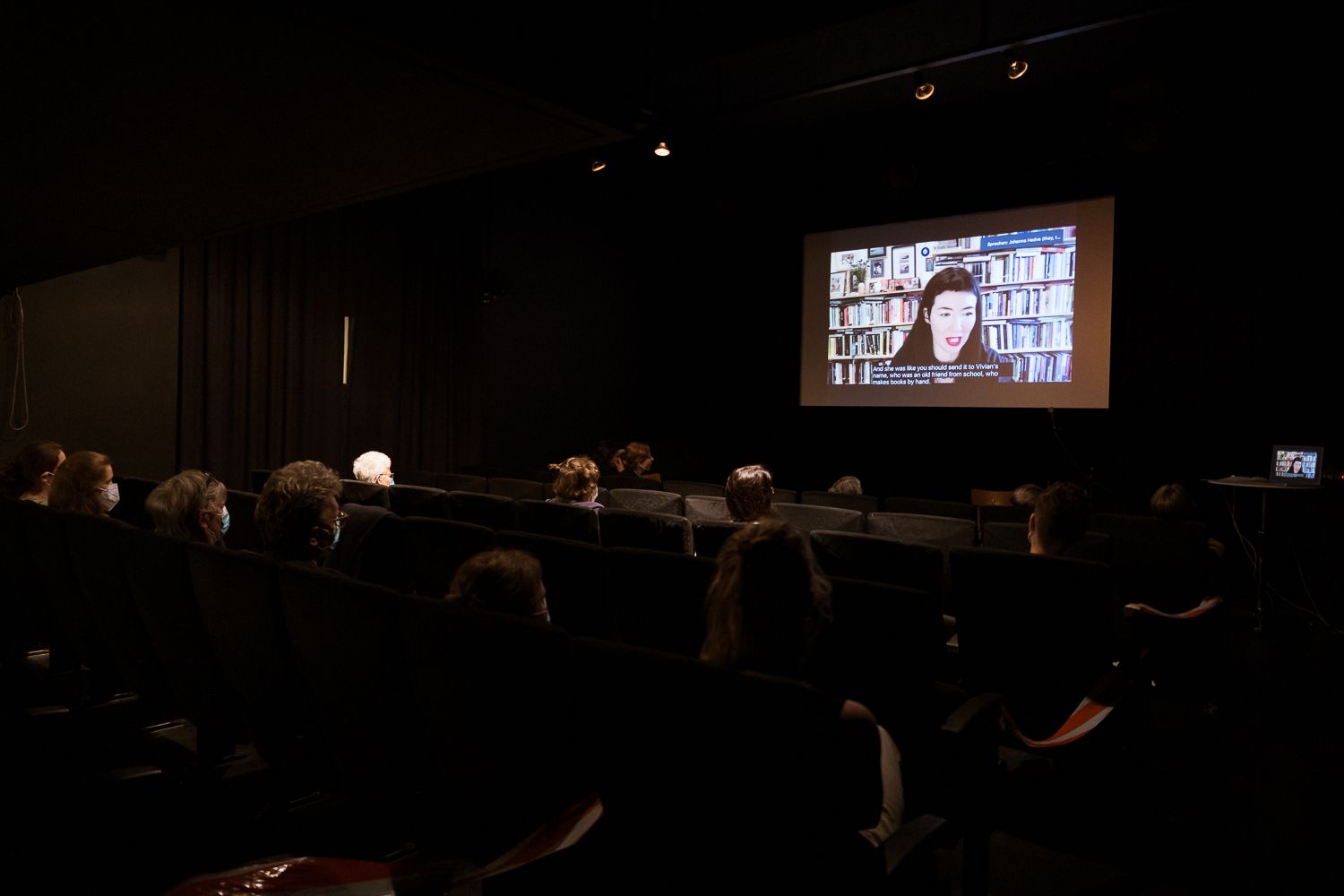 Ein Lyriker hat mich mal gefragt, wo ich mich während hypnagohischen Zuständen befinde, wer ich werde. Diese Frage geht davon aus, dass das "Ich" woanders existiert, als jemand Anderes, dass das "Ich" überhaupt existiert. Er fragte mich, wem ich währenddessen begegne, welche Geschöpfe mir erscheinen, und die Antwort ist, alle, die ich je gekannt habe, in diesem und in anderen Leben, nie erfahre ich aber ihre Namen. Namen haben keinen Stellenwert in Träumen, sie erweisen sich als genau das trügerische Ding, das sie sind.
Namen, Worte, Geld, Zeit.
Der Mond, Magie, meine Mutter.
Die Last der Wahrheit ist manchen gegeben, und manchen nicht. Das kommt natürlich auf den Ort an. An manchen Orten herrschen der Mond, Magie und meine Mutter, und sie sind ein Wunder und sie sind auch Nahrung, ganz gewöhnliche, nächtliche Nahrung.
Als Ann Carson, ihr Gedicht "Eine Ode an den Schlaf" mit der Zeile "Stell dich dir ohne vor" begann, muss sie in sich hineingegrinst haben, ein schmales Lächeln auf ihren Lippen. Sie kommt mir vor, wie eine Person, die oft in sich hineingrinst, ihr Schreiben ist von Leerstellen durchzogen. (Kannst du sie nicht sehen, lieber Leserin? Ann Carson, die auf meinen Schultern hockt, während ich das hier schreibe?). Stell dich dir ohne es vor. Der Witz an diesem Satz ist, ihn und sich selbst darin umzutauschen – stell es dir ohne dich vor – jetzt kommen wir der Struktur dieses Ortes schon näher, wie doppelzüngig er ist, ständig seine Form verändernd.
Es gibt viele Selbste, die ich in meinem Schlaf treffe, wie im Leben auch. Sie wandern über den inneren Bildschirm, tauchen kurz auf, oder sitzen still am Rand, die Formen im Hintergrund verschwommen. Ich mag den Gedanken, dass alles und alle im Traum eine Repräsentation der Träumenden sind. Ich bin nicht nur der riesige schwarze Wal unter der Oberfläche des schwarzen bedrohlichen Wassers, ich bin auch das Wasser. Ich bin das kleine Boot, das meine Körpergröße hat, das von den Wellen geschaukelt wird, und ich bin die Wellen. Was mich daran tröstet ist nicht, dass dies eine Welt nahelegt, die ausschließlich aus mir selbst besteht, wo ich im Überfluss vorhanden und viele auf einmal bin, sondern eher, dass mein Selbst mir fremd, es wimmelnd und unzählbar ist, dass mein Körper in unzähligen Fremden existiert, und auch als nicht-menschliches Wesen, als Ozeane, Objekte, Tiere – als das Wetter. Das ruft das Gefühl hervor, dass mein Selbst weit weit weg ist, stets unerreichbar, weiter als das Licht reisen kann. Bis das Licht meines Selbst die äußeren Satelliten meines Selbst erreicht, ist jeglicher Ursprung längst erloschen, und nur die Richtung – darauf zu oder davon weg – bleibt übrig und da der Nachthimmel bekannterweise ein Land der Geister von Sternen ist, ist alles was ich bin, was auch immer es da alles gibt, was ich bin, nur noch Leichenstaub, Planetengräber, und diese Entfernung ist absolut und ganz gewöhnlich, das schiere Faktum schwer und belastend. Darin bin ich verankert. Das ist kein großes Ding. Es sind einfach viele.
Minerva und die Fehlgeburt des Gehirns wurde nicht als ein Buch geboren, sie wurde gar nicht erst gezeugt. Mutterlos entsprang sie meinem Kopf; Sie ist mit den Geistern gekrochen und war eine Schule dieser Geister. 2015 habe ich bemerkt, dass manche Werke, die ich in den letzten Jahren gemacht habe, DNA teilen; 2016 fing ich an, einzelne Teile konzeptlos in einem Dokument zusammenzutragen, dass mir albern und grobschlächtig vorkam, wie eine Person, die ein Wort immer und immer wieder wiederholt, bis sie es schreit und die Bedeutung sowohl aus dem Wort schwindet, als auch aus der Entscheidung es zu schreien und die Luft mit dem Klang verbleibt - wahnsinnig nicht aufgrund seiner faktischen Existenz, sondern wegen der anarchischen Erkenntnis, dass das Existieren ein einziges Chaos ist. Sowohl das Dokument, als auch der Akt es zu konstruieren, haben sich so angefühlt. Es hat mich jung fühlen lassen. Eine Meisterleistung – in diesem Buch geht es darum, wie ich alt bin.
Das Buch, dass du in den Händen hältst, hat wenig Ähnlichkeit mit dem ersten Manuskript, abgesehen davon, dass der erste und letzte Teil nach wie vor als erstes und als letztes kommen, sie die Anker sind, alle Eingeweide in der Mitte ergriffen und liebkost und wieder in Besitz genommen wurden; ich finde nicht, dass es meine Verantwortung ist zu Wissen was es geworden ist, nur dass es ist, und dass es gewesen ist. Es gibt den Schlaf und Wahnsinn und Mystik, das Entsetzliche des Lebens, das transzendent und banal ist, immer beides unaussprechlich zusammen, und jeden Tag dazu aufzuwachen beschwört seine eigene Melodie. Der Körper ist immer da, aber die Frage ist, wie man ihn in den Hintergrund drängt, wie man ihn in Nebel verwandelt, und wie man damit umgeht, wenn das unweigerlich scheitert. Ich dachte, sie würde mein erstes Buch werden, etwas, für das ich mich schäme, wofür ich mir vergeben und was ich in der Vergangenheit gelassen hätte. Ich habe in Räumen geschrieben, ich habe meine Hand durch Wasser geschleift, ich habe geschlafen, geschlafen, geschlafen und geschlafen. Ich schreibe.
In den 4 Jahre, in denen ich mich darum bemüht habe, dass sie veröffentlicht wird, veränderte Minerva ständig ihre Form und war nicht in den Griff zu bekommen und ich kann nicht sagen, ob ich Odysseus war und sie Penelope, oder andersherum. Wie Odysseus zog sie in die Welt hinaus, vielleicht um einen Kampf zu kämpfen, vielleicht um berühmt zu werden, vielleicht hatte sie sich auch nur verirrt, sie odyssierte durch zwei Verlagsabenteuer, die geplatzt sind und ich habe auf sie gewartet und mich danach gesehnt, dass sie ein Zuhause findet. Während dieser Zeit habe ich Leichentücher, andere Wörter und andere Bücher gewebt und ich habe mich beraubt gefühlt und war misstrauisch: als Minerva zurückkehrte, konnte ich nicht glauben, dass sie es war, ihr Gesicht hatte sich verändert, sie war so lange unterwegs gewesen. Oder war ich es gewesen, die das Zuhause verlassen hatte, sich durch das dunkle, weinfarbene Meer arbeitend, die von Sirenen verführt worden war, entführt von einer Hexenmeisterin, schiffbrüchig, bis ich endlich meinen Weg in ein Bett gefunden hatte, das sich nicht bewegte.
Bücher sind kleine Särge. Ein Professor von mir hat das mal zu mir gesagt und es ist wahr.
Ah – natürlich – ich war auch Homer.
Minerva hat mich verspottet. Ich habe Freunde um Rat gebeten, ist das überhaupt zu was gut? Es war nicht nur, dass sie weiterhin abgelehnt und als Weise zurückgelassen wurde, es war eher, wie jemandem dabei zuzuschauen, wie sie sich selbst auseinandernimmt, ein neues Gesicht aufmalt, und in Häute schlüpft, die viele Namen tragen, von denen keiner richtig war. Sollte ich Ehrfurcht vor dieser Fähigkeit haben, oder sollte ich ihr misstrauen? Vielleicht ist das das gleiche. Der Hauptgrund, warum ich wollte, dass Minerva veröffentlicht wird, warum ich sie immer wieder ausgesendet habe - was sich anfühlte wie ein Kind in eine Grube zu stoßen, die immer größer und länger wurde - war, dass ich die Zeit auslöschen wollte, die sie dokumentiert. Meine Dekade fing mit einer Scheidung von einem gewalttätigen Ehemann an und einer Fehlgeburt, ausgelöst durch eine Erbkrankheit, es segelte weiter zu einer unfreiwilligen Einweisung und endete mit dem Tod meiner Mutter. Ich wollte Minerva nie wieder sehen, wegen dem, was ich gesehen hatte, als ich hingesehen hatte.
"Ah ich verstehe" sagte mein erste*r Verleger*in zu mir "du verstößt deine Arbeit in die Welt."
ZWEITENS
Bataille sagte: "Ich halte die Gottesvorstellung ... für ein Hindernis in der Bewegung, die uns zu der undurchsichtigen Erkenntnis des Nichtwissens führt: einer Gegenwart, die sich in keiner Weise mehr von einer Abwesenheit unterscheidet.
Ich bevorzuge Worte, die mehr als eine Sache bedeuten. Wie das englische Wort apprehension: die Angst oder Befürchtung, dass etwas schlimmes passieren wird. und apprehension: verstehen und begreifen.
Beides meint das Gleiche.
DRITTENS
Viele Jahre hatte ich einen Teil in meinem Lebenslauf, der nannte sich Appearances, (Was im deutschen soviel bedeutet wie: Erscheinungen). Dort wurden Talks und Vorträge aufgelistet, die ich gehalten habe und Träume von anderen Leuten, in denen ich erschienen war. Es waren die Träume von Freund*innen, Texte und Emails, ihre eigenen Worte, jeder Traum von einer anderen Person:
"Ich hatte einen Traum letzte Nacht, in dem ich gesagt habe wie sehr mir Batman missfällt, und du hast meinen Arm berührt und gesagt "aber er ist krank" und während dem Rest des Traumes habe ich über Batman und psychische Erkrankungen nachgedacht."
"Ich habe von einem roten Faden geträumt, der vertikal durch den Traum verlief, als ob er sich gleich spalten würde.
Geht's dir gut? Das ist schon der zweite Traum von dir und einem durchtrennenden Faden. Der erste Faden war in einem Walbauch."
"Du hast ein Stück mit etwa 4-5 Leuten choreographiert. Einer der Tänzer machte so zeitgenössische Tanzbewegungen auf dem Boden (wie ich es immer gerne mache) und verwandelte sich manchmal in eine Schlange. Nicht so eine feine, schlängelnde Schlange, sondern eher so eine:"
"Letzte Nacht habe ich geträumt, dass ich dich in den Armen hielt, aber du warst bewusstlos. Ich schätze mal es war normal, dass man Puppen von den Leuten hat, die man kennt. Und ich habe dich herumgewirbelt und dann nah an mein Gesicht gebracht und gesagt "bist du da?" und du hast gesagt "nein, aber das hast du schonmal in Amsterdam gemacht" und ich hab gesagt "geht's dir gut?" und du hast gesagt "ja".
"Ich habe letzte Nacht von dir geträumt. Es war nur eine Überschrift, die lautete: "nackte Performance Künstlerin klaut den Stift der Universitätsleitung und flüchtet aufs Dach."
"Ich hab gerade geträumt, dass du dir die Haare abrasiert und einige von den Haaren als Schnurrbart implantiert hast. Du hast einen beigen Anzug getragen und hattest in etwa eine drei Meter große Blase um dich rum, die dein ganz persönlicher Schutzraum war. Wir waren auf einer Doppelbeerdigung/Grundstücksverkauf. Wenn du gelächelt hättest, hätte das deinen Schnurrbart beschädigt, also hast du es gelassen."
"Gestern warst du in meinem Traum. Ich erinnere mich an nicht viel, außer dass es darum ging, in Fluren auf und ab zu laufen und Mäntel anzuprobieren, die wir brauchten, weil es kalt war. Es gab eine Mitfahrgelegenheit, um zu einer Oper zu fahren, die wir nicht verpassen sollten, aber der Flur schien einfach zu lang. Irgendwie warst du auch eine Sicherheitsbeauftragte für Autos."
"Du hast rot getragen und hast eine super lange Metallstange gehalten, die so hoch war, dass sie aus meinem Sichtfeld herausragte. Ich konnte nicht erkennen, was auf der anderen Seite der Stange war, aber es kam mir so vor, als ob sie Teil so einer Art Struktur war, eine Struktur innerhalb derer wir uns beide befanden, die aber unsichtbar blieb für uns (entweder wirklich unsichtbar oder einfach sehr groß). Also, du standst da und hast die Stange gehalten und dann bin ich aufgewacht."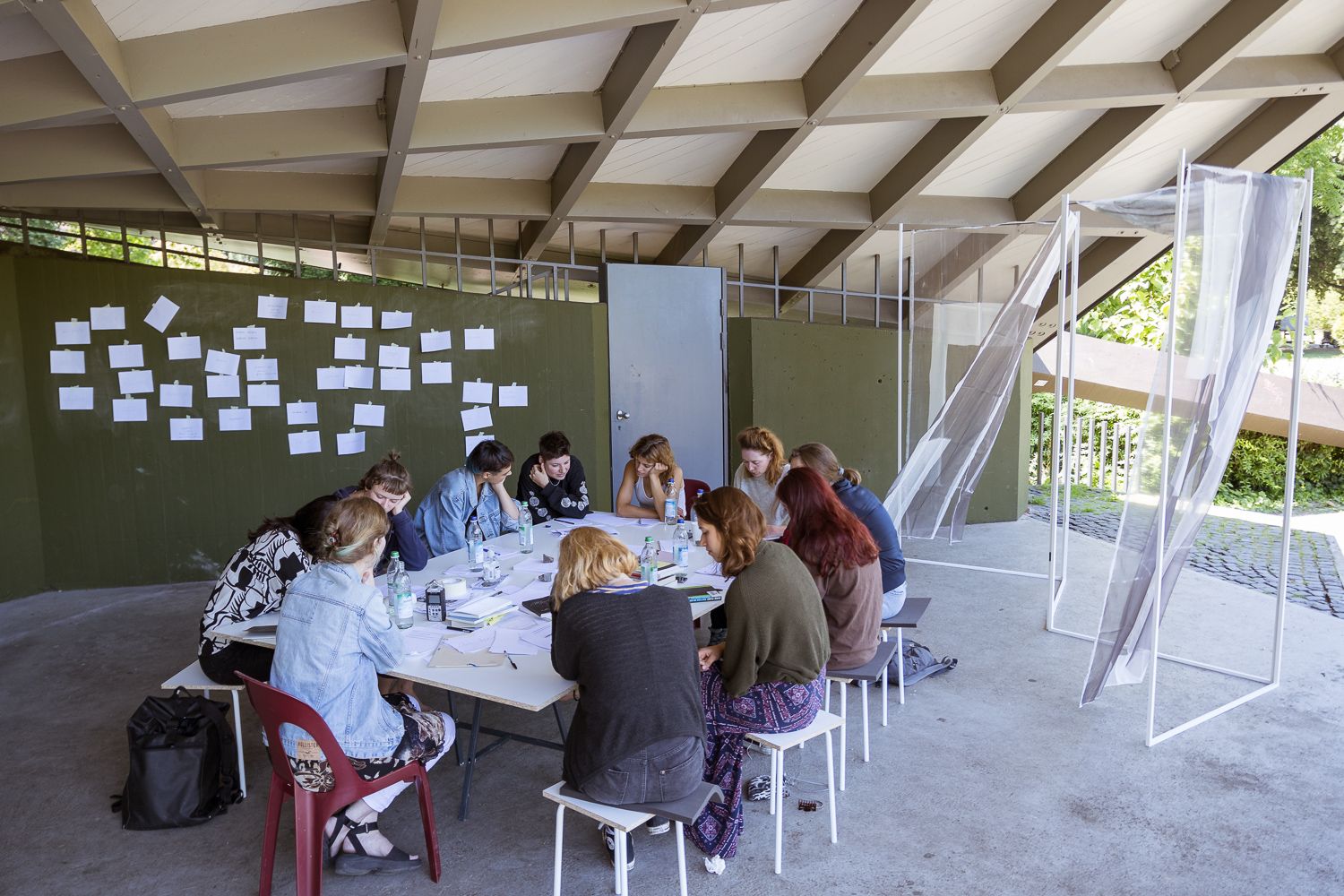 "Ich hab gerade geträumt, dass du dir die Haare abrasiert und einige von den Haaren als Schnurrbart implantiert hast. Du hast einen beigen Anzug getragen und hattest in etwa eine drei Meter große Blase um dich rum, die dein ganz persönlicher Schutzraum war. Wir waren auf einer Doppelbeerdigung/Grundstücksverkauf. Wenn du gelächelt hättest, hätte das deinen Schnurrbart beschädigt, also hast du es gelassen."
"Gestern warst du in meinem Traum. Ich erinnere mich an nicht viel, außer dass es darum ging, in Fluren auf und ab zu laufen und Mäntel anzuprobieren, die wir brauchten, weil es kalt war. Es gab eine Mitfahrgelegenheit, um zu einer Oper zu fahren, die wir nicht verpassen sollten, aber der Flur schien einfach zu lang. Irgendwie warst du auch eine Sicherheitsbeauftragte für Autos."
"Du hast rot getragen und hast eine super lange Metallstange gehalten, die so hoch war, dass sie aus meinem Sichtfeld herausragte. Ich konnte nicht erkennen, was auf der anderen Seite der Stange war, aber es kam mir so vor, als ob sie Teil so einer Art Struktur war, eine Struktur innerhalb derer wir uns beide befanden, die aber unsichtbar blieb für uns (entweder wirklich unsichtbar oder einfach sehr groß). Also, du standst da und hast die Stange gehalten und dann bin ich aufgewacht."
VIERTENS
Wie tröstlich bequem, dass Schlaf flüchtig ist, so wie ich in die Träume von Freunden eingebrochen bin, wie auch meine von anderen heimgesucht wurden, all diese Leben, die sich gegenseitig leben, aneinander gebunden, süß. In diesen zehn Jahren, wie viele von mir waren da, da waren, wie viele.
Ich glaube nicht, dass die Achse zwischen Hoffnung und Untergang die einzige ist, da ich gar nicht erst an Koordinatensysteme glaube und ich glaube nicht an Hoffnung. Es gibt keine andere höhere Bestimmung als das Telos des Nichts und die Kriegszone der Sozialbeziehungen, aber beide werfen wunderschönen Müll ab, ein khoratisches Plenum. Es gibt eine Kleine Tasche im Mantel des Universums und ich und meine Sprachen leben da, wie ein Wunder, leben wir da, schlafen, wir sind ein kleiner Klumpen und manchmal steckt uns das Universum ein paar Krümel zu. Abgesehen davon, wie kalt es da ist, kann es auch warm sein.
FÜNFTENS
Minerva, ich hoffe ich muss dir nie wieder begegnen, ich werde dir jetzt zuschauen, wie du ins Schwarz verschwindest. Ich hoffe, dass es ein Schwarz ist, dass in einem Bett schläft, das nicht mir gehört.
Bis bald.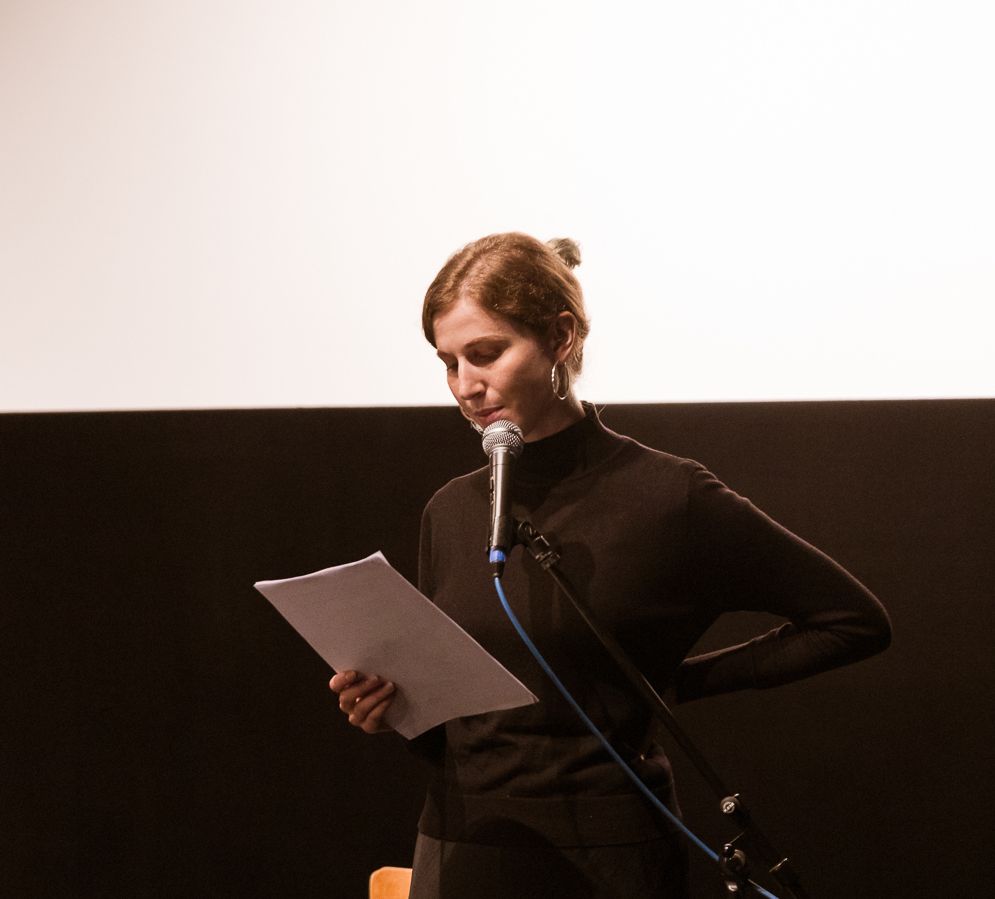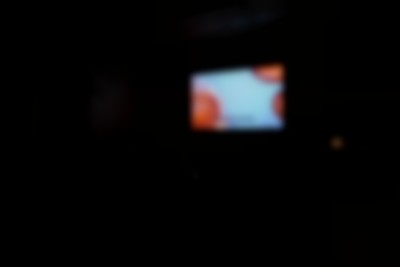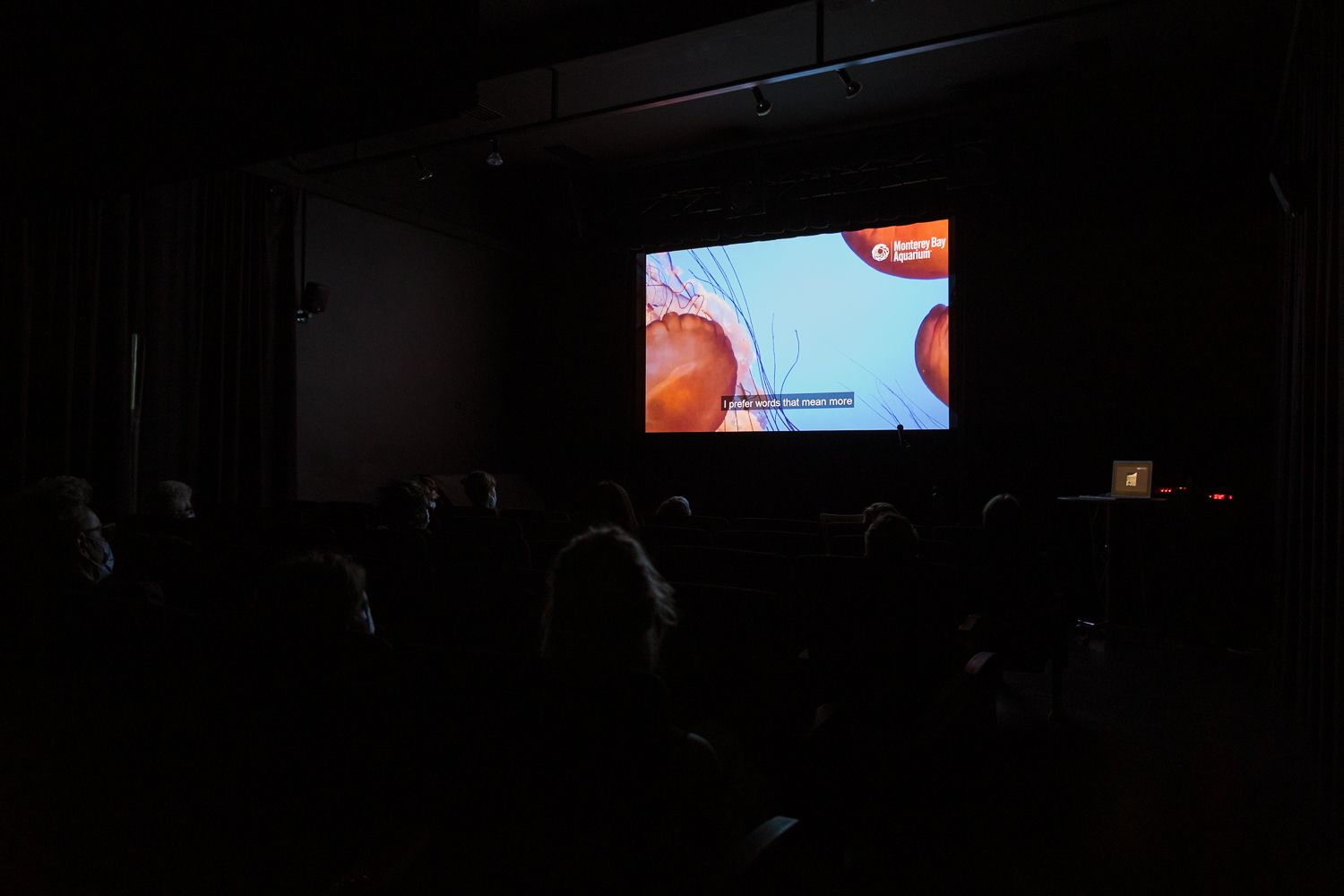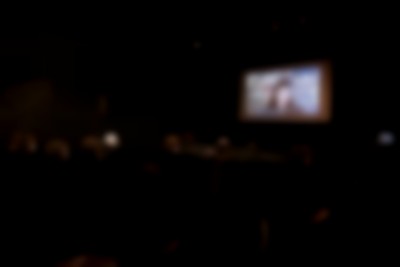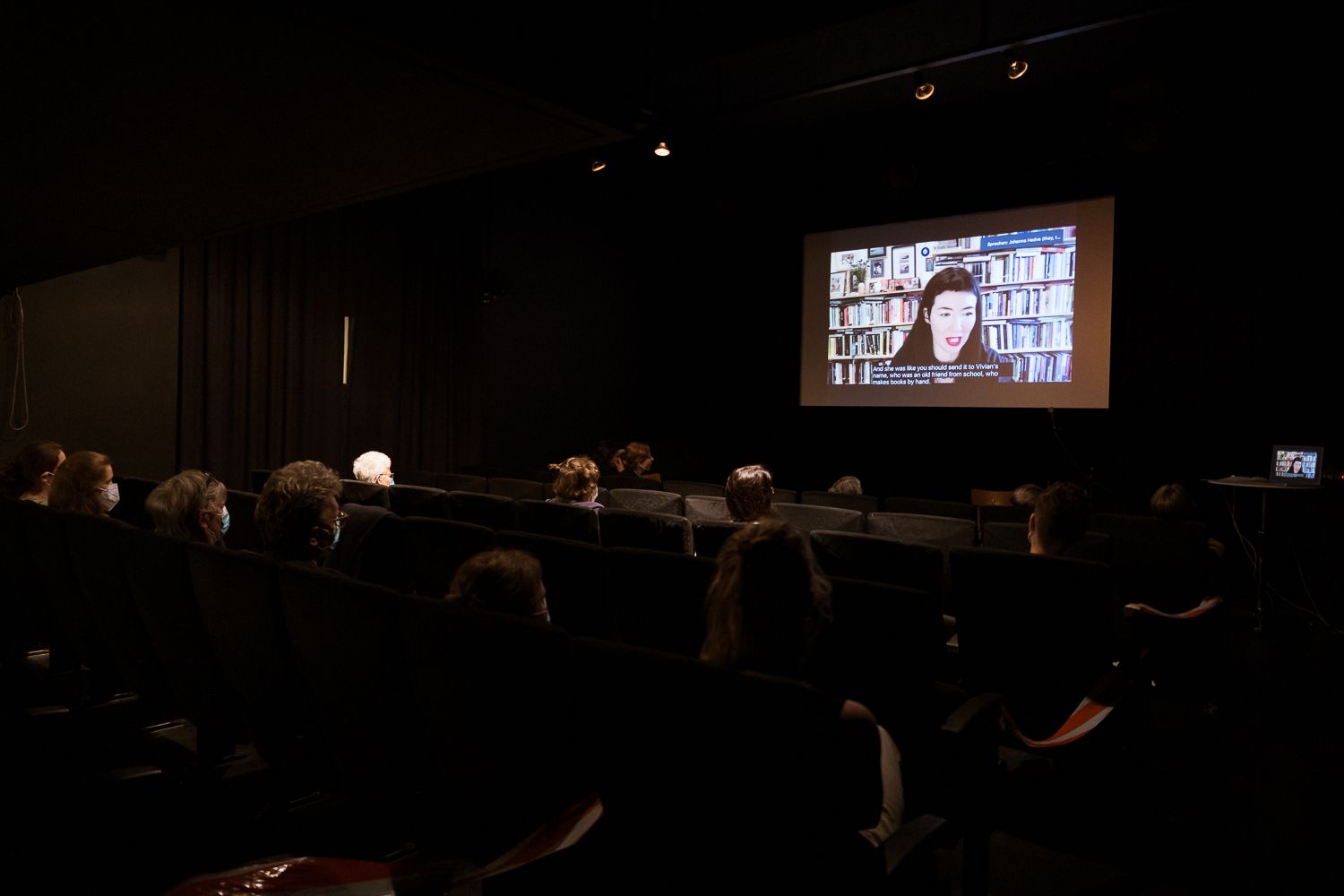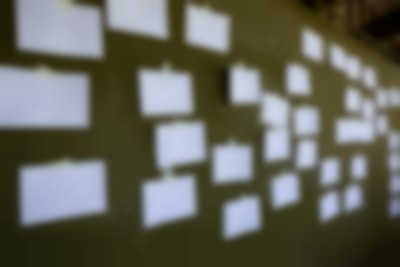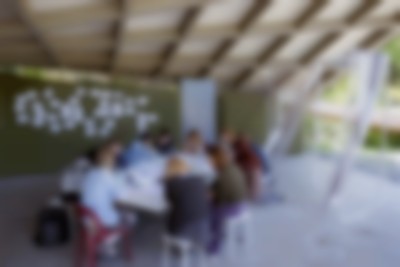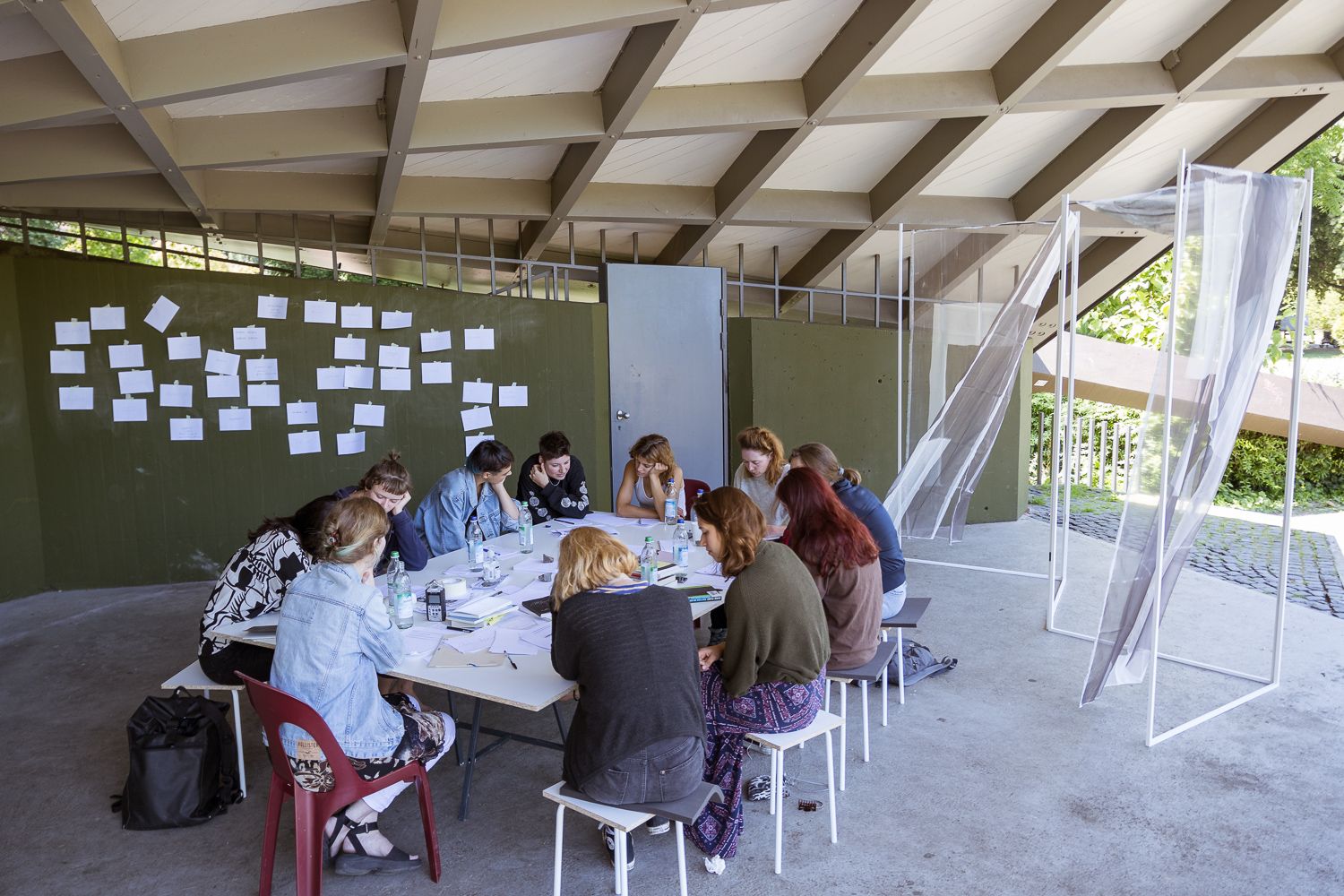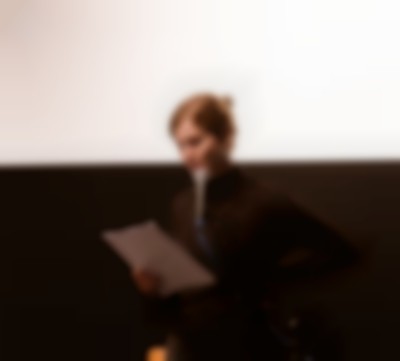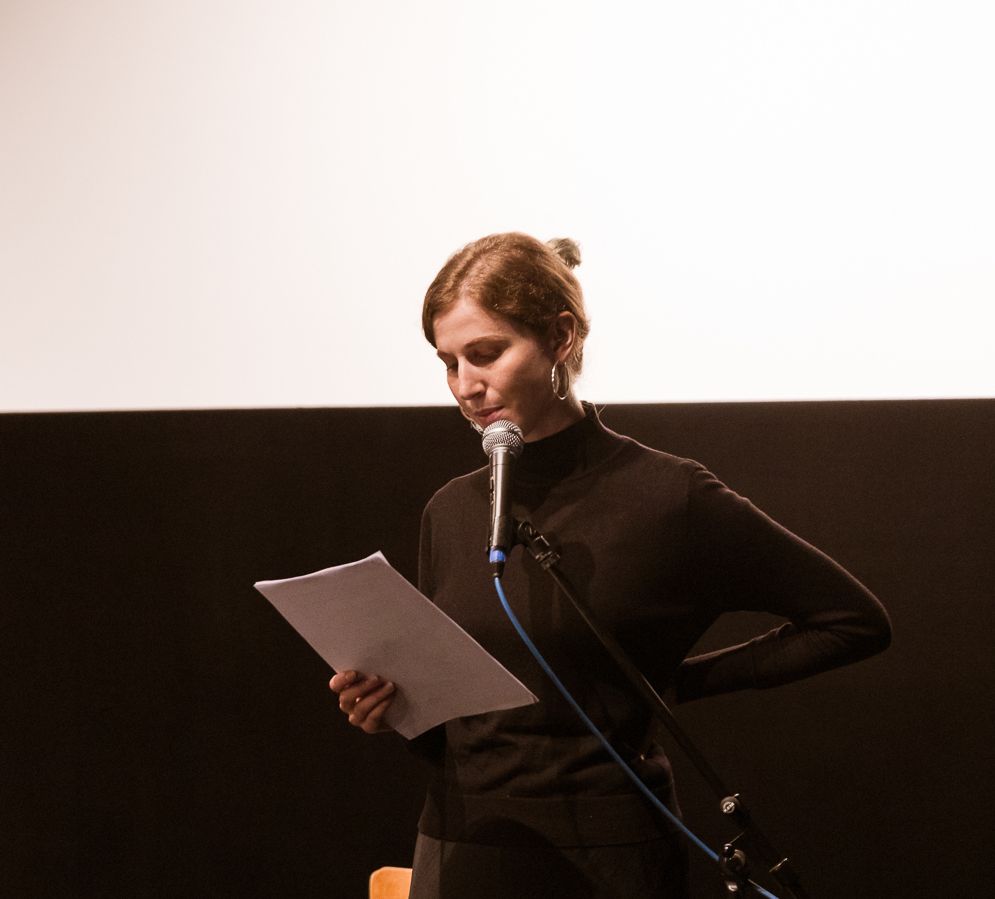 Symposion
"A Commonplace is Not a Cliché"
Basler Hof
10.07 / 
10:30 – 17:30
Perspectives on Public Spheres, Asynchronous Commonplaces, and Infrastructural Intimacies. Conception: Christoph Chwatal and Lisa Stuckey.
 …
More
Symposion
"A Commonplace is Not a Cliché"
10.07.2021 / 10:30 – 17:30 / Basler Hof
PERSPECTIVES ON PUBLIC SPHERES, ASYNCHRONOUS COMMONPLACES, AND INFRASTRUCTURAL INTIMACIES
Date: Saturday, July 10, 10:30 a.m. - 5:30 p.m.
Location: Basler Hof, Kaiser-Joseph-Str. 167
The event is free of charge
Due to limited seating capacity, participation is only possible after registration: Registration here
As part of the symposion three workshops will be held on July 9, further information here.
Please find the VIDEO DOCUMENTATION of most parts of the symposion at the end of this page.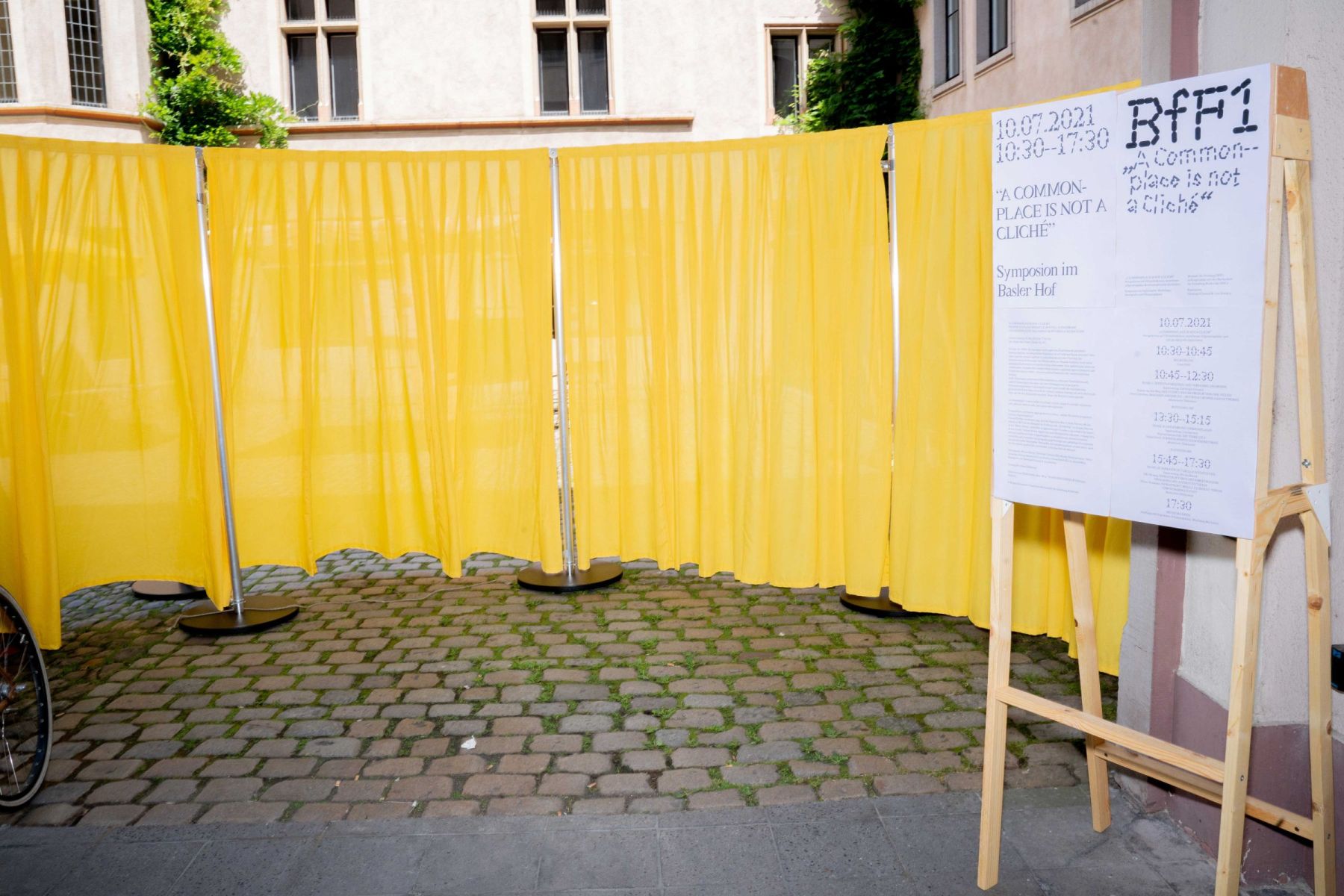 ABOUT THE SYMPOSION
Christoph Chwatal & Lisa Stuckey
In the wake of the anti-establishment movements of 1968, spatial production became increasingly associated with public bodily co-presence. On the one hand, this resonated with radical democratic theories, which challenged consensus-oriented notions of public spheres, as well as with related forms of artistic activism. On the other hand, this association was accompanied by an abandonment of the artist's studio in favor of new workplaces and modes of production, such as those in social contexts or scientific settings, for example.
Conceptions of asynchronous temporalities and other genealogies are therefore of interest to the symposium, for instance via narrative montages and emancipative ways of referencing. Commonplaces are analyzed as the literal communal goods in addition to rhetorical places to which arguments refer. For, as Barbara Cassin states: "A commonplace is not a cliché, it is a bank, a stock, a tank of available arguments and a place in which to seek, find and invent arguments." Frequenting, standardizing, appropriating et cetera — which procedures and methodologies are grouped around commonplaces?
The figuration Best Friends Forever, which shares the acronym 'BFF' with the Biennale für Freiburg, may also appear as a cliché. "Friendship," Jacques Derrida wrote in the 1980s, "resembles an appeal because it makes a sign toward the future: be my friends." Insofar as this appeal currently bears a renewed urgency, it necessitates awareness of transforming commonplaces. Taking this idea further, the symposium illuminates present and future manifestations of infrastructural intimacies. The understanding of both practical and imaginary 'critical infrastructures' will be negotiated and recontextualized.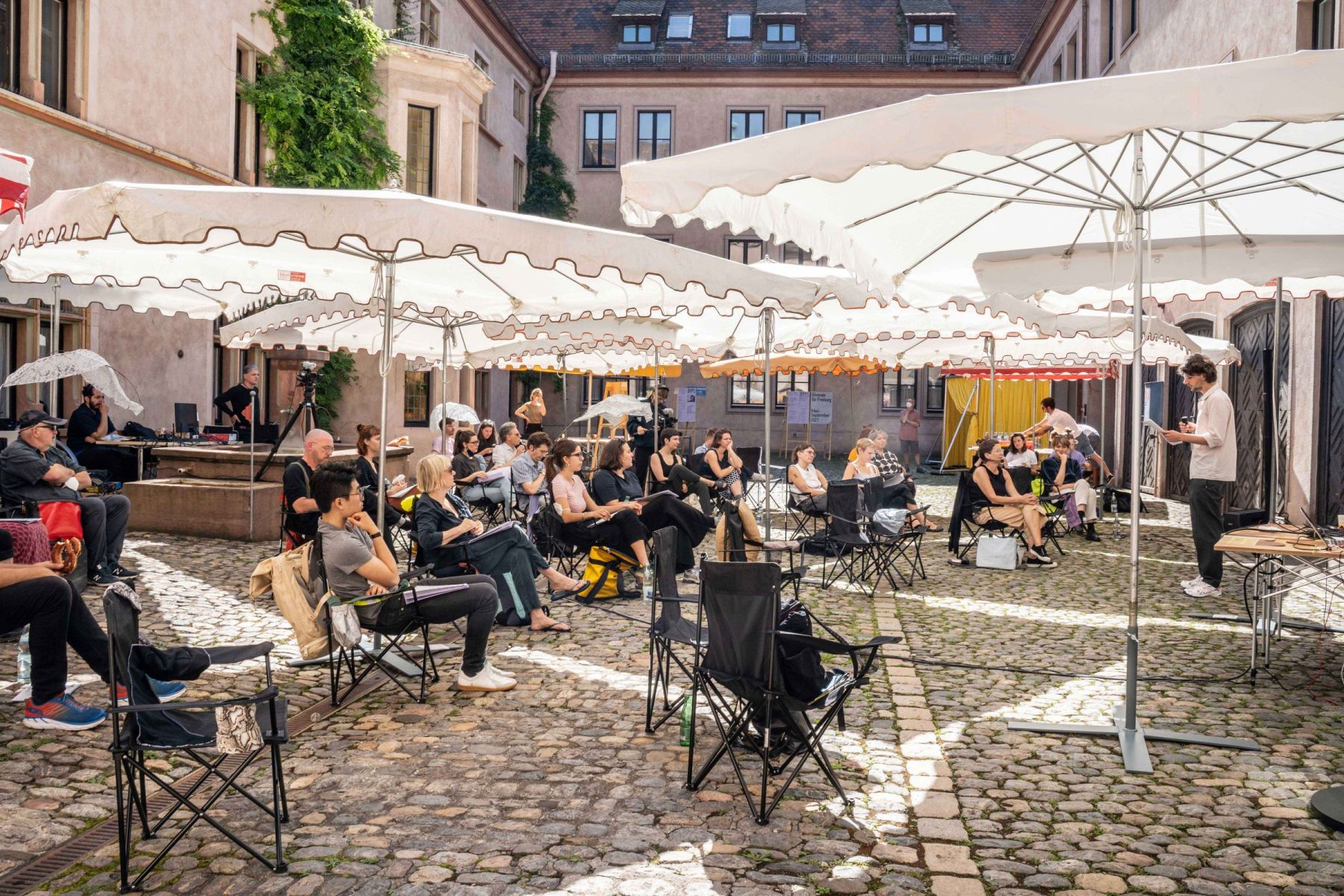 SPEAKERS:
Mirela Baciak, Christoph Chwatal, Elke Krasny, Sven Lütticken, Viktor Neumann, Karina Nimmerfall, Lisa Stuckey, Simon Strick, Karen van den Berg
CONVENED BY
Christoph Chwatal and Lisa Stuckey
SCENOGRAPHY
Diane Hillebrand
FILM SCREENING
Michel Auder, May ´68 in ´78 (1978/2019) EDITED BY Michael Stickrod
Reconstruction of the BLEACHER: Julius Martin-Humpert
COOPERATION
Karlsruhe University of Arts and Design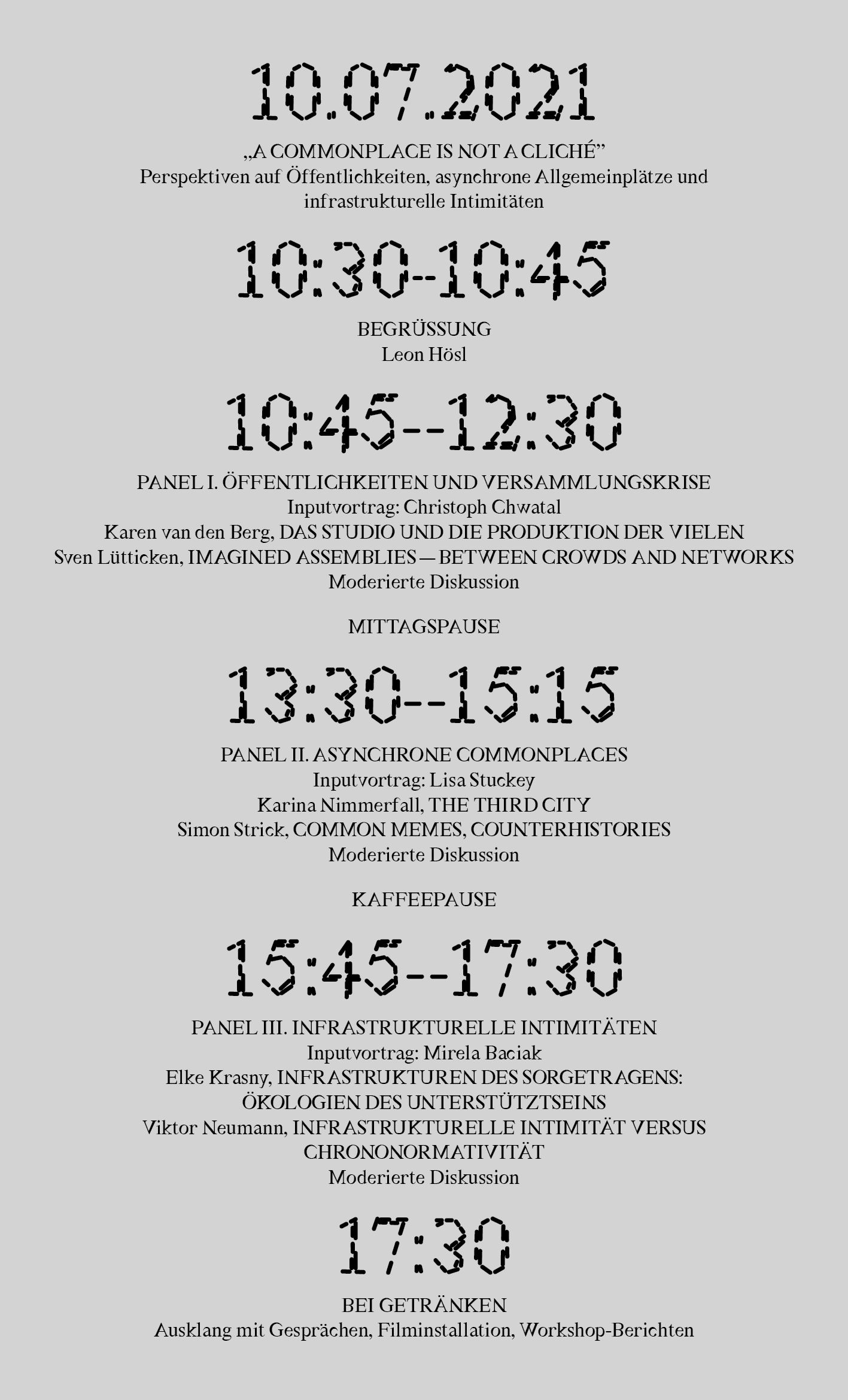 Download the full program brochure here.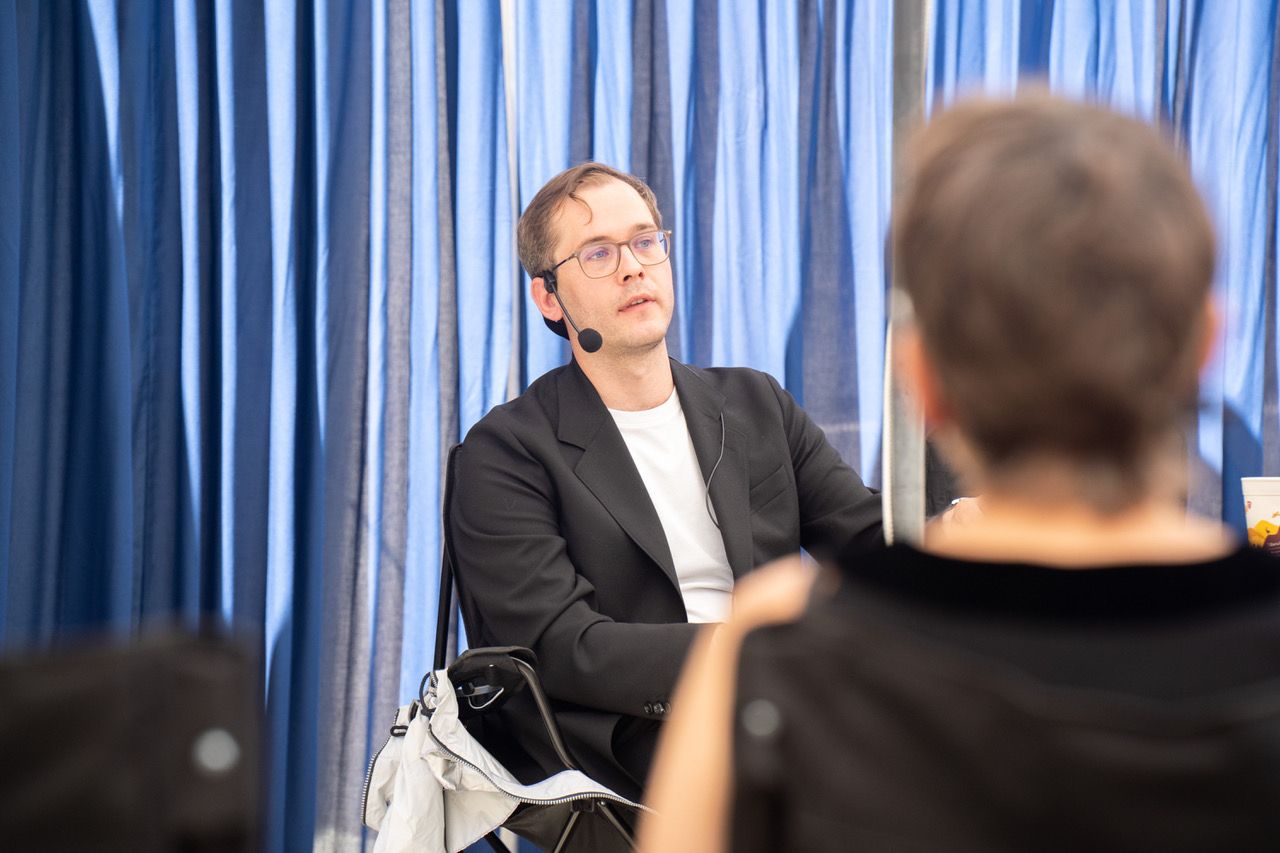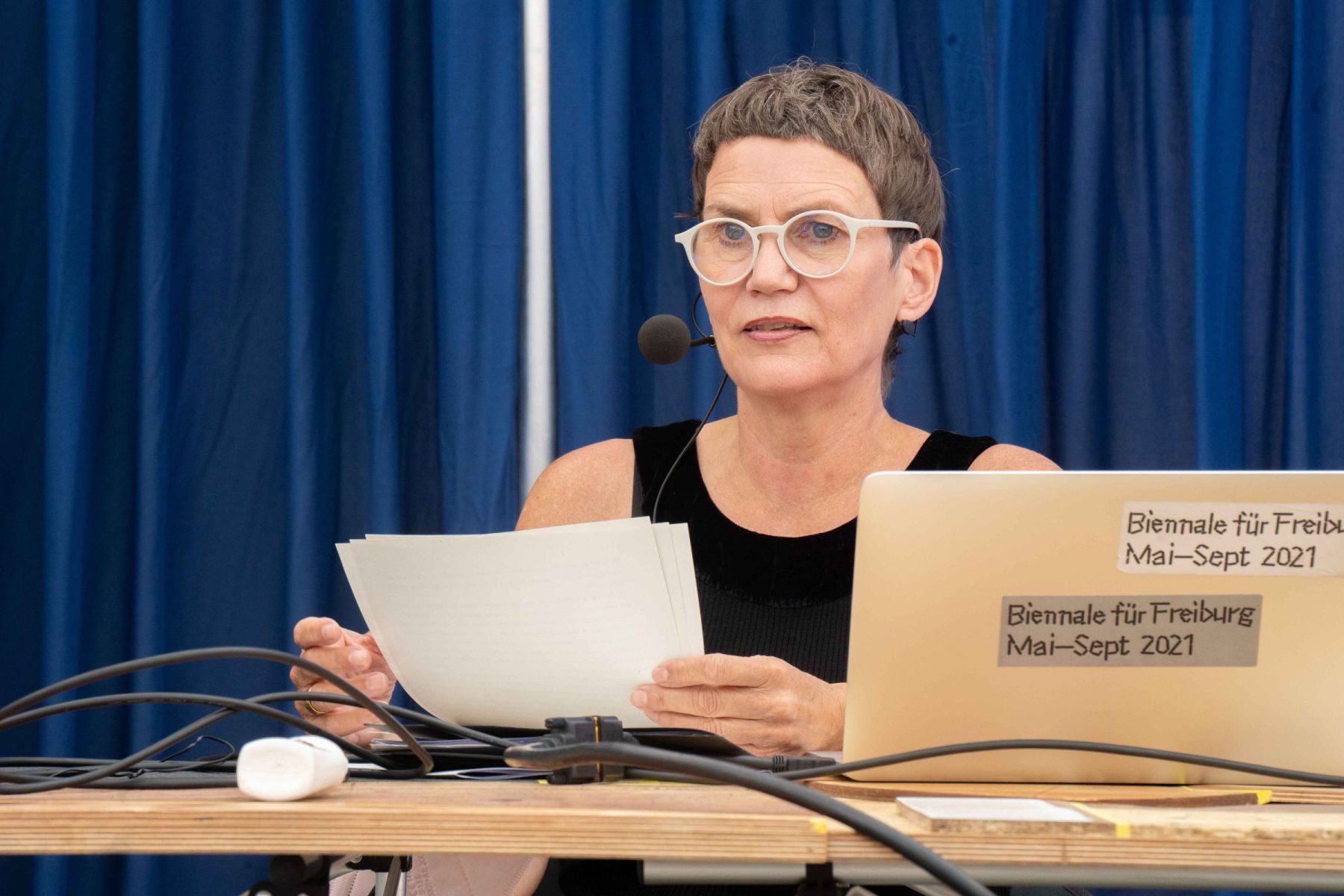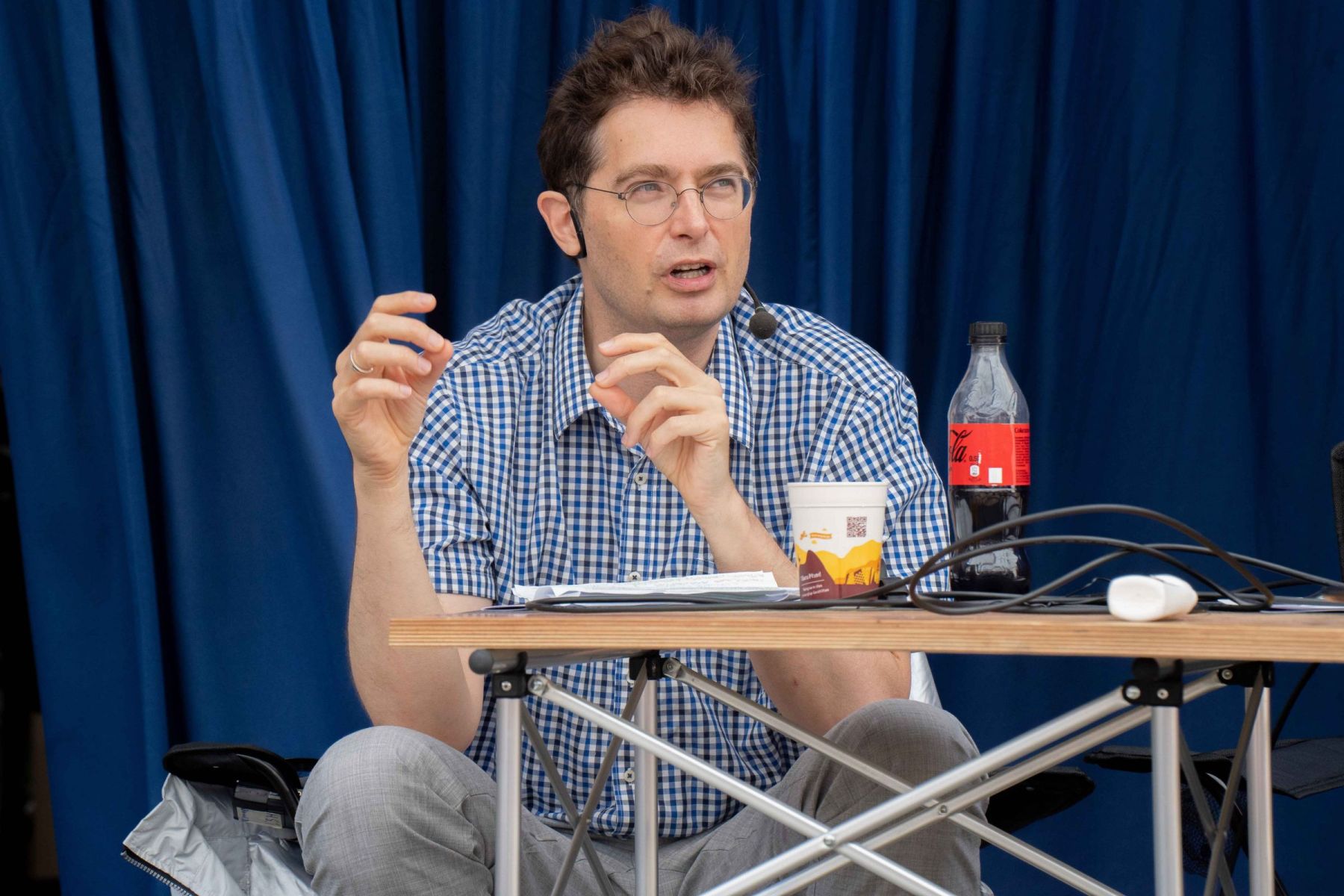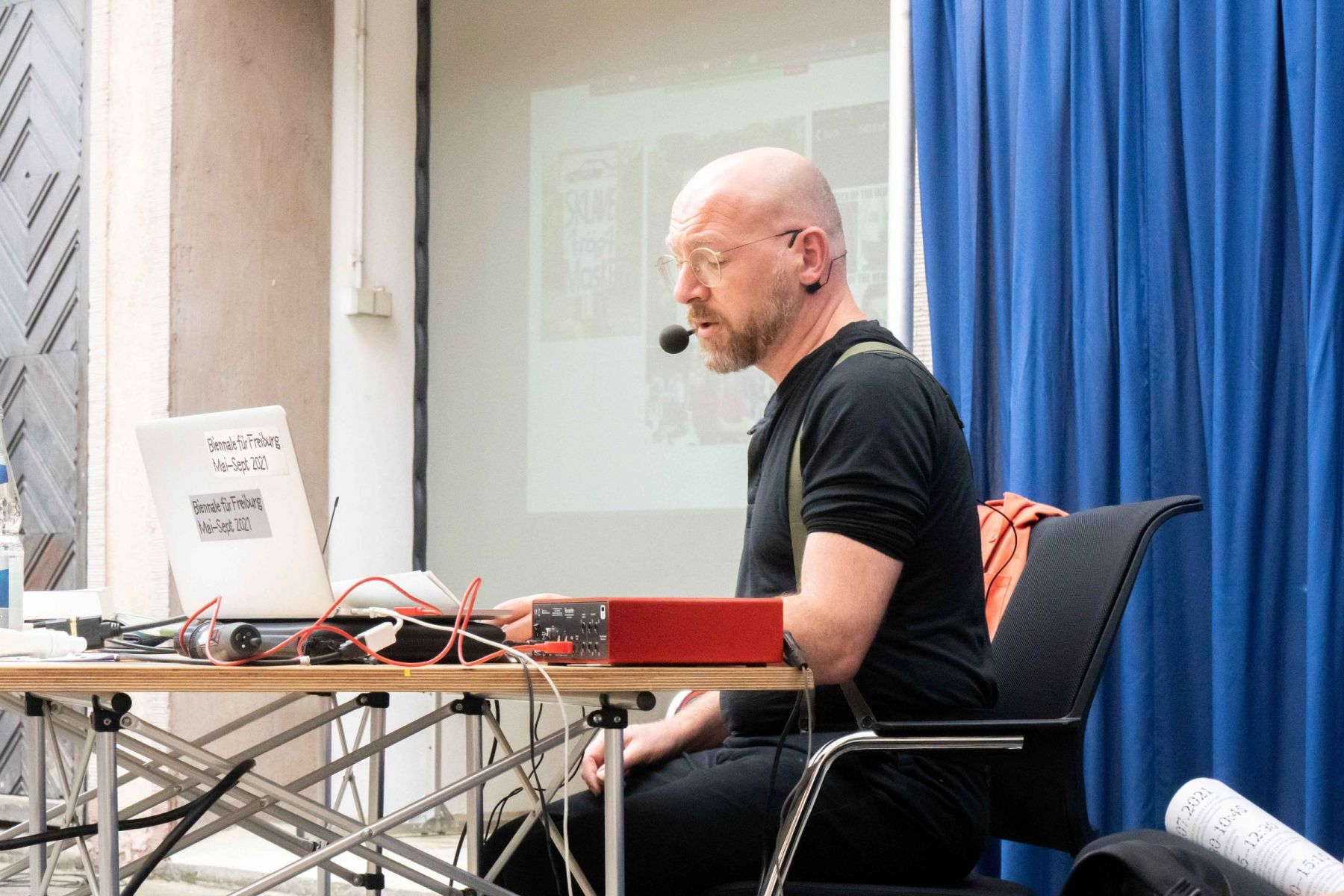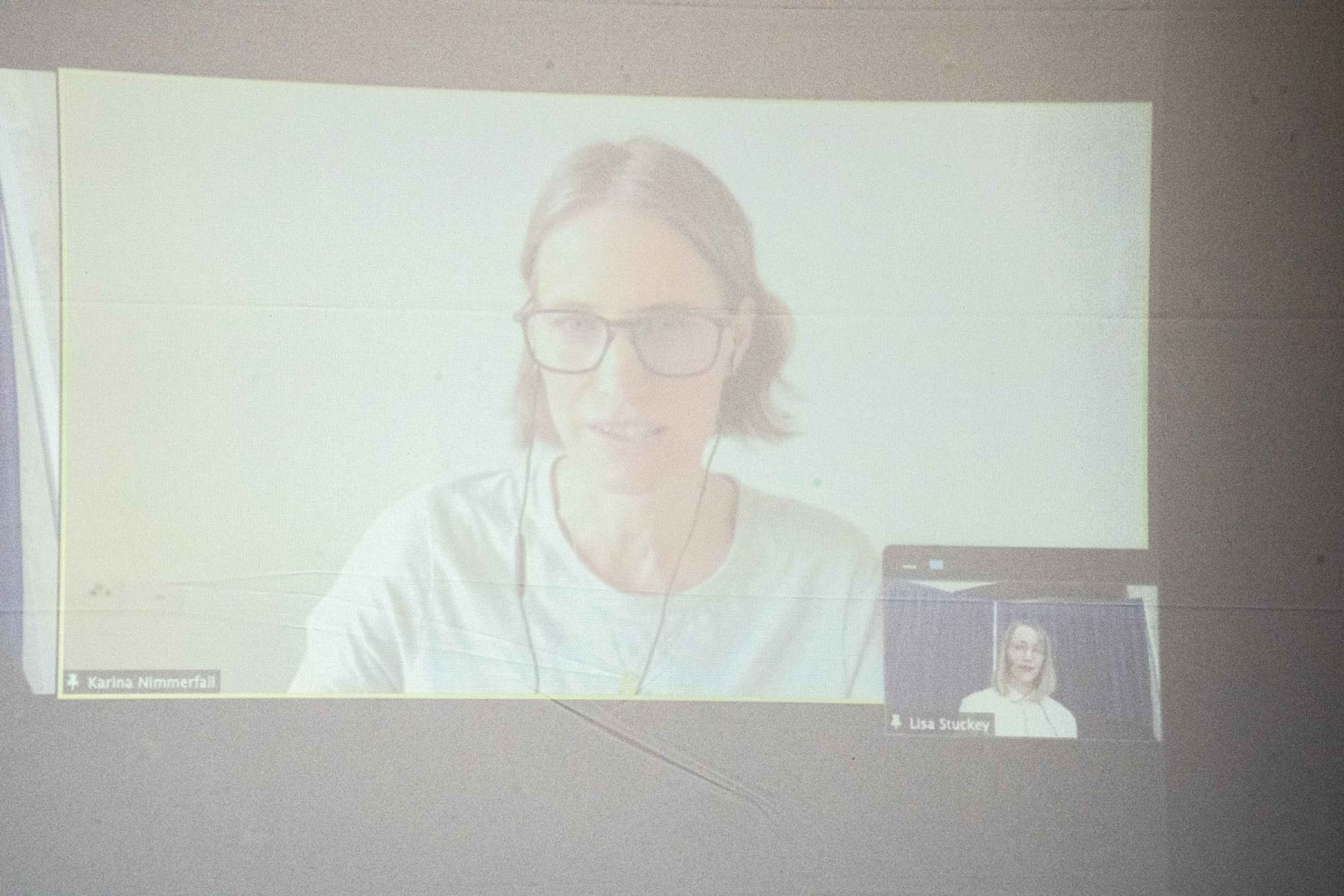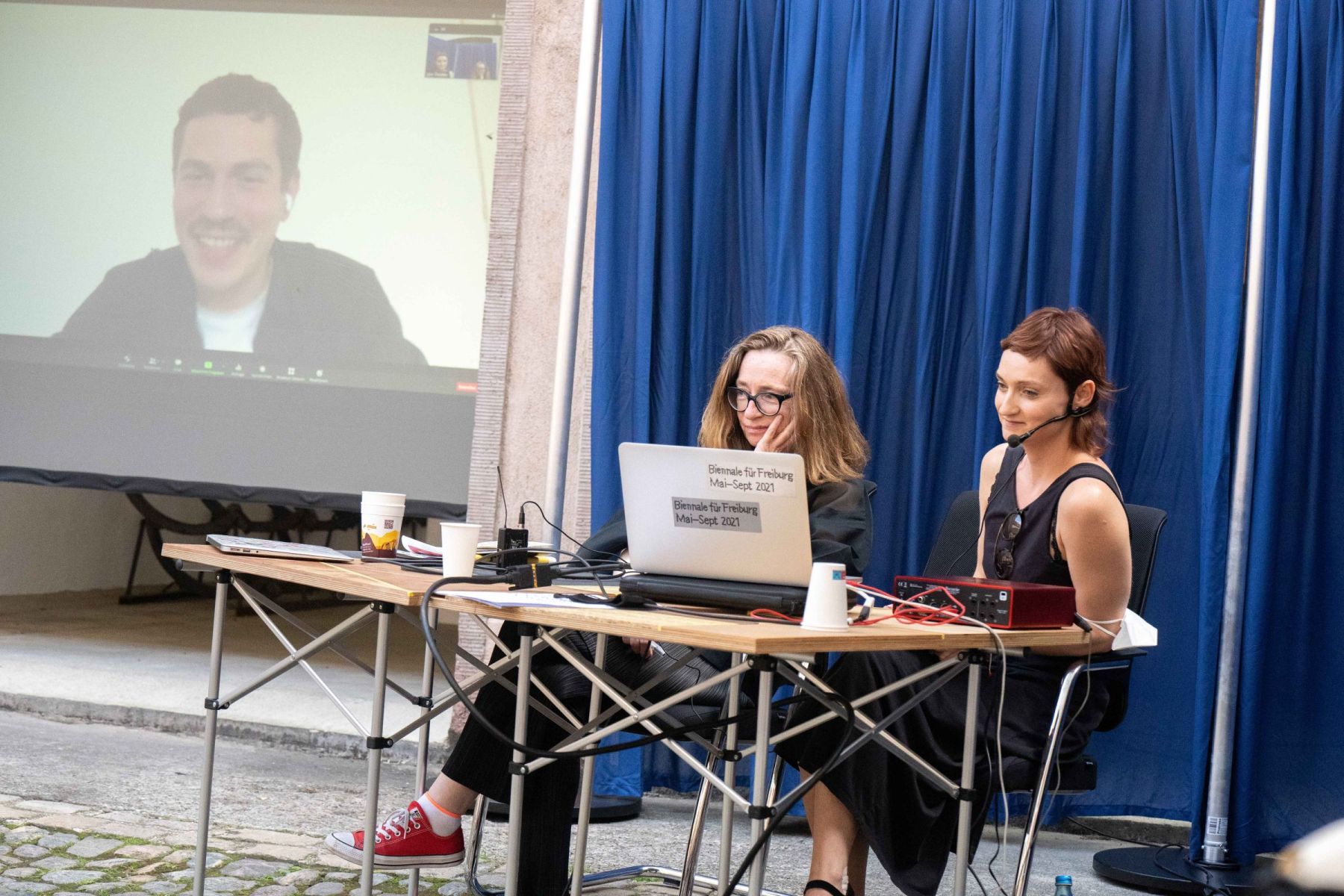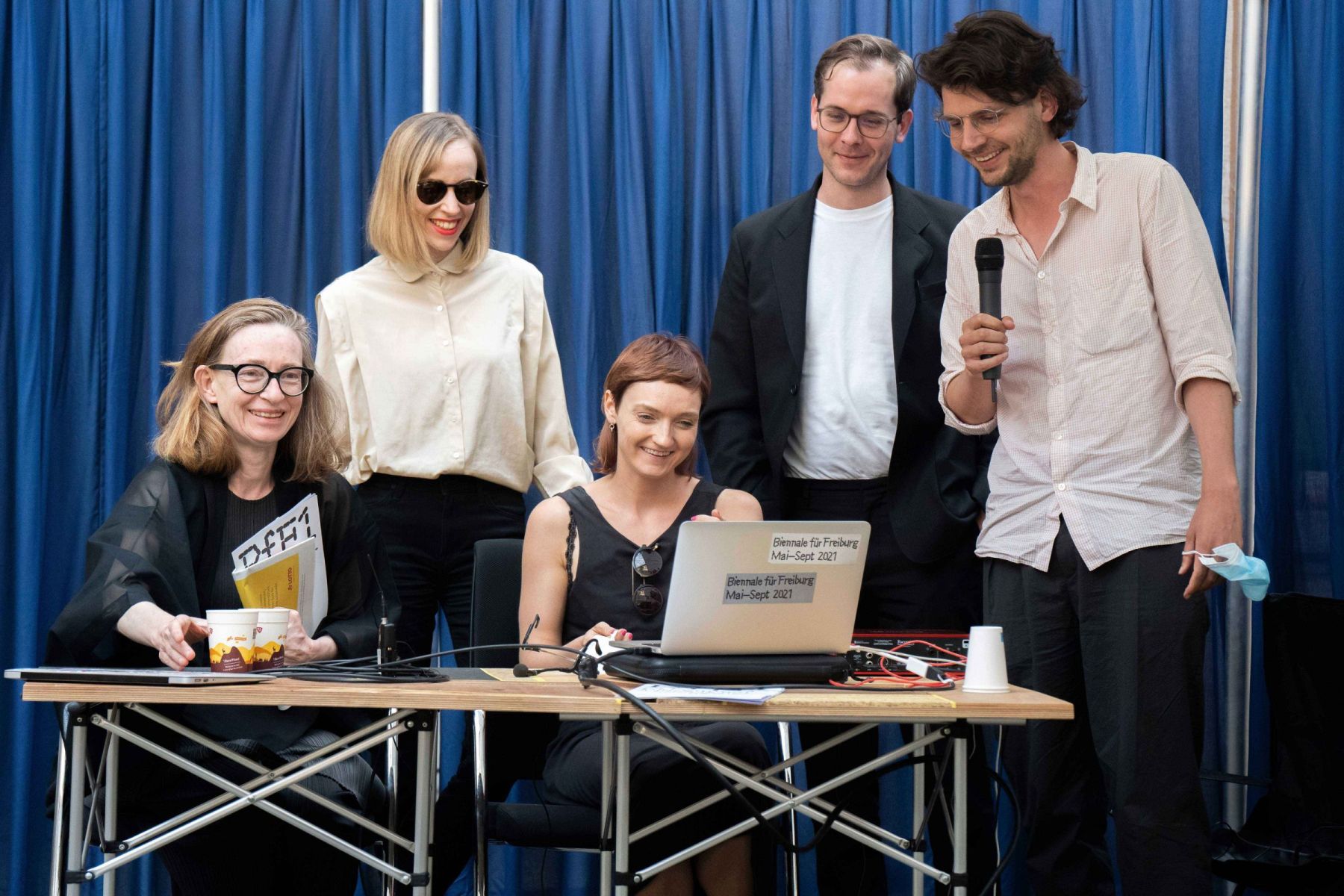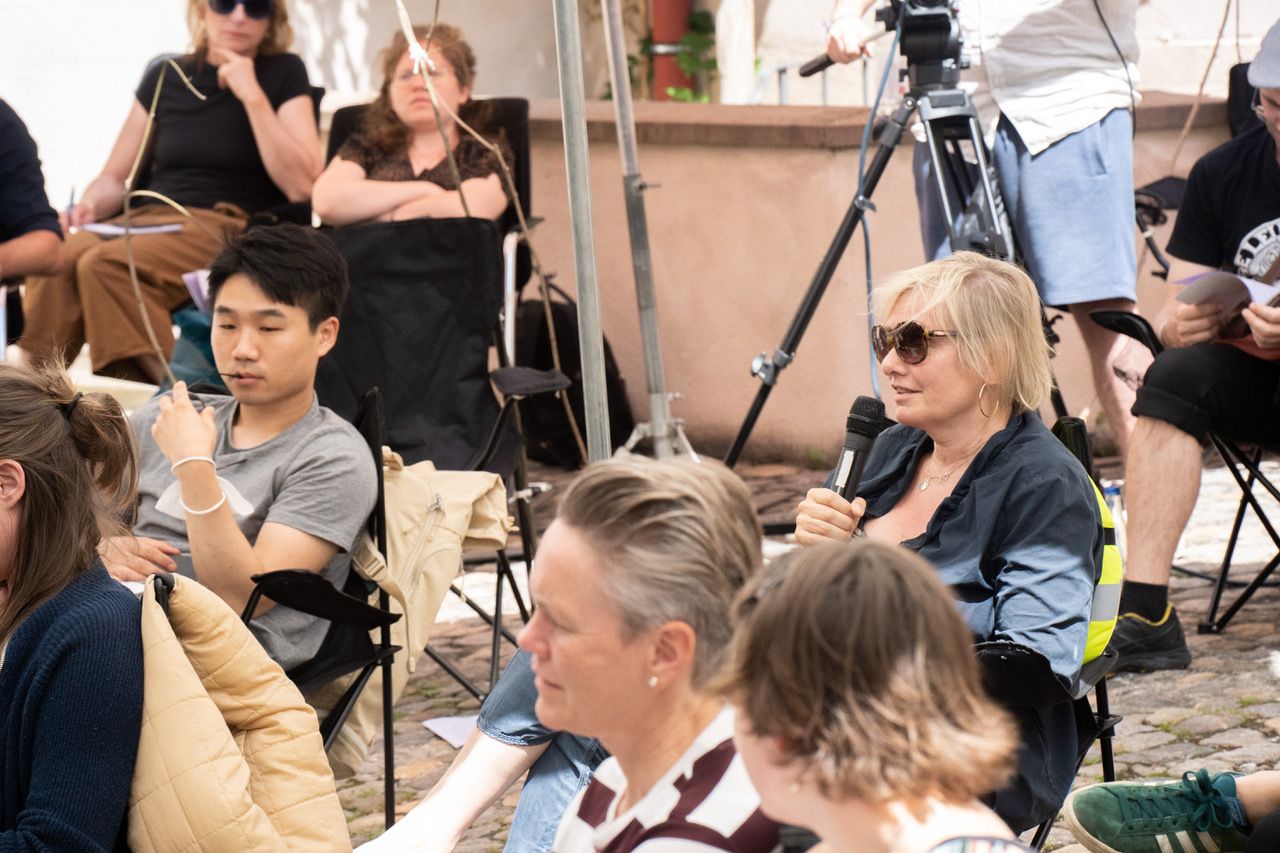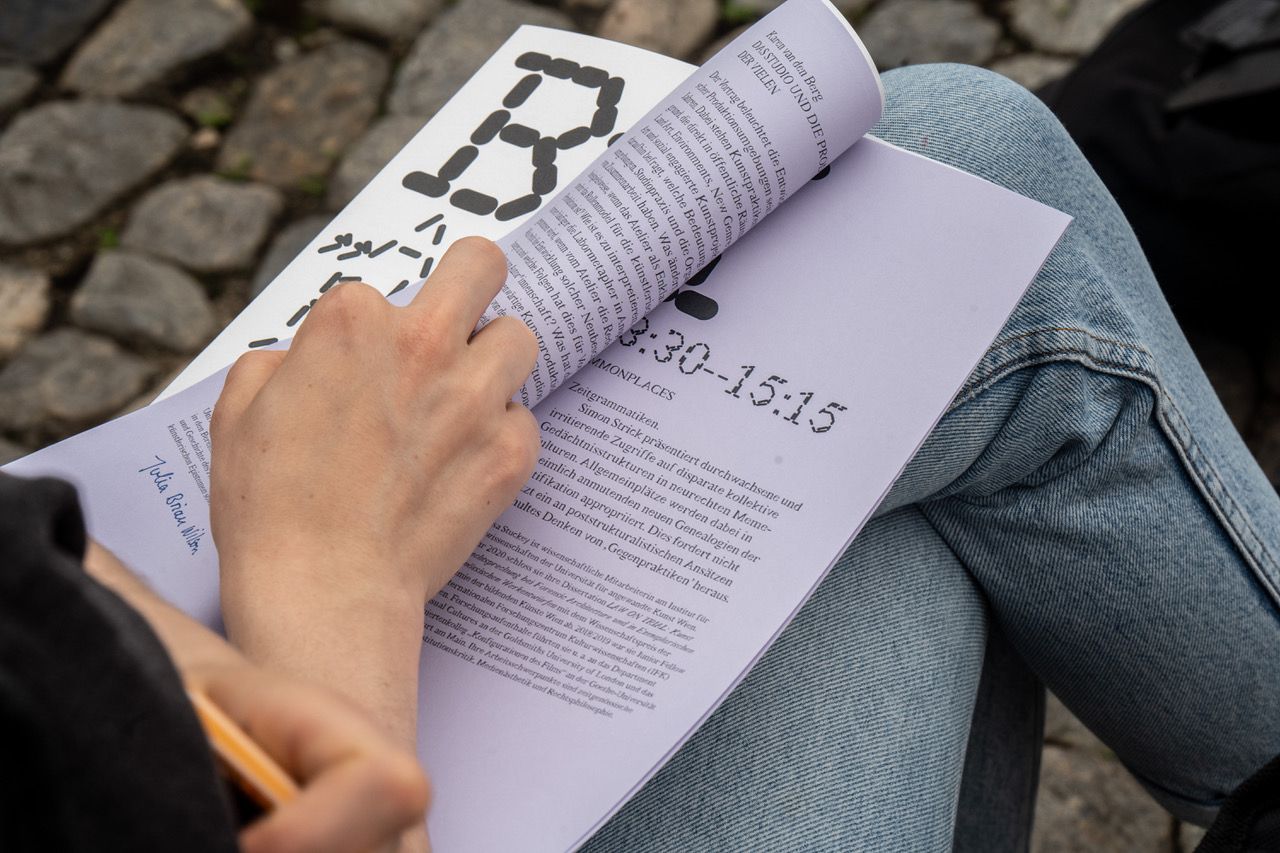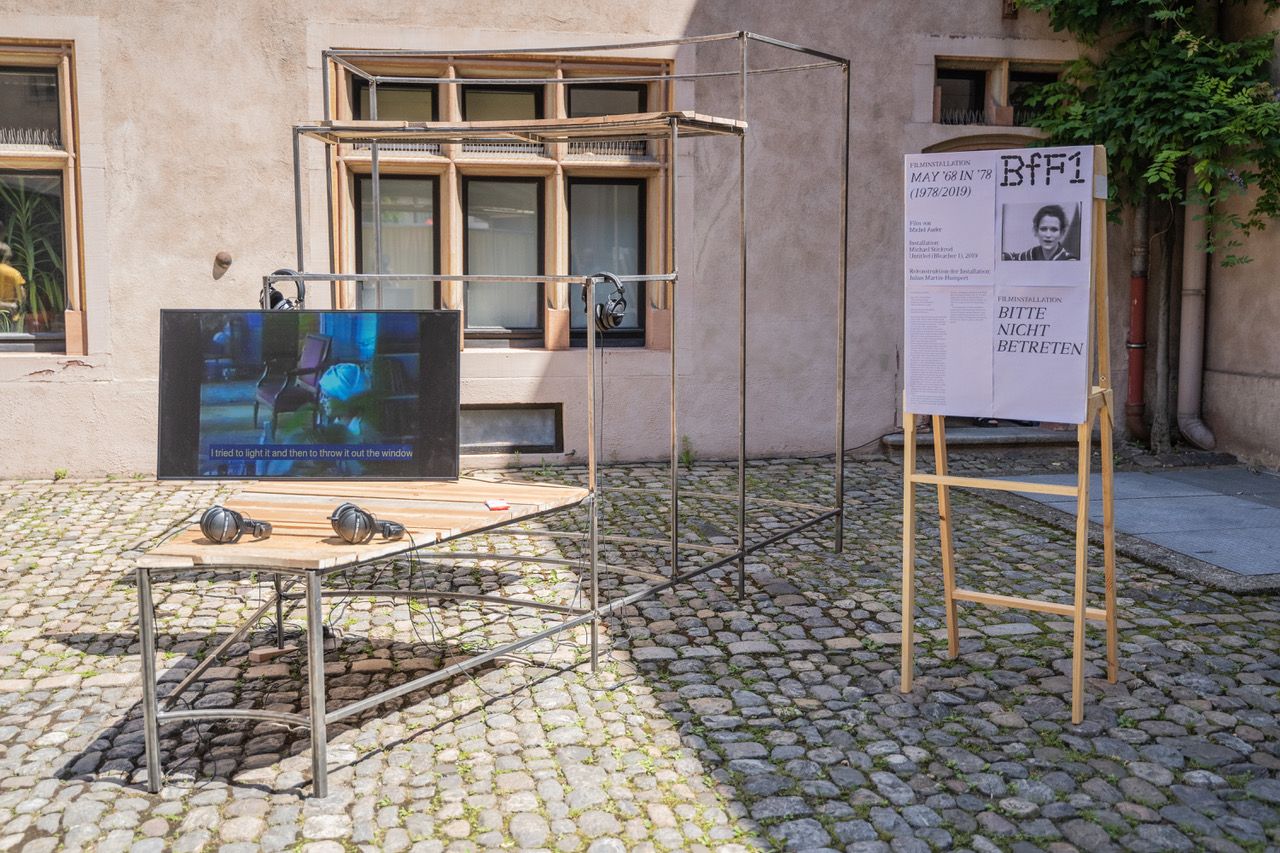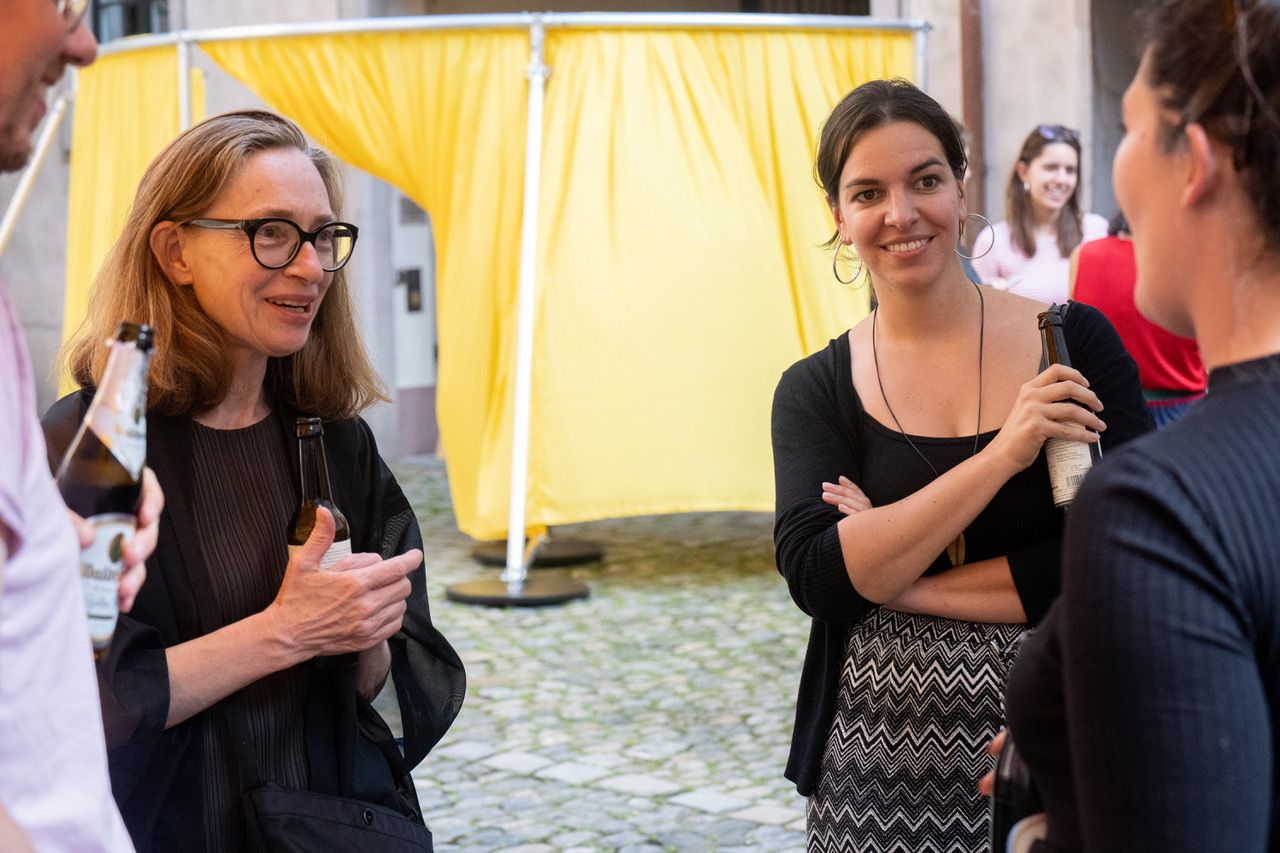 Photos: Karolina Sobel
ARTICLE BY SASCIA BAILER
The curator Sascia Bailer was one of the participants of the symposion. For the art magazine artline.org she wrote an article about the symposion that you can read here (in German only).
VIDEO DOCUMENTATION
Camera: Mustafa Emin Büyükcoşkun and Team
Editing: Stefan Reisinger
Note: Please make sure to agree to the use of cookies in order to be able to view the embedded videos below.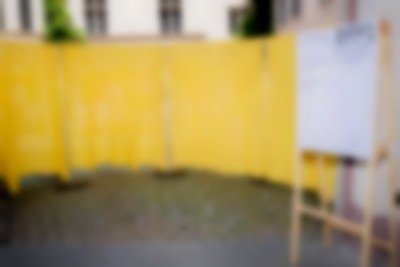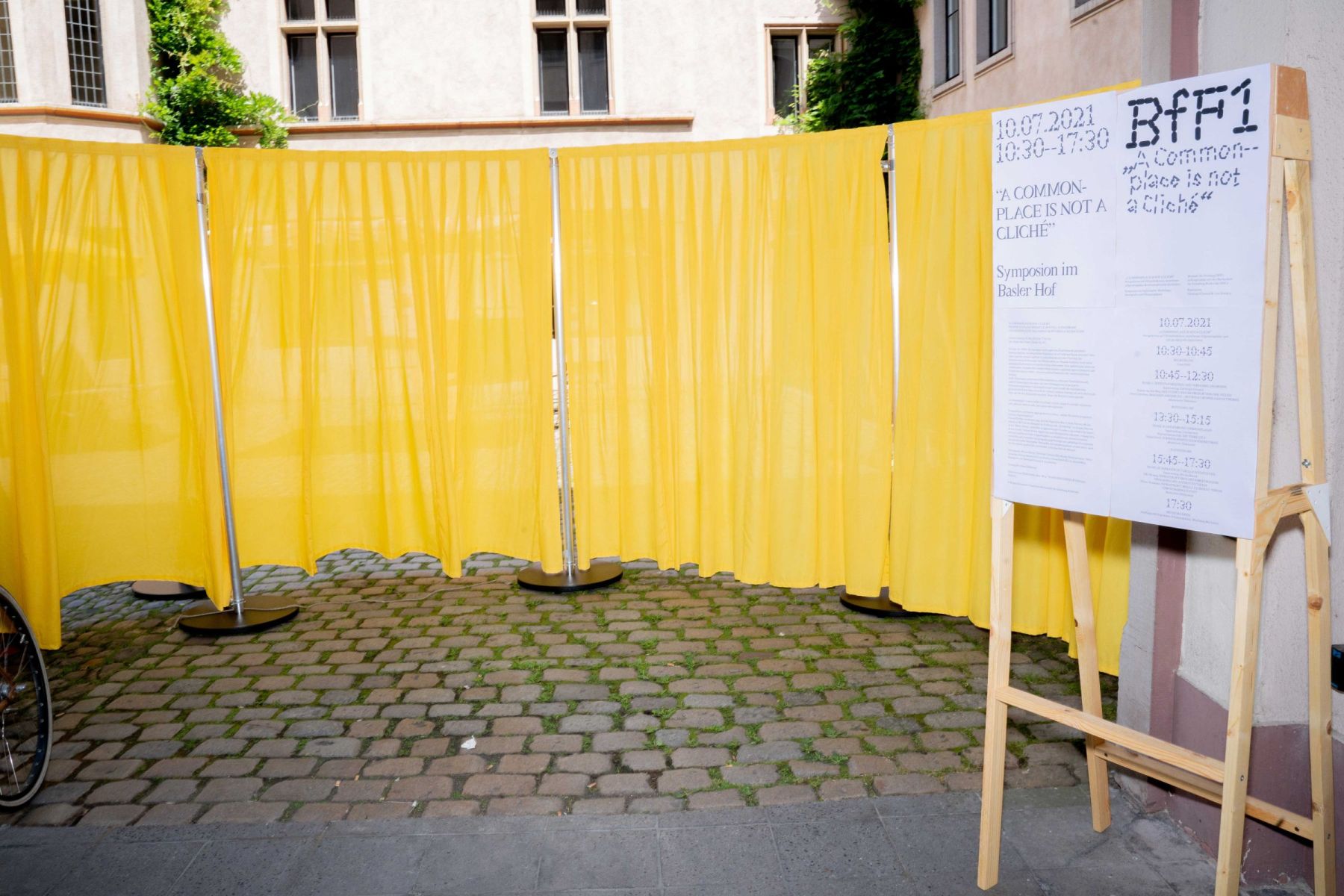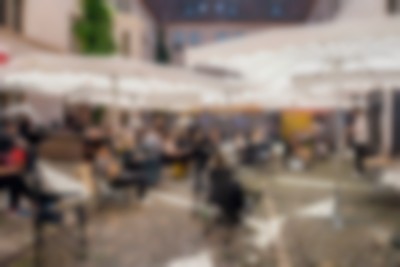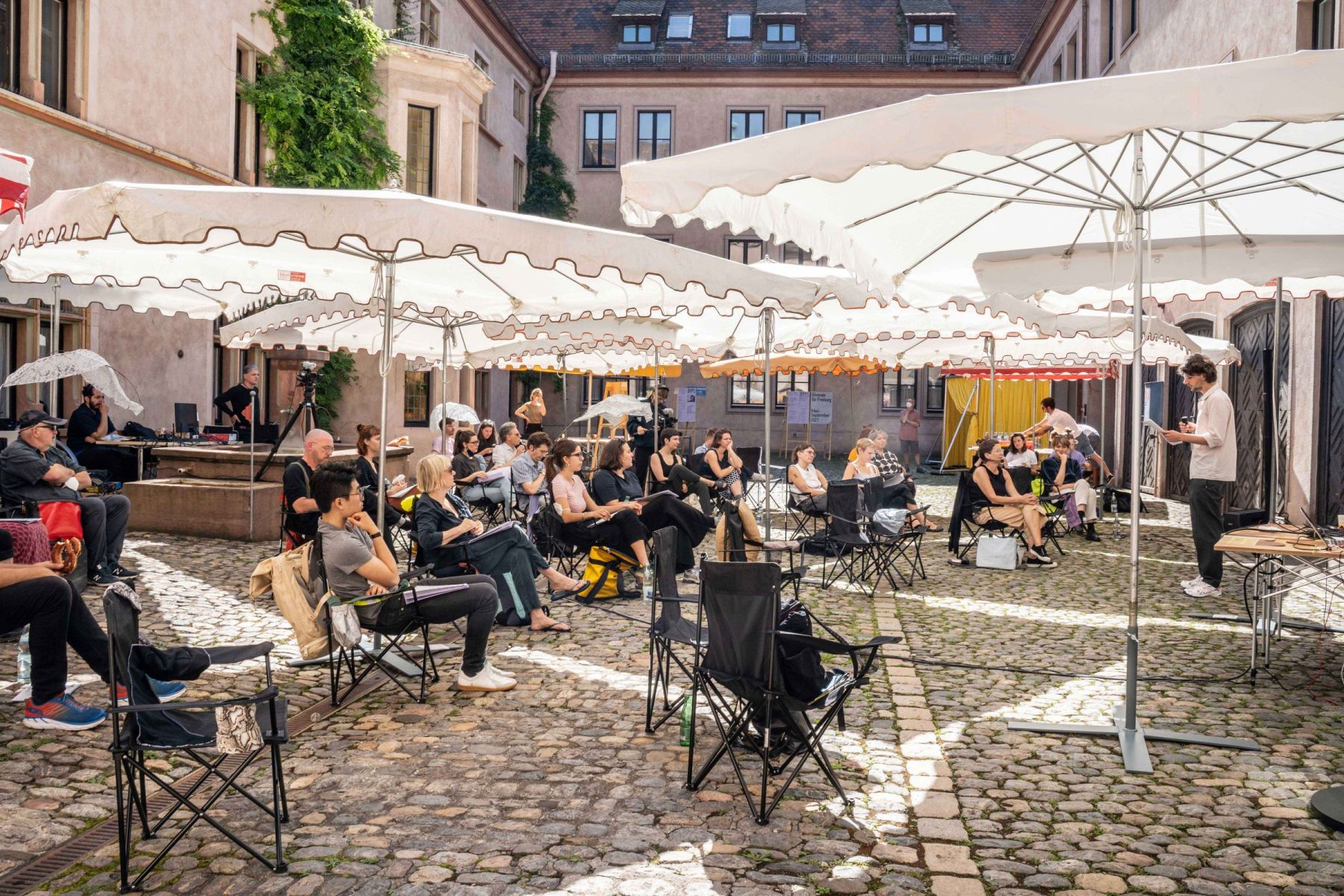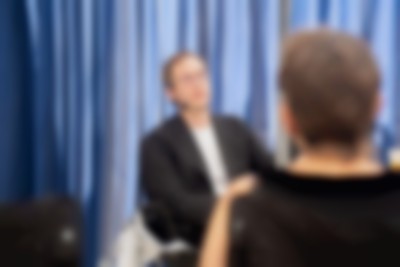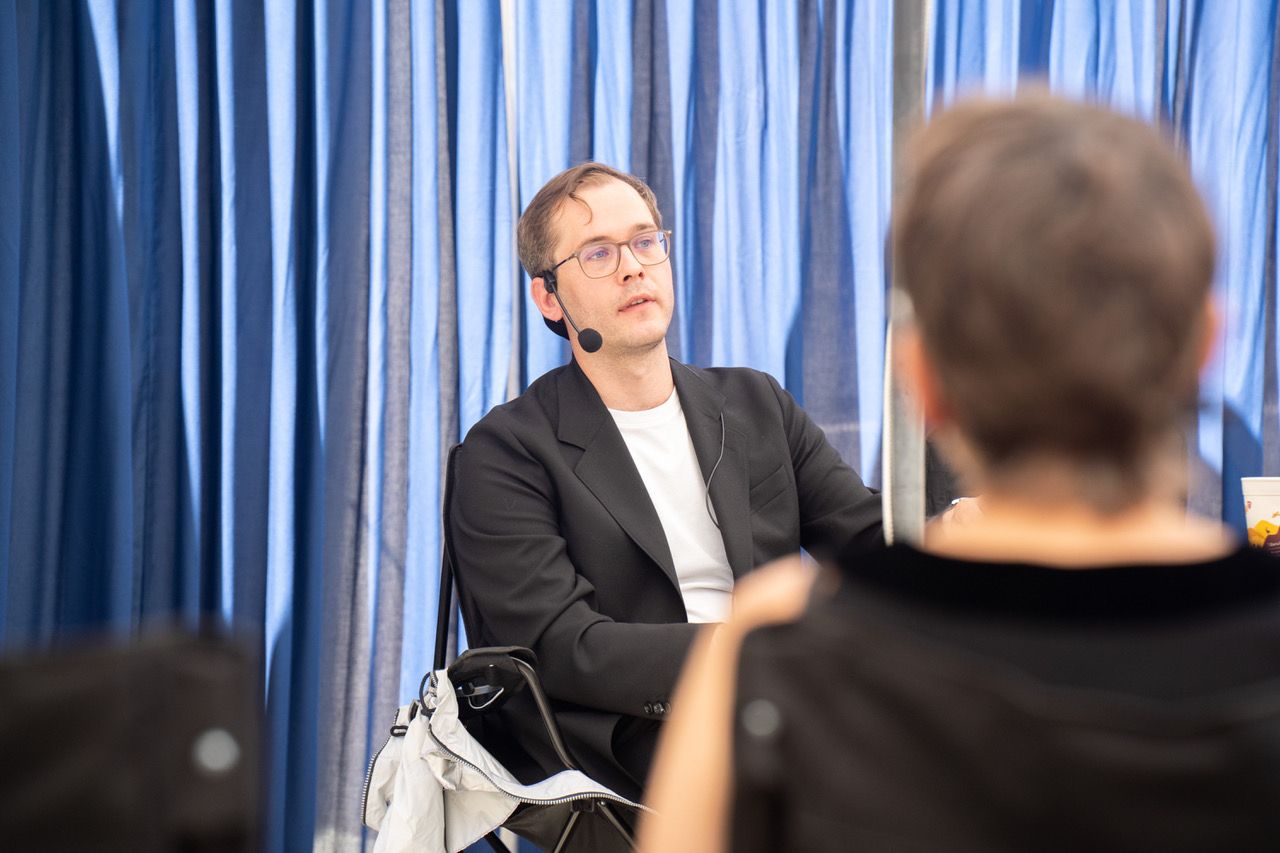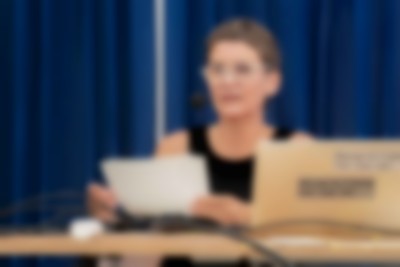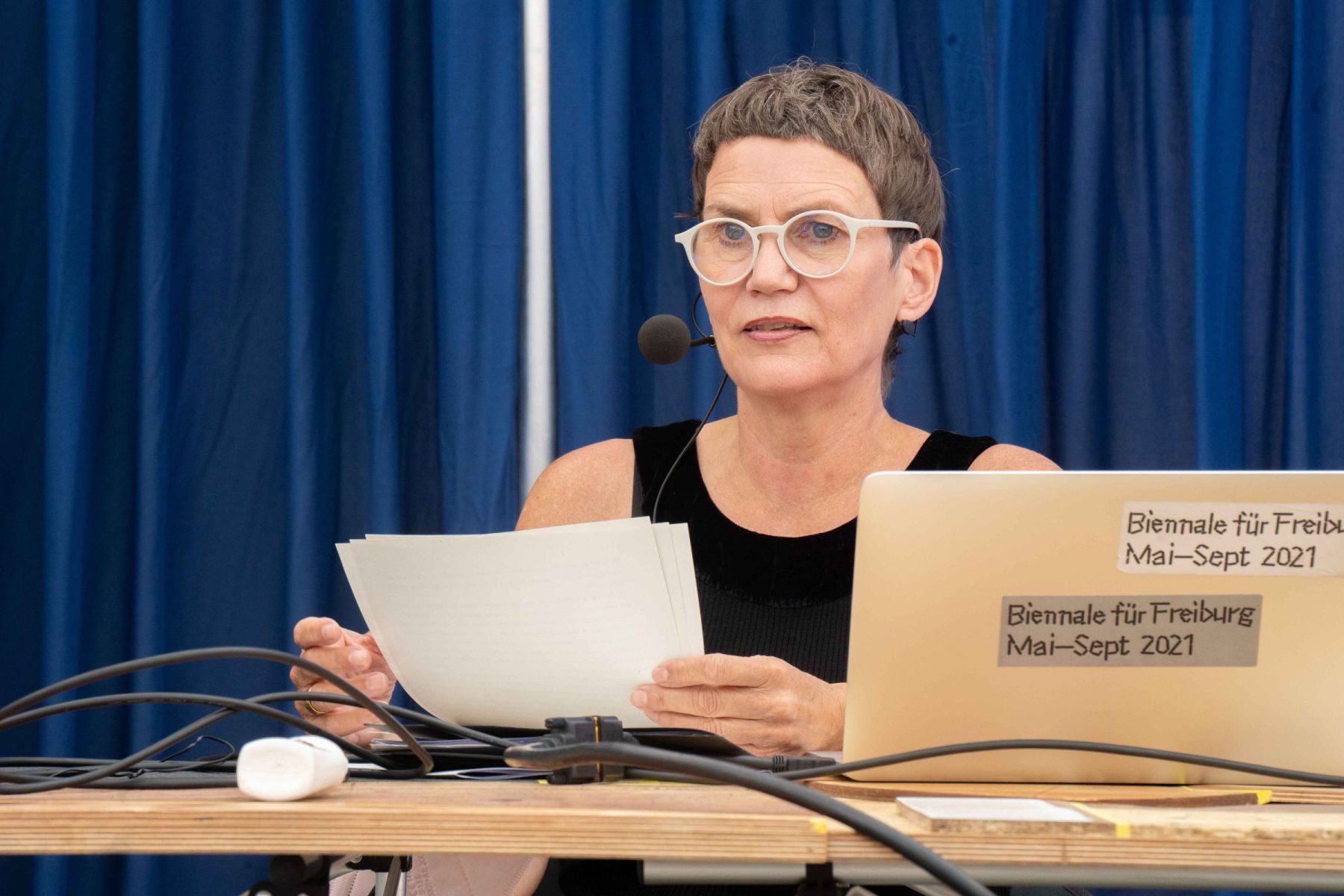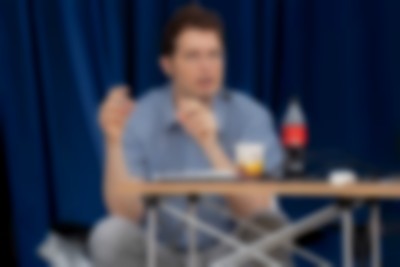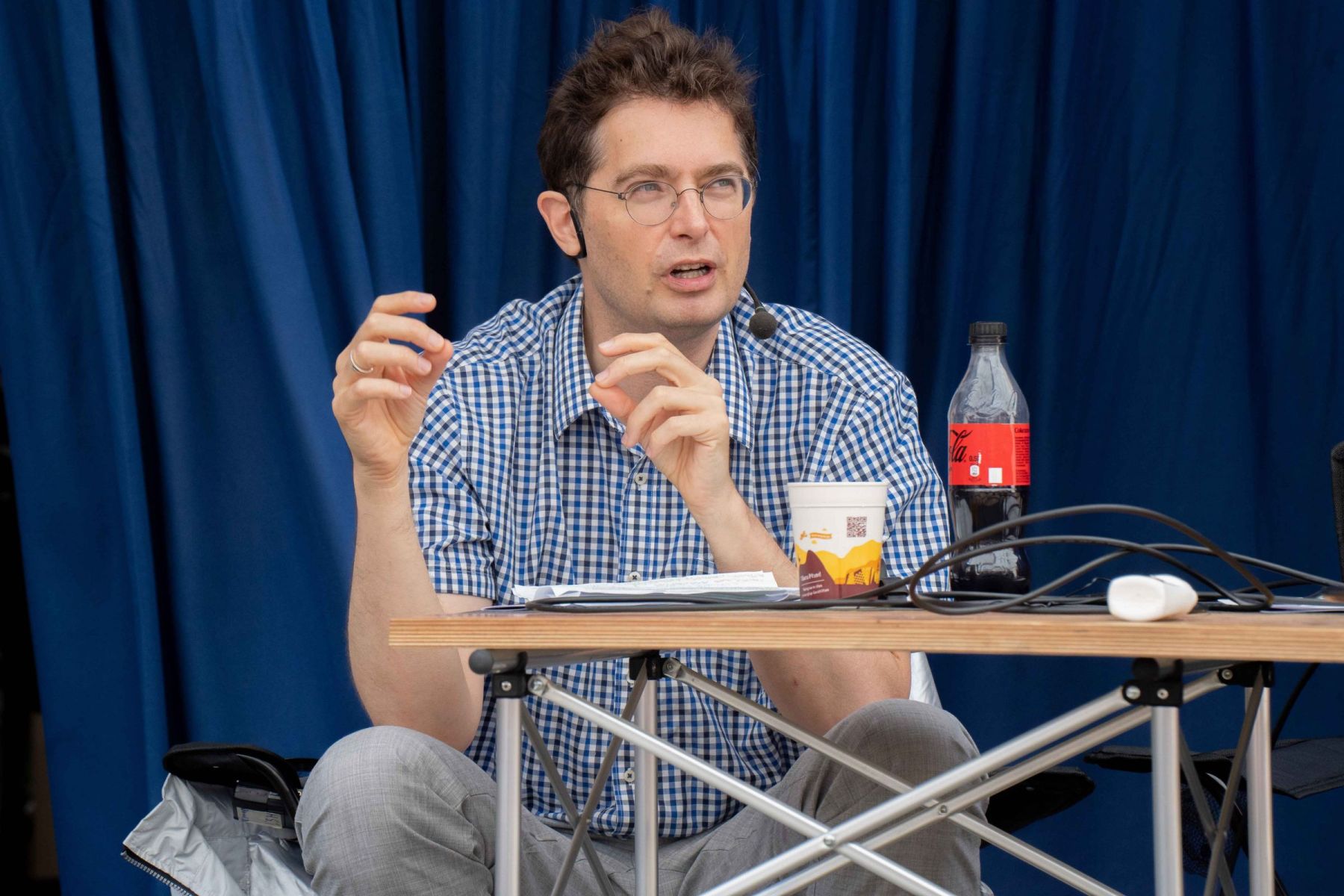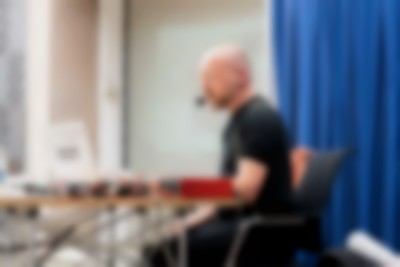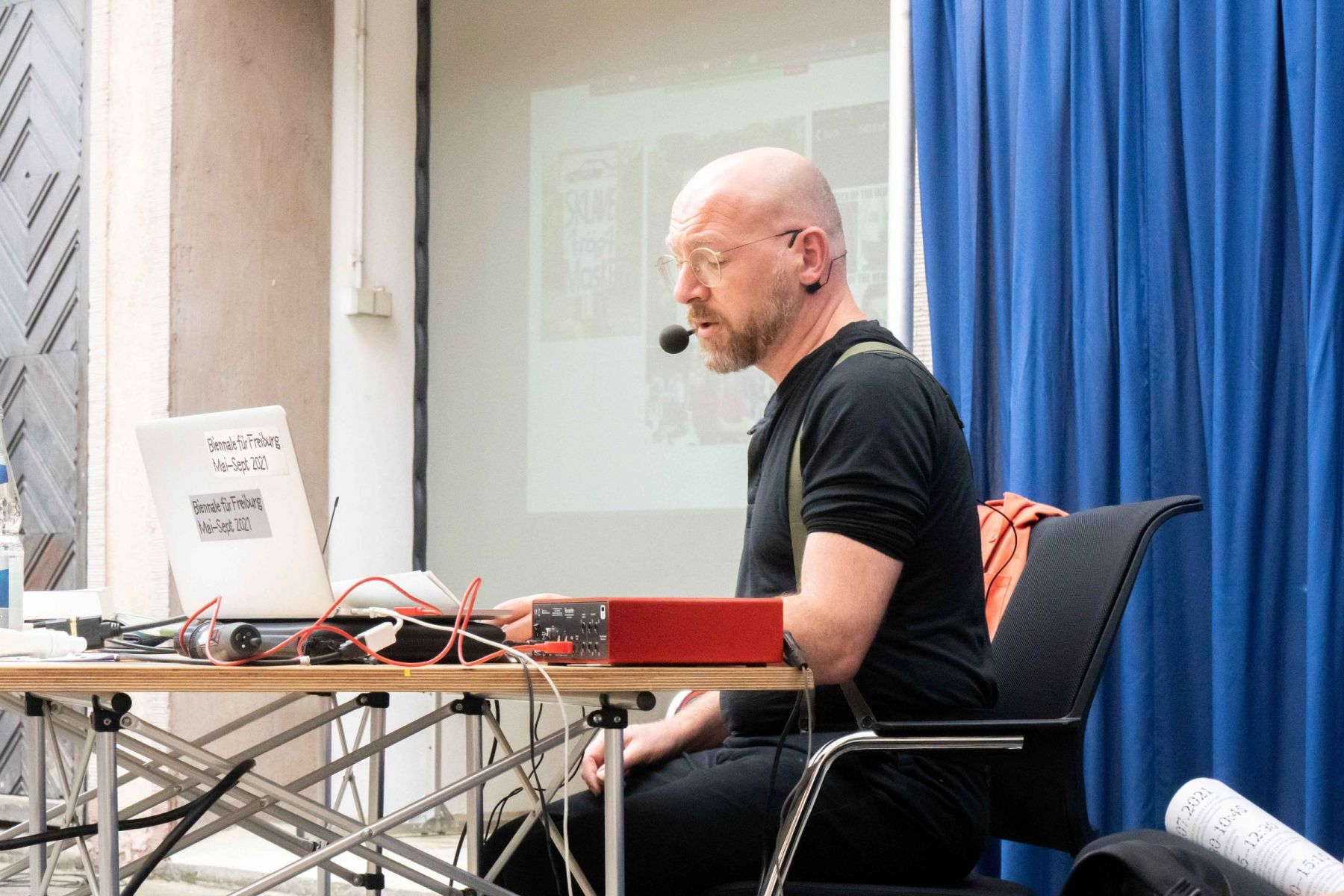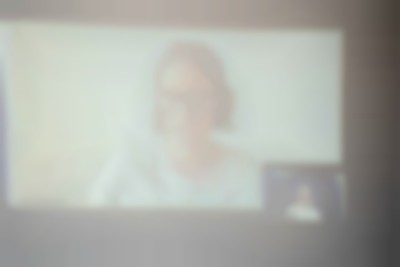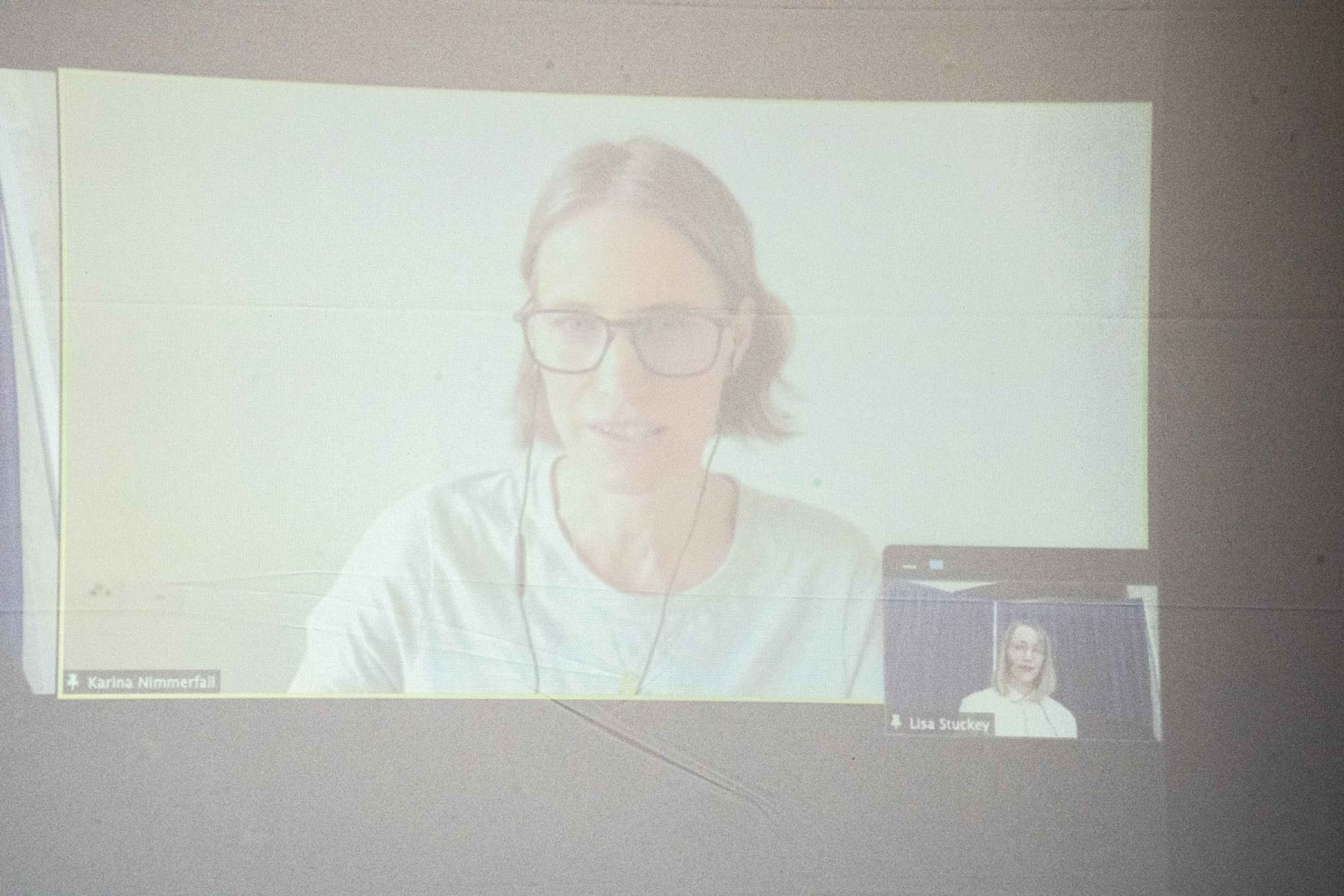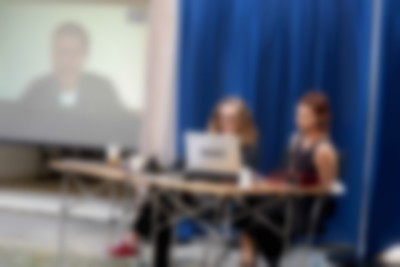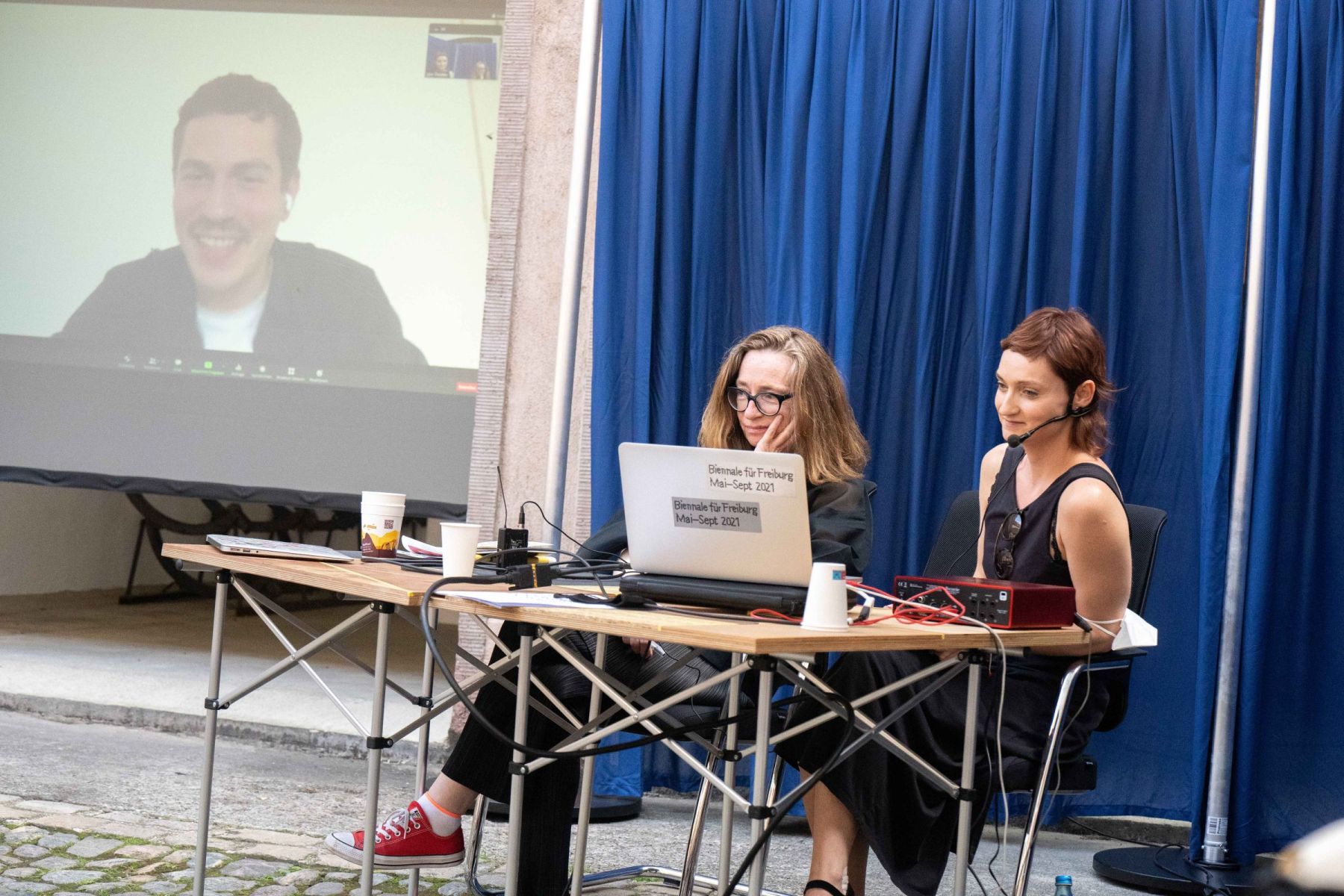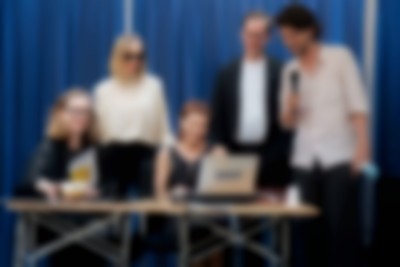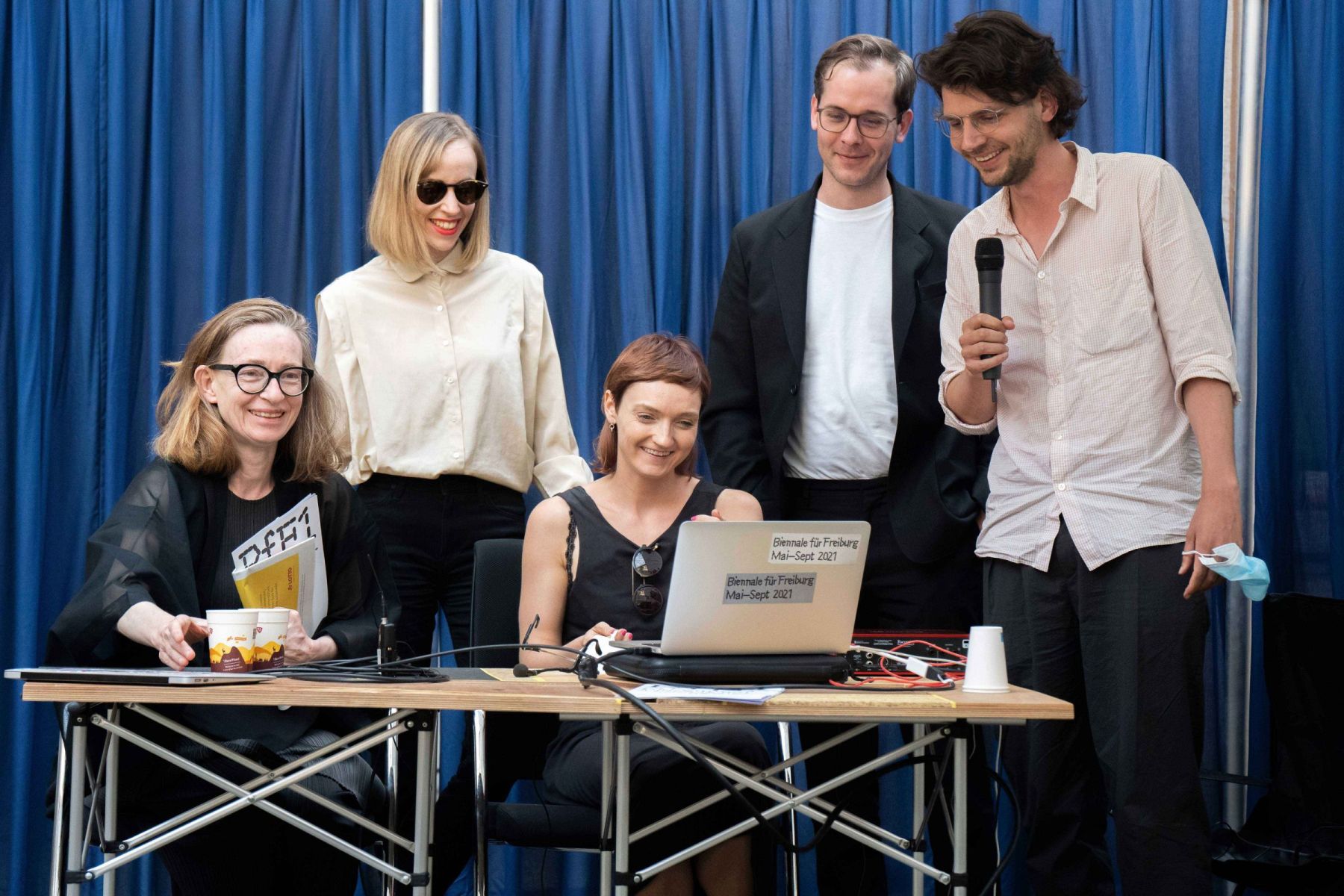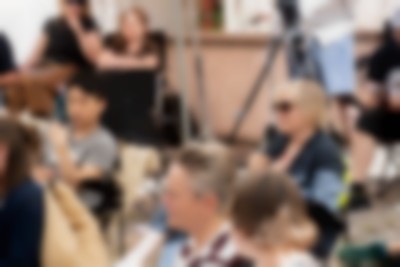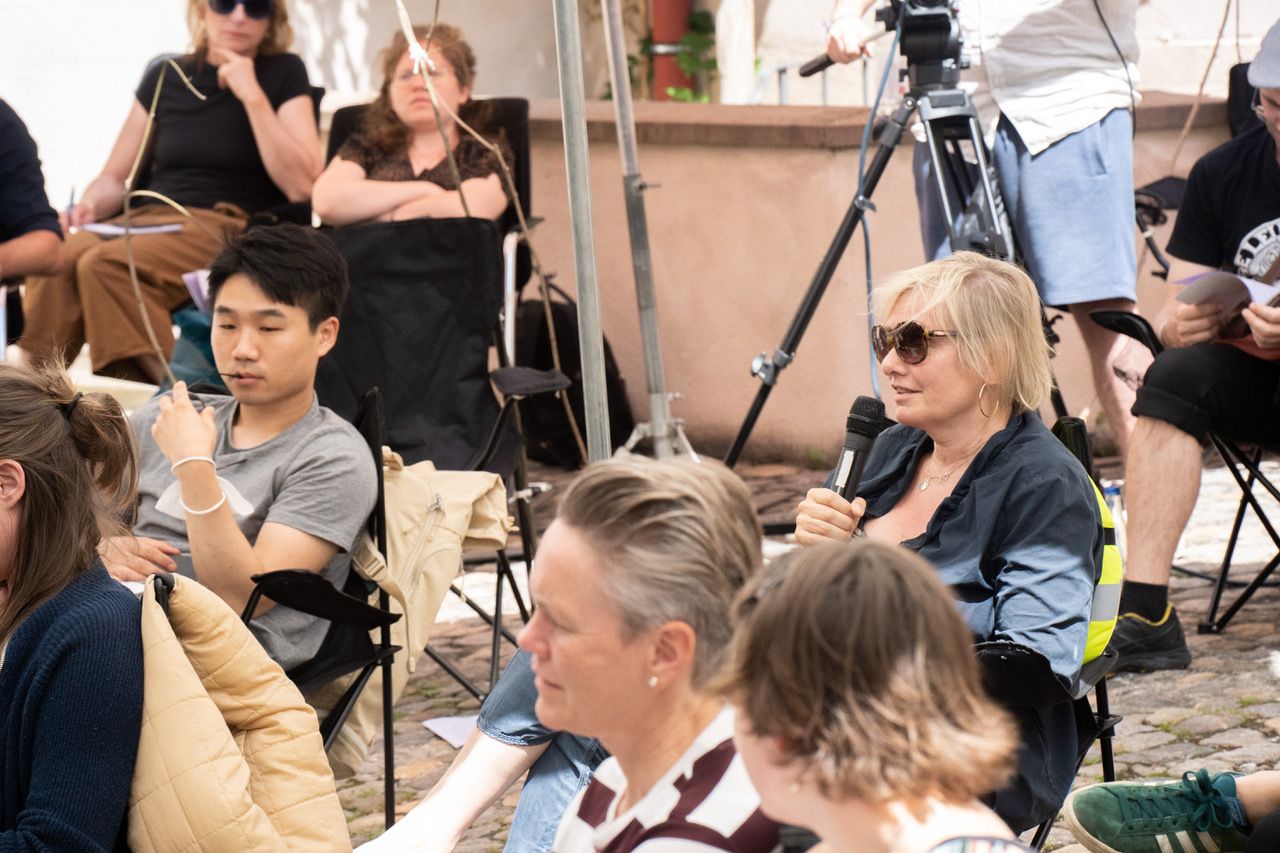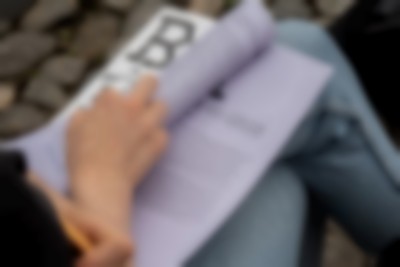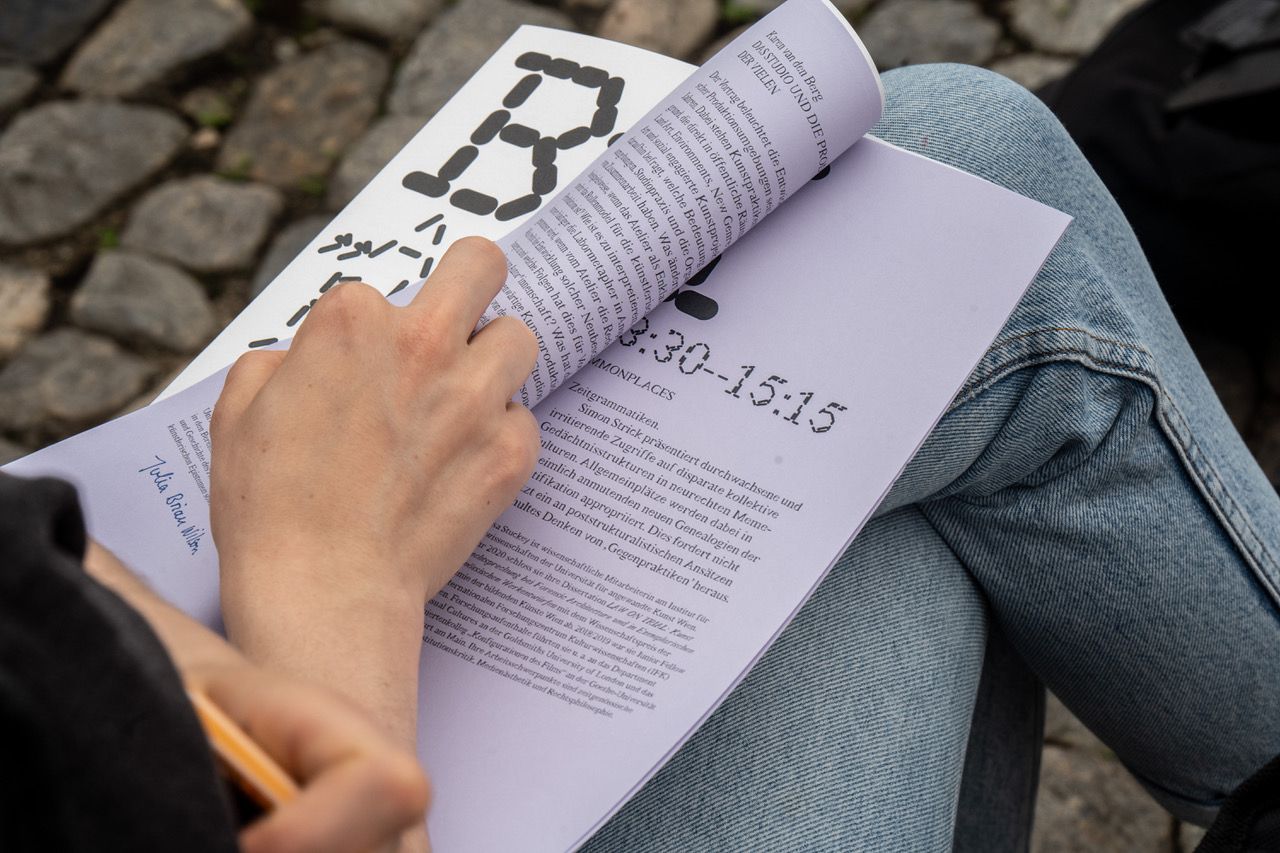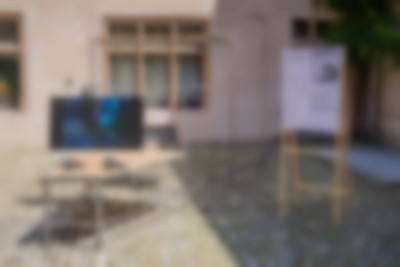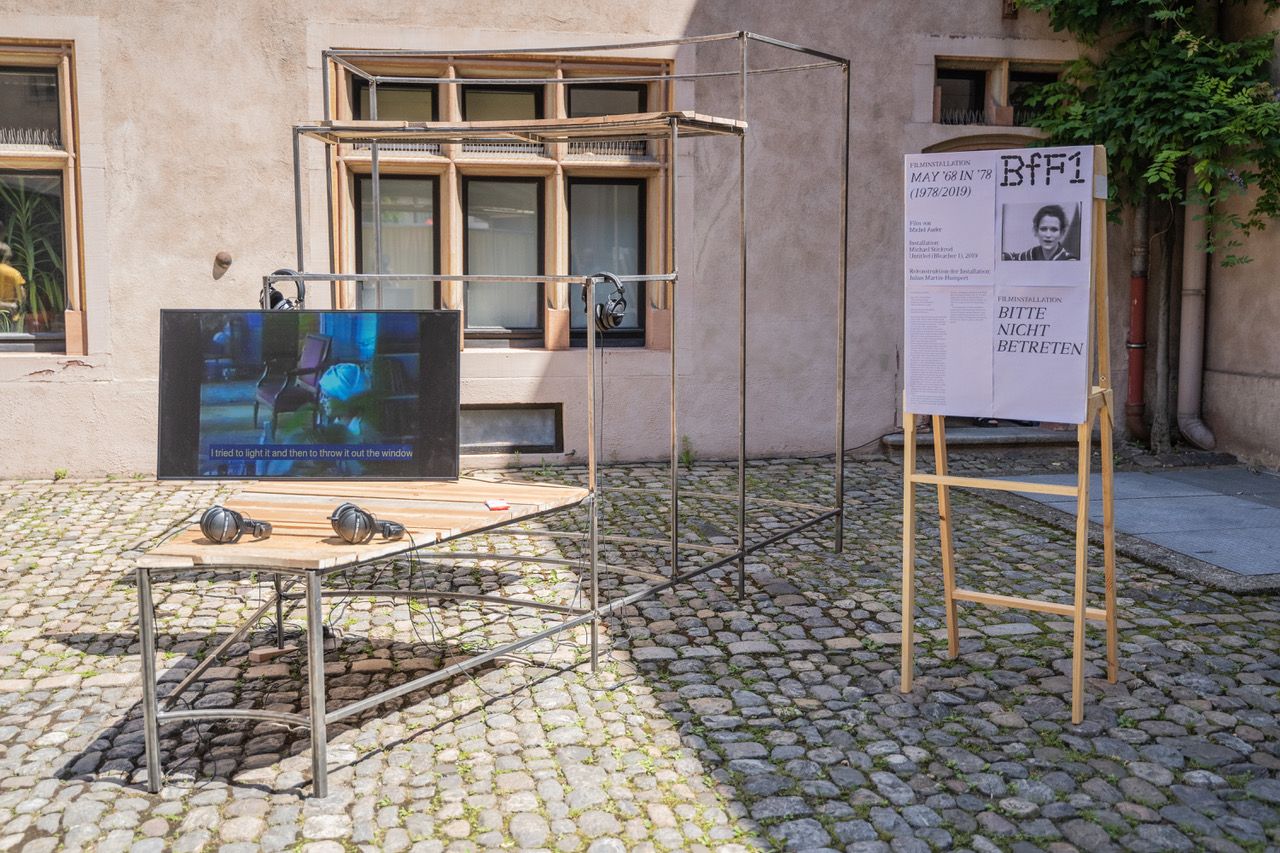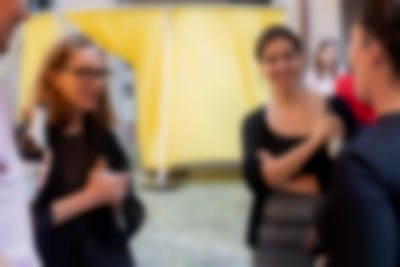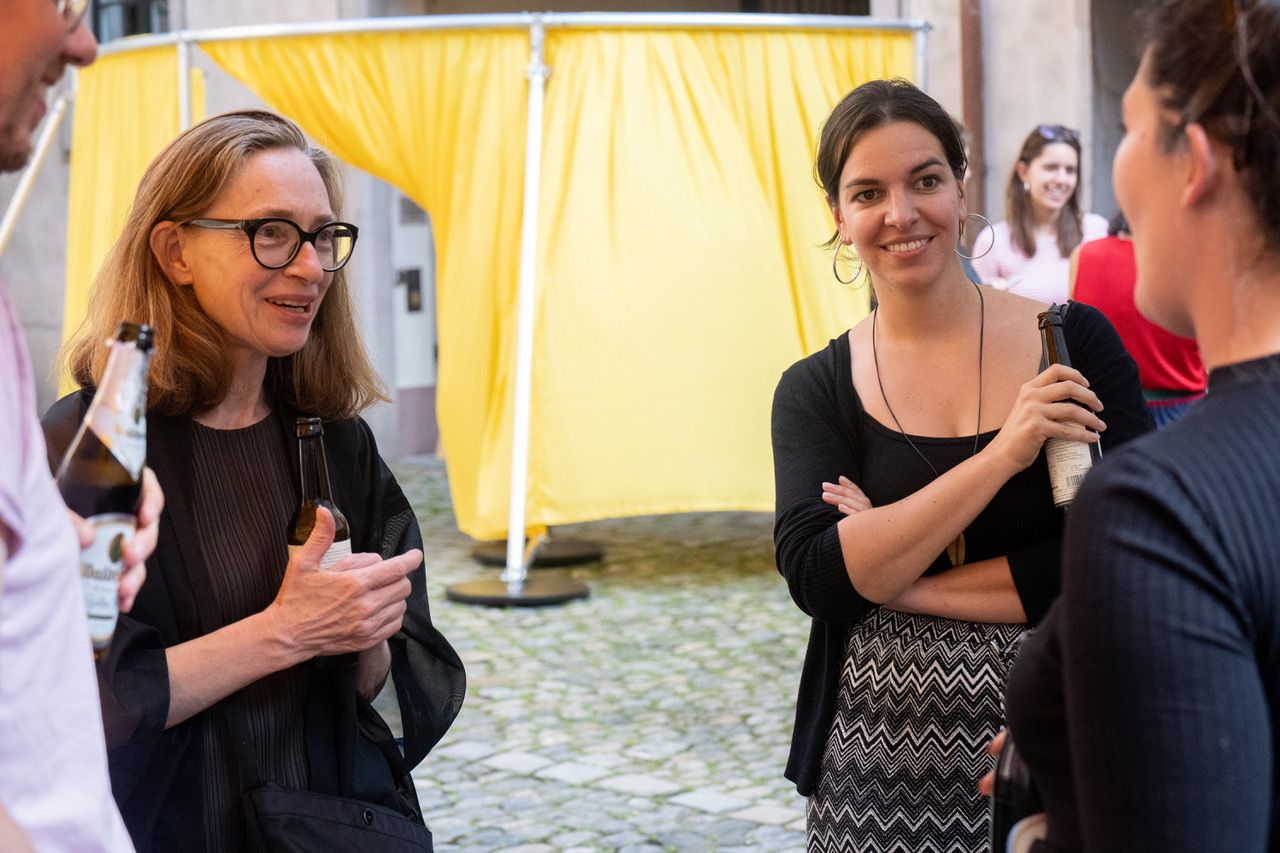 Michel Auder with Michael Stickrod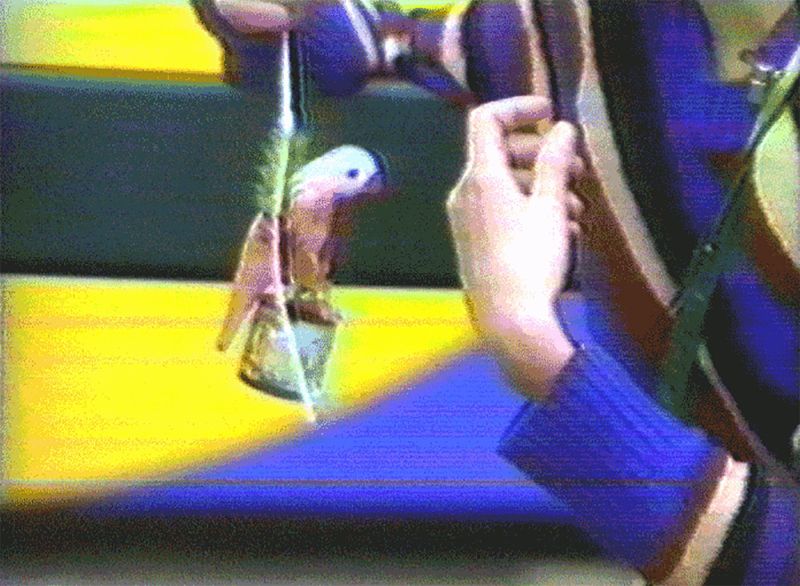 In collaboration with Julius Martin-Humpert, Maristella Witt, Ilja Zaharov and Franziska Rist
at Kommunales Kino
 …
More
Michel Auder with Michael Stickrod
in collaboration with Julius Martin-­Humpert, Maristella Witt, Ilja Zaharov, and Franziska Rist
MAY '68 IN '78
Venue: Kommunales Kino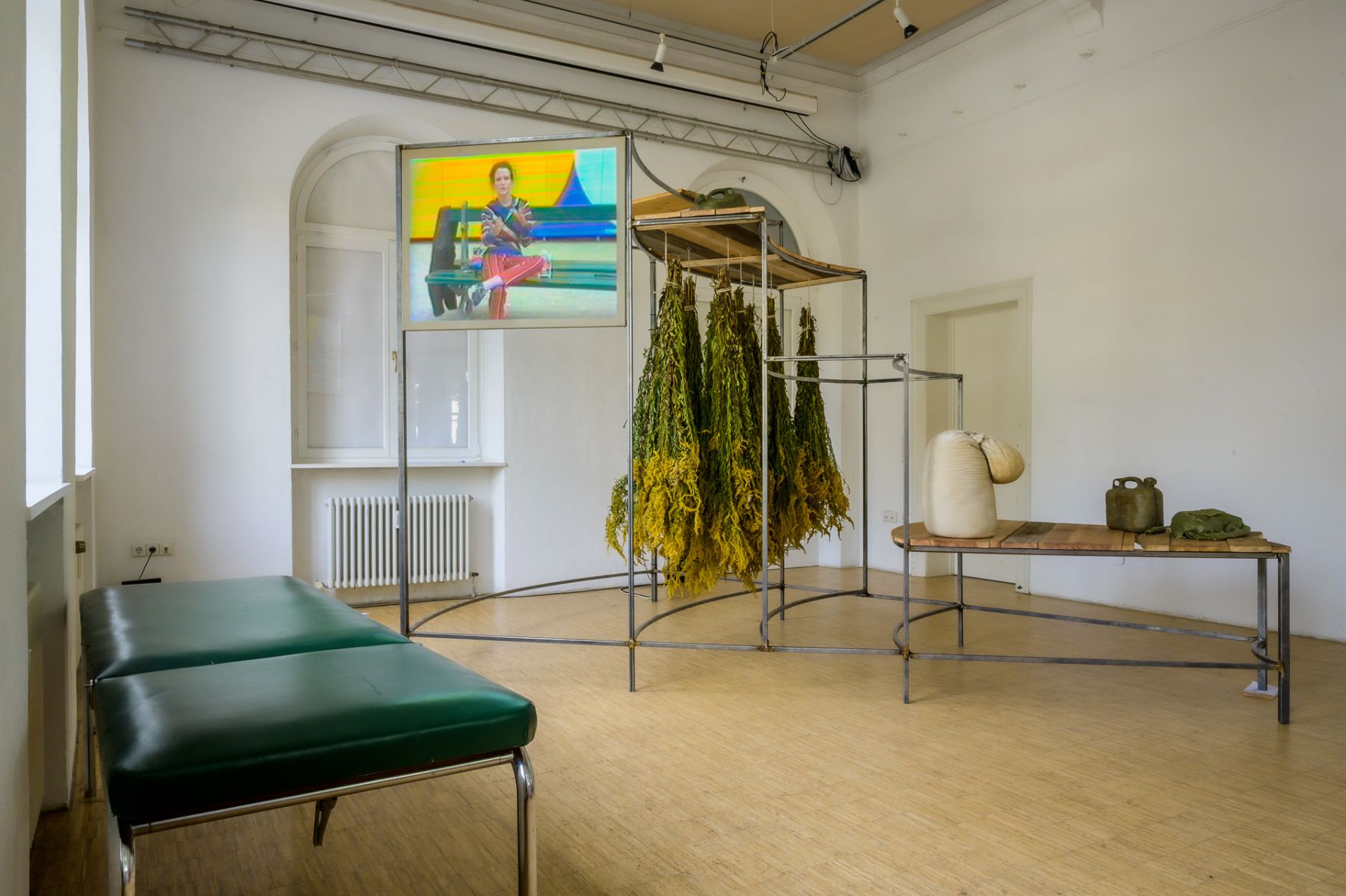 In 1968, photographer and filmmaker Michel Auder documented the revolts in Paris, but lost the footage shortly after when he moved to the United States. Exactly ten years after the events, Auder restored these cinematic memories with MAY '68 IN '78 by entering into dialogue with Parisian artists, workers, a policeman, and a saleswoman, interviewing them about their personal memories of May 1968.
MAY '68 IN '78 paints a polyphonic portrait of the different roles and views the interviewees took during the protests and in retrospect. While some were actively involved themselves, others perceived the protests as a nuisance or simply classified them as insignificant. The conversations Auder initiated with people of different social and professional affiliations reenact the social encounters that, as one of his interviewees recounts, were also characteristic of the events of May 1968: "People were talking to each other, anybody talked to anybody, telling each other what had never been said before."
Originally planned as a film screening in Jean Tinguely's sculpture LE CYCLOP in Milly-­la-­Foret, which could not be realized for technical reasons, MAY '68 IN '78, 2019/2020 was shown for the first time at Beeler Gallery in Colombus, Ohio, in a sculptural setting by Michael Stickrod. A frequent collaborator of Michel Auder, Stickrod had screened, digitized, and edited the video footage for this exhibition.
For BfF#1, one element of Michael Stickrod's installation was reconstructed: bleachers that refer to the theatricality of many of the events in May 1968, while at the same time occupying the gallery space like a barricade. On and next to the construction, four Freiburg-­based artists show new works that emerged from their engagement with MAY '68 IN '78 and were developed in exchange with Michael Stickrod and Michel Auder. In the context of the symposium of the BfF #1 "A COMMONPLACE IS NOT A CLICHÉ": PERSPECTIVES ON PUBLICITIES, ASYNCHRONE GENERALITIES, AND INFRASTRUCTURAL INTIMITIES on July 10, the film was shown as an important contemporary document and cinematic reflection of the commonplace "May 1968."
MAY '68 IN '78, 1978/2019
Michel Auder video, edited by Michael Stickrod, BLEACHER, sculptural elements by Michael Stickrod.
Originally conceived for Beeler Gallery, Ohio, recconstruction by Julius Martin-Humpert.
"UNTITLED" (POUR CAUSE D'INUTILITÉ), 2021
Ilja Zaharov
Offset print on paper, 16 x 42 x 59,4 cm (ideal height) [edition 800]
"UNTITLED" (POUR CAUSE D'INUTILITÉ) comprises printed sheets reading CLOSED (DUE TO USELESSNESS) in French, recalling the protest posters of May '68. The poster refers to the short-­lived closing of the Musée d'Art Moderne by students with the phrase written on a banner covering the entrance; an incident recounted by an interviewee in the film. Visitors may take the sheets, thereby individually determining their usage and revolutionary potency.
ÉCOUTE, 2021
Franziska Rist
Pillow, plaster, 55 x 40 x 70 and 38 x 33 x 45 cm
As I immerse myself in Stickrod and Auder's work and prepare for the collaborative exhibition at KoKi, I confront myself with my most personal material to date in my studio work: my mother's old pillows. Since the pillows still smell like her, I experience flashbacks to my childhood and develop a strong emotional connection to the work. When I include the sculptures in the collective installation, the reference changes, but my relationship remains. In dialogue with the film MAY '68 IN '78, they provide a glimpse into an individual history.
LAST NIGHT OF INSURRECTION, 2021
Julius Martin-­Humpert
Paraffin wax, 30 x 20 x 25 cm
The work LAST NIGHT OF INSURRECTION relates to Tinguely's quote stating that May '68 had no material consequence but led to a revolution of thoughts and attitudes. A jerry can of wax capturing the lack of gas in Paris during the strikes, synthetic paraffin wax turning the inside to the outside, creating an envelope for (destructive) potentials to develop. The climate between social upheaval and constant change, between riots and reforms, gas and fire, is temporarily solidified as a state of aggregation.
UNTITLED, 2021
Maristella Witt
Various materials and size
Civil disturbances stir ­up in the roles of public and private facilities. During protests, schools and universities were repurposed, the museum's symbolism and raison d'être was called into question, the printing house was transformed into a poster printing factory. As people's needs shift, certain spaces transform for coming together, planning, occupying, strategizing, forging out plans. As daunting as the protests appeared to some, they also evoked a piteous, puny impression among interviewees—like a bug that has fallen on its back.
I was interested in the theatrical connotation of the welding curtain material, due to its resemblance to a theater curtain, while also providing a connection to the mental image of forging and welding out a project, a plan, a weapon. 'In my mind it was more like a fever, radical, inflamed'—the theme of inflamed theatricality served as the initial prompt for my sculpture making process.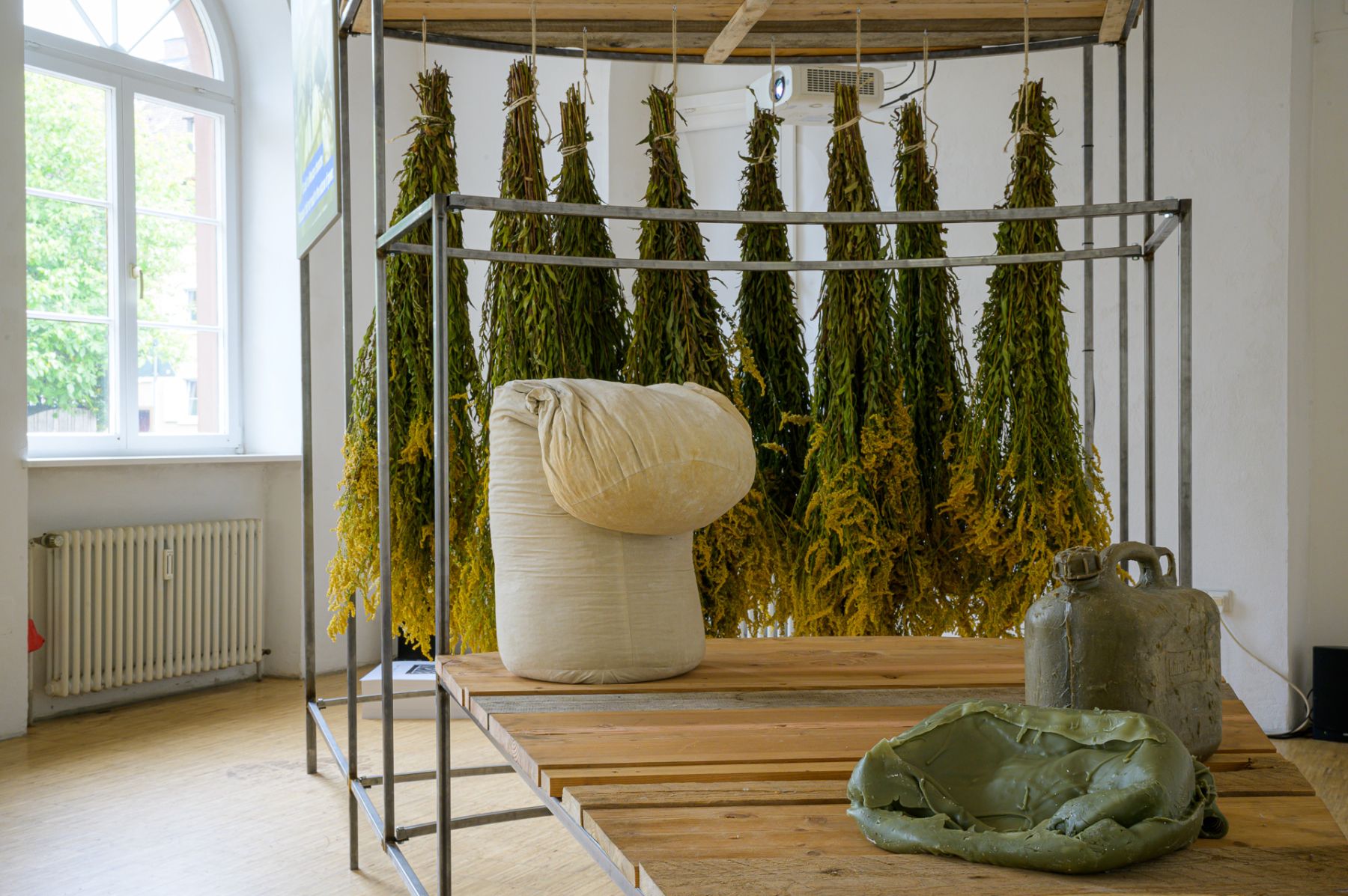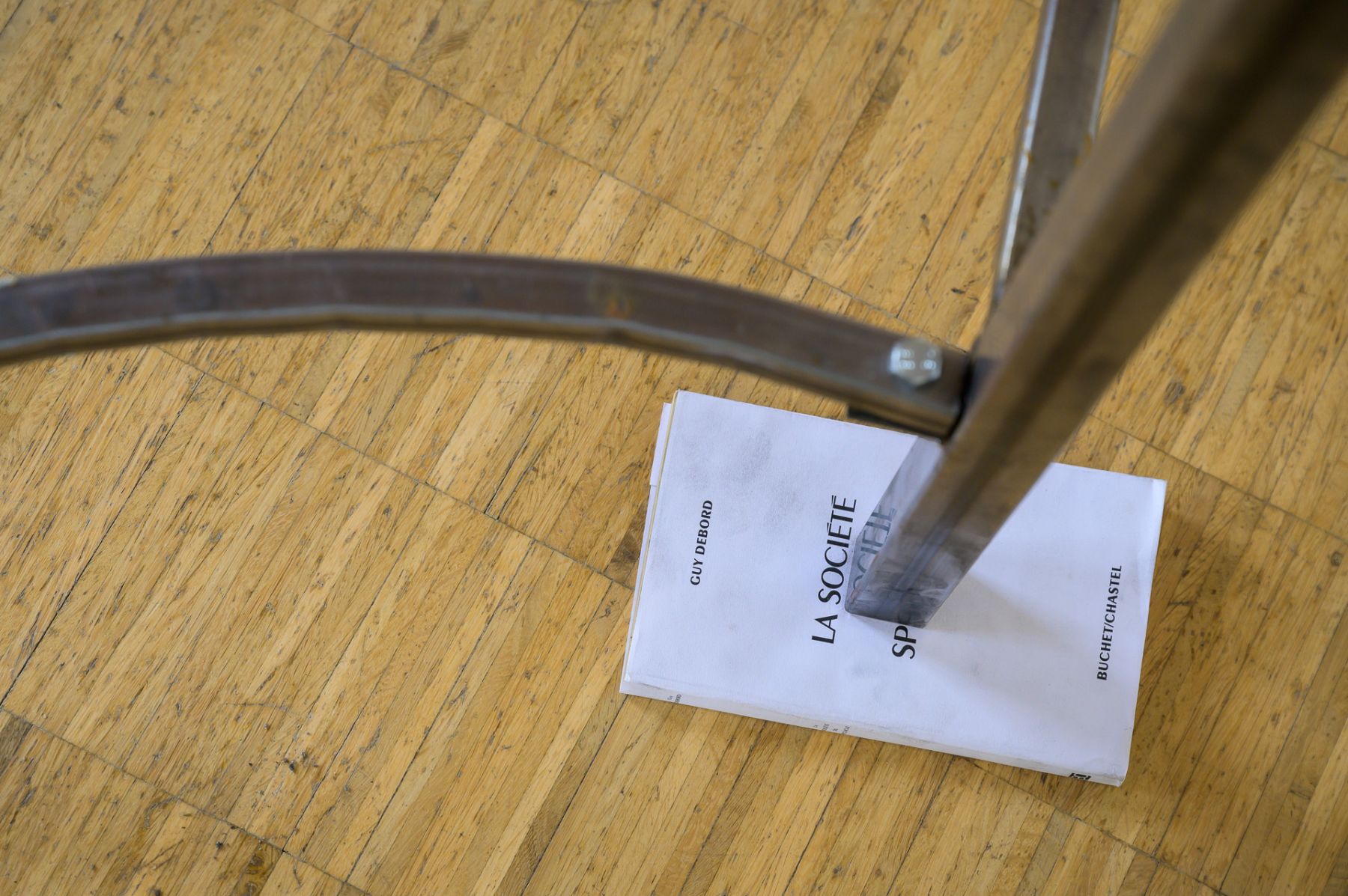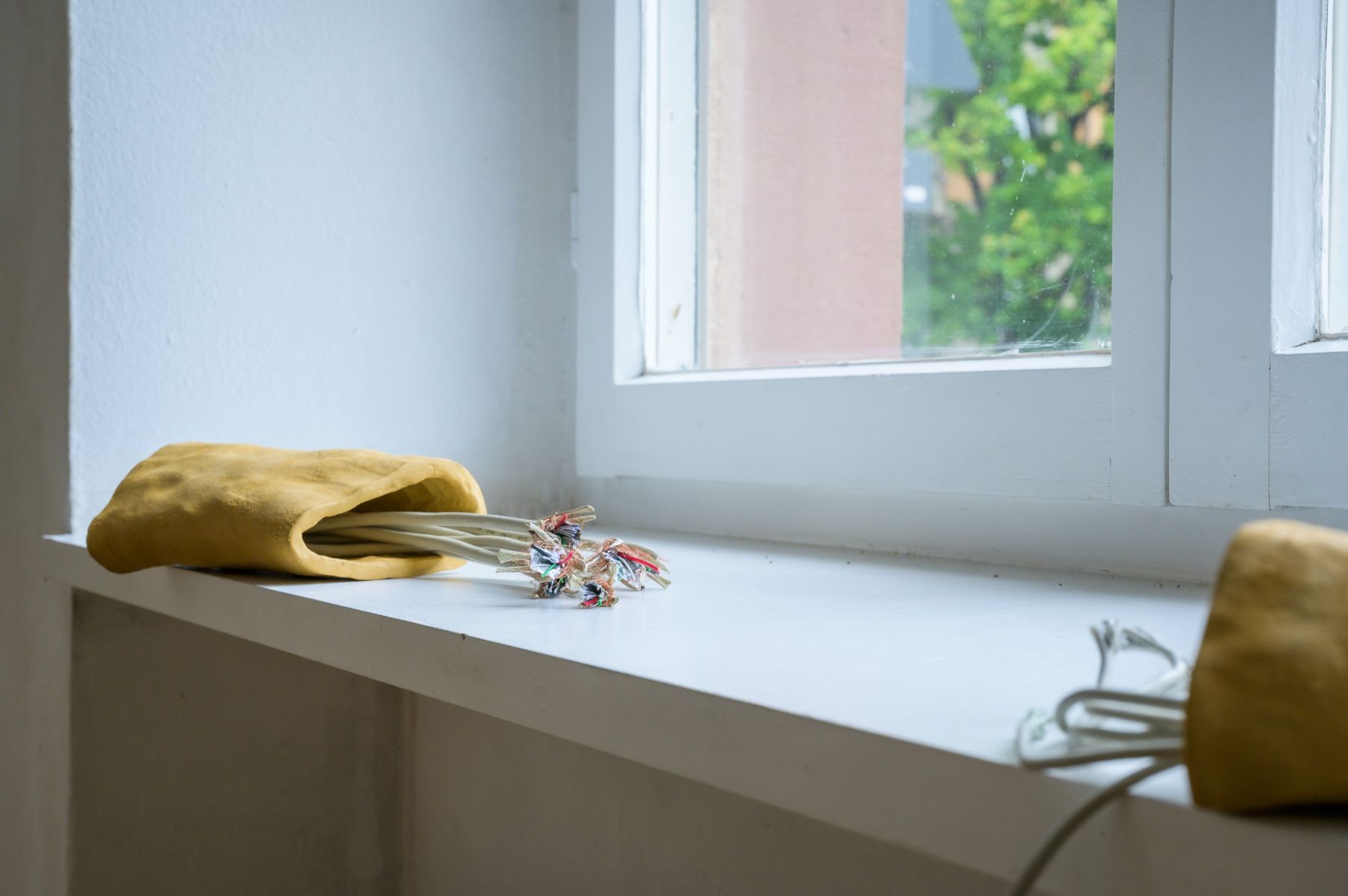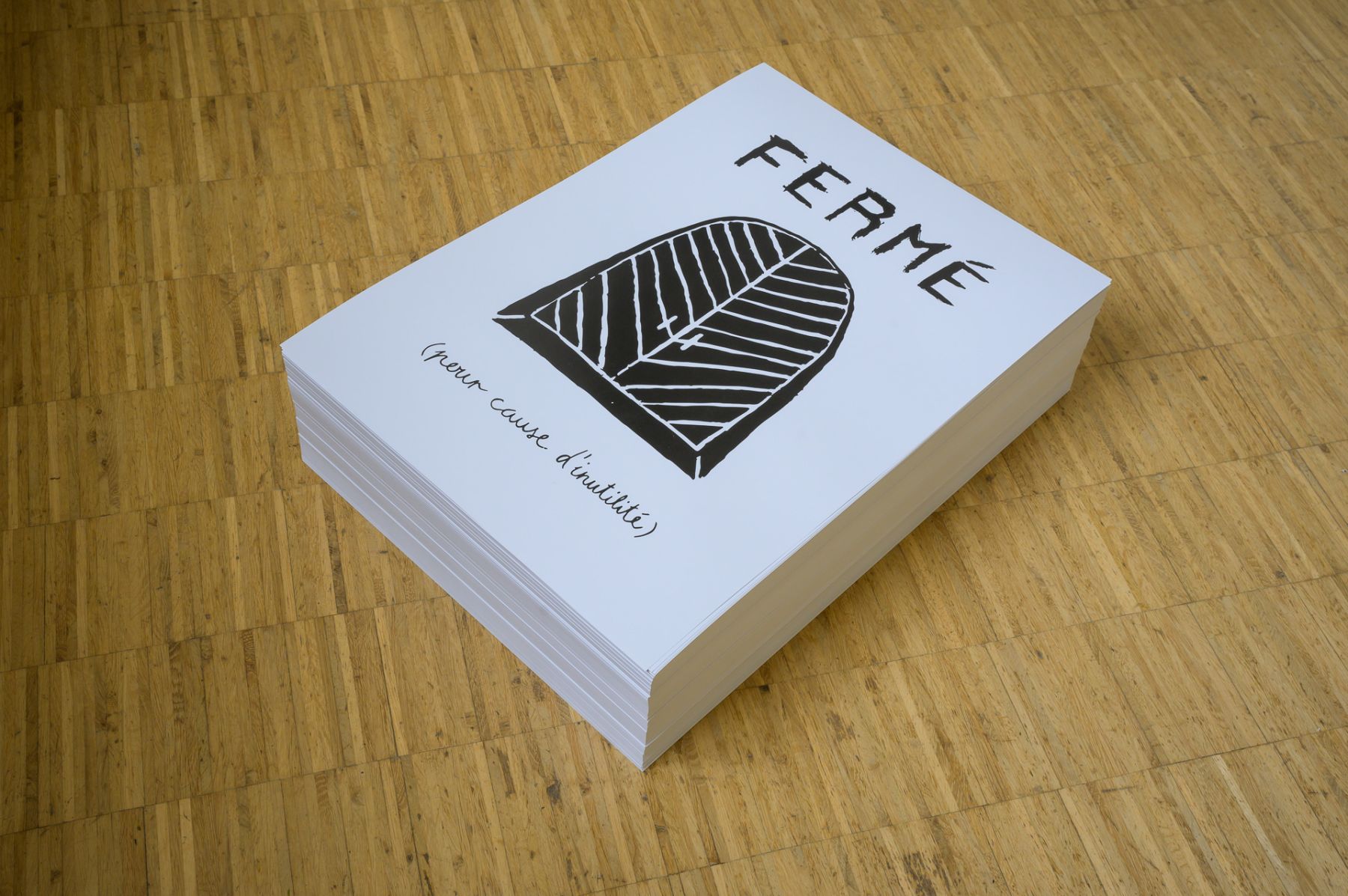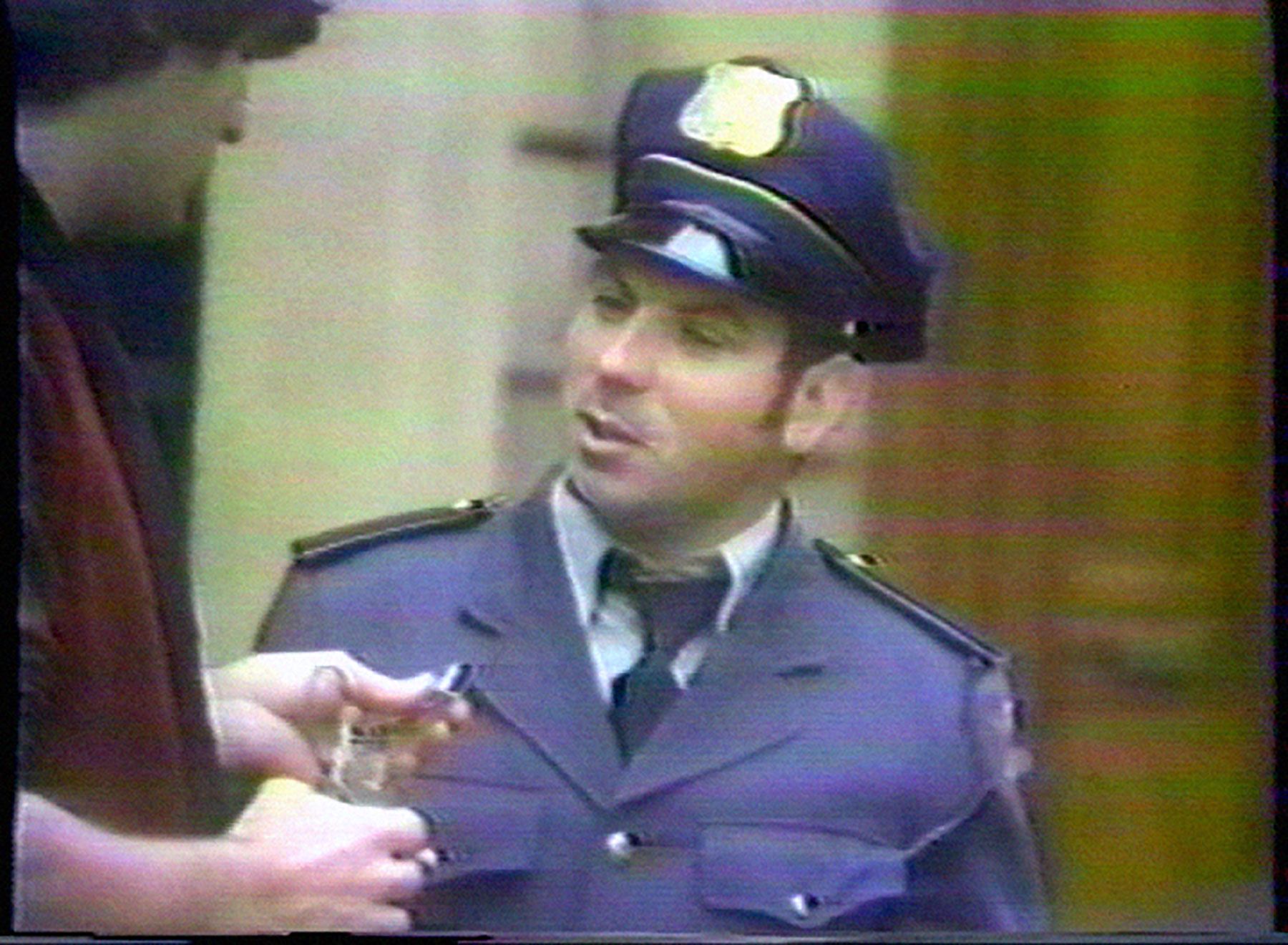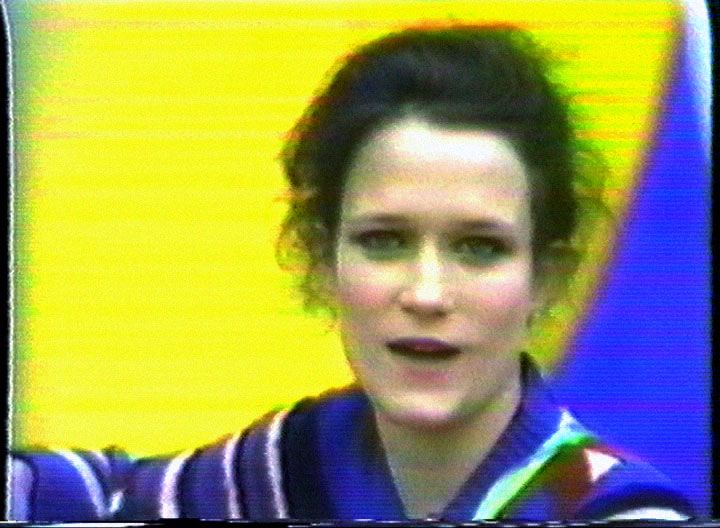 Click here to read an interview with Michel Auder about May 68 in78.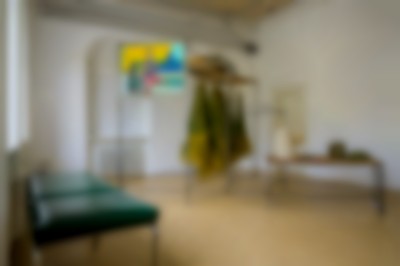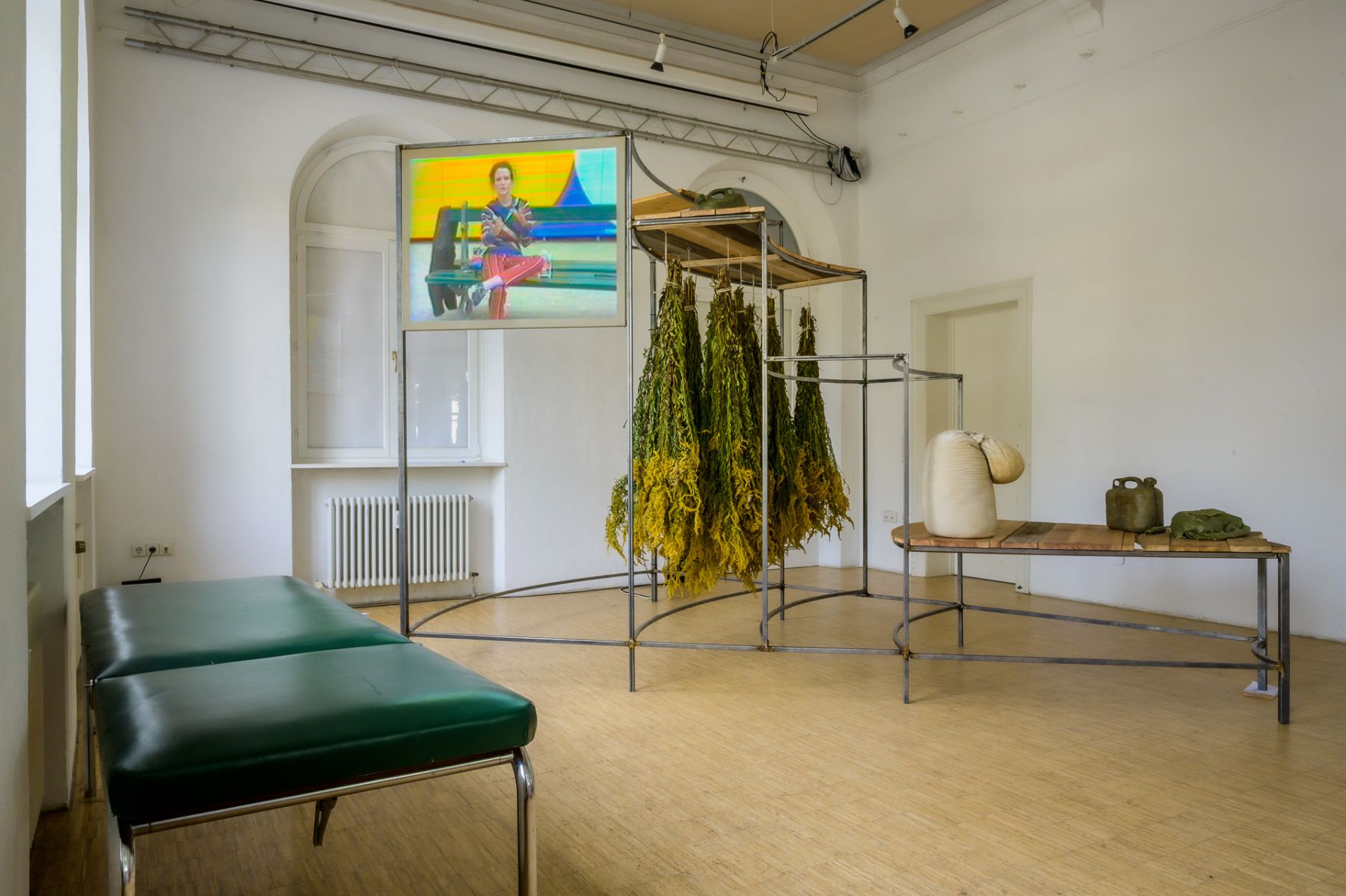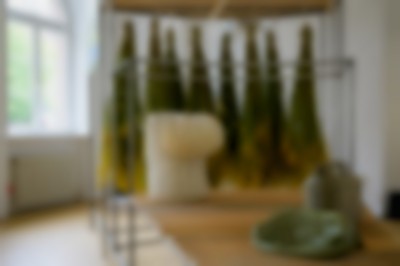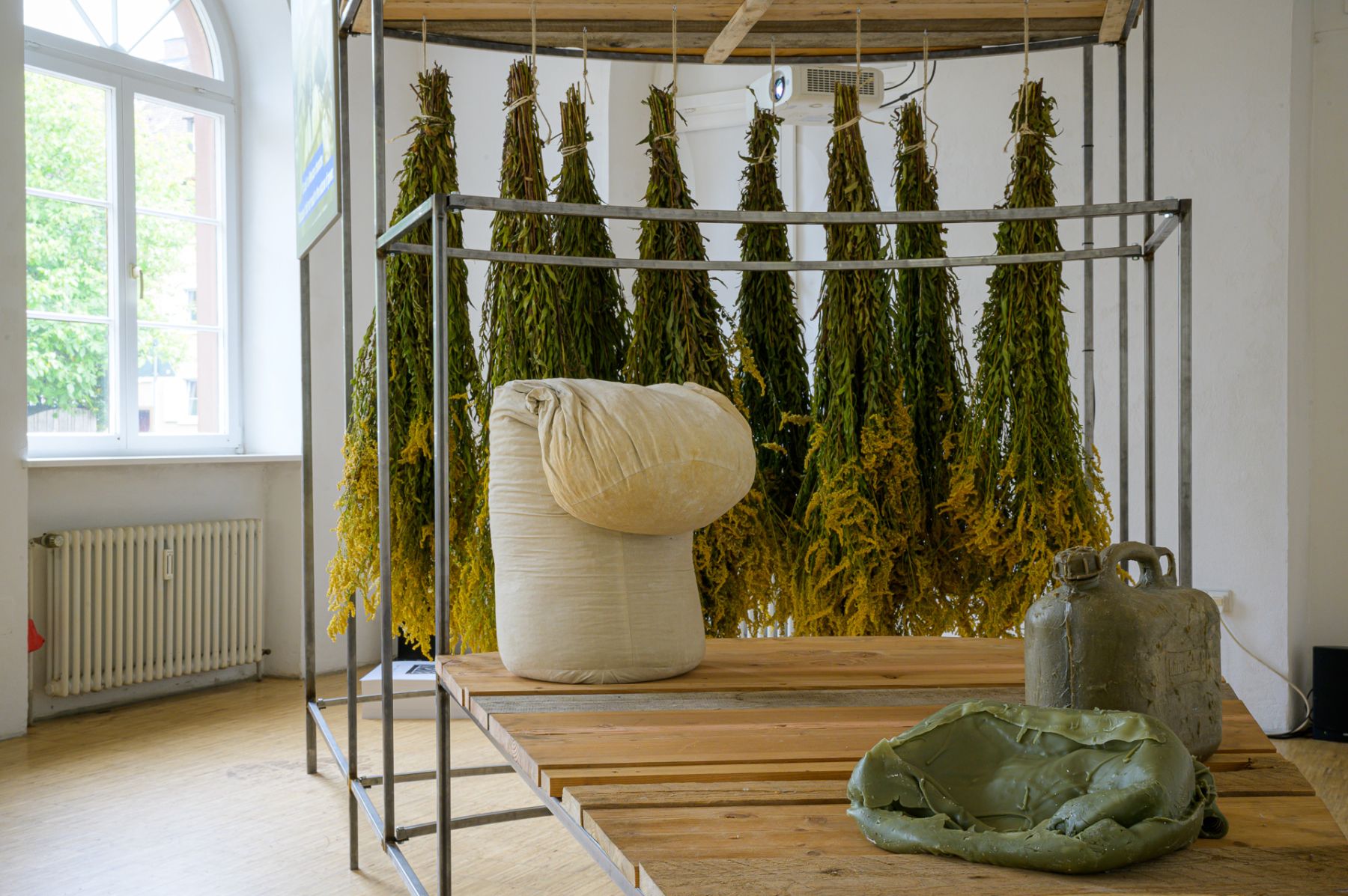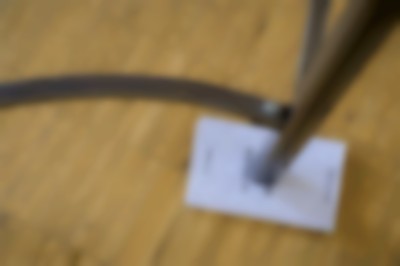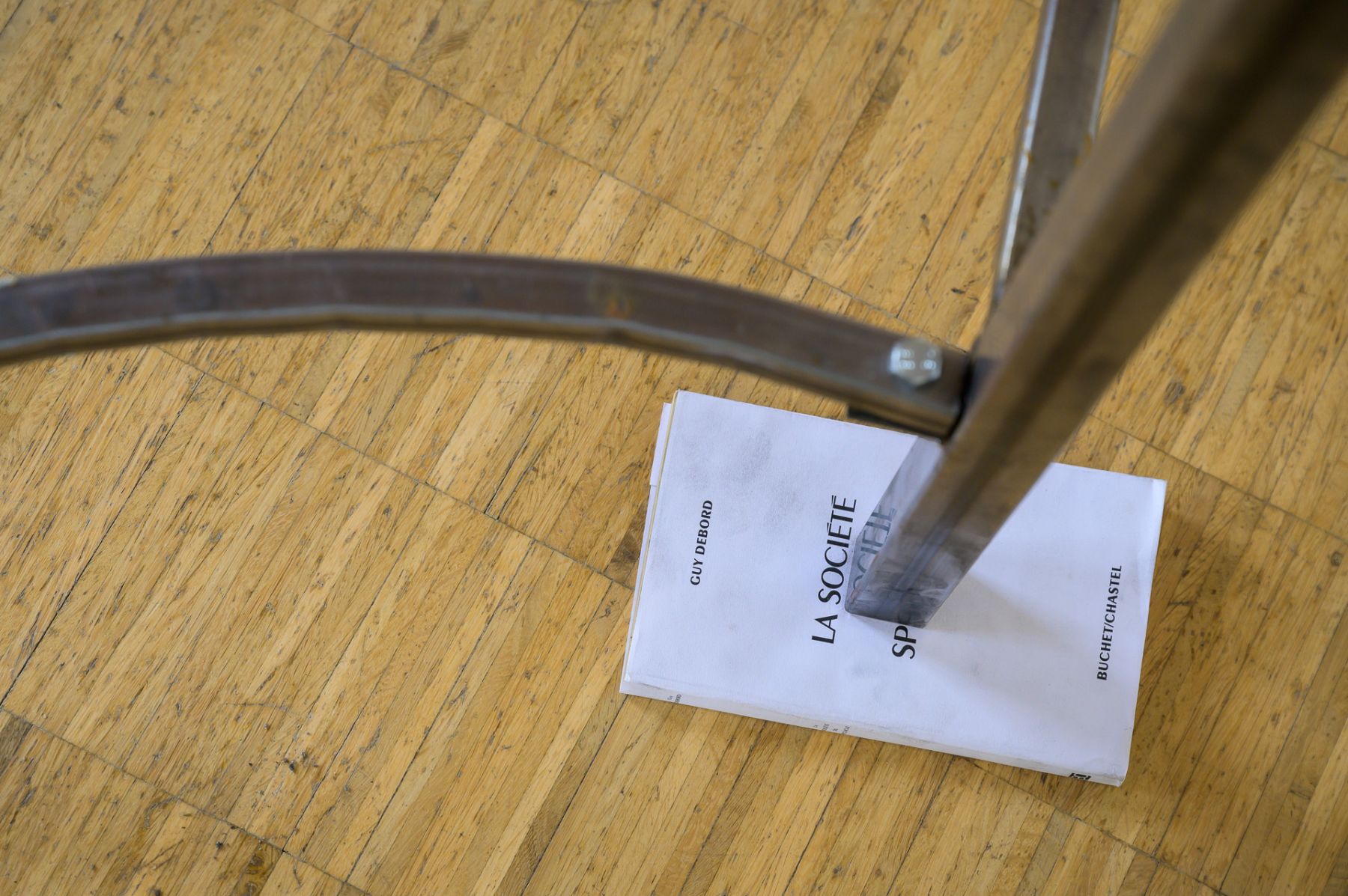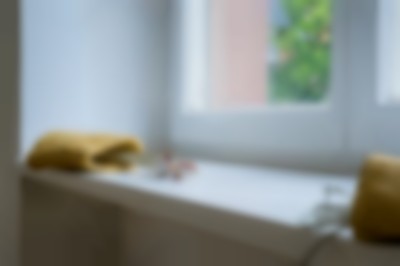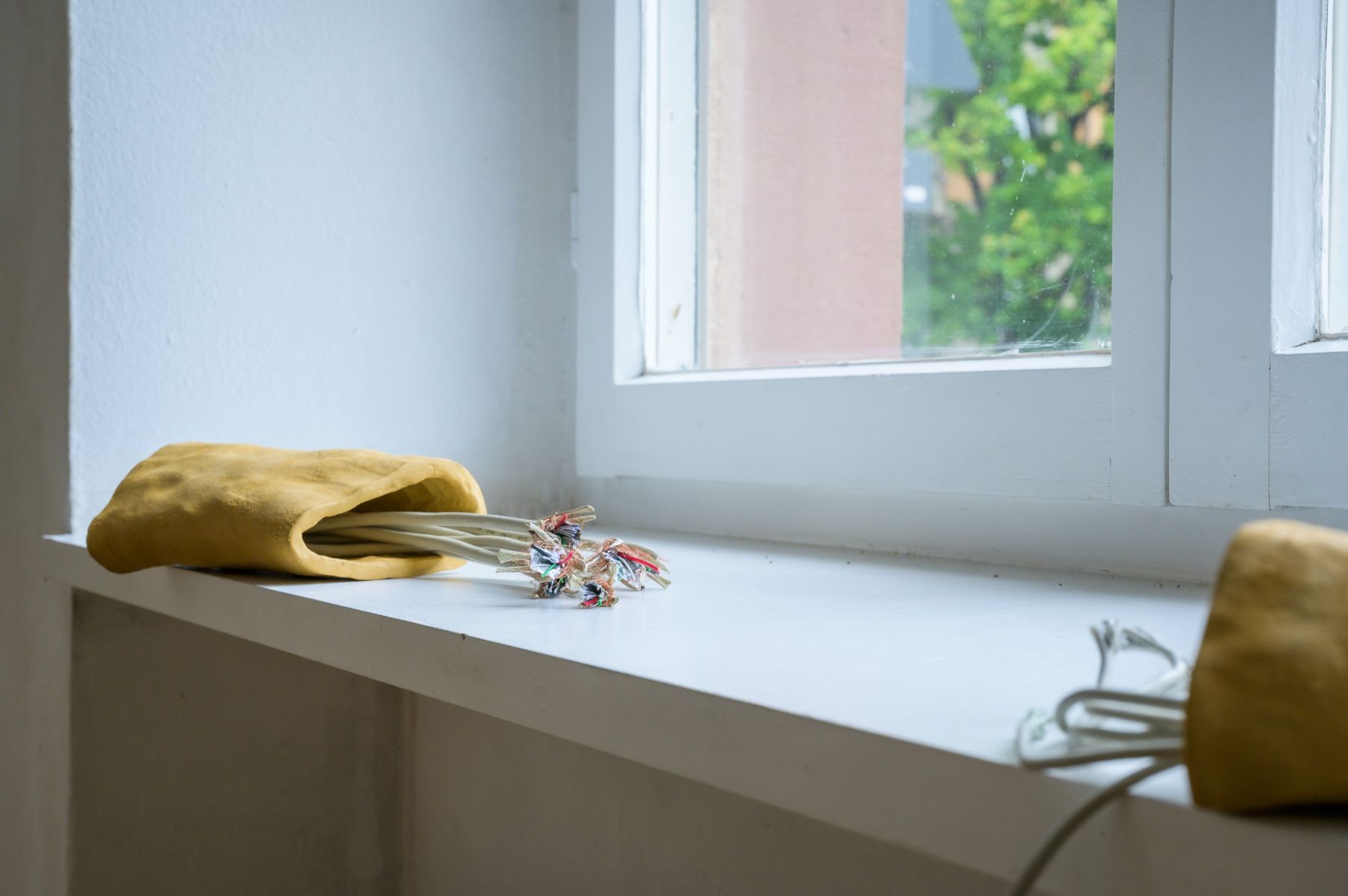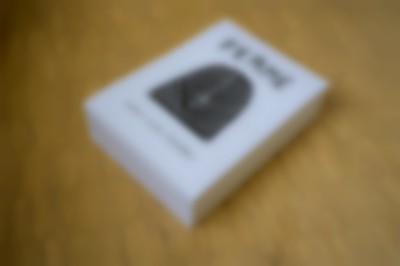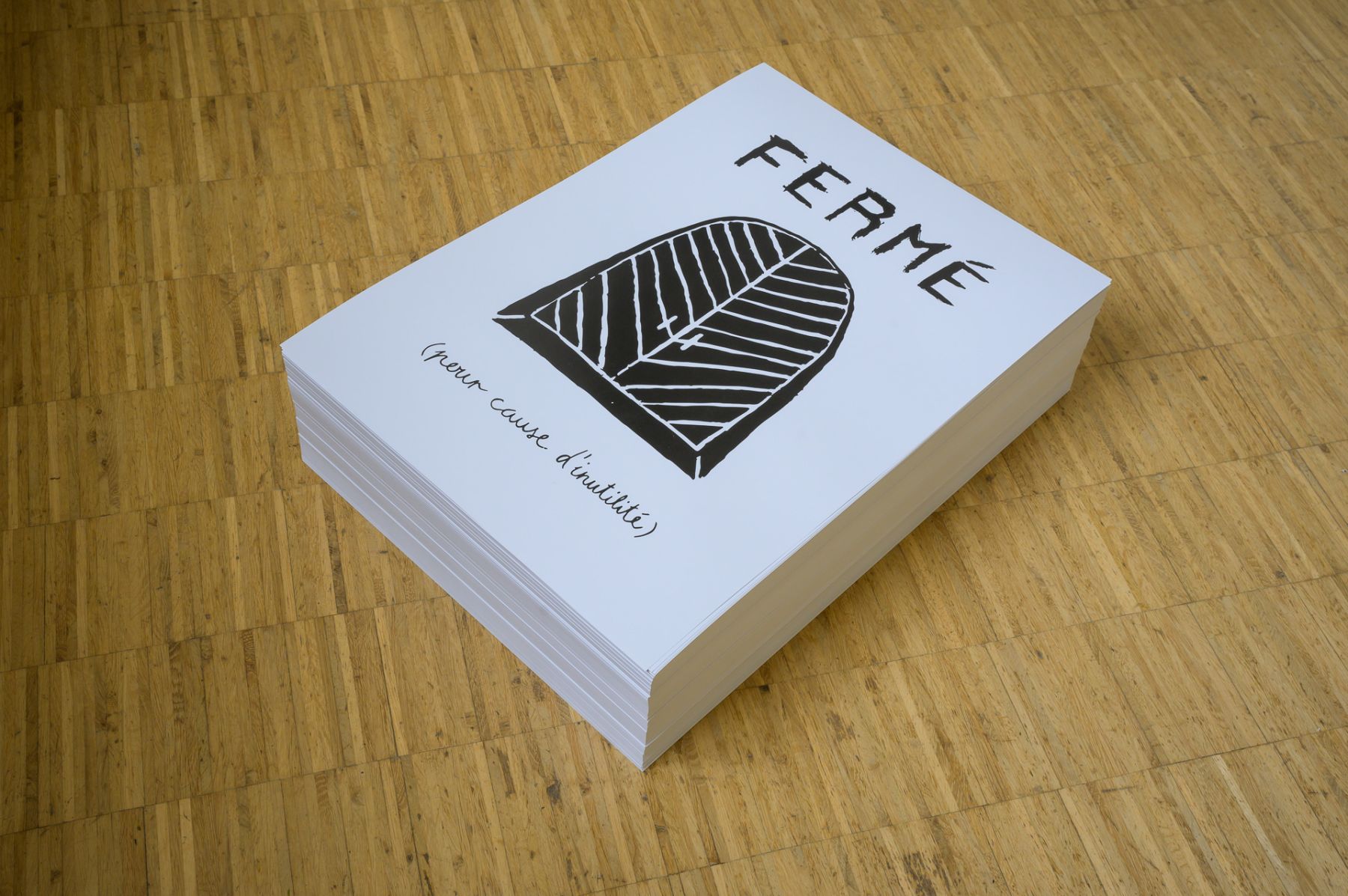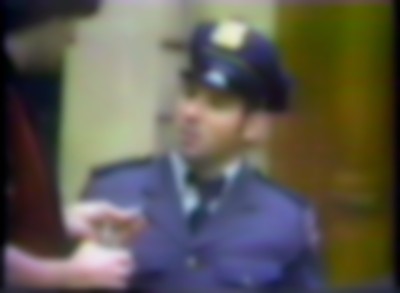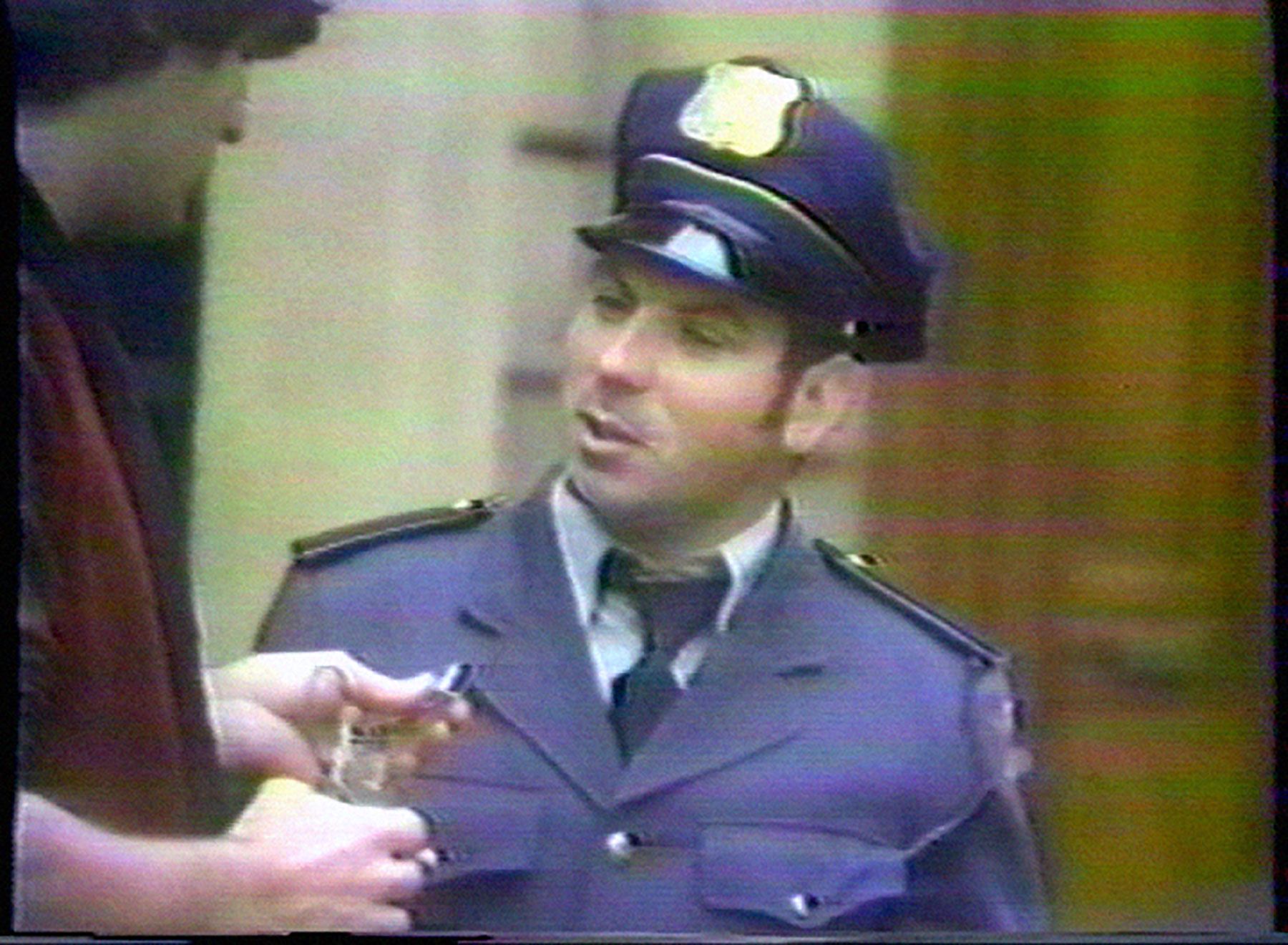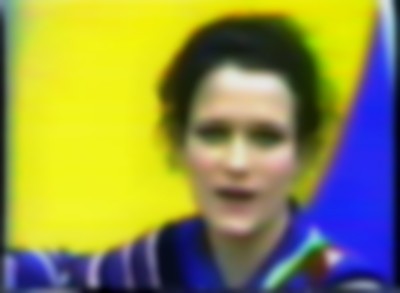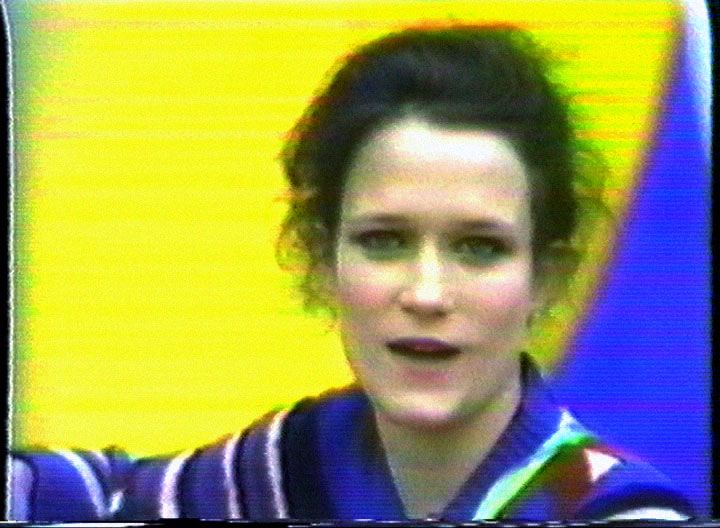 Patrizia Bach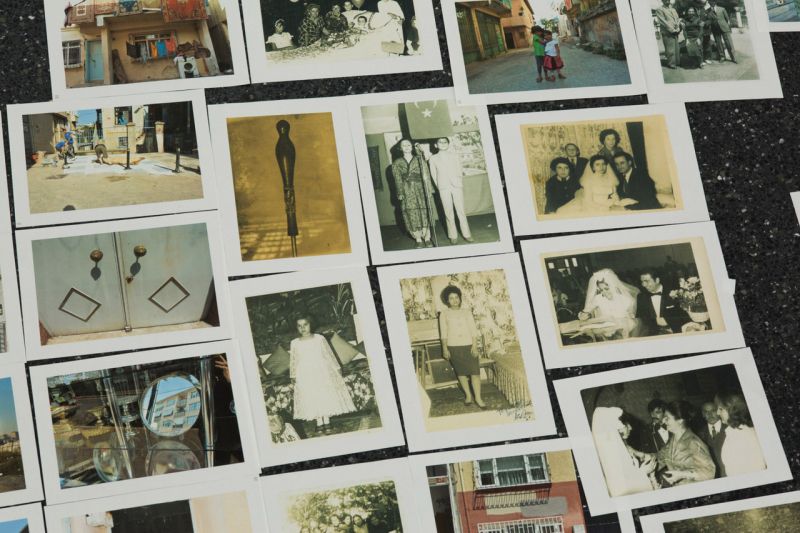 at Kunstverein Freiburg
 …
More
Patrizia Bach
PAST, IN EACH OF ITS MOMENTS, BE CITABLE (USING ISTANBUL AS AN EXAMPLE)
Venue: Kunstverein Freiburg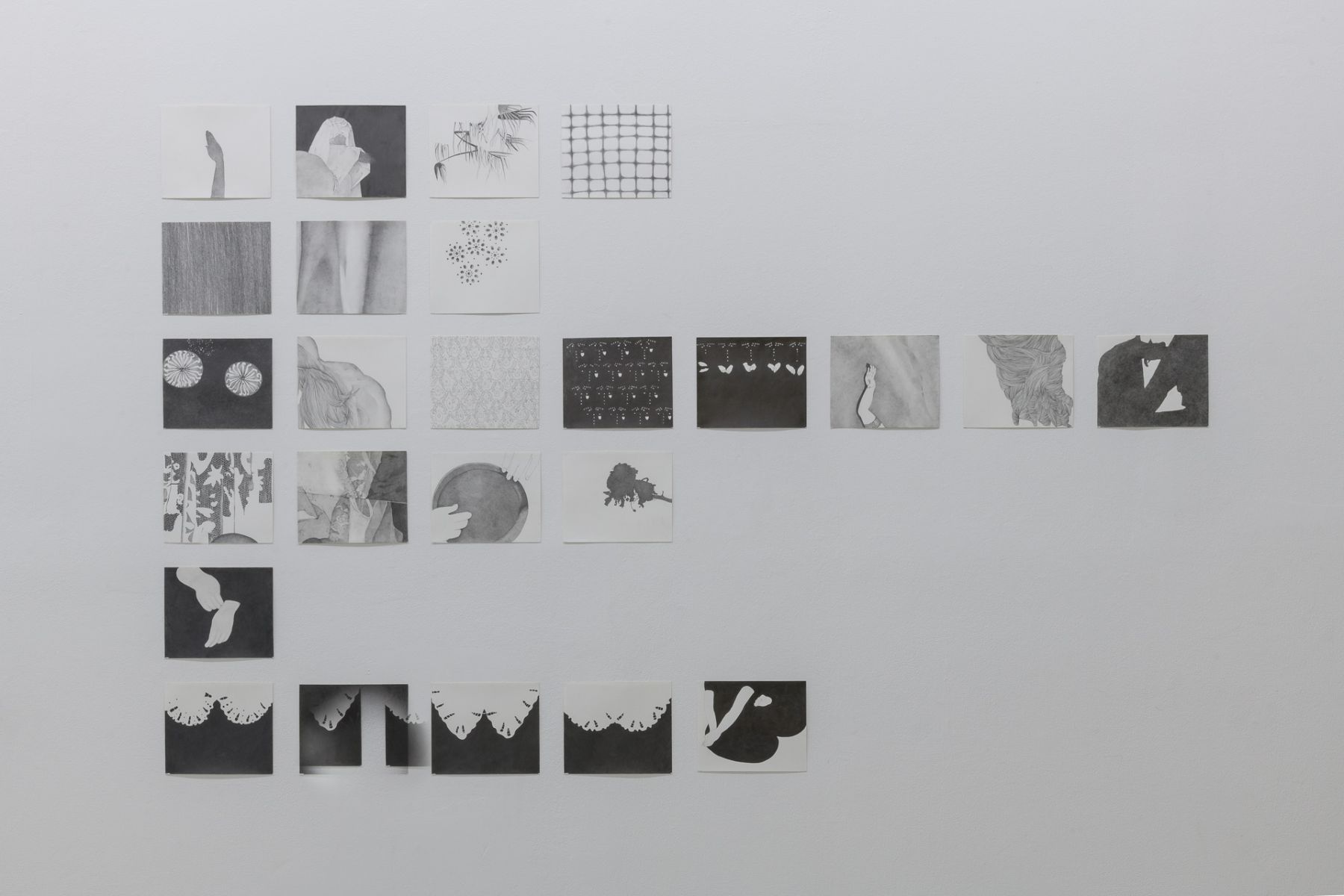 ISTANBUL STADTPLAN by Patrizia Bach documents ongoing research since 2015, in which the artist traces the layers of history in extensive city walks—always focused on marginal phenomena and neglected aspects.
Guided by geographical clues in amateur photographs, Bach walked numerous streets of different parts of the city to find possible correlations of today's places with the historical shots. The private photographs she used as a starting point for her 46 walks are part of the TOMIKO archive, in which the artist has been collecting, digitizing, and indexing photographs documenting private histories since 2006, with the intention of preserving them in their original bequests. In numerous projects, the artist uses her archive to investigate the mechanisms of historiography, its voids, and the archival entity.
Taking Walter Benjamin's notes on the concept of history as a guideline, Patrizia Bach interweaves various stories with places in Istanbul. In addition to amateur photographs, she works with the brisk name changes of streets and entire neighborhoods, documenting their overwritings at different points in time since 2015. Her meticulous lists map this renaming process, which is an expression of changing political attitudes and images of history and can be understood as representative of the city's transformation, its system of representation, and the presentness of history. (Mst)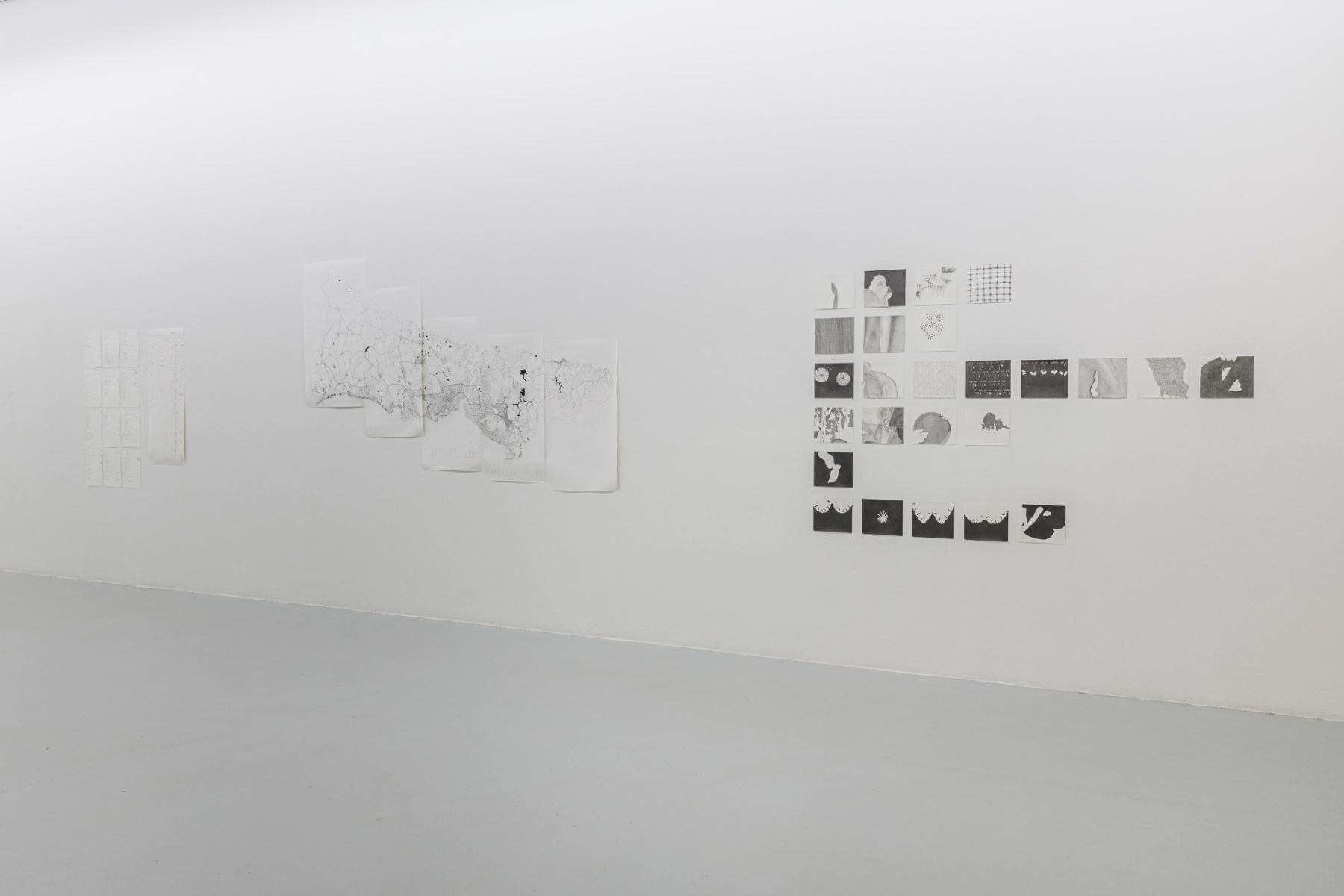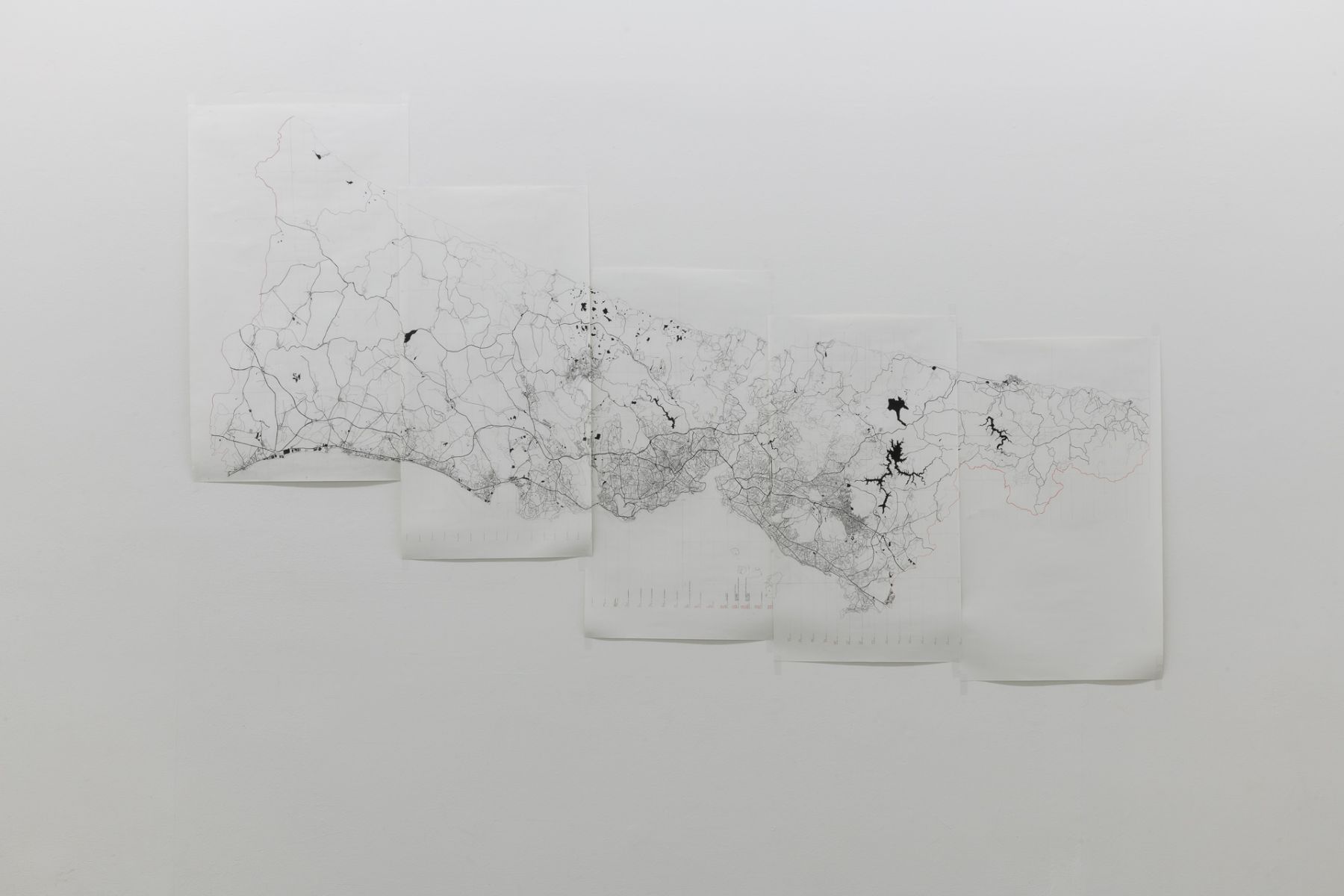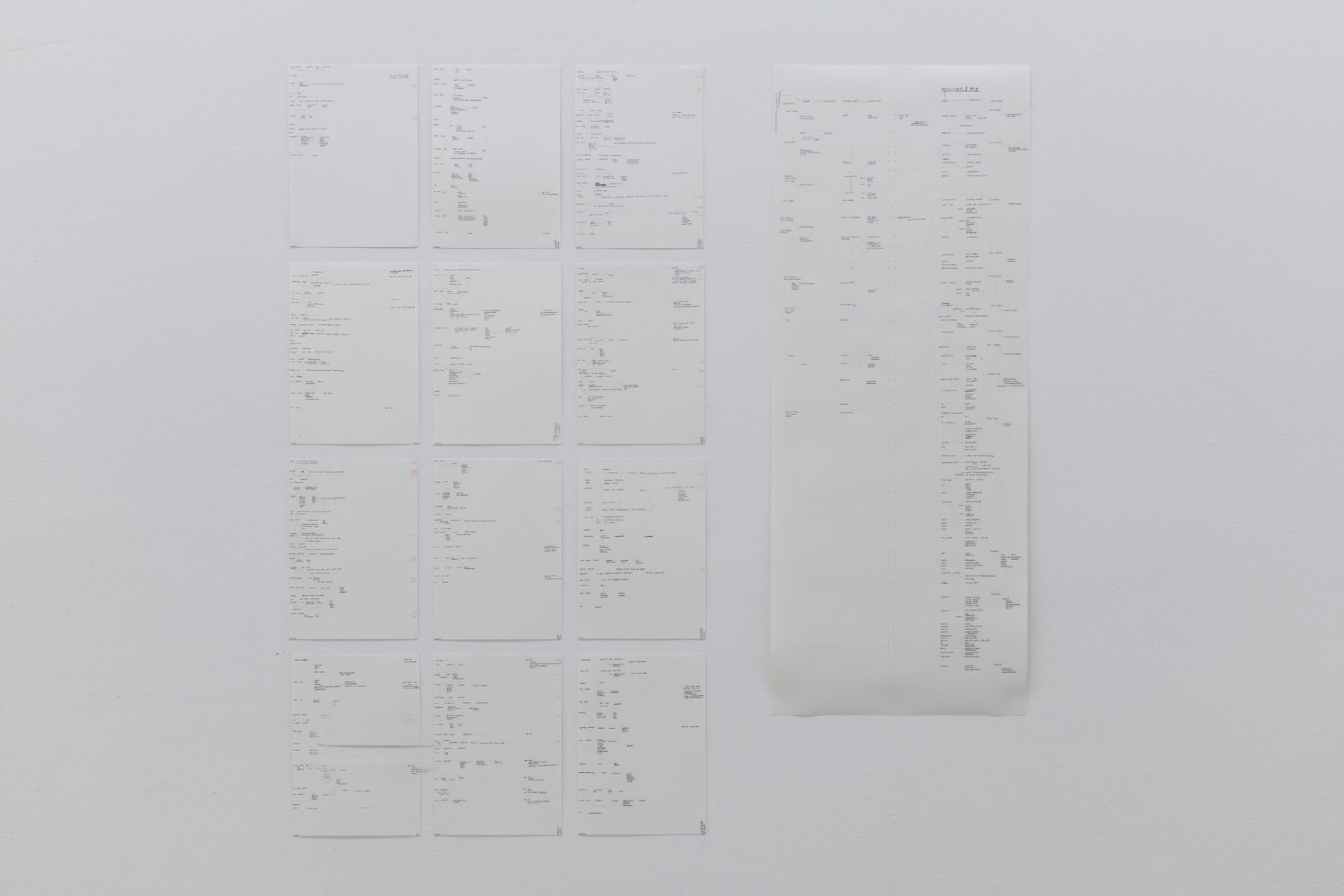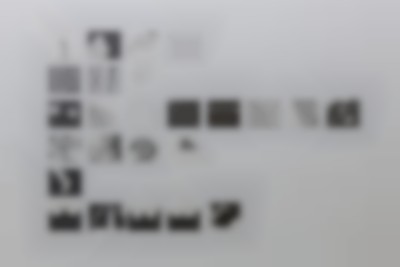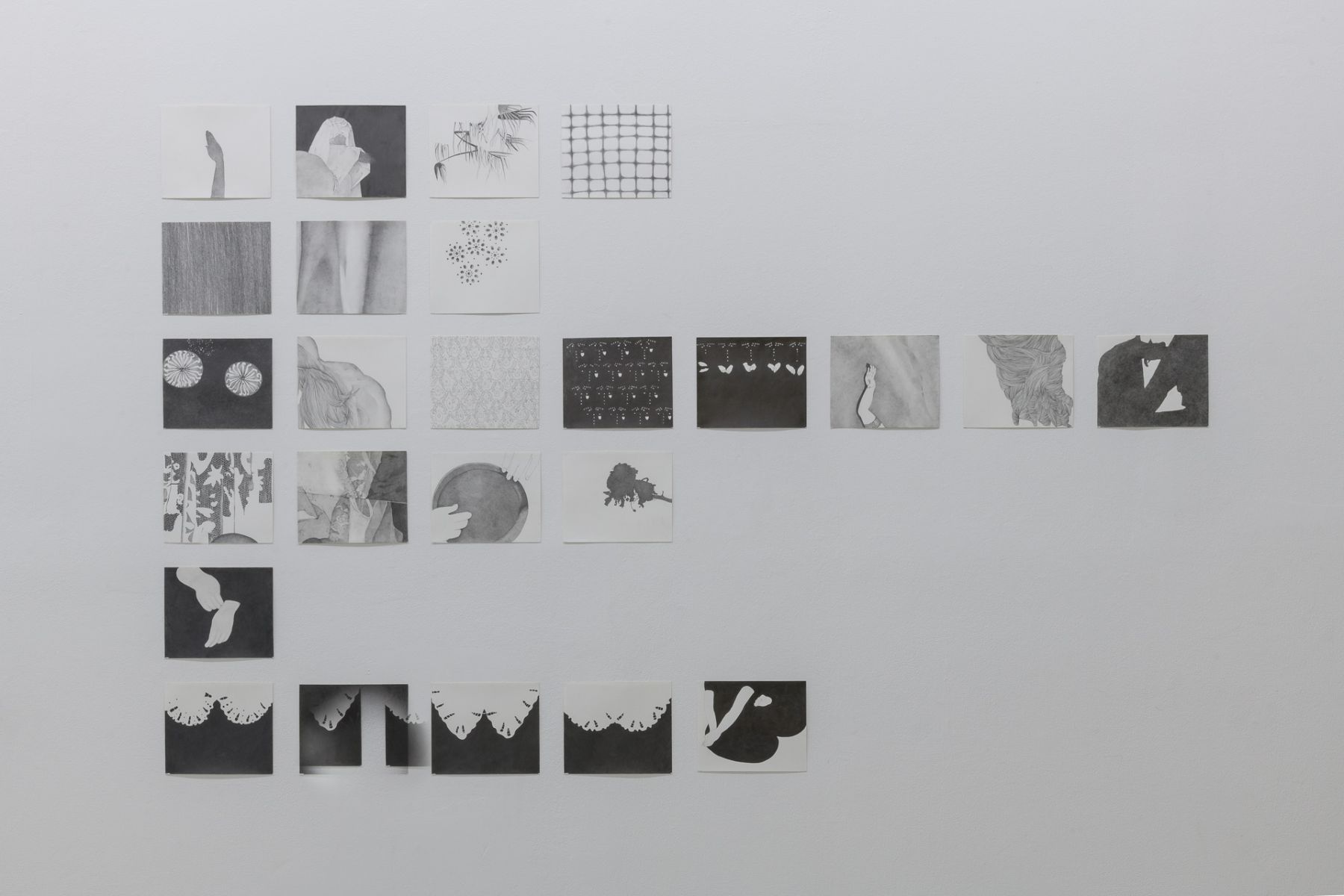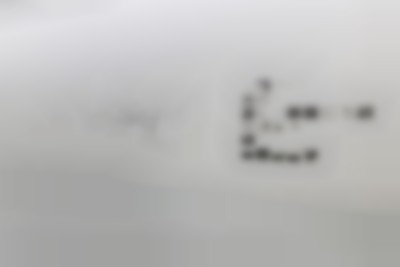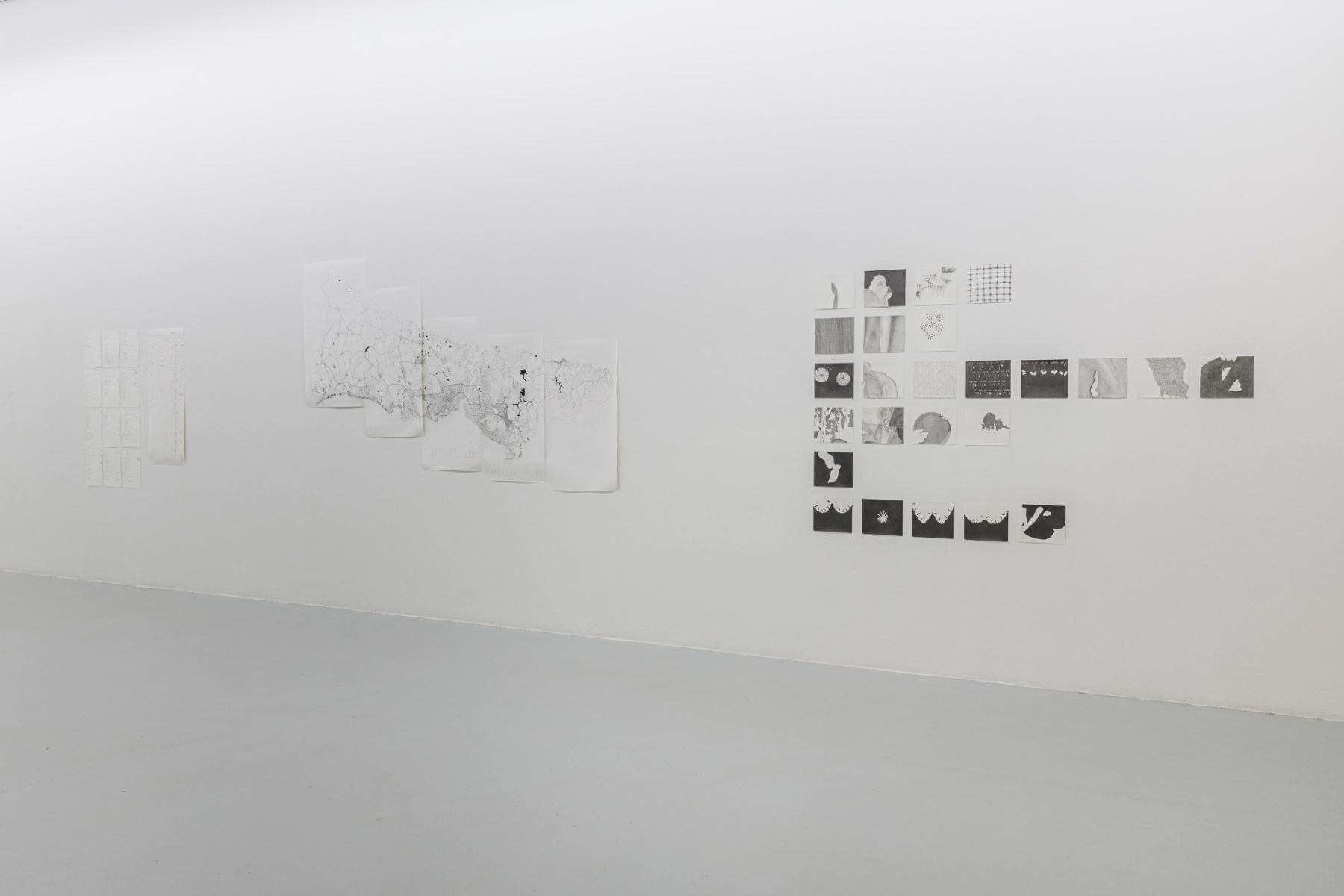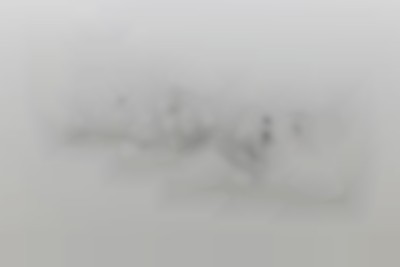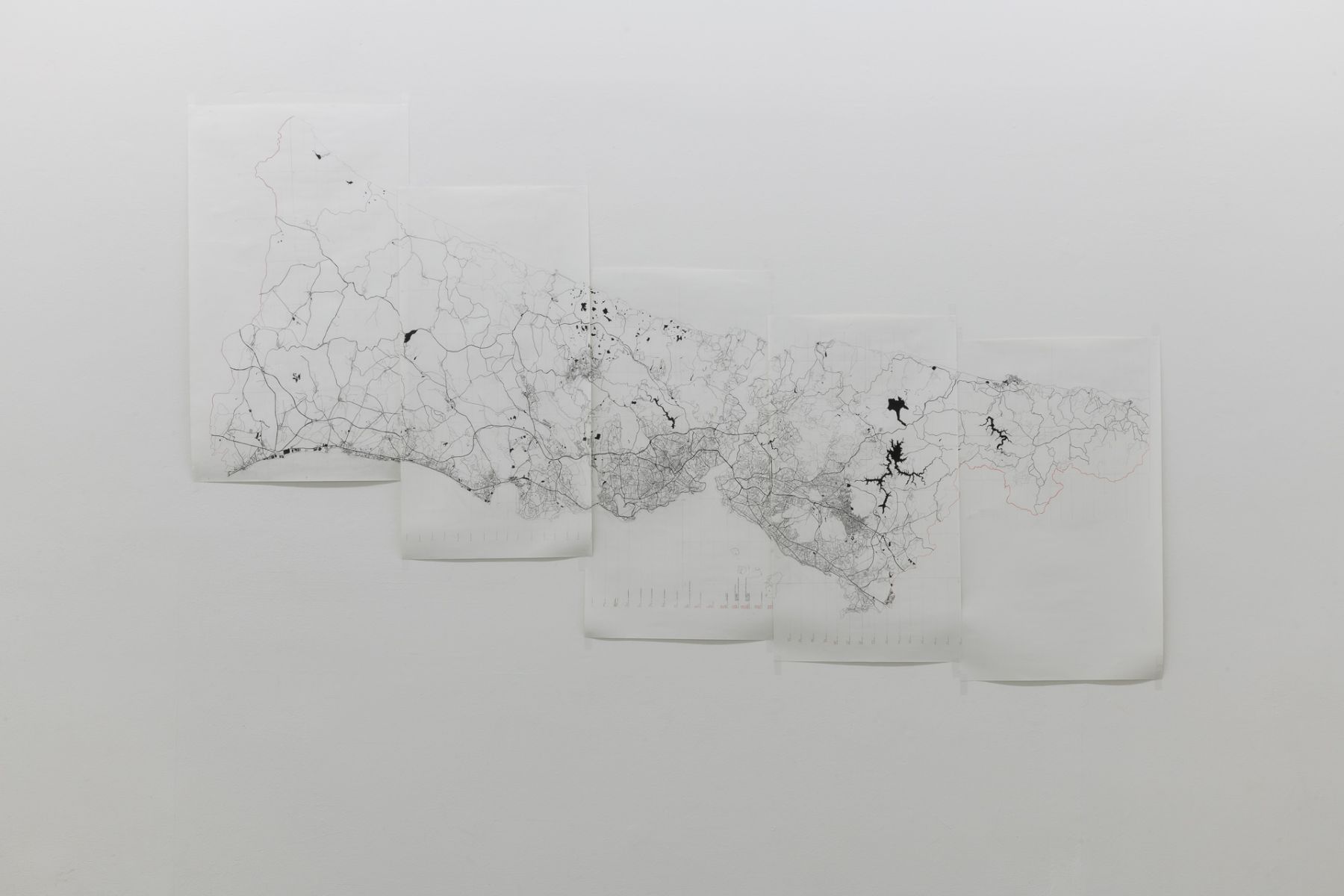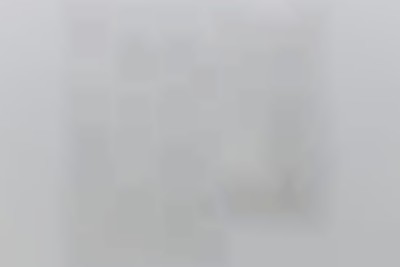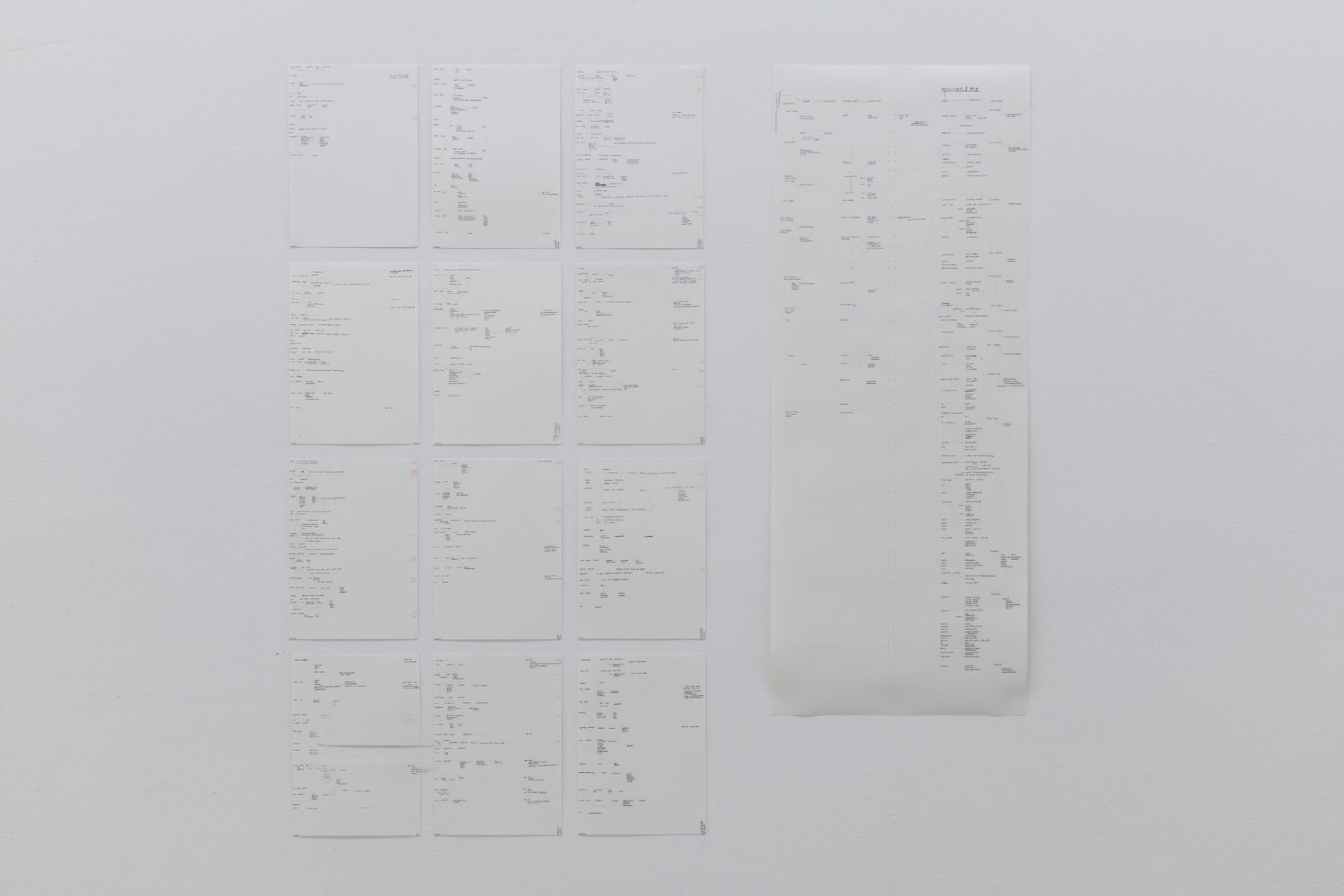 Rahima Gambo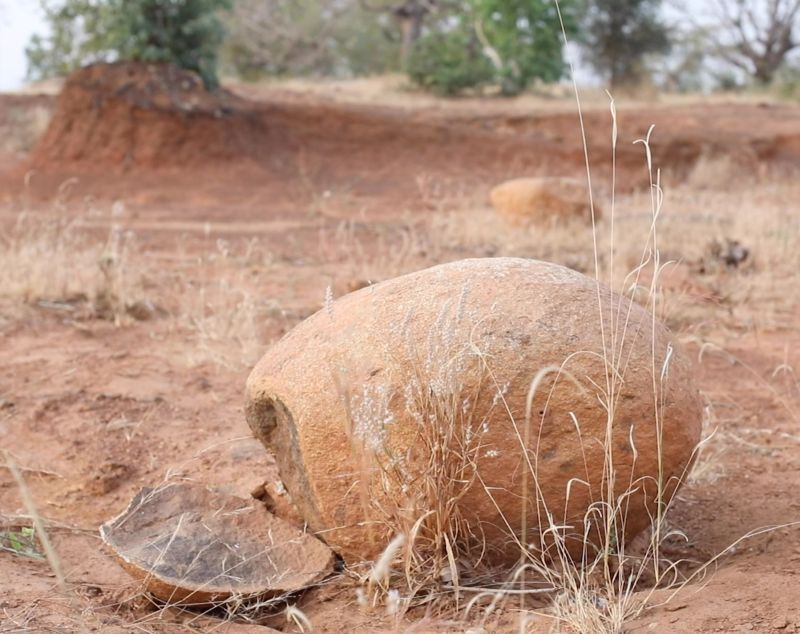 at DELPHI_Space and Museum für Neue Kunst
 …
More
Rahima Gambo
NEST-­­WORKS AND WANDER-­­LINES, 2021
Venue: DELPHI_space and Museum für Neue Kunst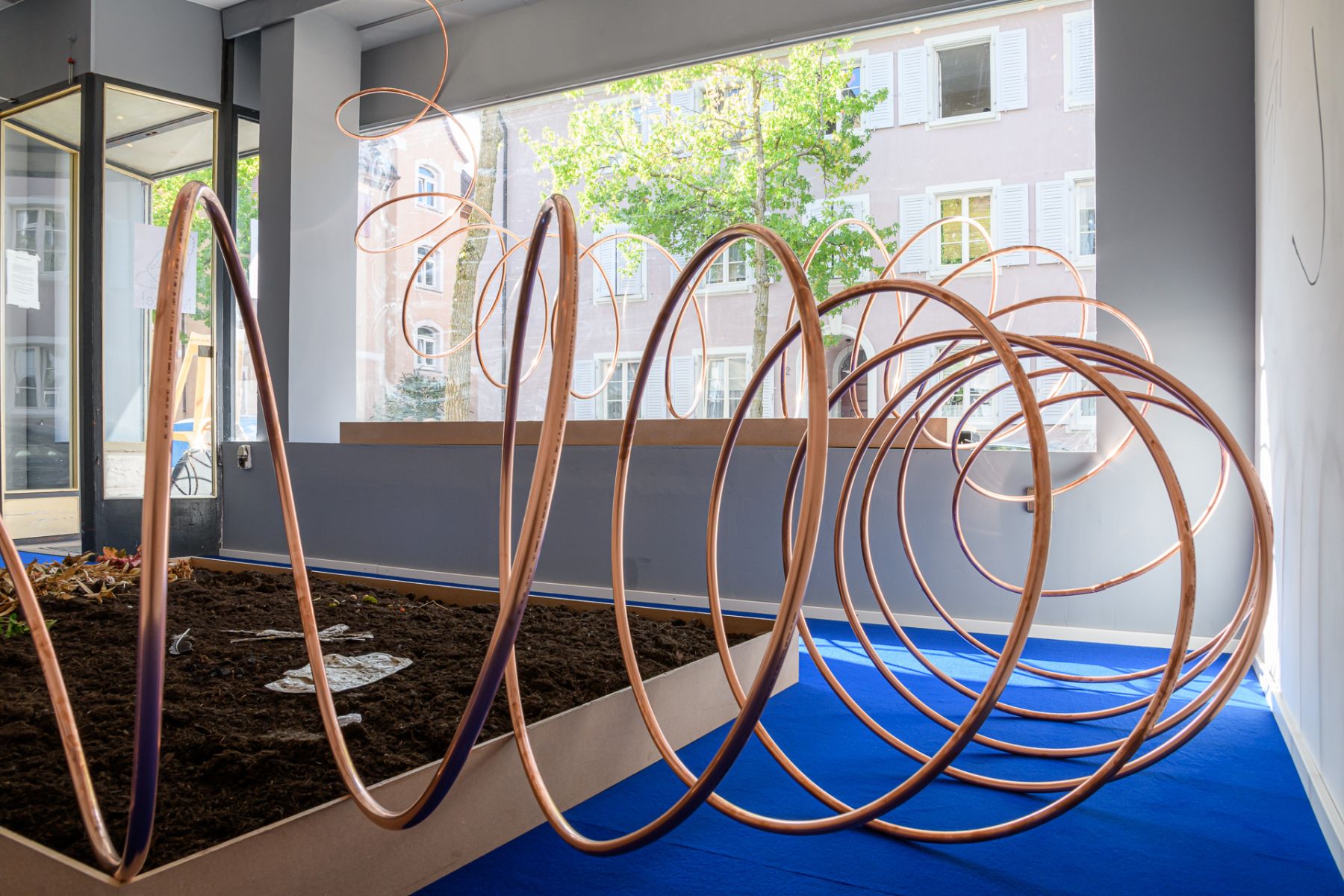 The installation NEST-­­WORKS AND WANDER-­LINES by Rahima Gambo explores architectures of non-­­verbal and non-­­linear stories by mimicking the process of wandering and bricolage mirrored in the moving paths and nest making activities of birds, cow herds, and termites: their nests, habitats, and pathways. Non-­­verbal communication such as movement, symbols, signs gesturing, tracing, and silence are expressed in the work as a liberatory mode of being, seeing, speaking, and writing. The work ponders the inception of language and what it means to see spatially and communicate collectively as part of a ecological system.
The title of the work echoes the language used by experimental educator Ferdinand Deligny's concepts derived from his writings and theories which Gambo is inspired by.
The installation was preceded by a 5-­­day WALK-­WORKSHOP at the beginning of September in Freiburg. During individual morning walks, the artist and seven participants collected materials and objects: stones, leaves, sound recordings, videos, pictures, objects, or texts. A selection of these collected objects is a part of the installation NEST-­WORKS AND WANDER-­­LINES. A psycho­­spiritual-­­geographic narrative emerges that is both interior, exterior, and specific to the spaces Gambo and participants walked through. (AH)
More video and text material on the colletive installation can be found here.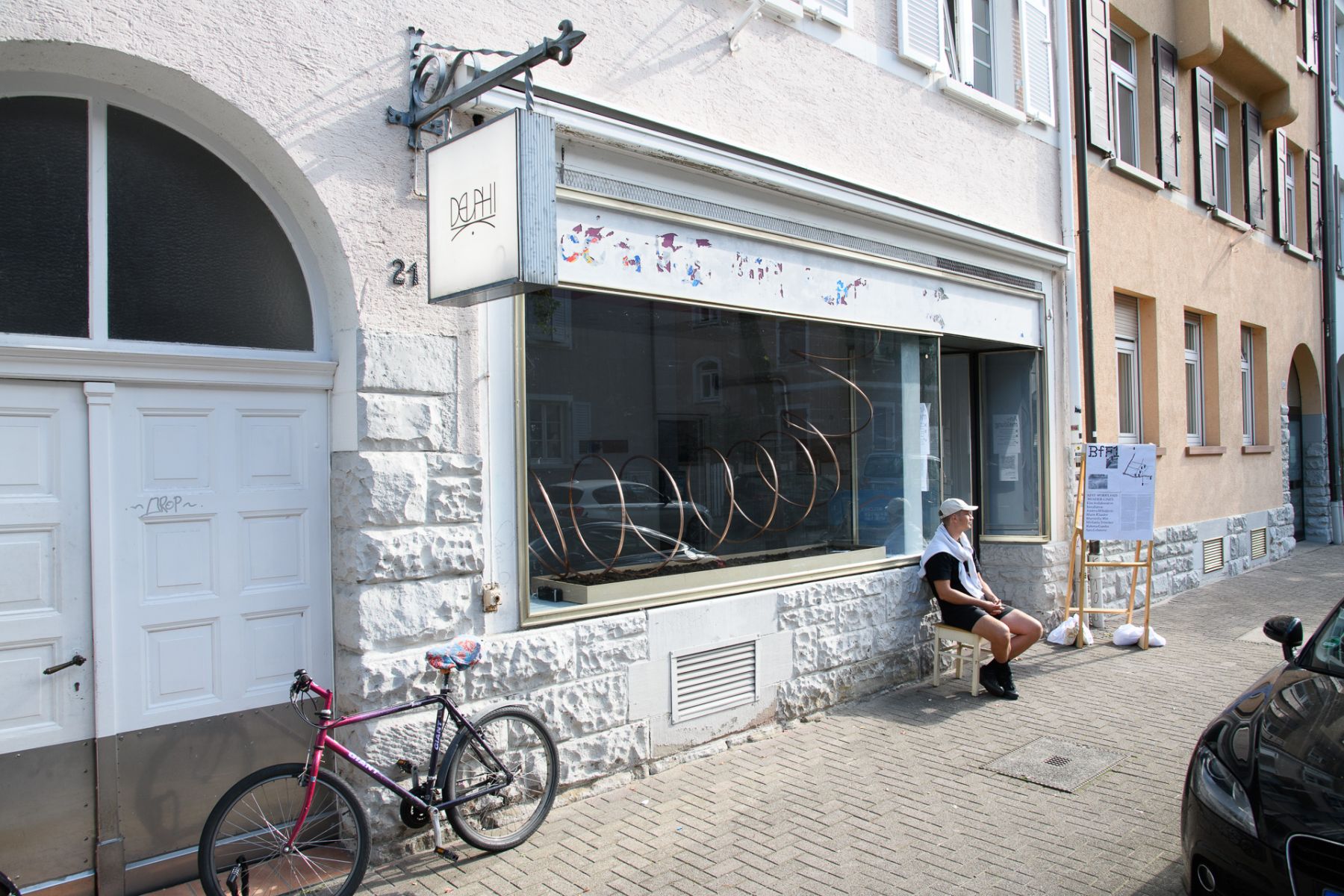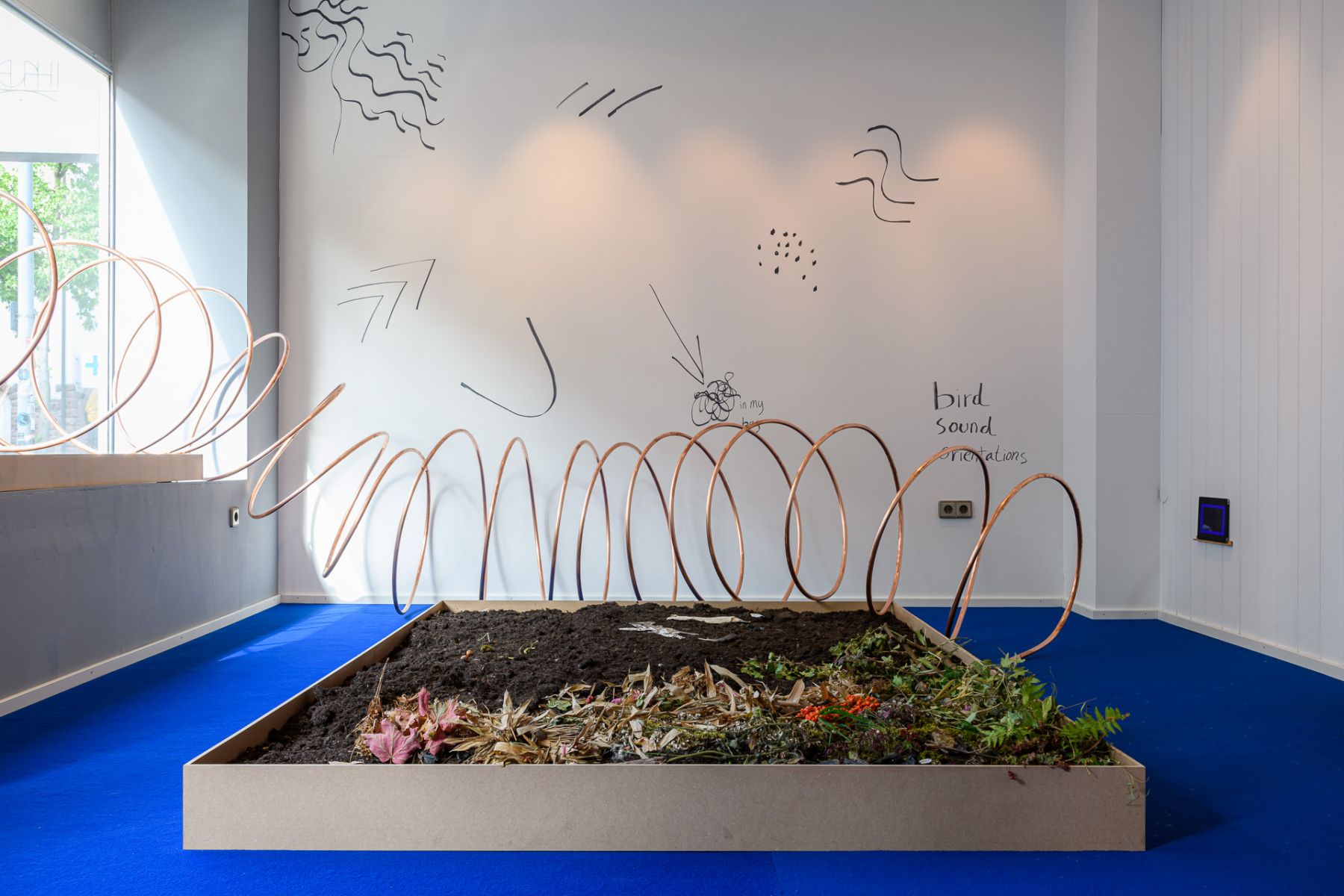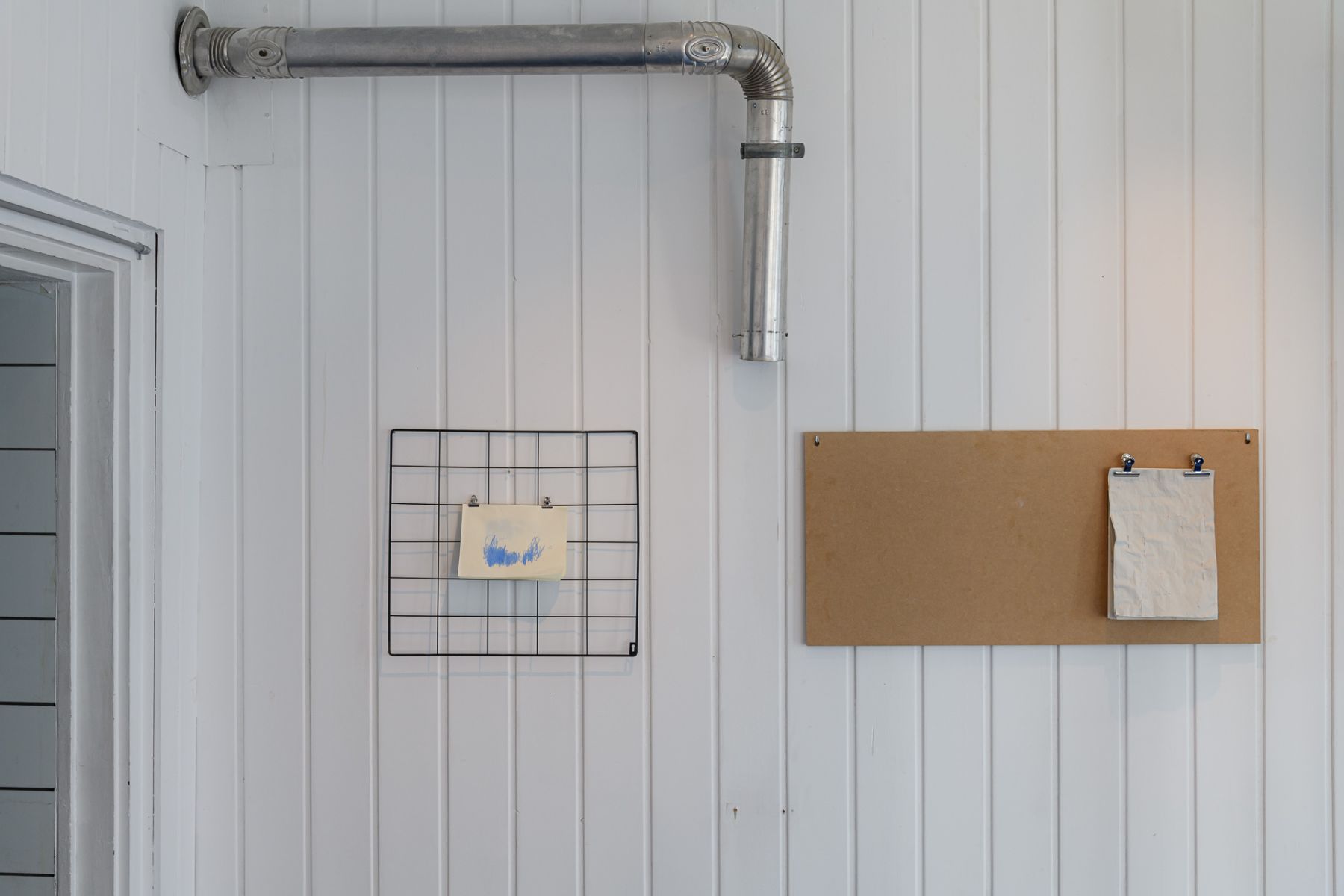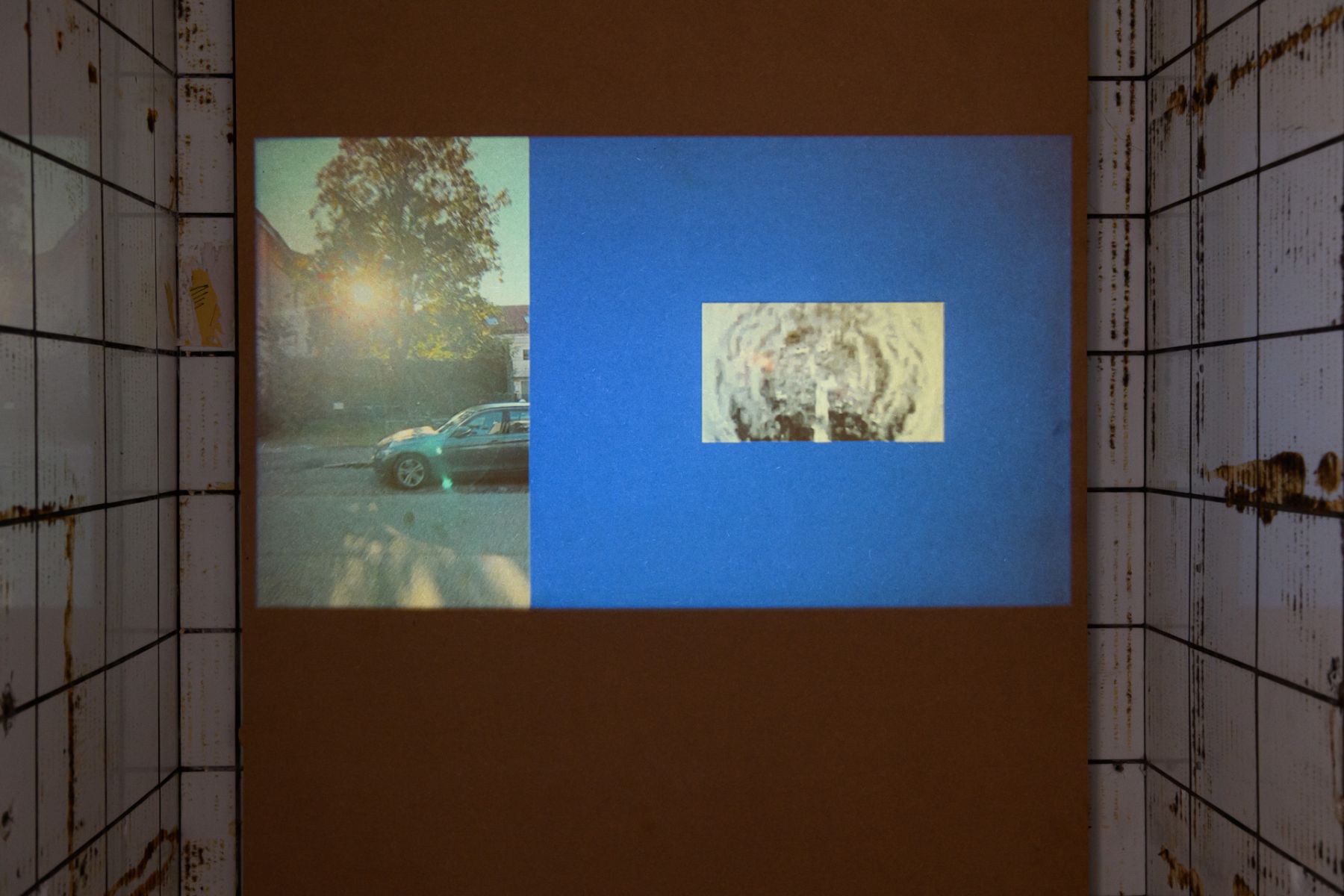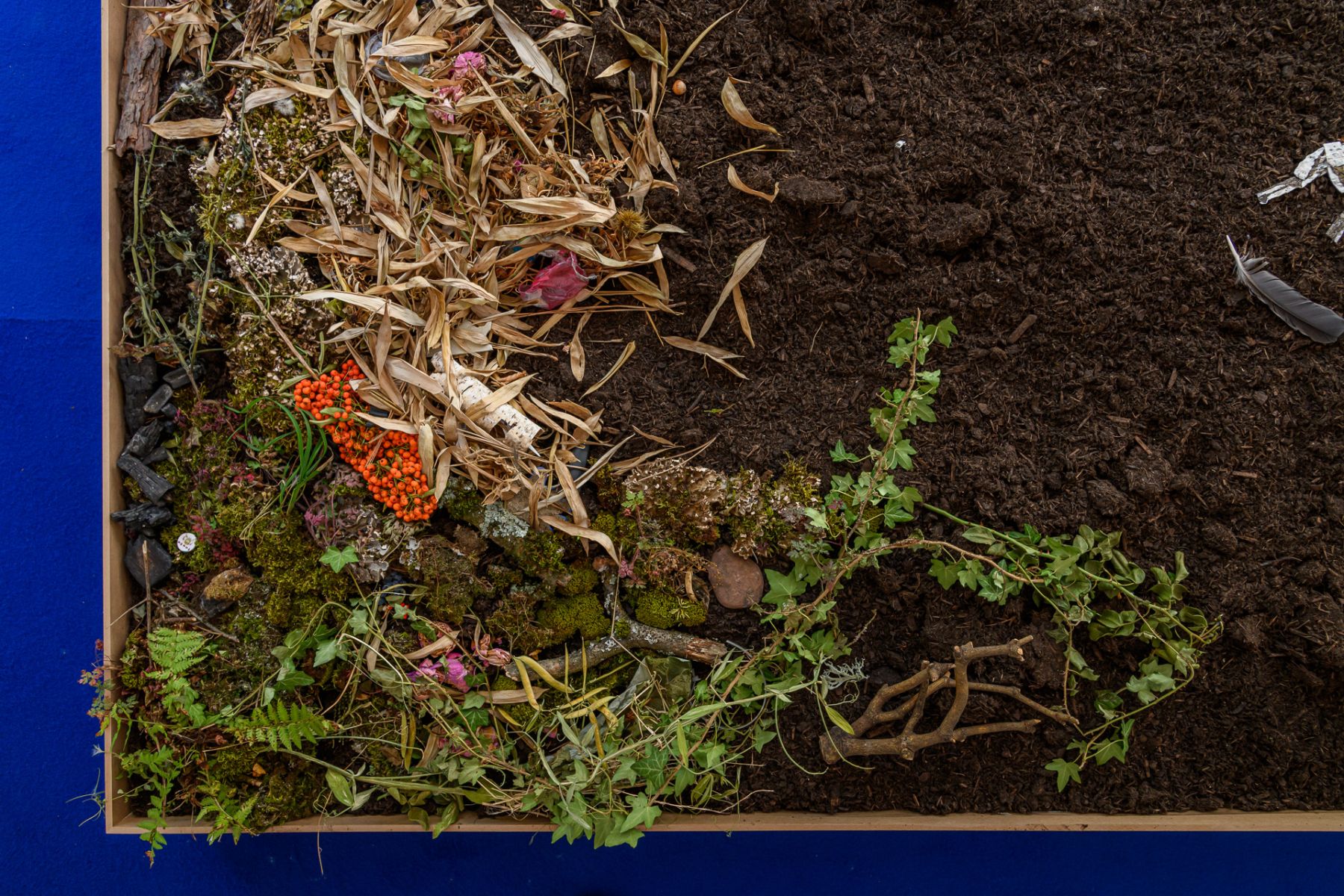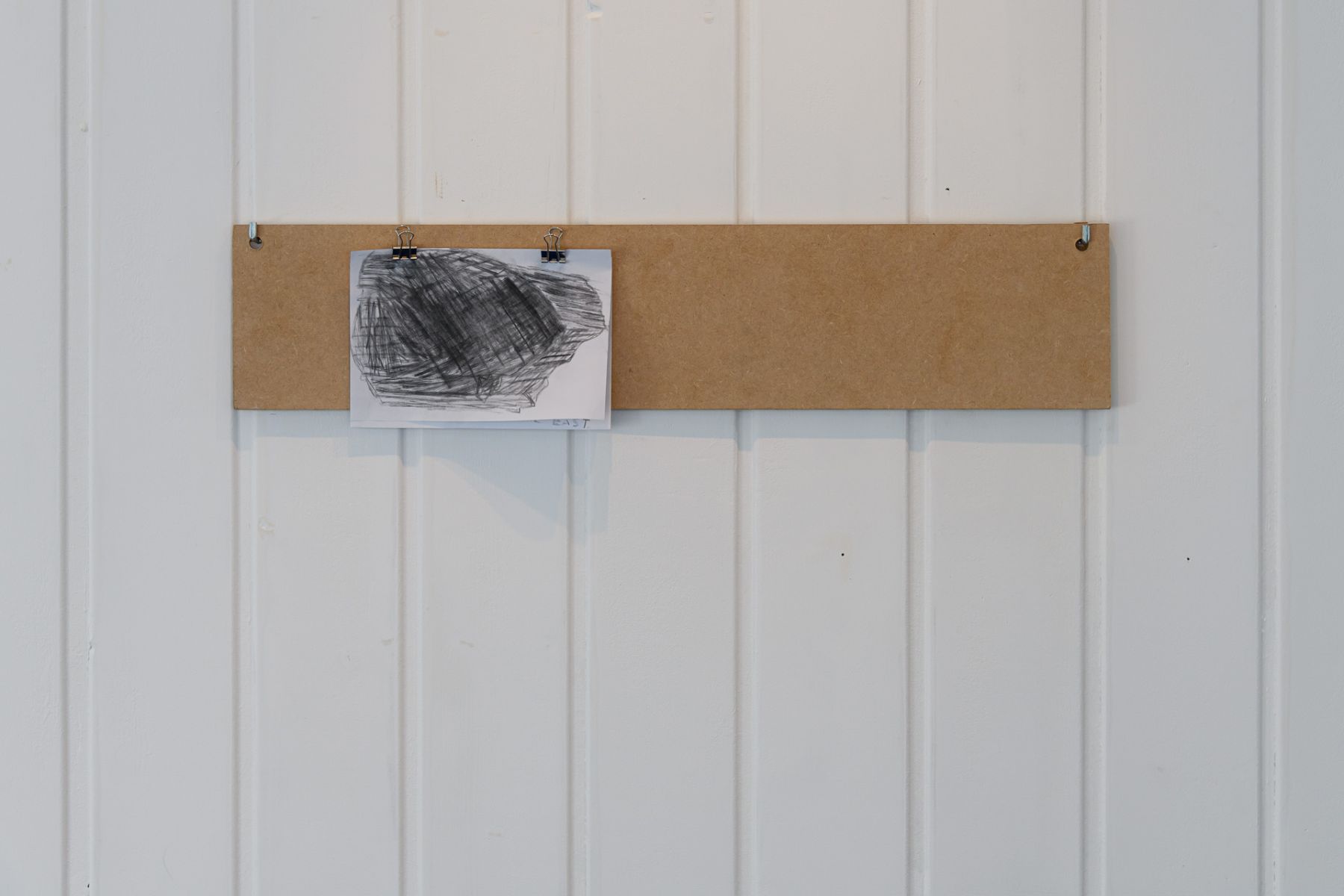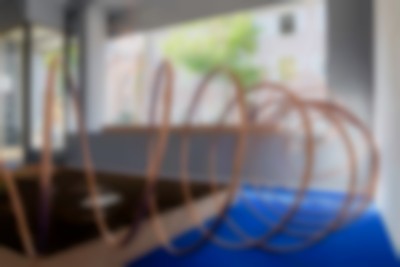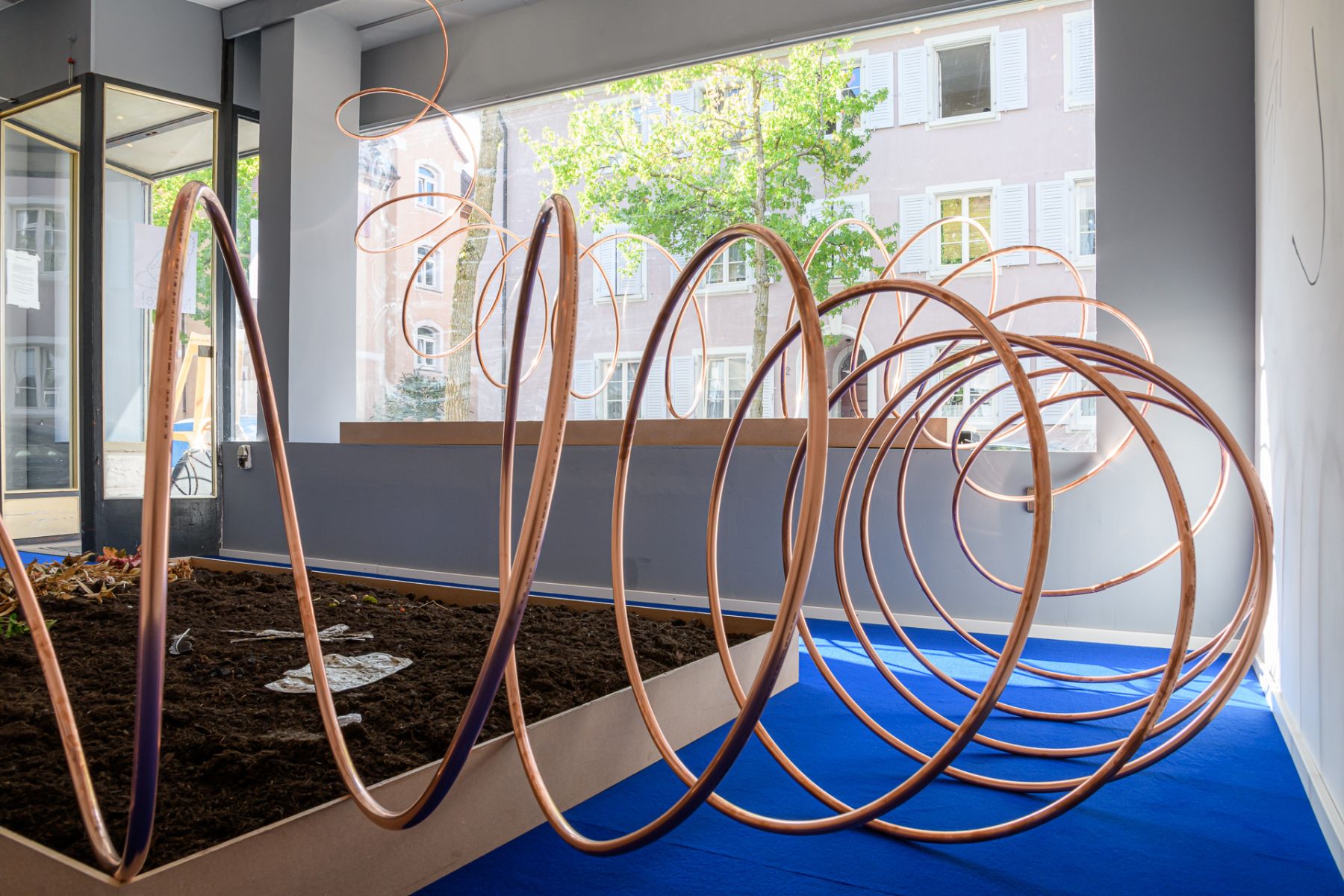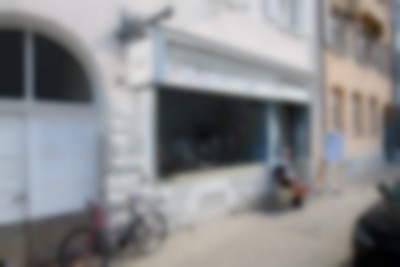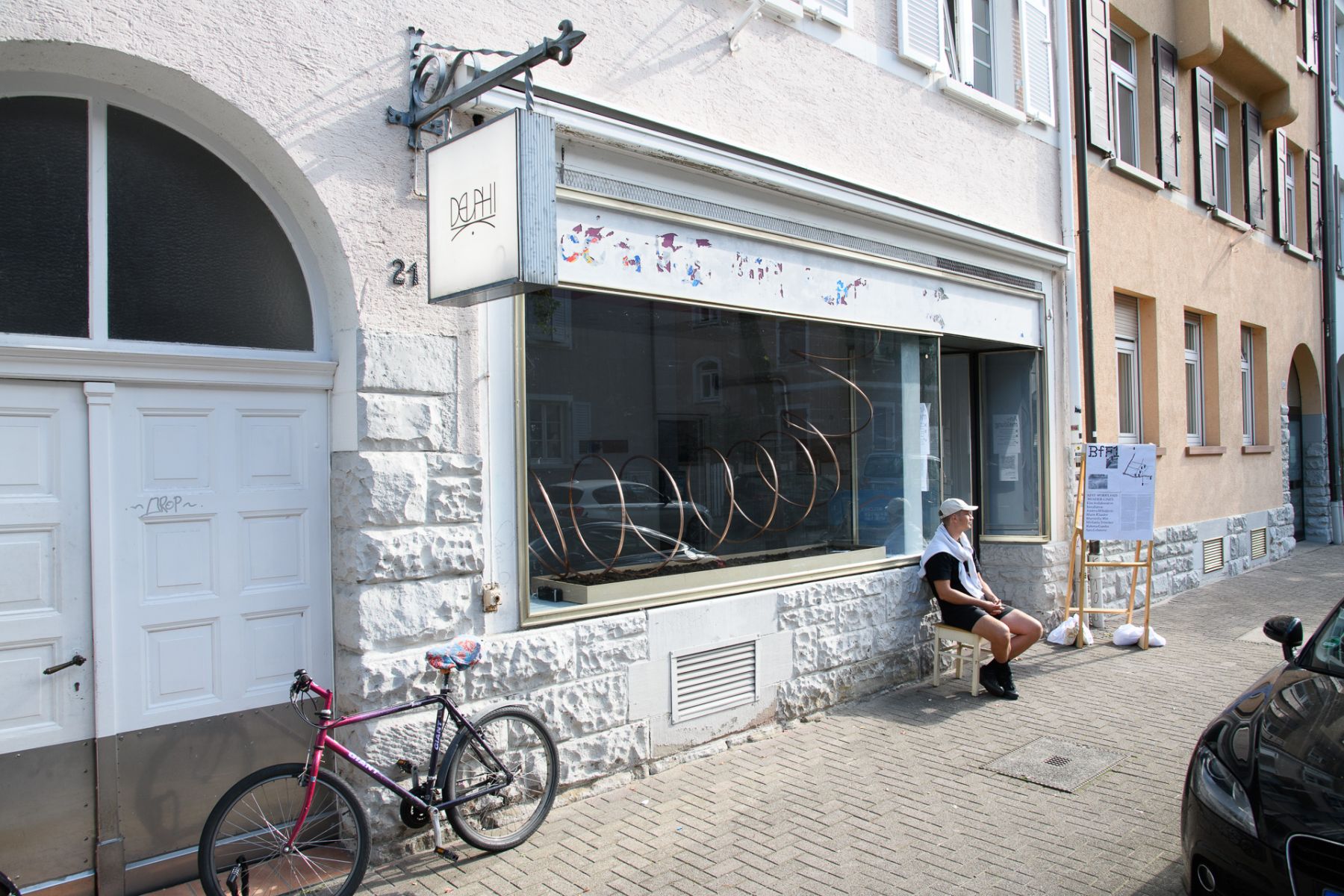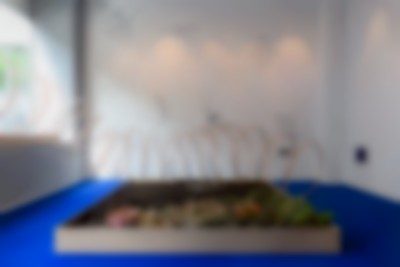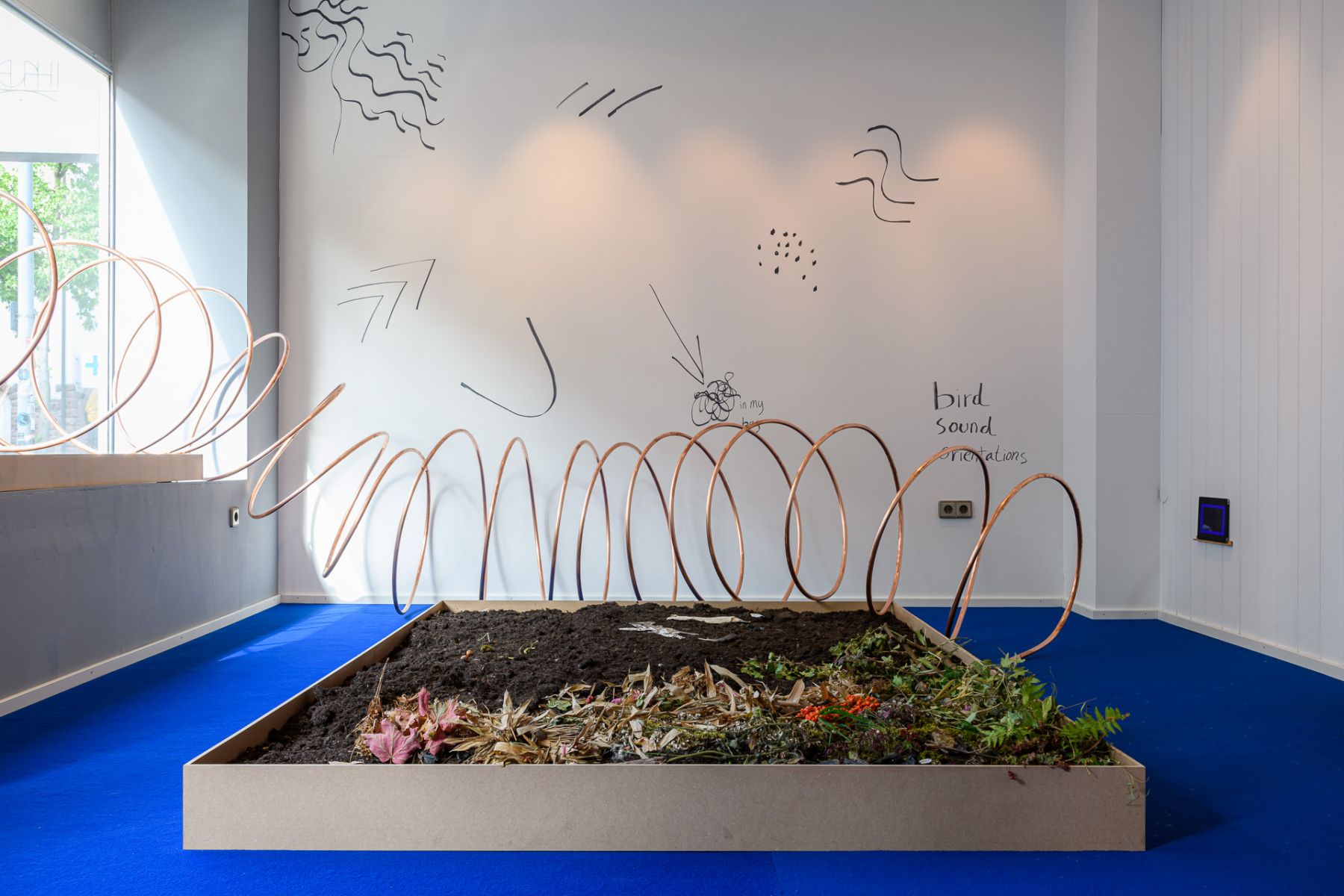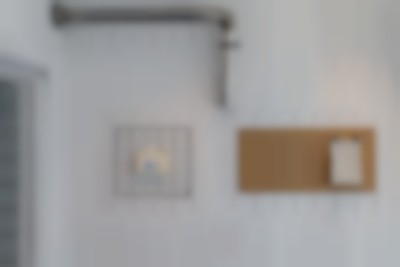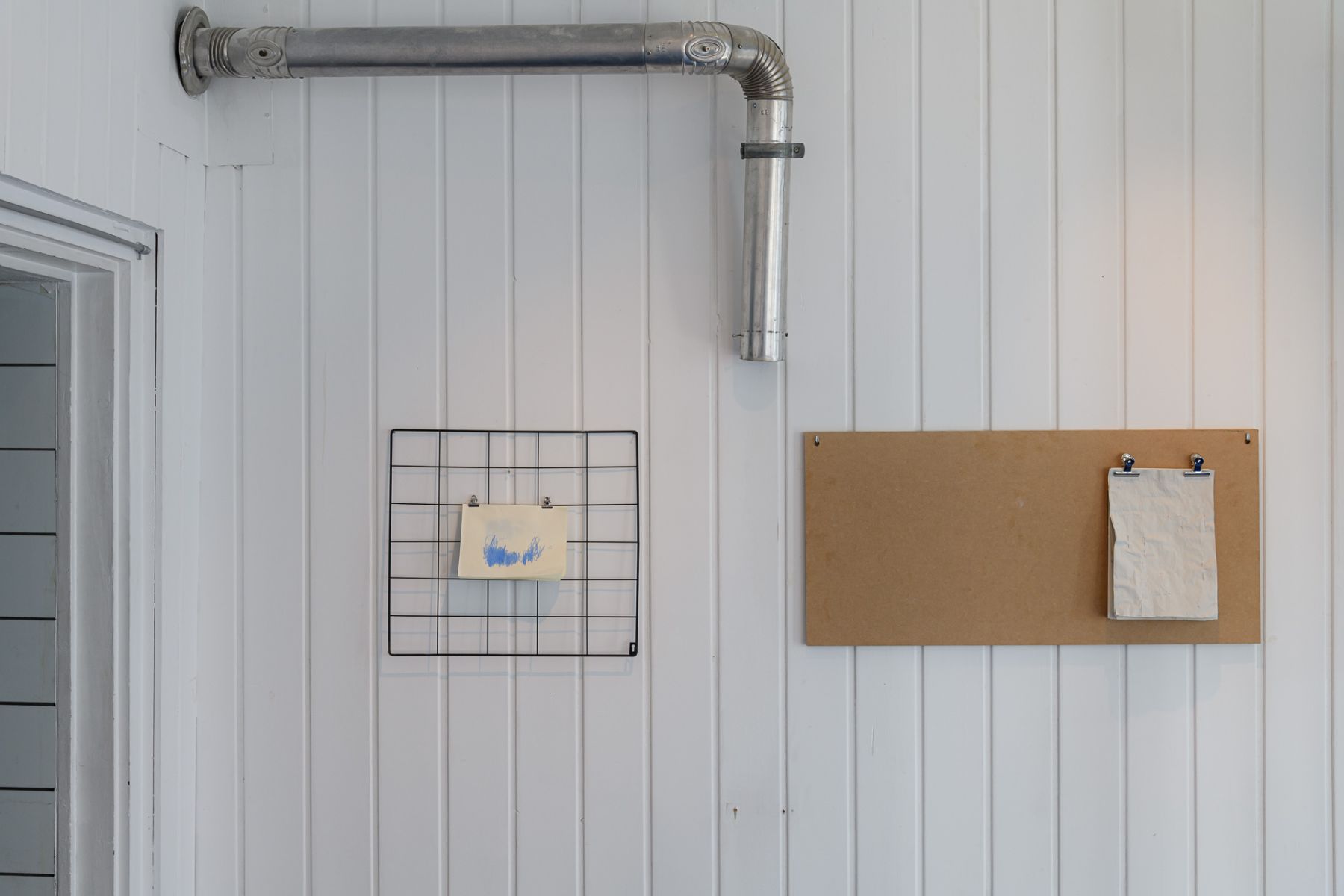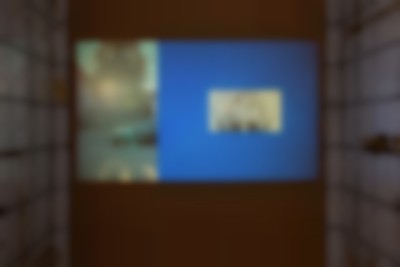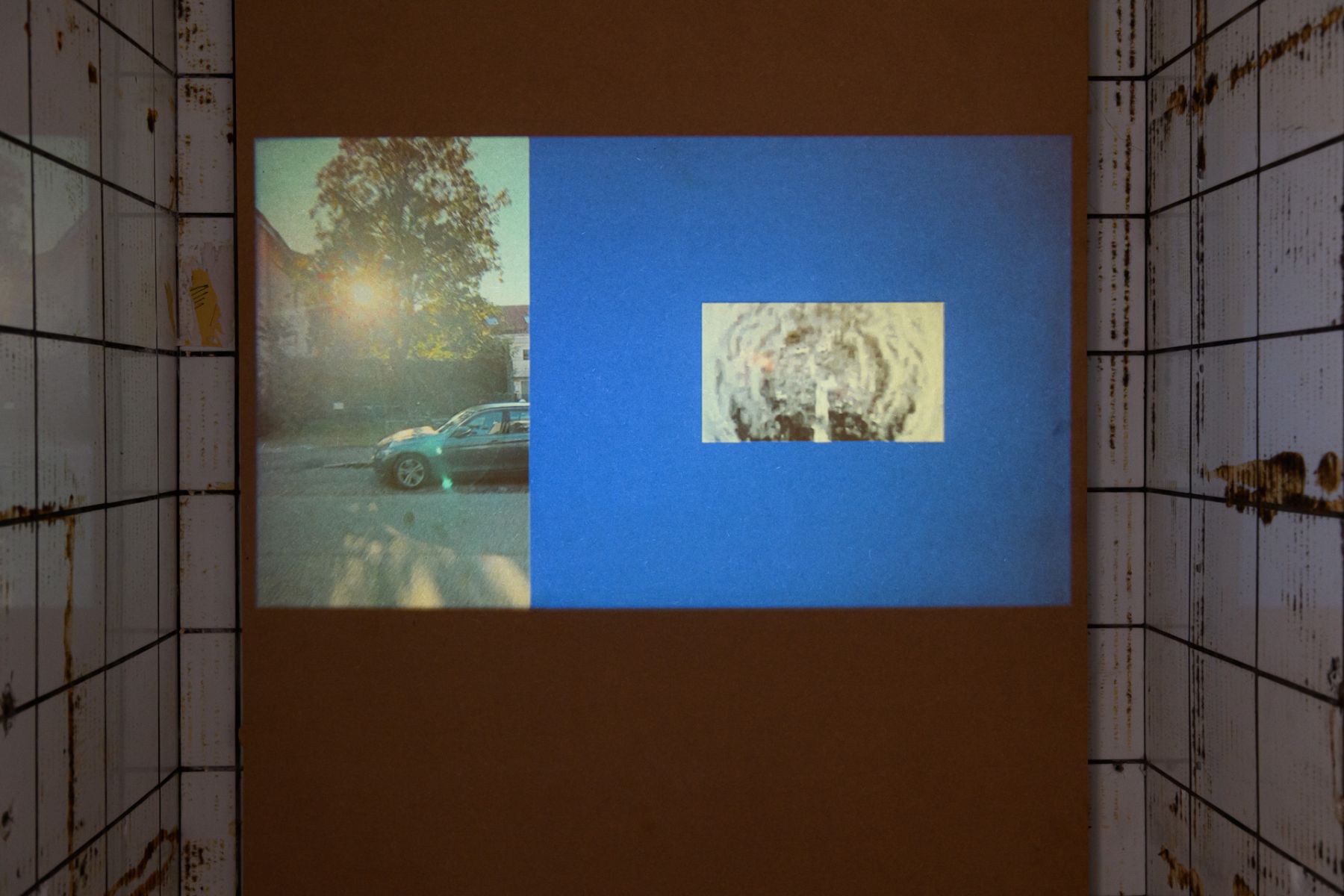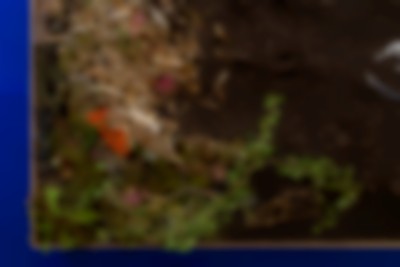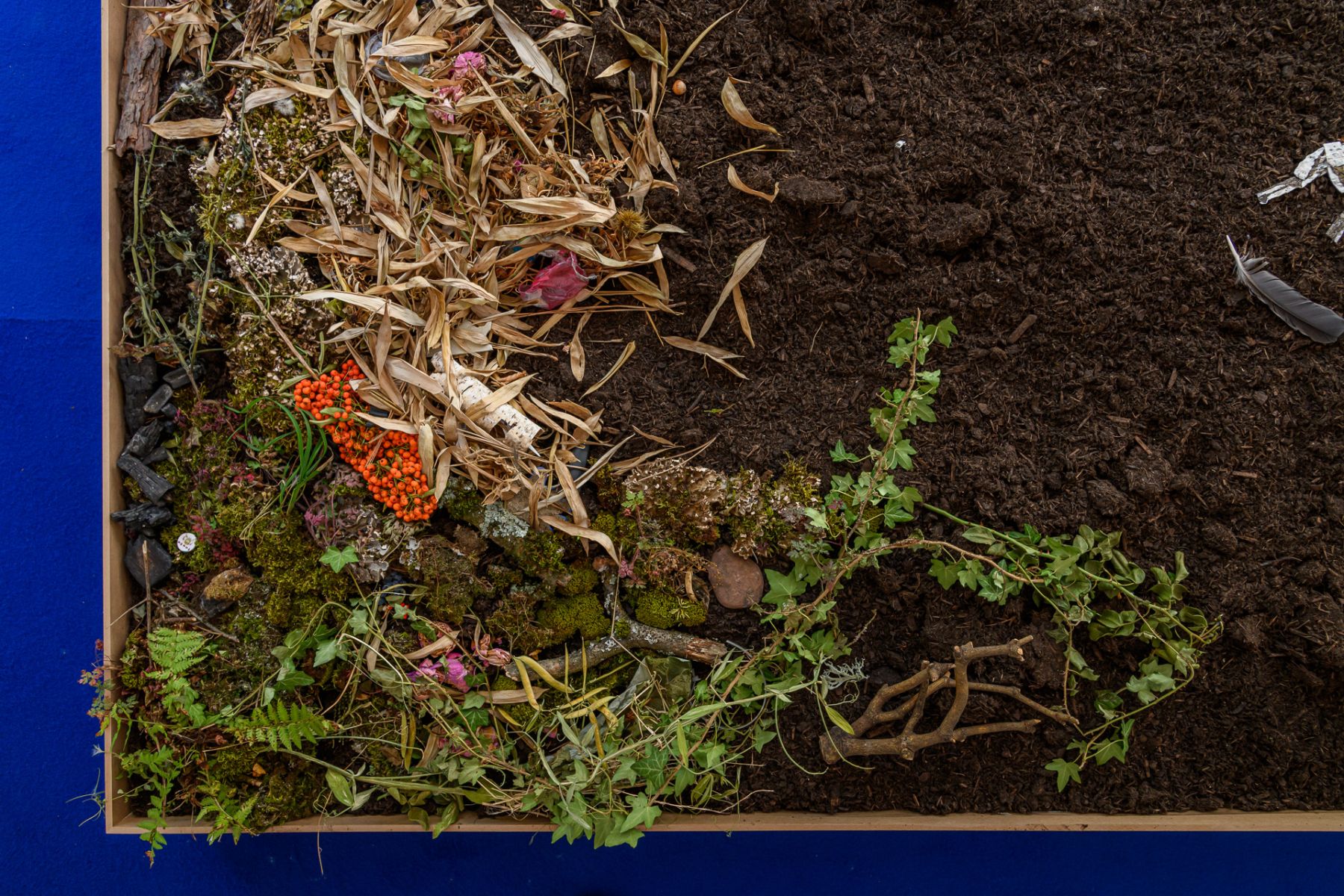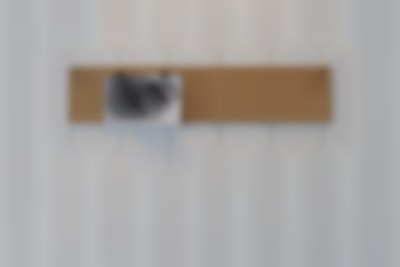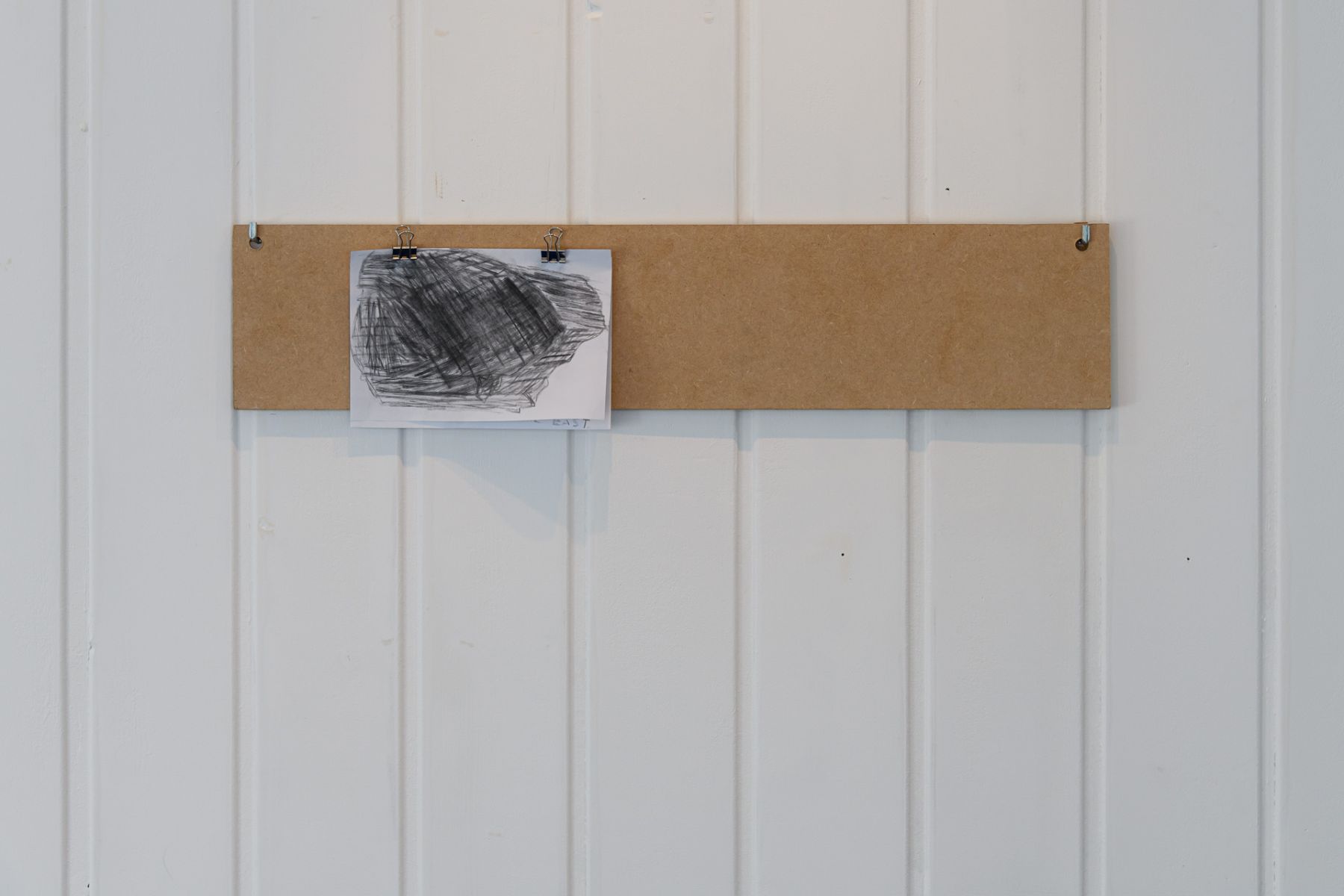 Thomas Geiger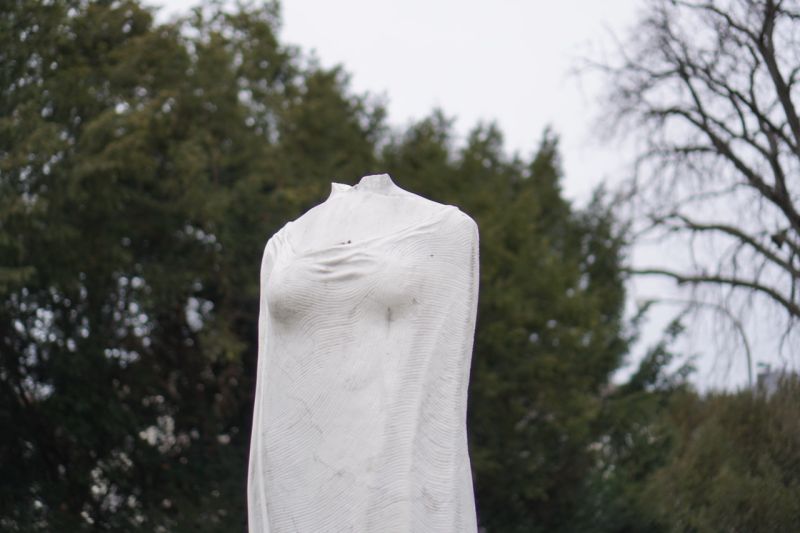 In collaboration with Birgit Heidtke, Sévérine Kpoti, Oliver Matthes and Dietrich Roeschmann
at Kunstverein Freiburg
 …
More
Thomas Geiger
BUST TALK – ILLUMINA
Venue: Kunstverein Freiburg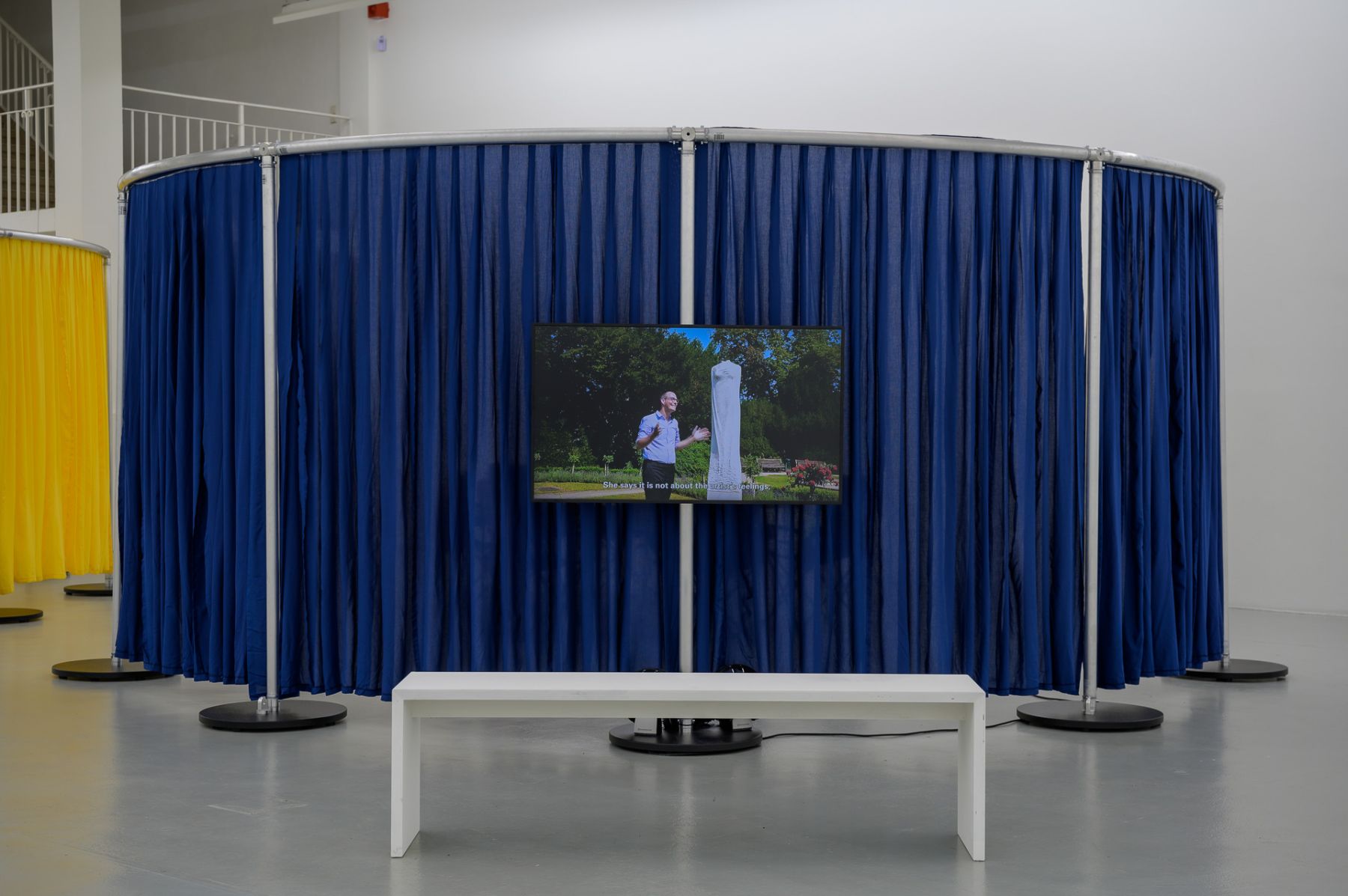 Part of his ongoing series of BUST TALKS, Thomas Geiger conceived of ILLUMINA for BfF#1: a conversation with the Illumina statue by sculptor Till Peter Otto in Freiburg's Stadtgarten. According to Otto, the marble stele with a female body, designed as a sundial, was intended to represent the city's diversity. An anonymous Freiburg woman of Eritrean origin posed for the head of the statue. In 2014, it was damaged by unknowns and has remained in this condition until today. Since then, the statue has been missing its head; "Illumina" turned into the decapitated woman.
Thomas Geiger aims to fill this void discursively in his BUST TALK, giving voice to different perspectives on the figure. In the run-­up, the artist met with representatives of various Freiburg initiatives and institutions to exchange views on the role of the statue, its effect on viewers, and their own readings, for example feminist or critical of racism. This group consisted of Birgit Heidtke (Feministische Geschichtswerkstatt), Sévérine Kpoti (Here&Black), Oliver Matthes (Strassenzeitung FREIeBÜRGER) and Dietrich Roeschmann (Städtische Kunstkommission). Together, they found the statue's potential answers to the questions developed by the artist.
The fictitious dialogue between Thomas Geiger and Illumina, who speaks to the viewers through the artist, expresses the different perspectives, including the statue's own. In his critical-­serious and humoristic-­stubborn BUST TALK, the artist not only negotiates questions of (in)visibility, corporeality, and the public sphere in general, but also adds his own performative contribution to current debates about (historical) monuments in public space. (CS)
The full video can be found here.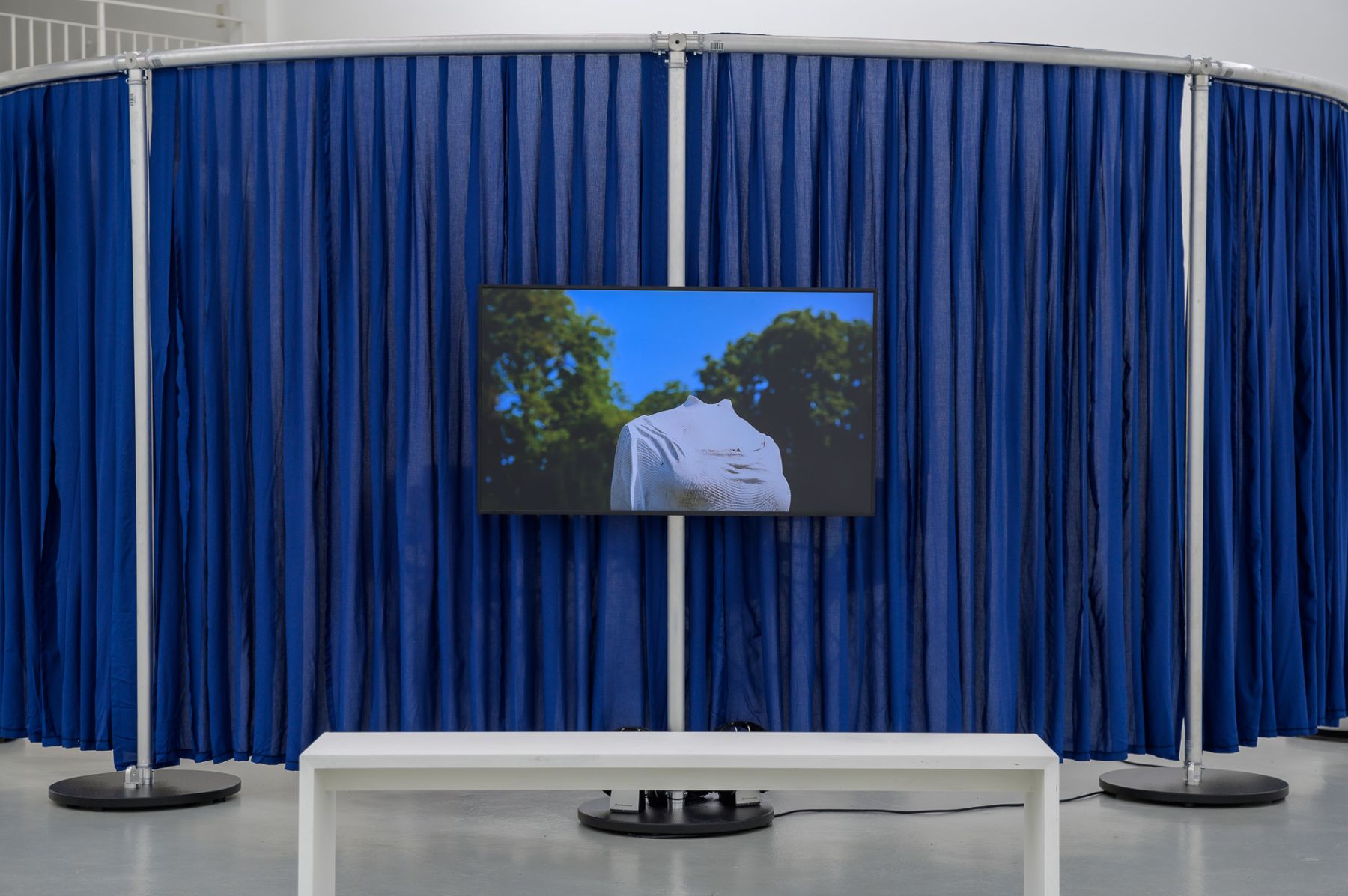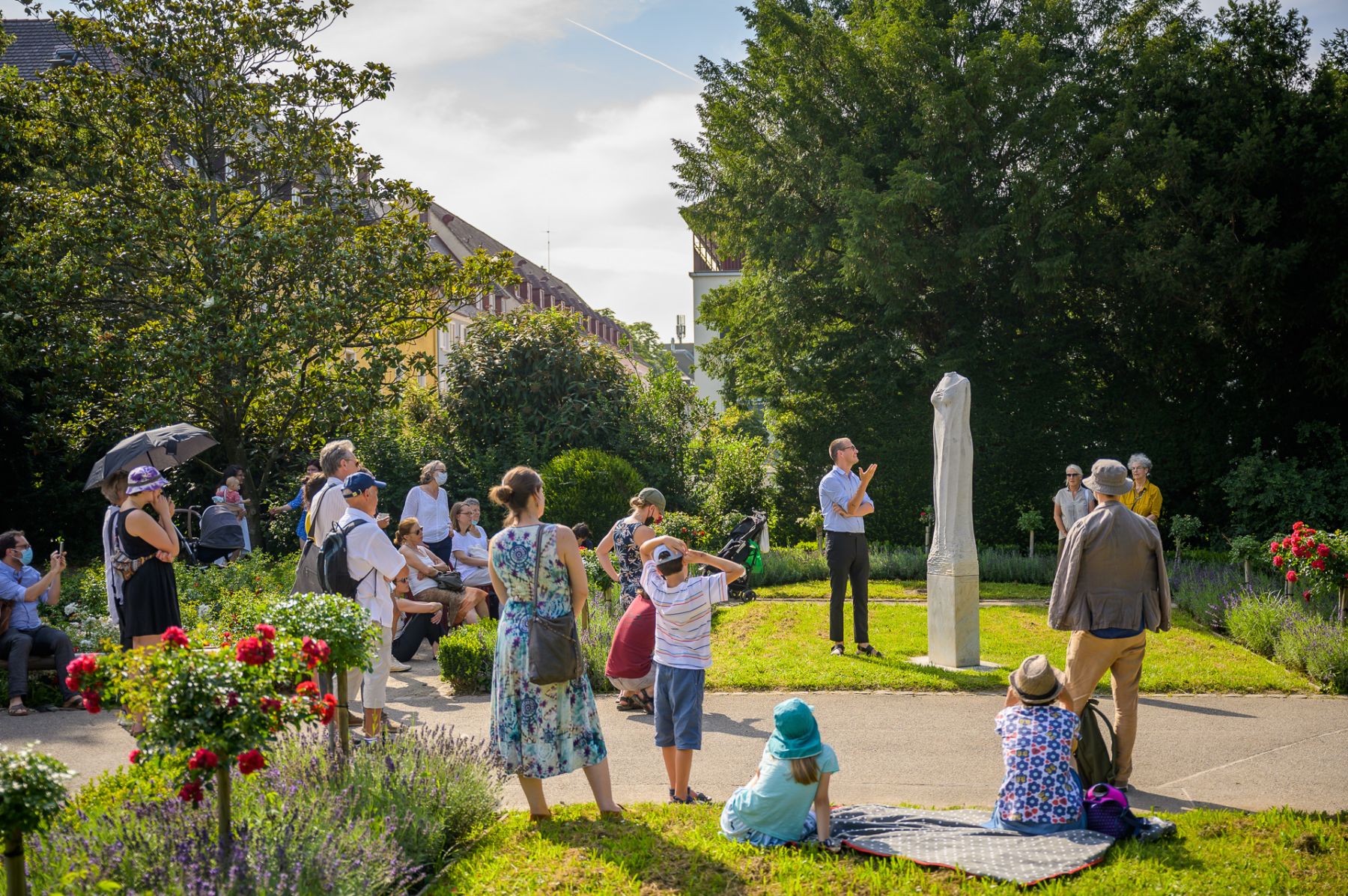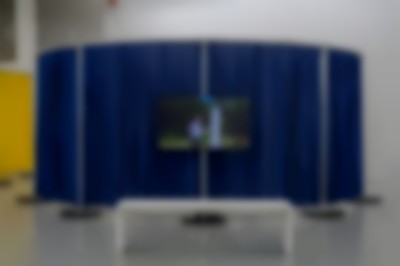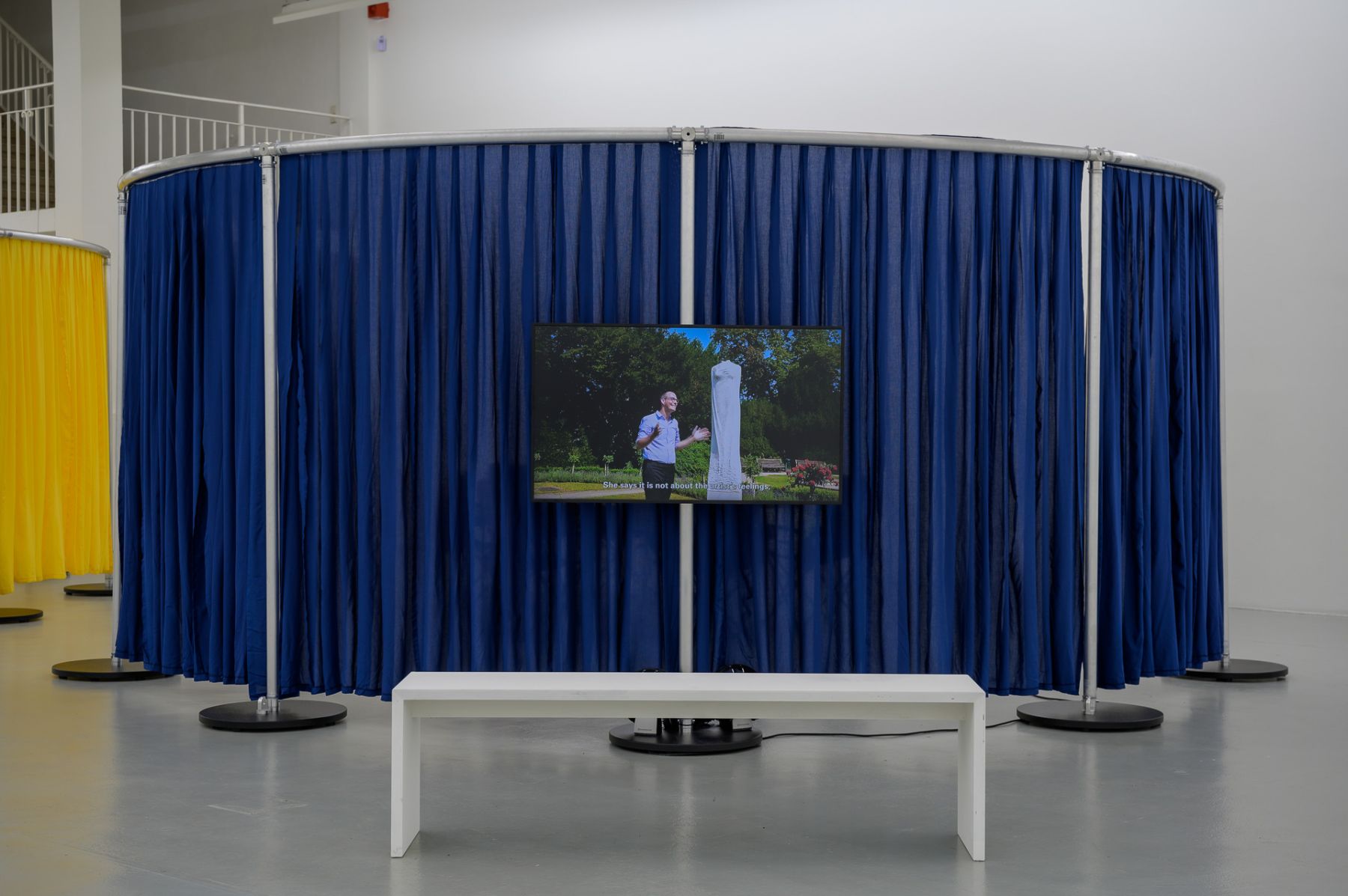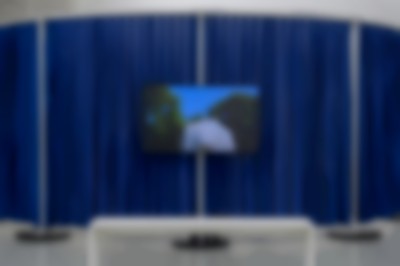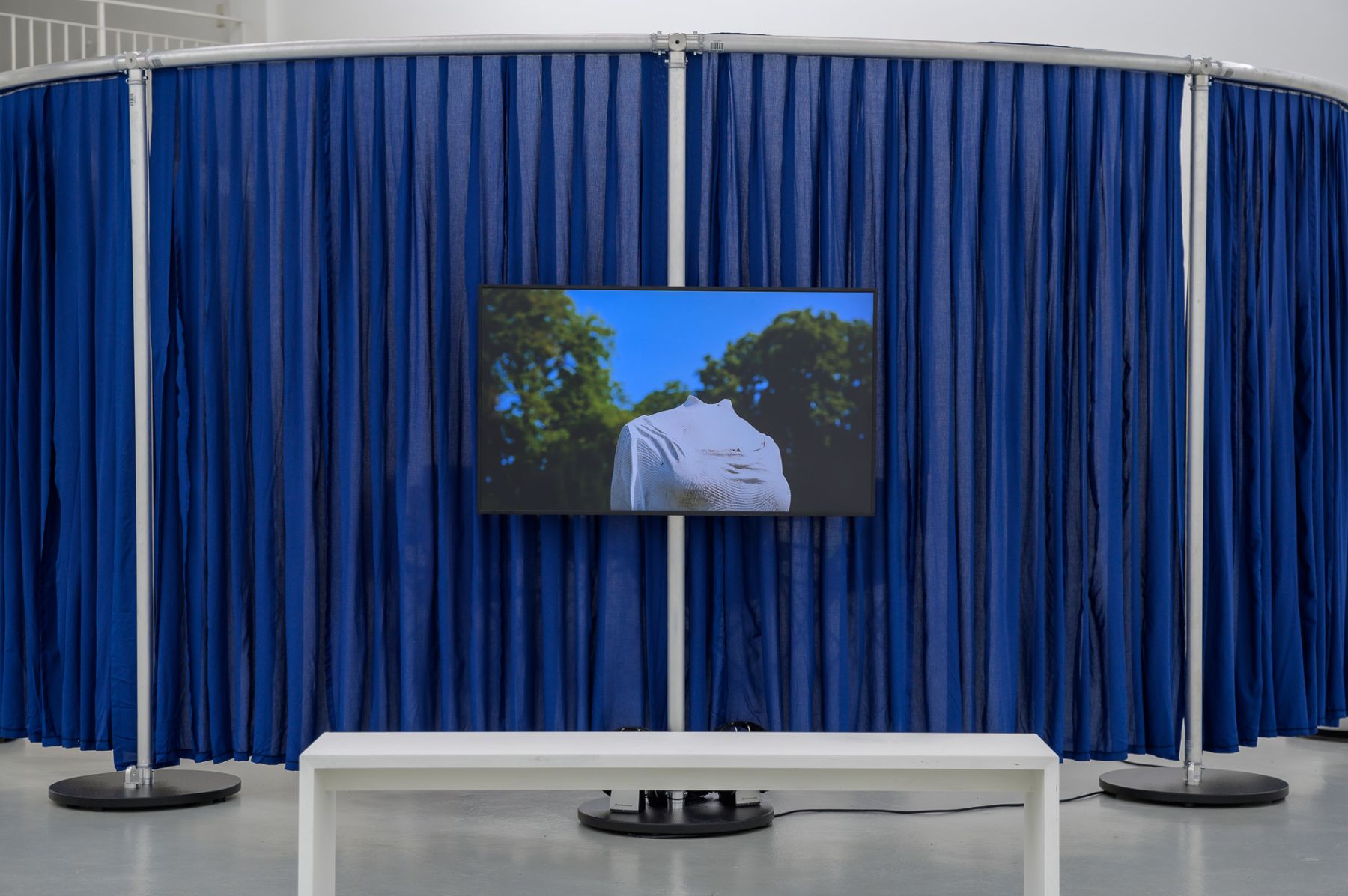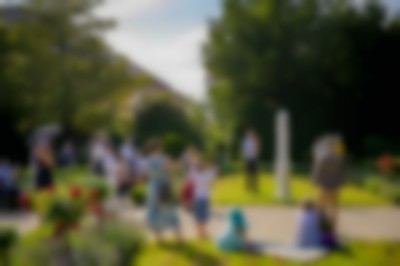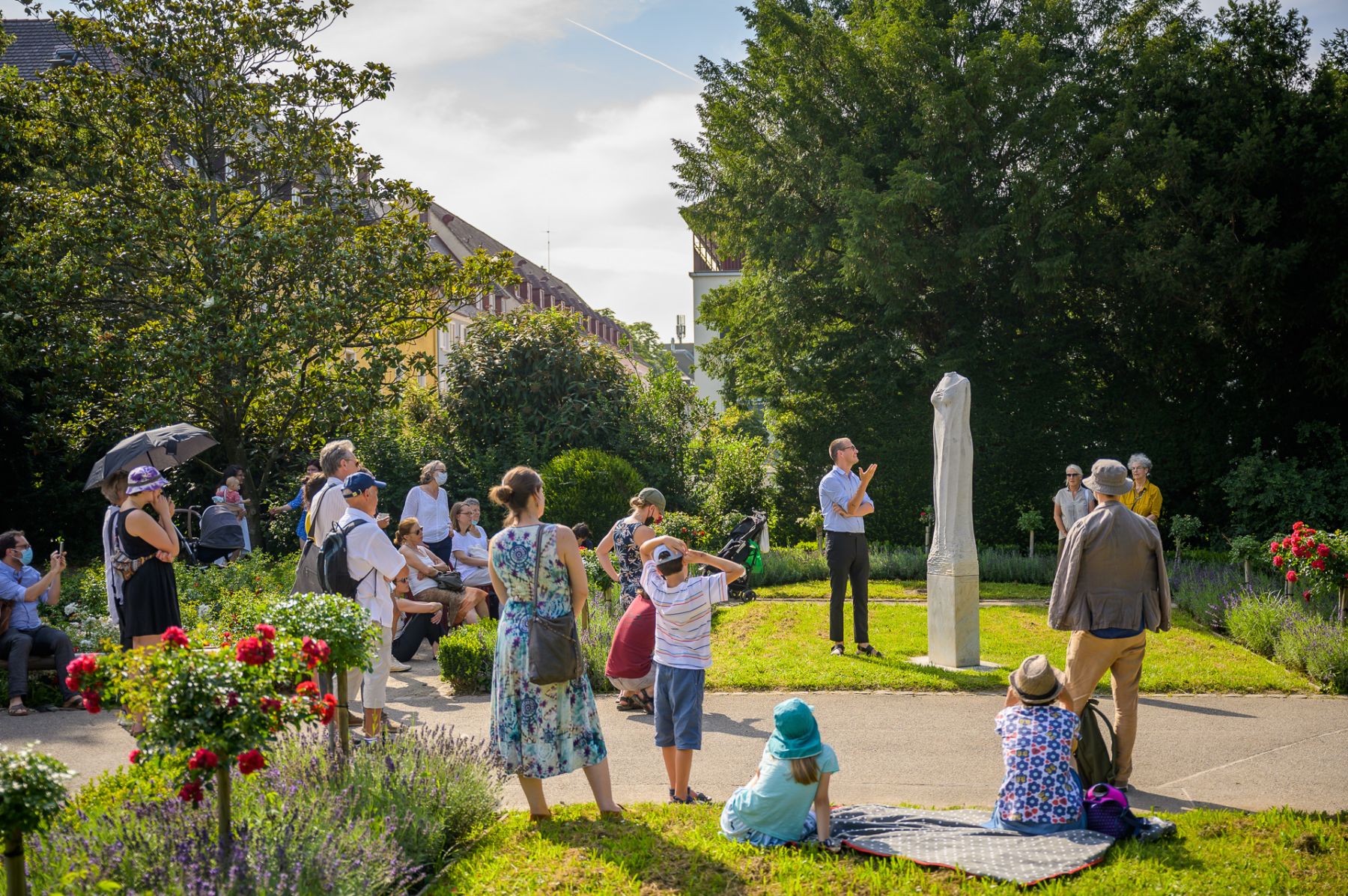 Niklas Goldbach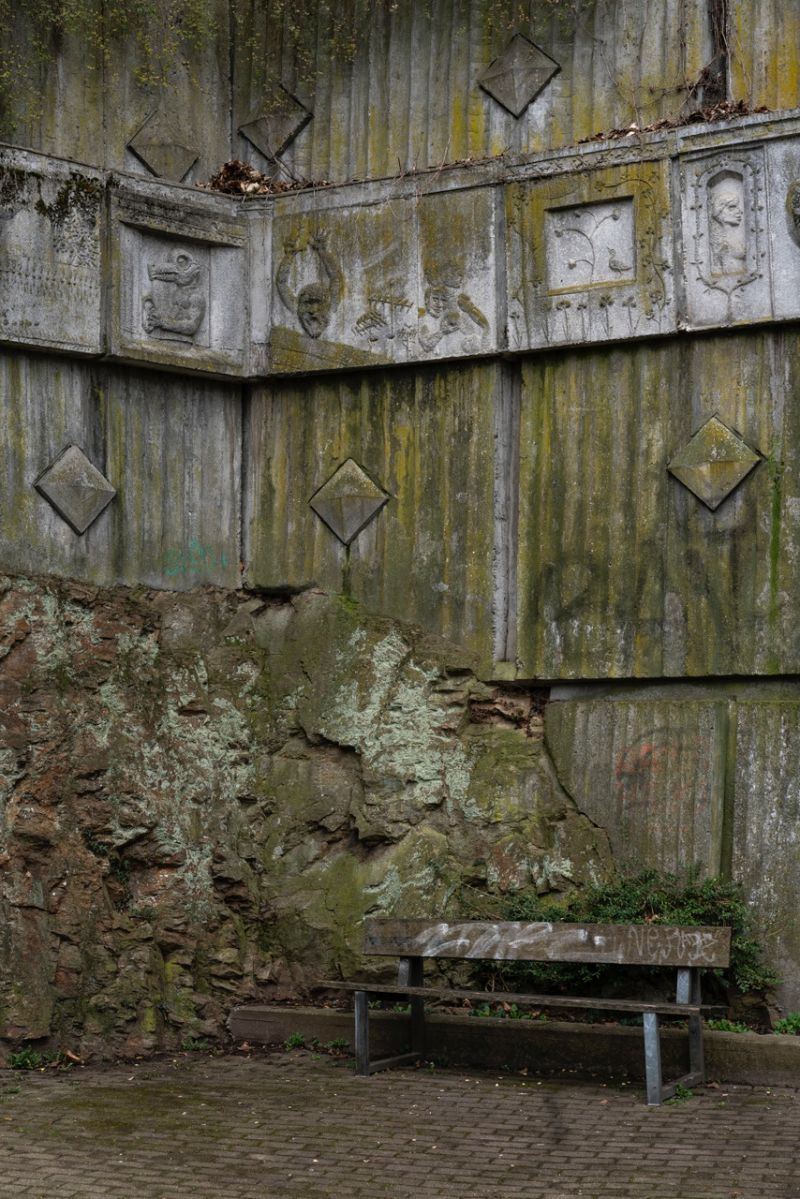 at Kaiserwache and Kunstverein Freiburg
 …
More
Niklas Goldbach
AUFSTELLUNG: FREIBURG, 2021
ALBUM (CUT TOGETHER – CUTTING THROUGH) #3, 2021
SAND, 2021
Venues: Kunstverein Freiburg and Kaiserwache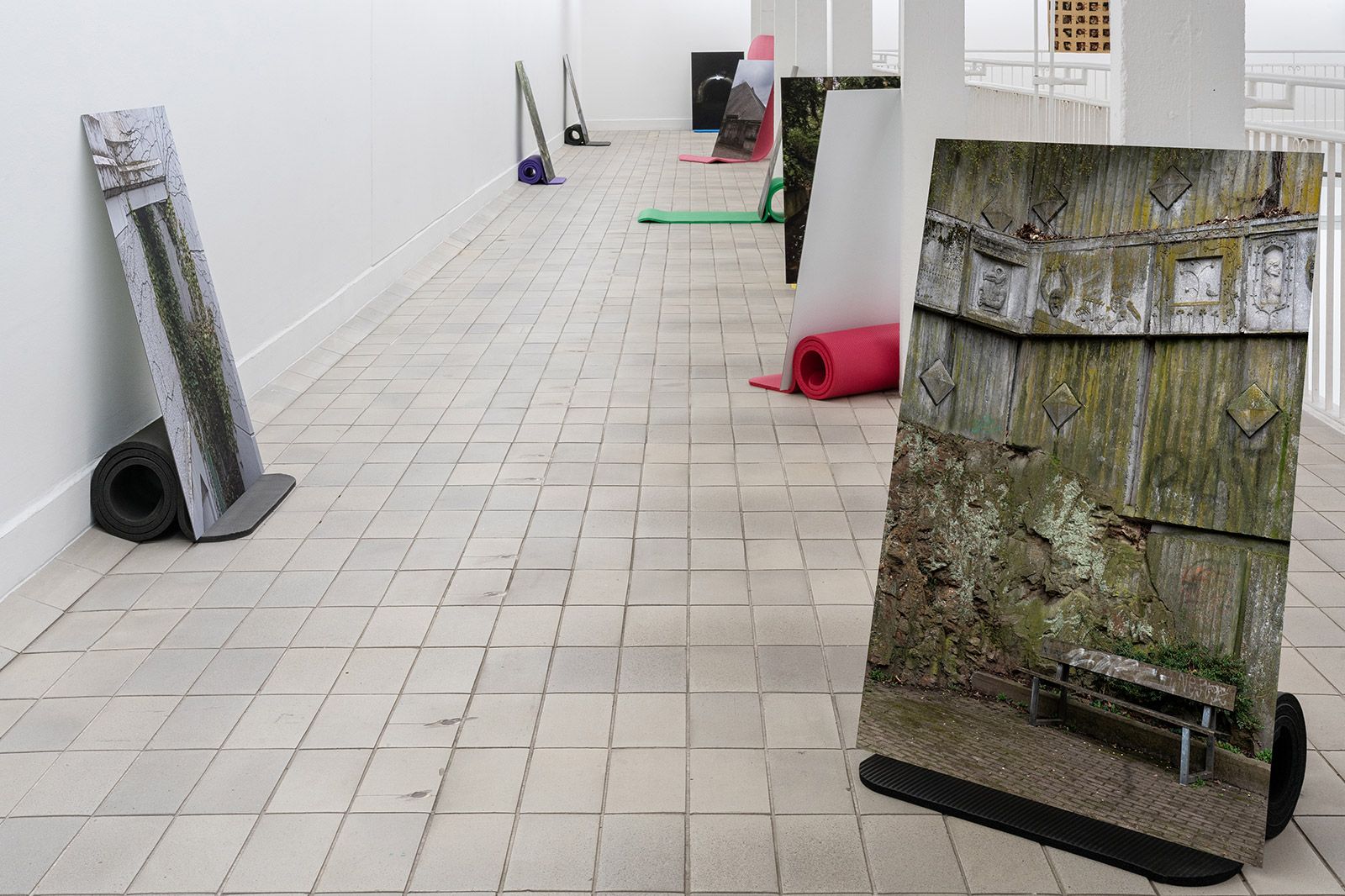 Niklas Goldbach's work negotiates the relationship between architecture and necropolitics within its modernist traditions and postmodern manifestations. His works dissect architectural elements and concepts that serve both as backdrops and catalysts of (neo)liberal subject construction. In Freiburg, Goldbach presents his new photographic installation AUFSTELLUNG: FREIBURG, its title alluding to the therapeutic method of systemic family constellation that attempts to reveal unrecognized dynamics and traumas in a given family. A news­paper article about the expulsion of homeless people from a former nuclear protection bunker in Freiburg marks the starting point of this work.
Challenging the notion of public space in Freiburg and its surroundings, the installation explores contemporary forms of displacement, decay and liminality and consists of a series of photographs of abandoned spaces and infrastructures often providing shelter and protection for those rendered invisible by dominant society. While the individual images are extended through sleeping matts that serve as props, the unframed photographs precariously lean against walls and pillars—their delicate position reminding us of the inherent fragility of life.
Niklas Goldbach's ongoing and ever-evolving video installation ALBUM (CUT TOGETHER – CUTTING THROUGH) #3 amalgamates every single image taken by the artist with various cameras since 2013 until the very day of its respective future installation. While his photographic series usually constitute a meticulously edited selection of images, the video installation inverts this practice: compiled chronologically for the duration of two frames per second, more than 85,000 images often evoke the illusion of stop-motion-techniques while revealing Goldbach's artistic process of scanning architectures and urban environments. Presented in the premises of a former public toilet and cruising area, the images bare every facet of contemporary and queer life and renounce distinctions between work and leisure, the public and very private image, the documentation of excessive joy and intimate pain. Here, the uncensored stream of images activates a stream of consciousness on one's own ordinary and not-so-ordinary moments, narratives, and images, one's own celebrations of a time-bound and vulnerable life.
Goldbach further presents the first edition of SAND, a self-published monothematic photo essay dedicated to the portrayal of a single building. Reminiscent of street newspapers, SAND seeks to provide easy access to architecture photography and thus deliberately opposes the glossy photographs known from real estate websites. The first edition of SAND is dedicated to the abandoned building of the Schwarzwald Kurklinik Bad Rippoldsau-Schapbach — a former rehabilitation centre from the 1970s that was closed in 2011 and has been vacant since. (FH)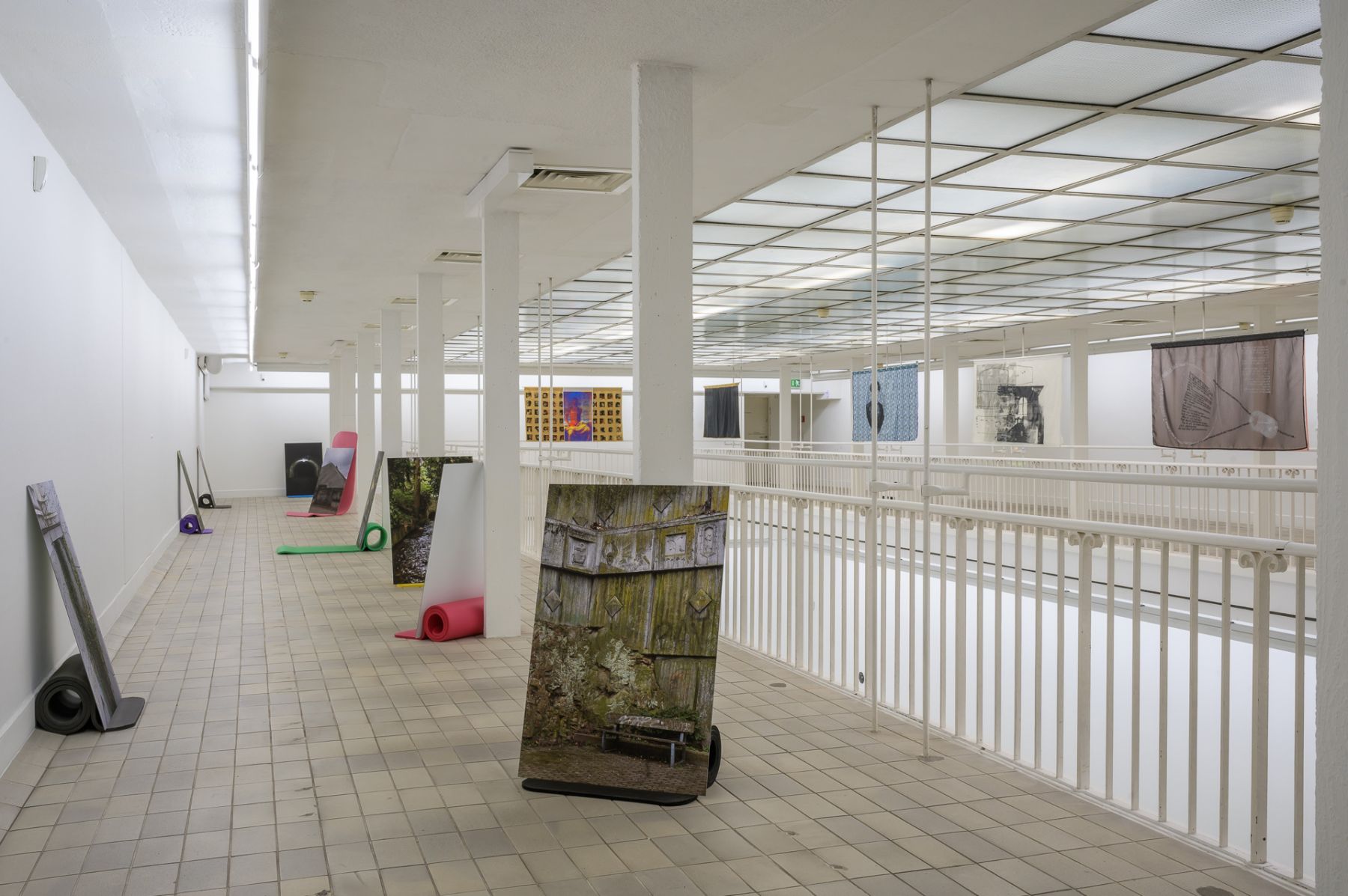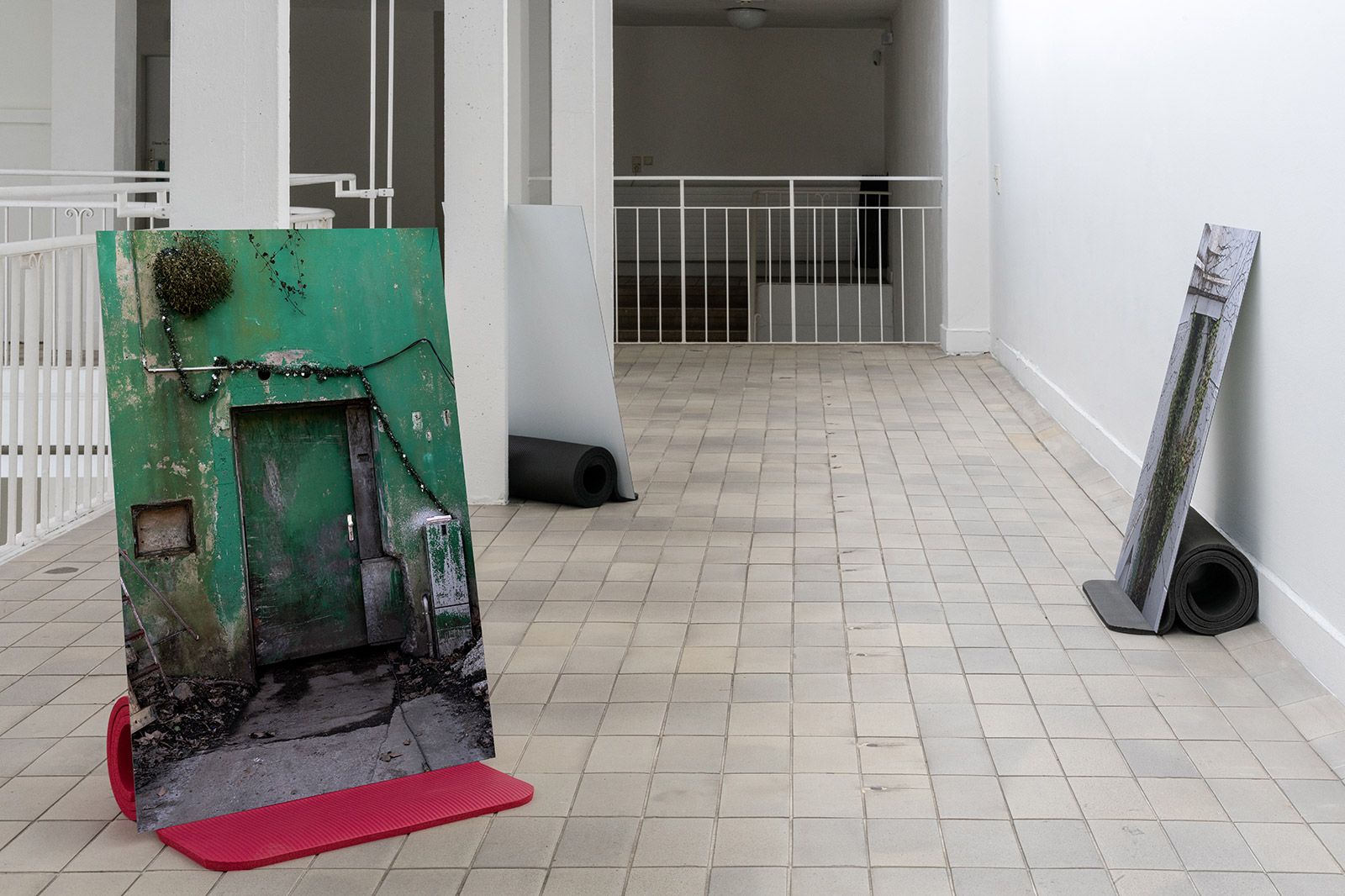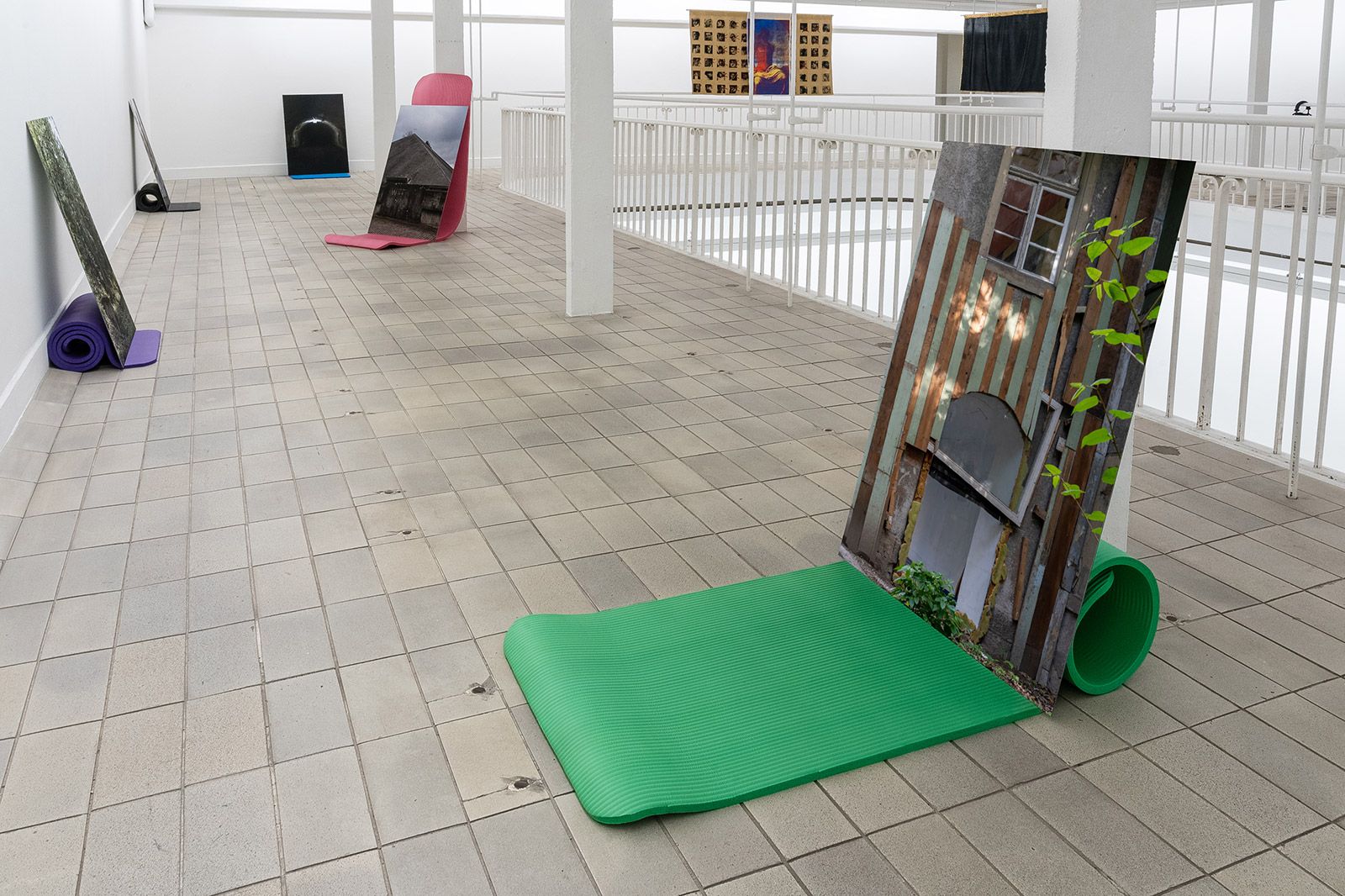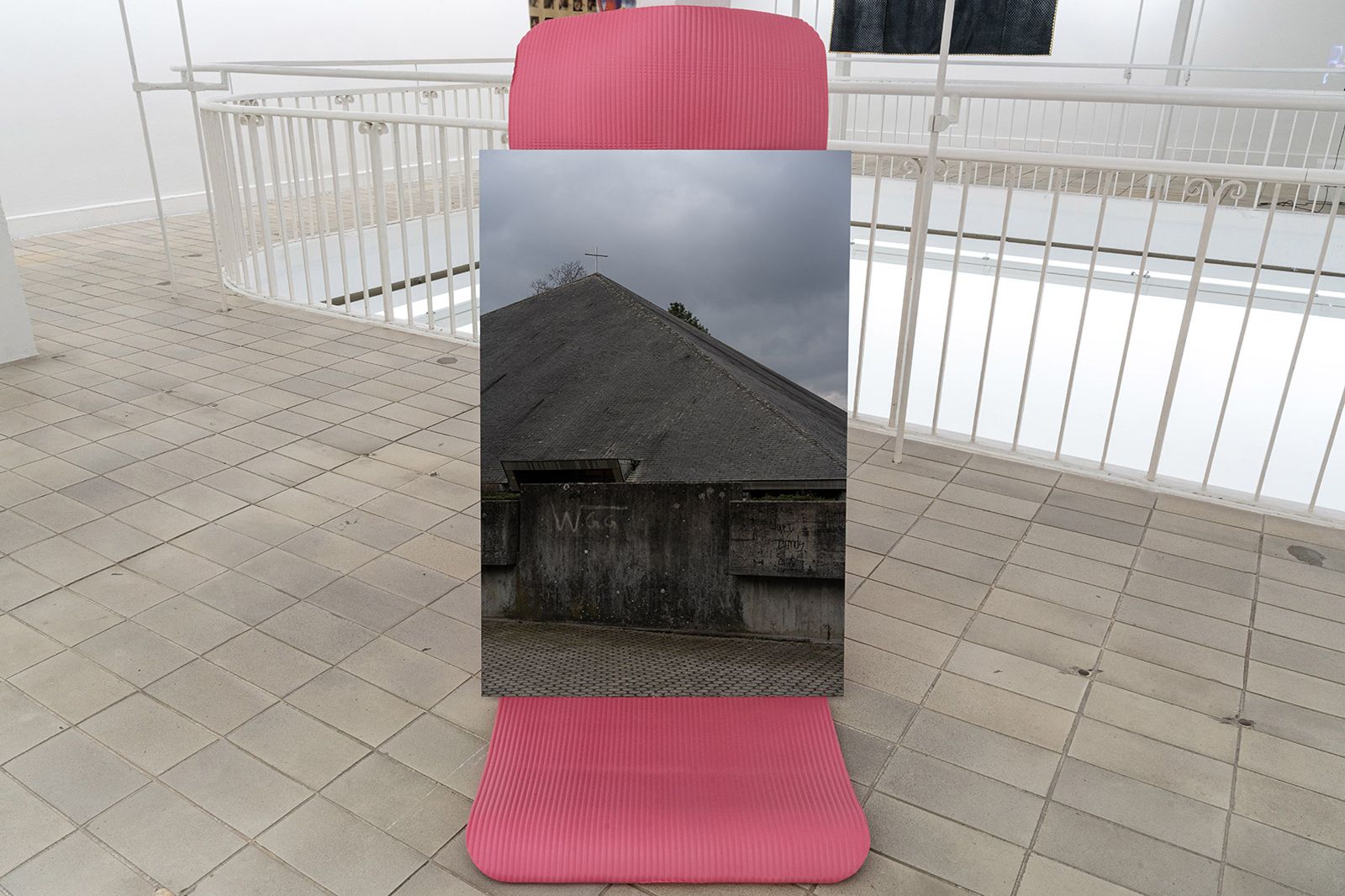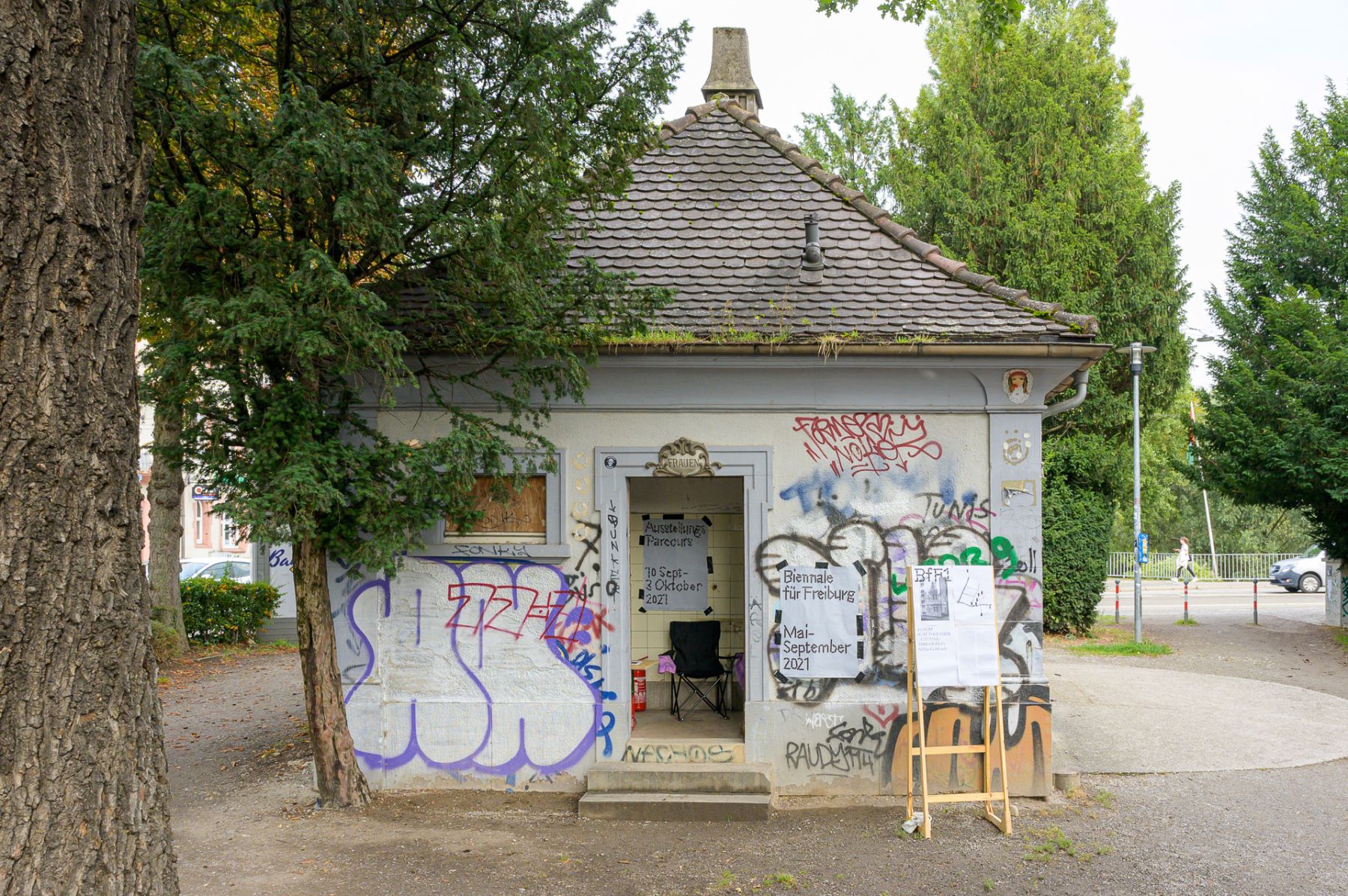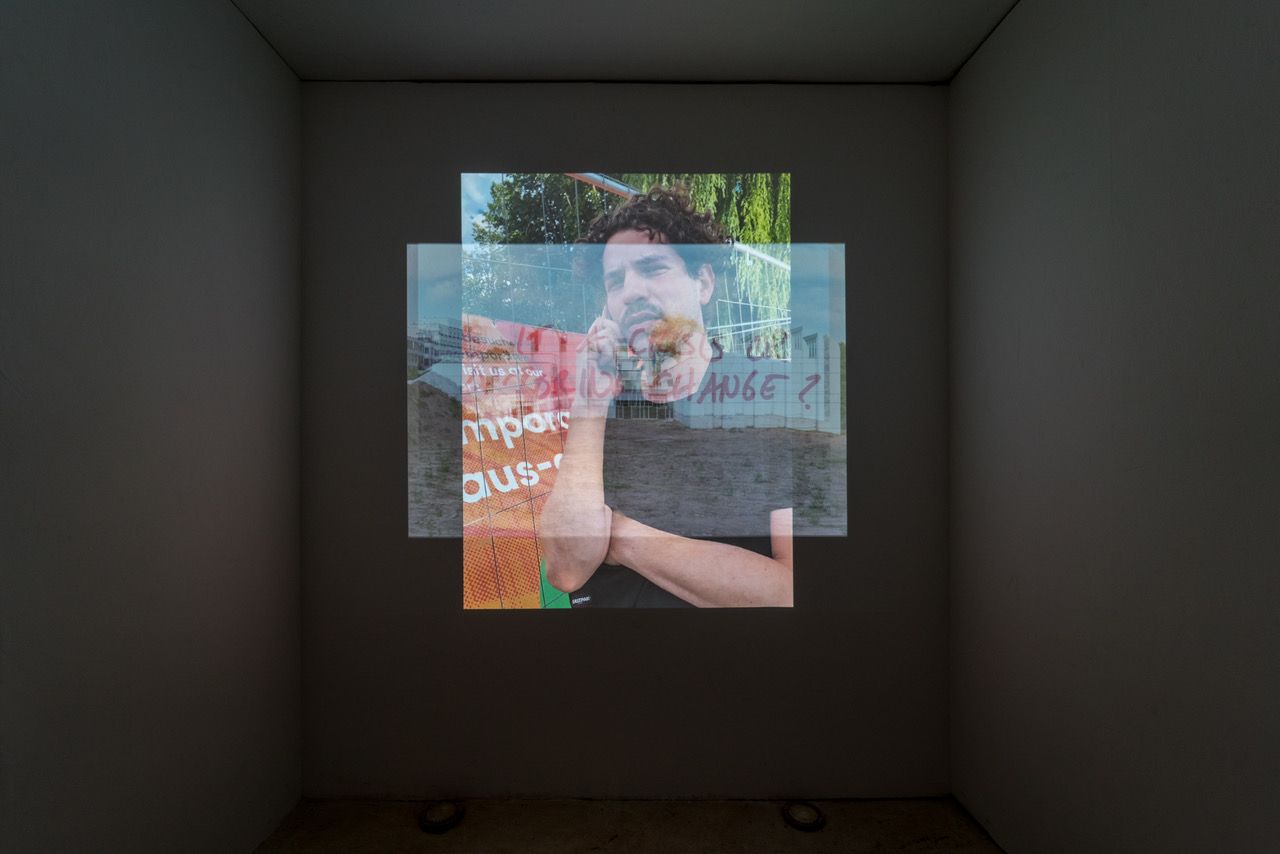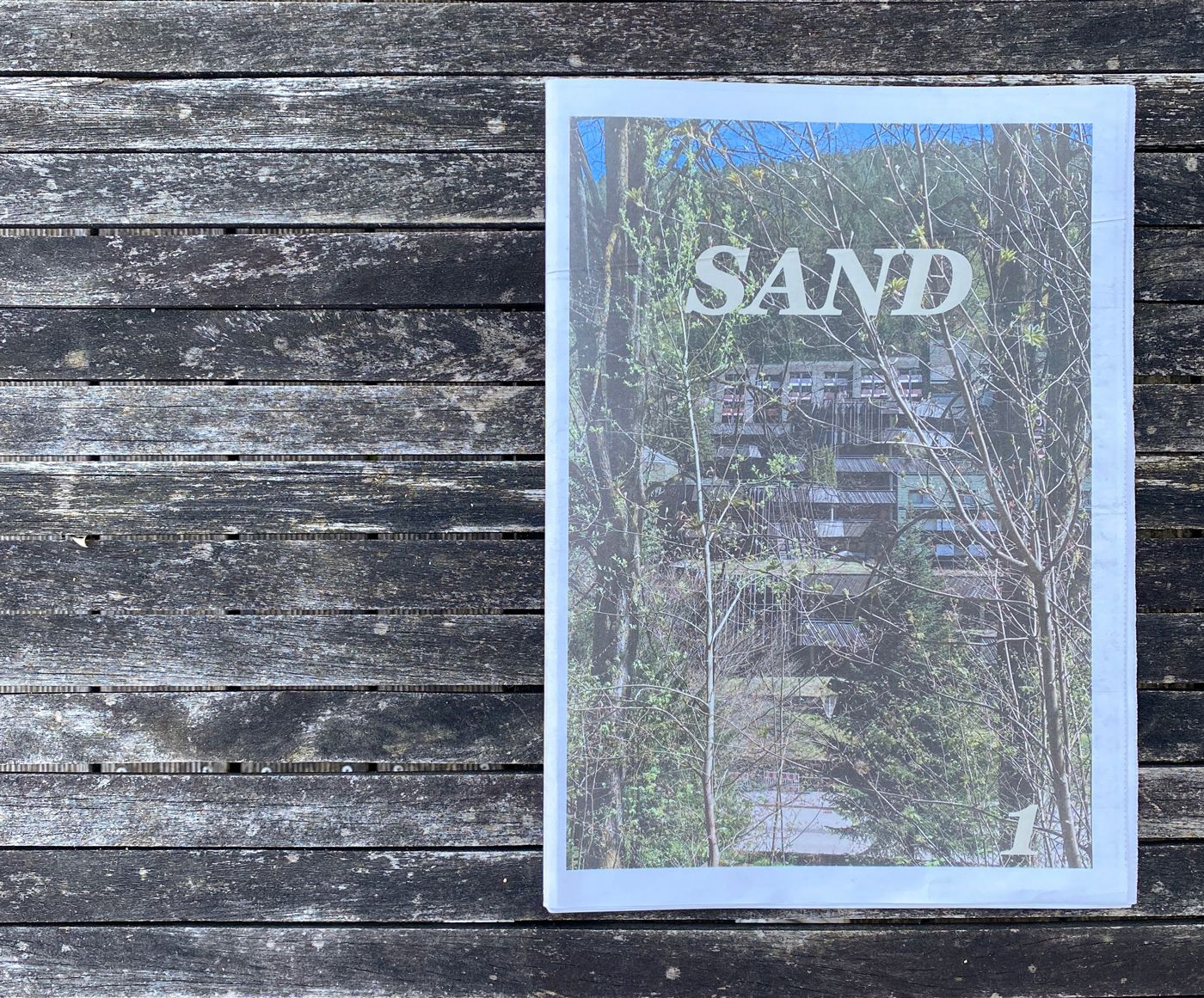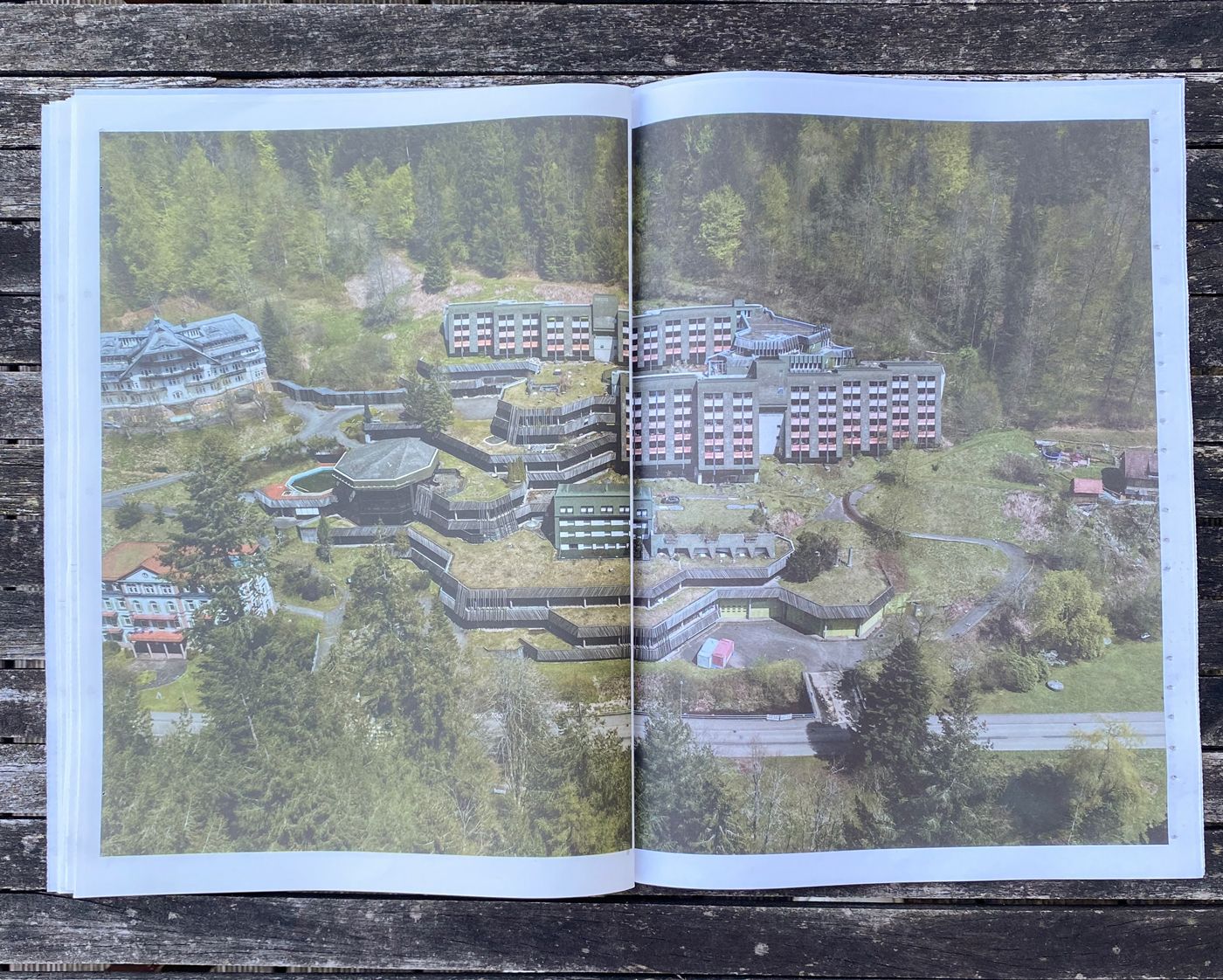 Download the full newspaper PDF here.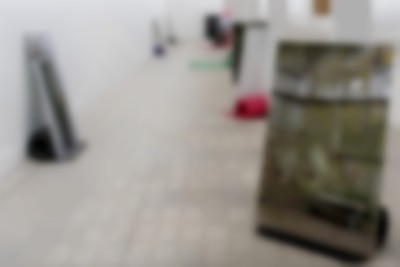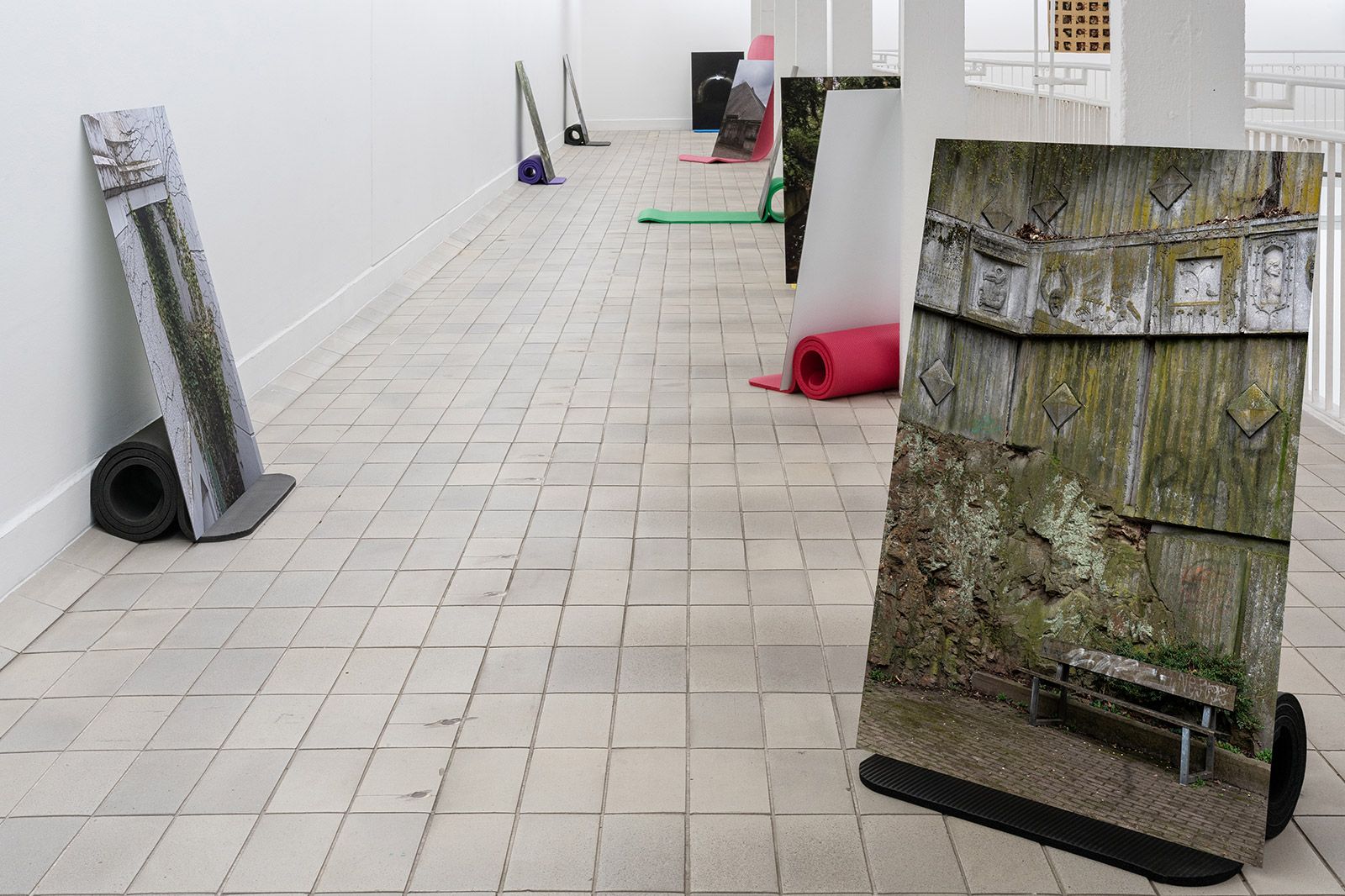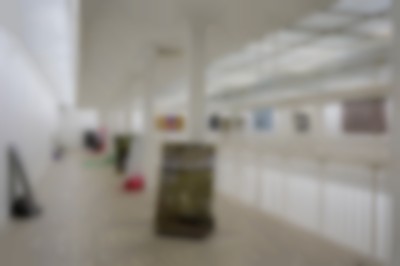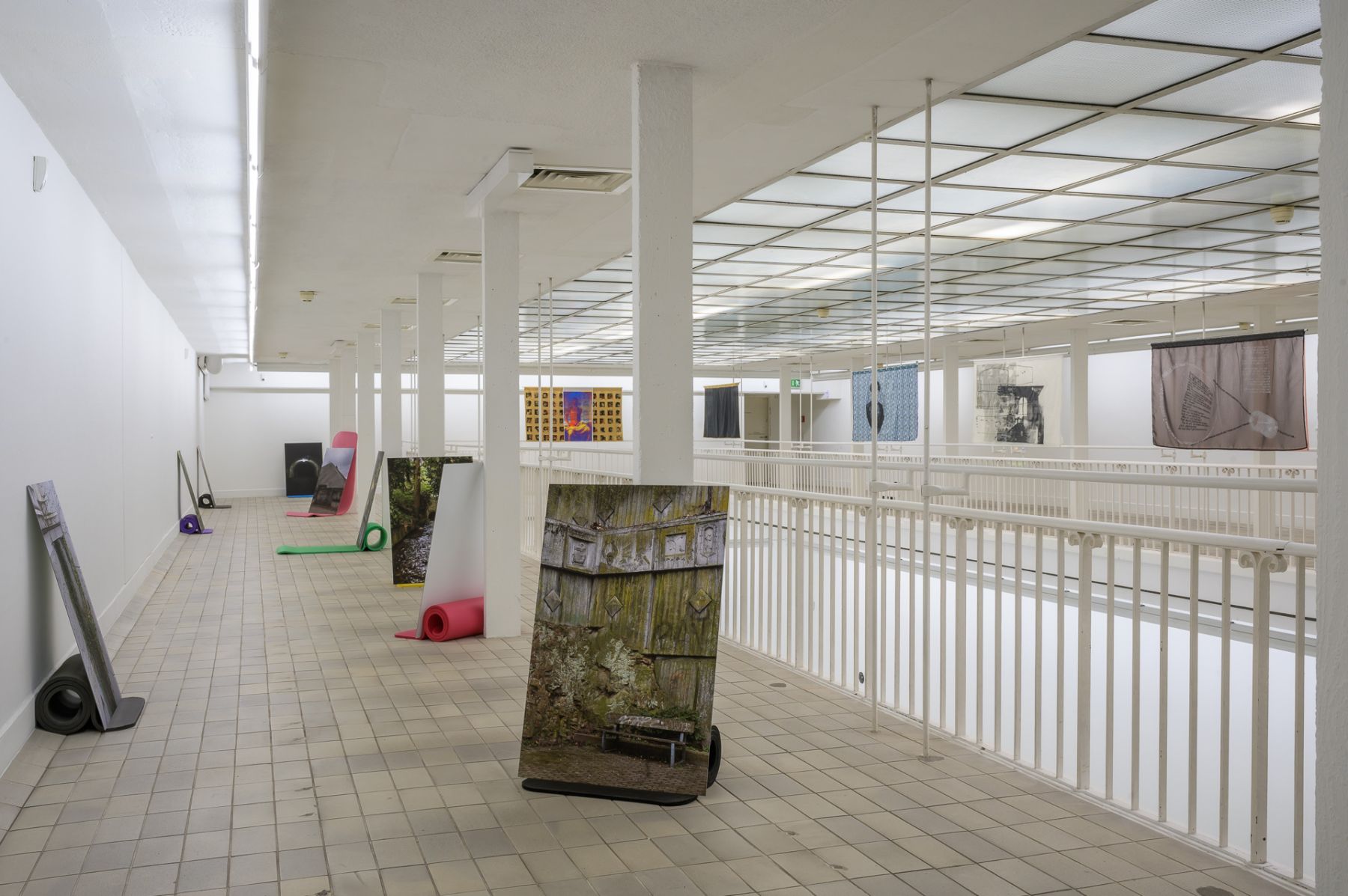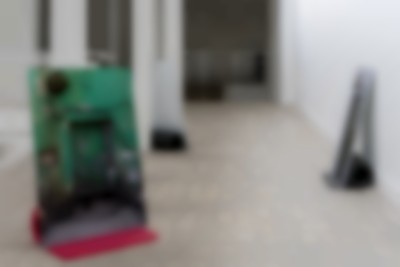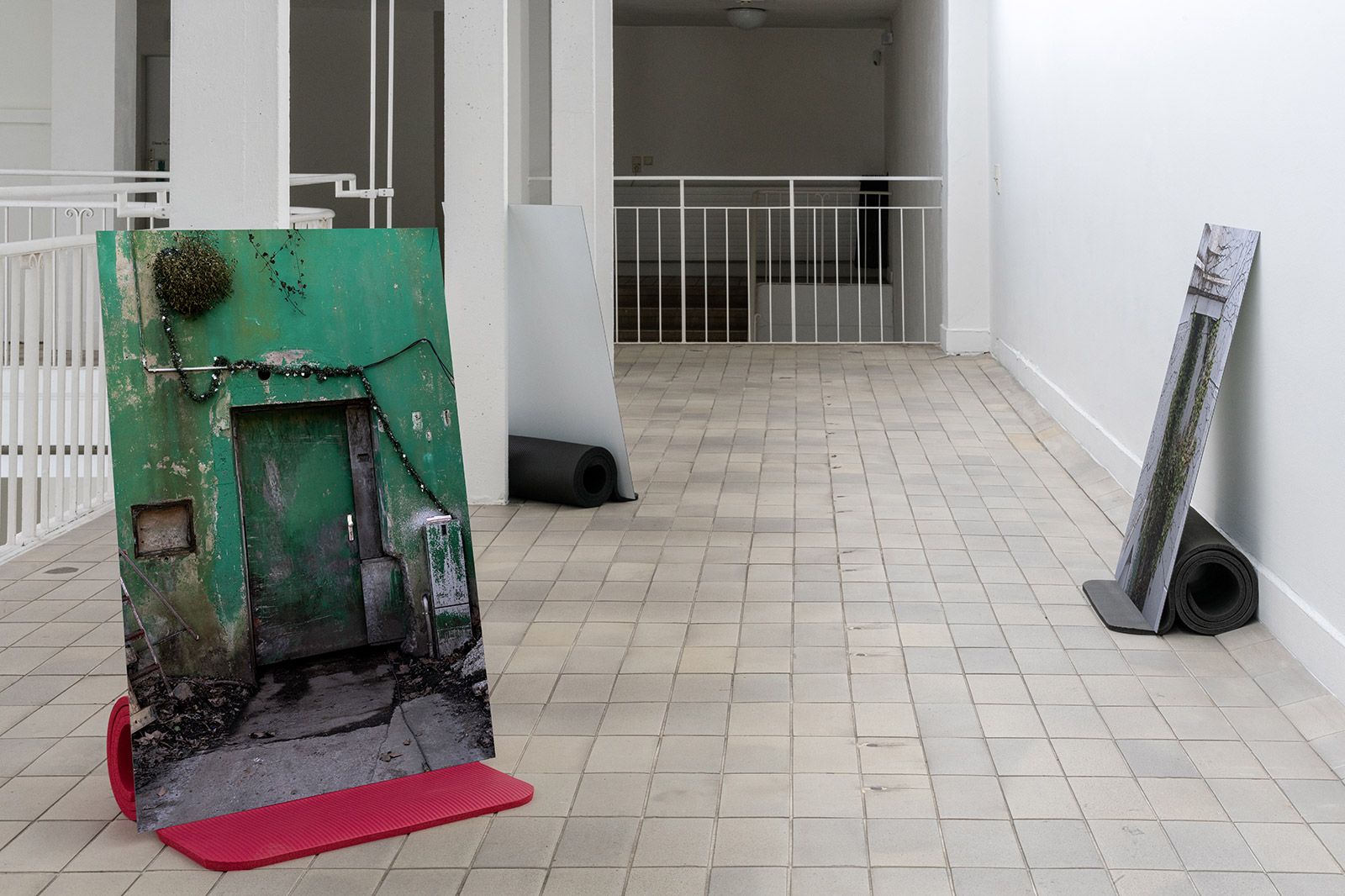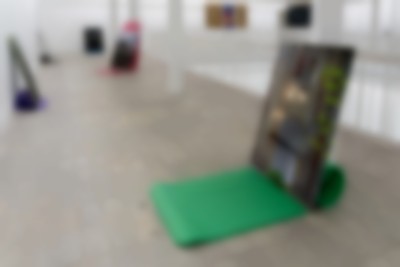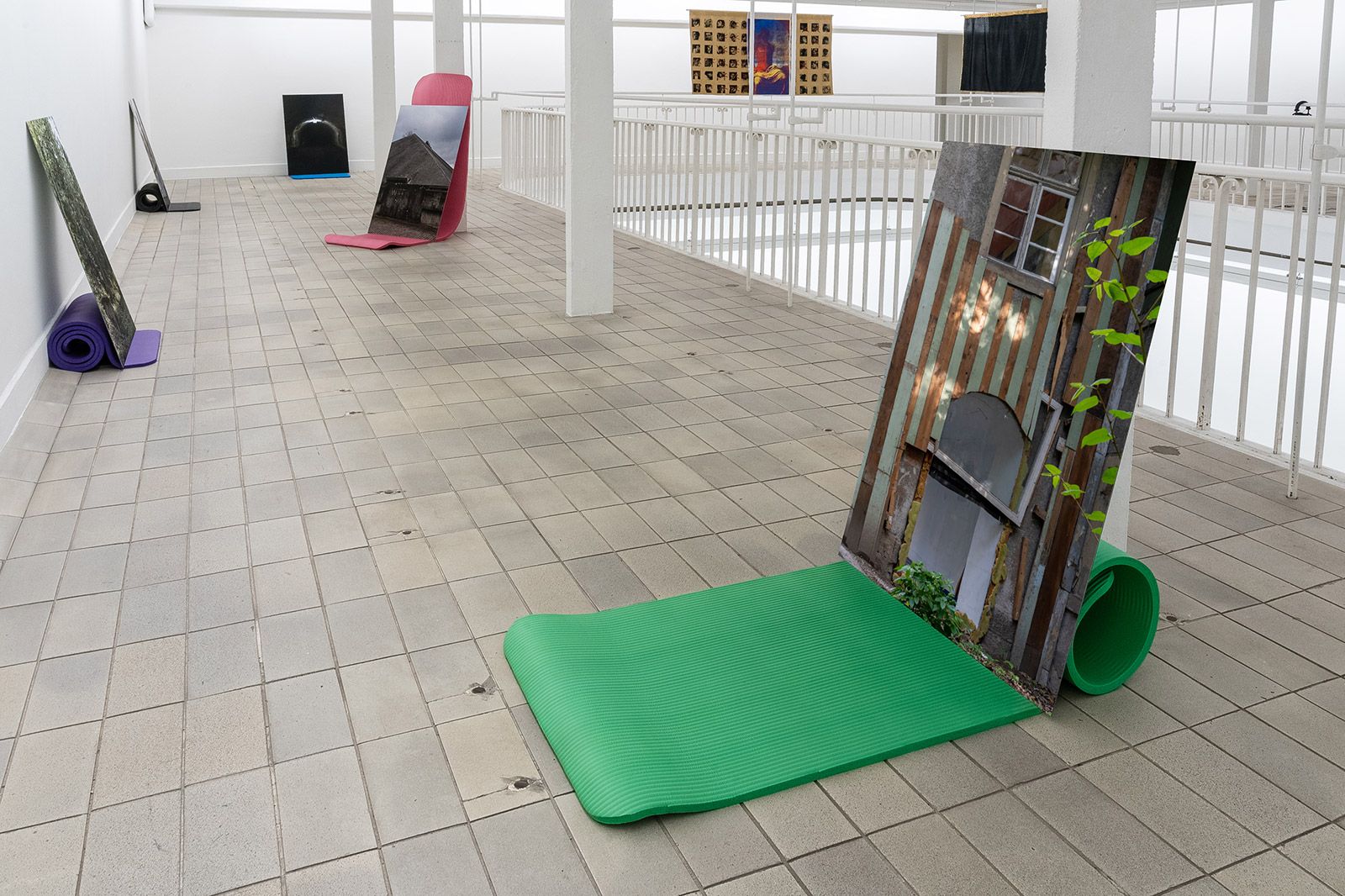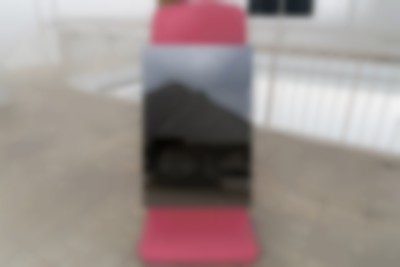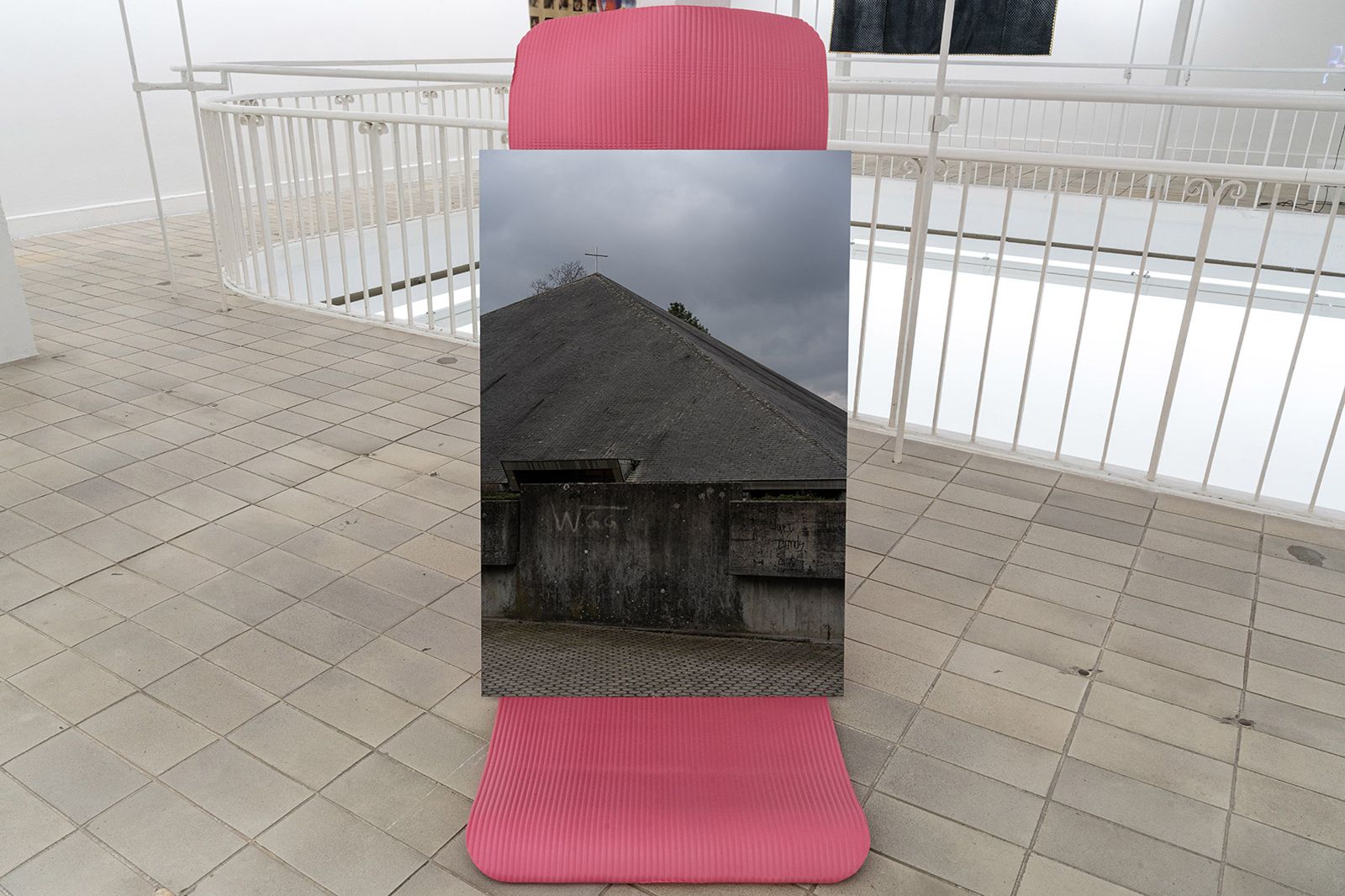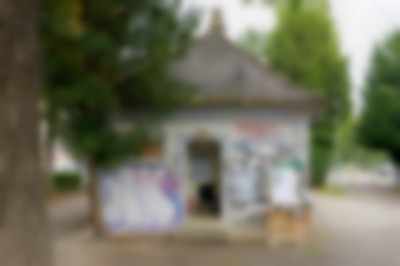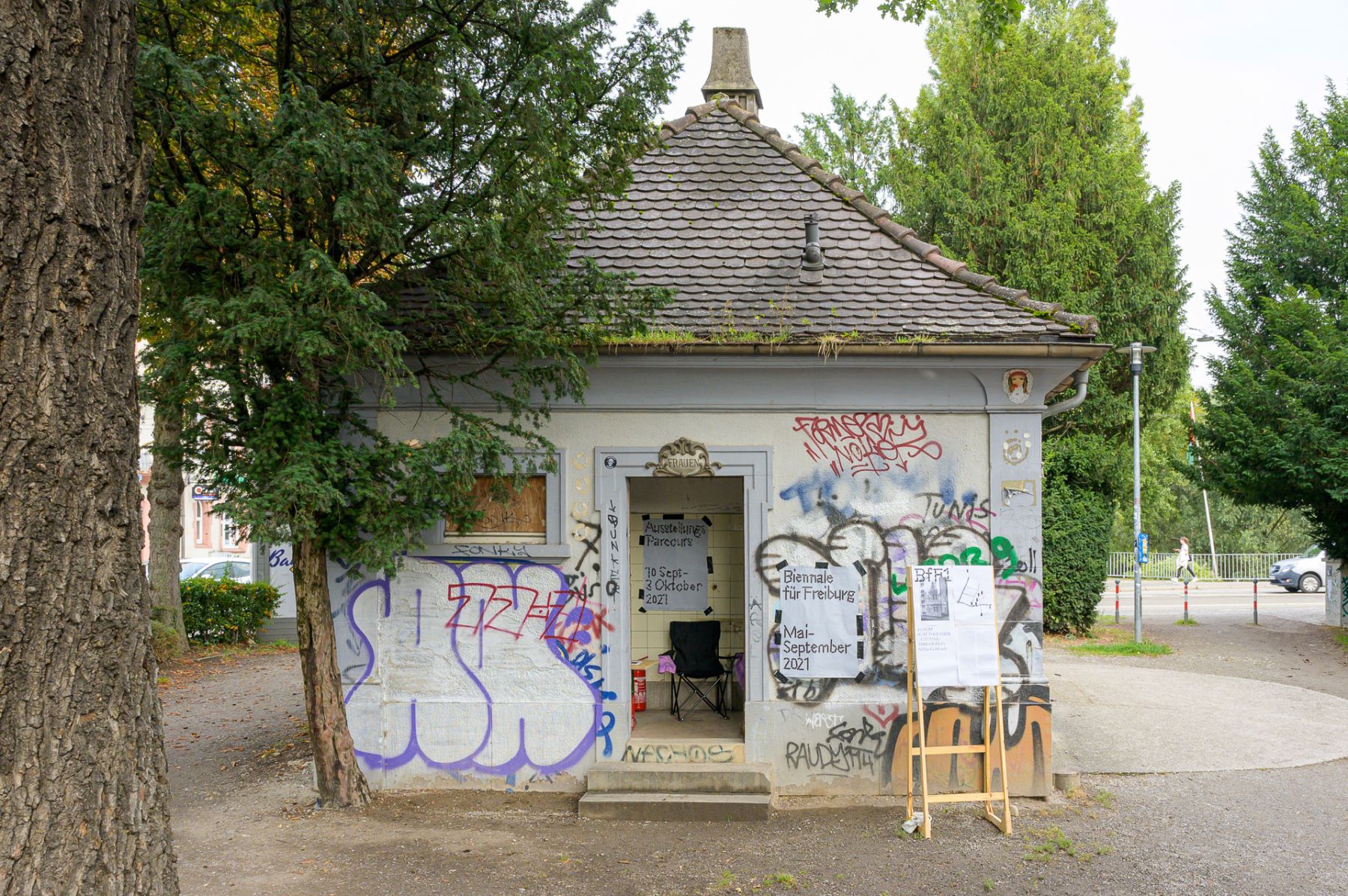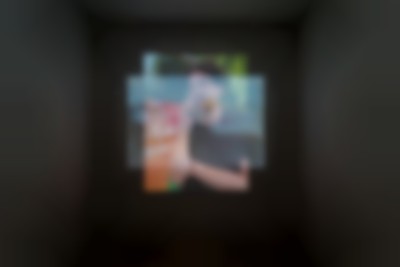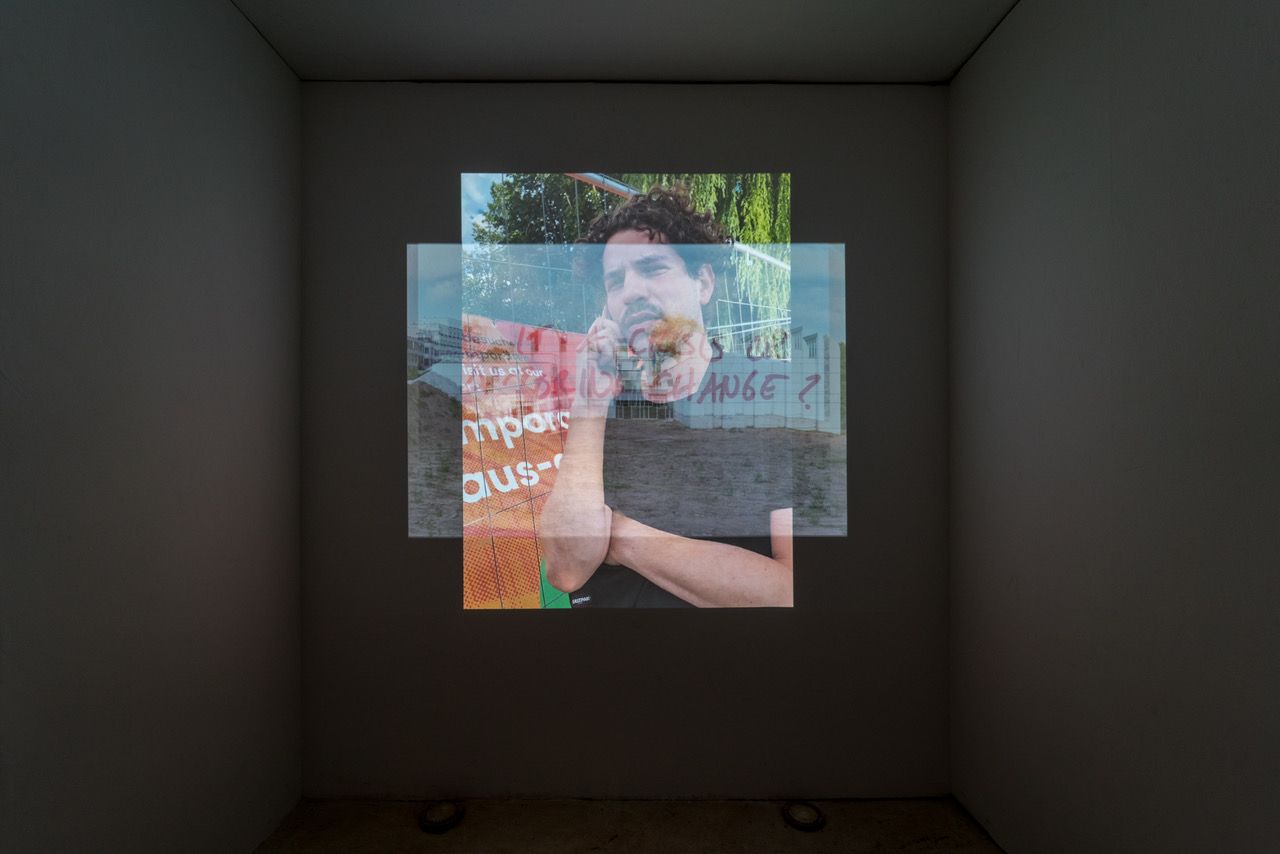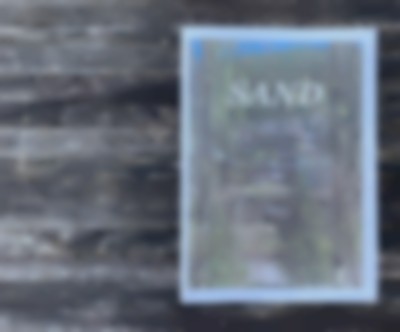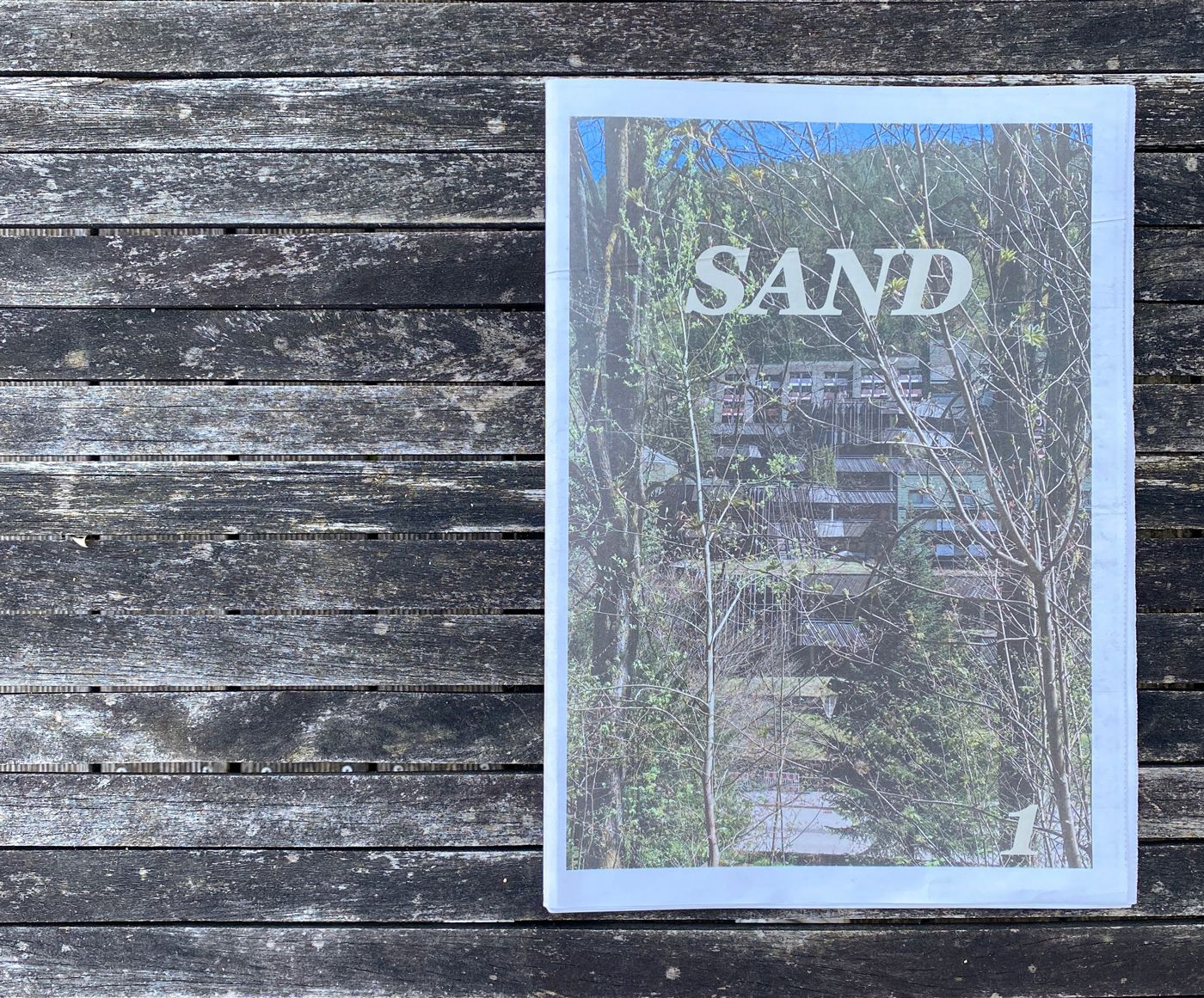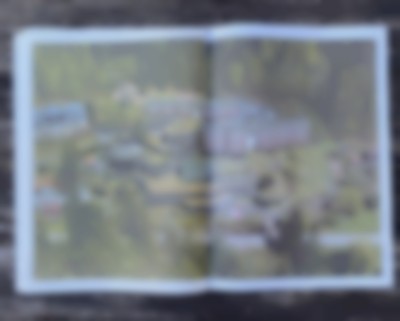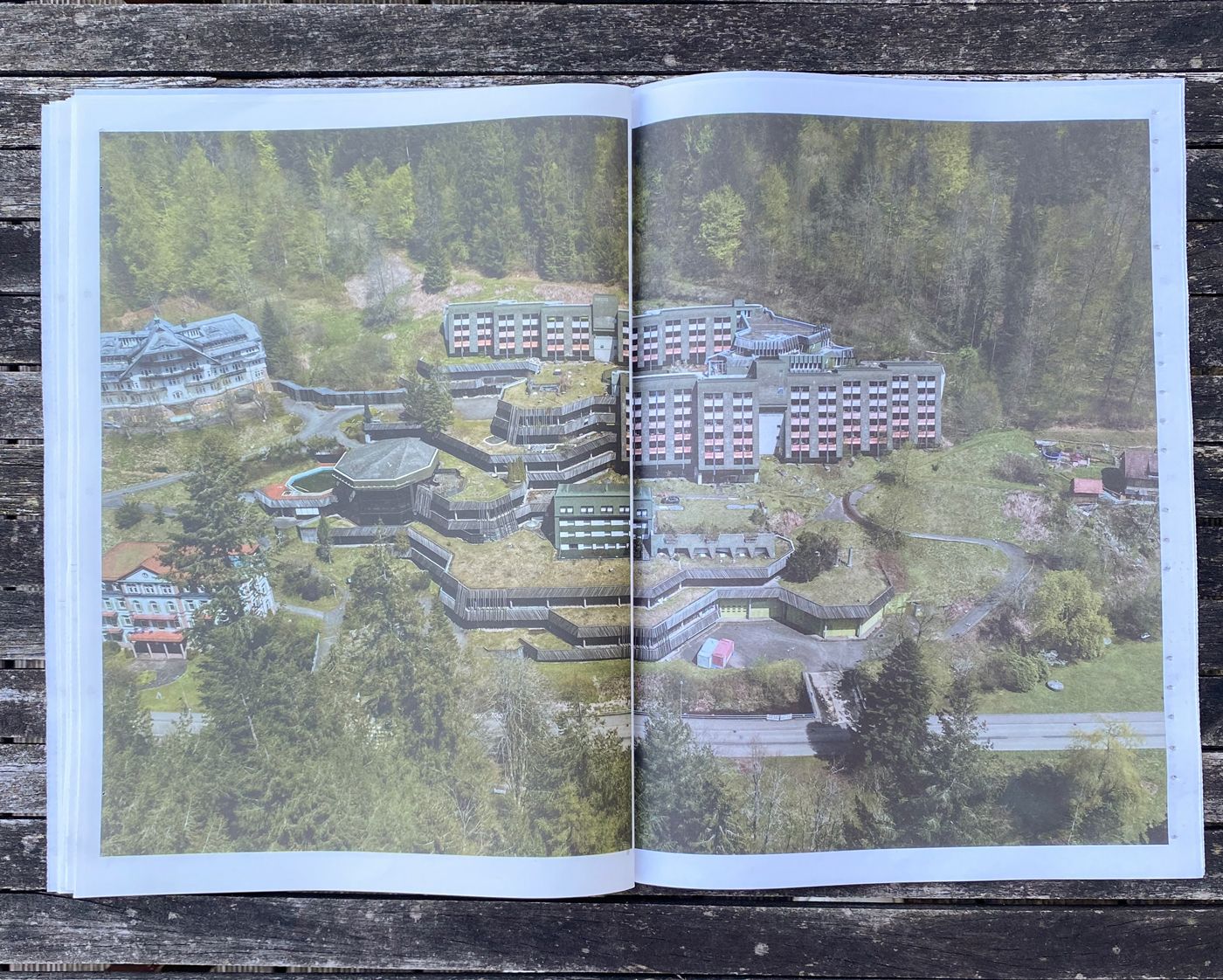 Philipp Gufler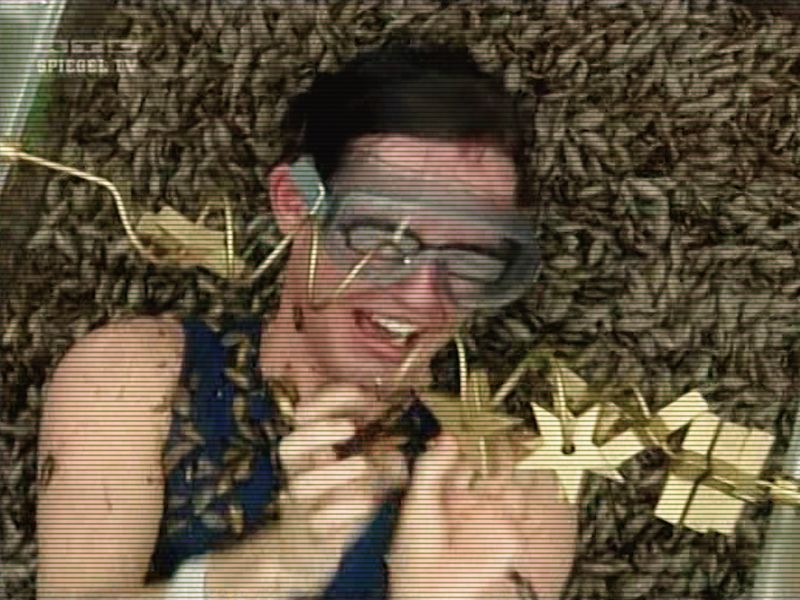 at Kunstverein Freiburg
 …
More
Philipp Gufler
QUILT#21 (Paul Hoecker), 2018
QUILT#23 (Wies Smals), 2018
QUILT#24 (C.), 2018
QUILT#25 (Ludwig II), 2019
QUILT#38 (Nino Cesarini)
LANA KAISER, 2020
Venue: Kunstverein Freiburg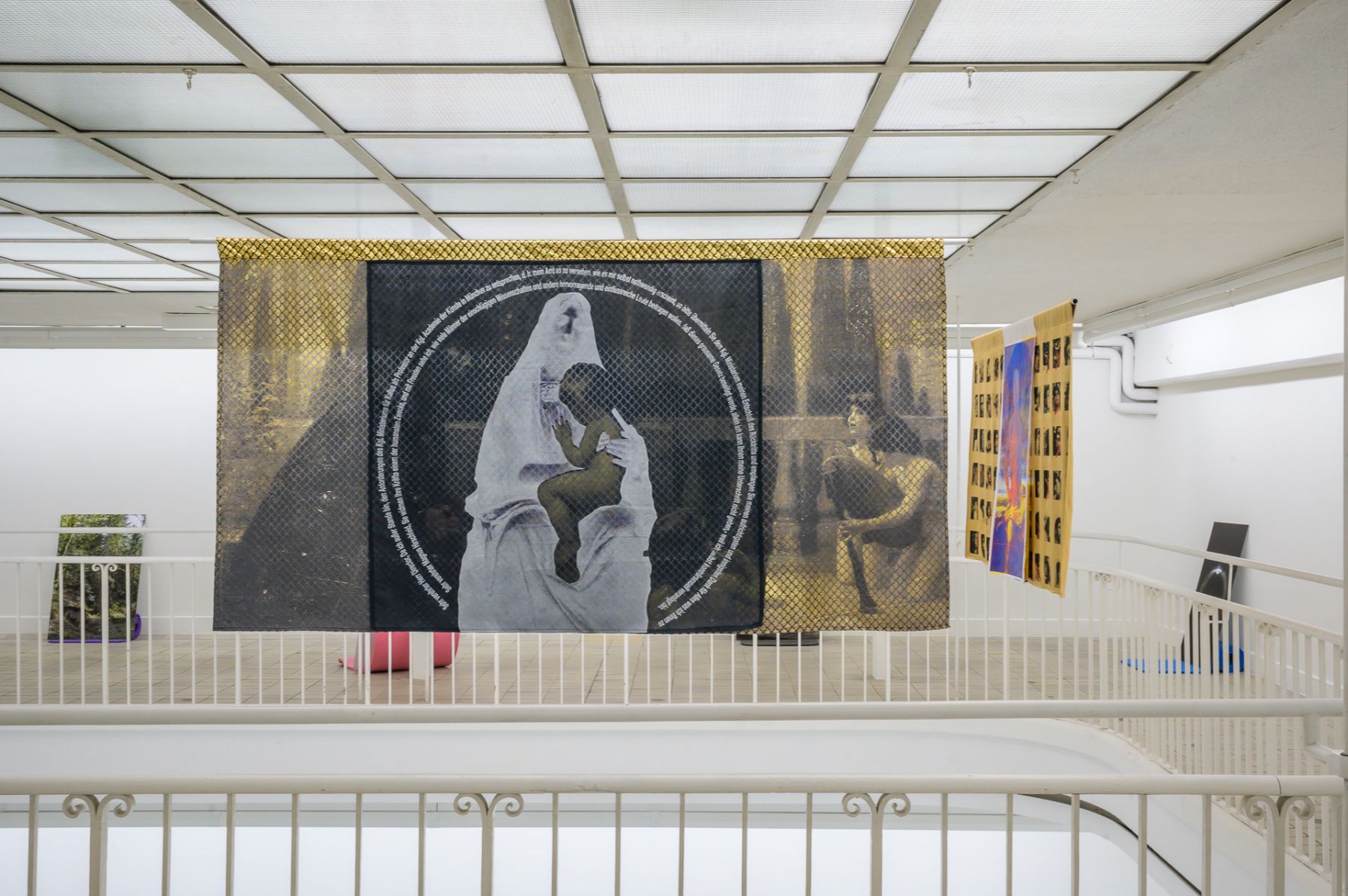 Philipp Gufler's ongoing series of QUILTS explores queer counter-images of existent narratives. The quilts negotiate the tensions between private and public life while addressing desires rendered invisible by dominant historiography and its institutions.
QUILT #25 features King Ludwig II, whose homoerotic friendships can be traced in his love letters that appeared in auction in the 1990s. The names of the addressees have been printed onto the quilt by the artist. The painter Paul Hoecker (QUILT #21) was forced to resign from his professorship at the Academy in Munich in 1898 for allegedly using a male sex worker as a model for his portrait of a Madonna. Later, he visited the poet Jacques d'Adelswärd-Fersen and his lover Nino Cesarini (QUILT #38) in Capri. Wies Smals (QUILT #23) founded De Appel in Amsterdam in 1974 and left a legacy of supporting independent artists. The sketches of the exhibition space used for the quilt were made by Smals' life partner Marijke van der Wijst and are shown alongside photographs from her private archive. QUILT #24 further delves into the realm of the private and employs fragments of diary entries written by the quilt's protagonist, C.
LANA KAISER pays tribute to the German entertainer mostly known to the public under her birth name Daniel Küblböck. Kaiser, who got famous in 2002 in the first season of German Idol, soon became a human projection surface for discussions around gender ambiguity. (FH)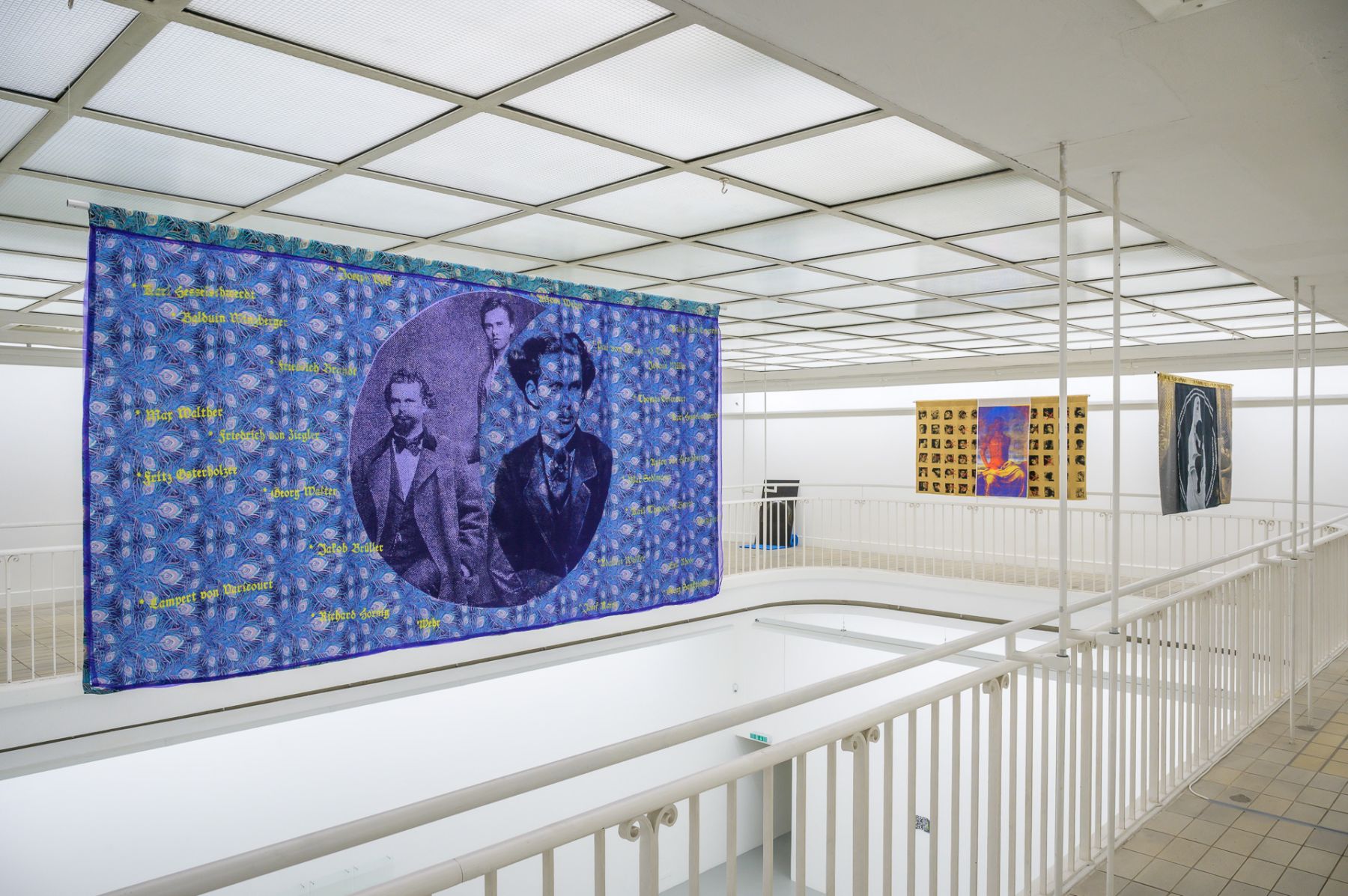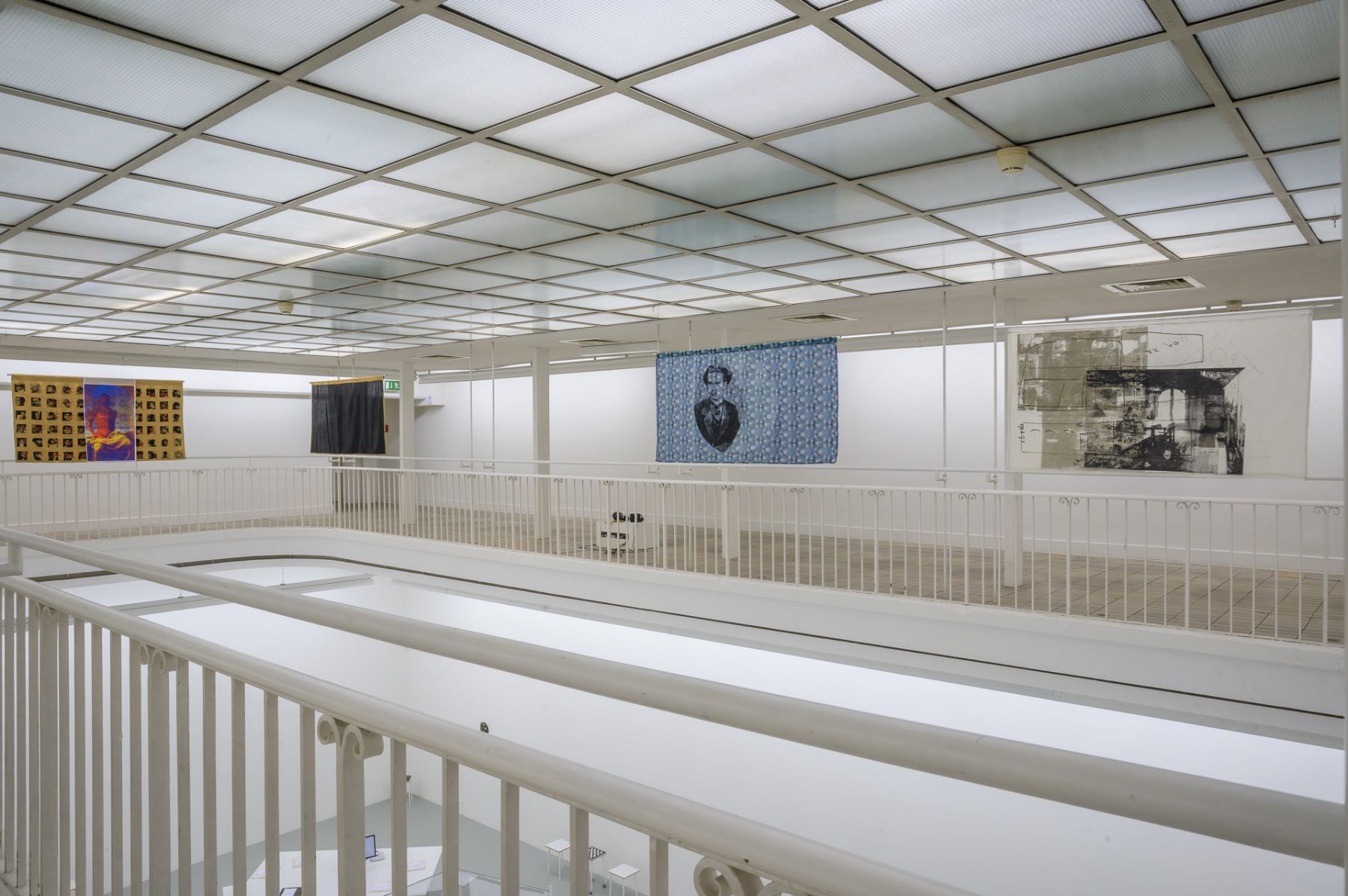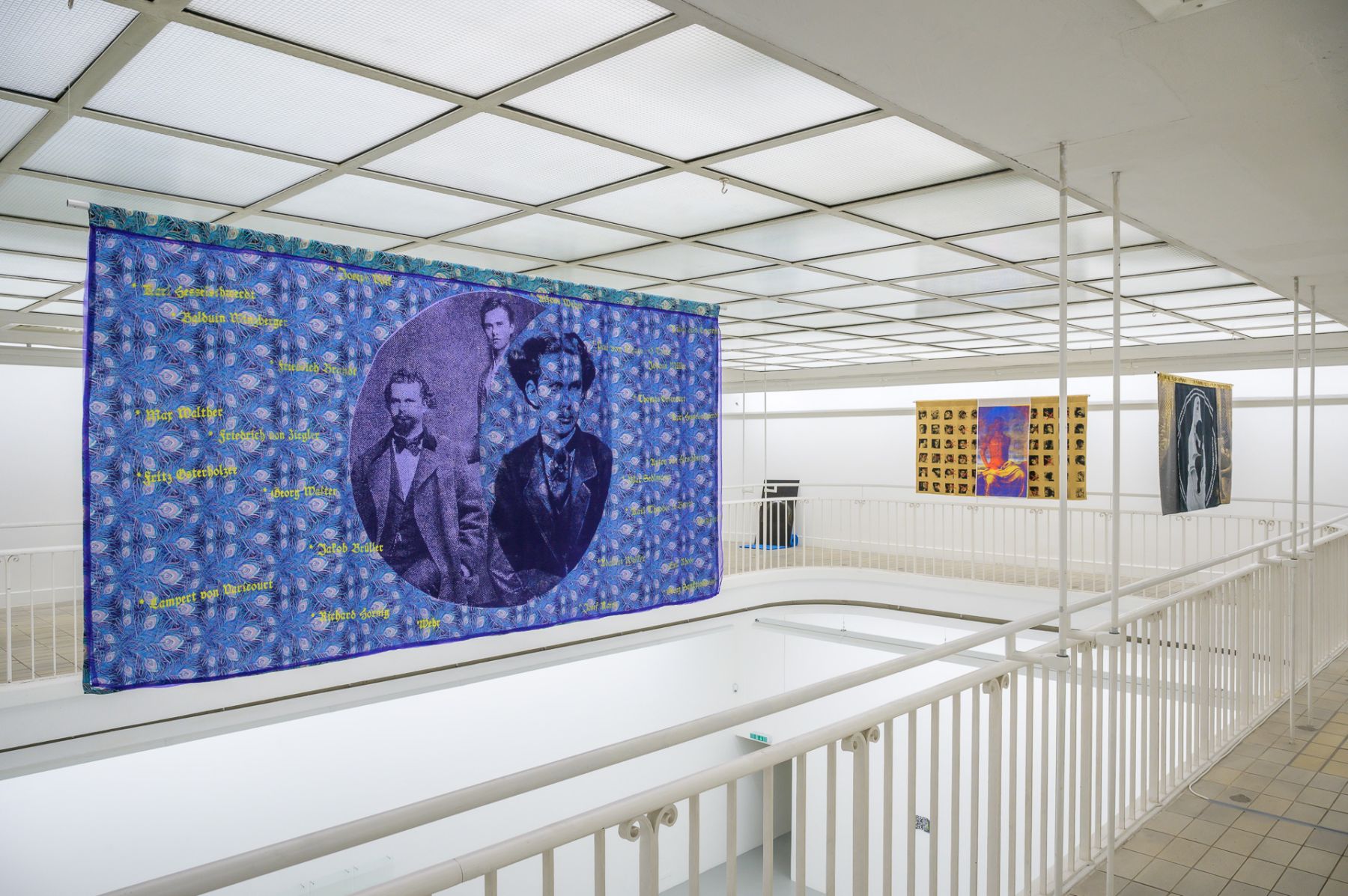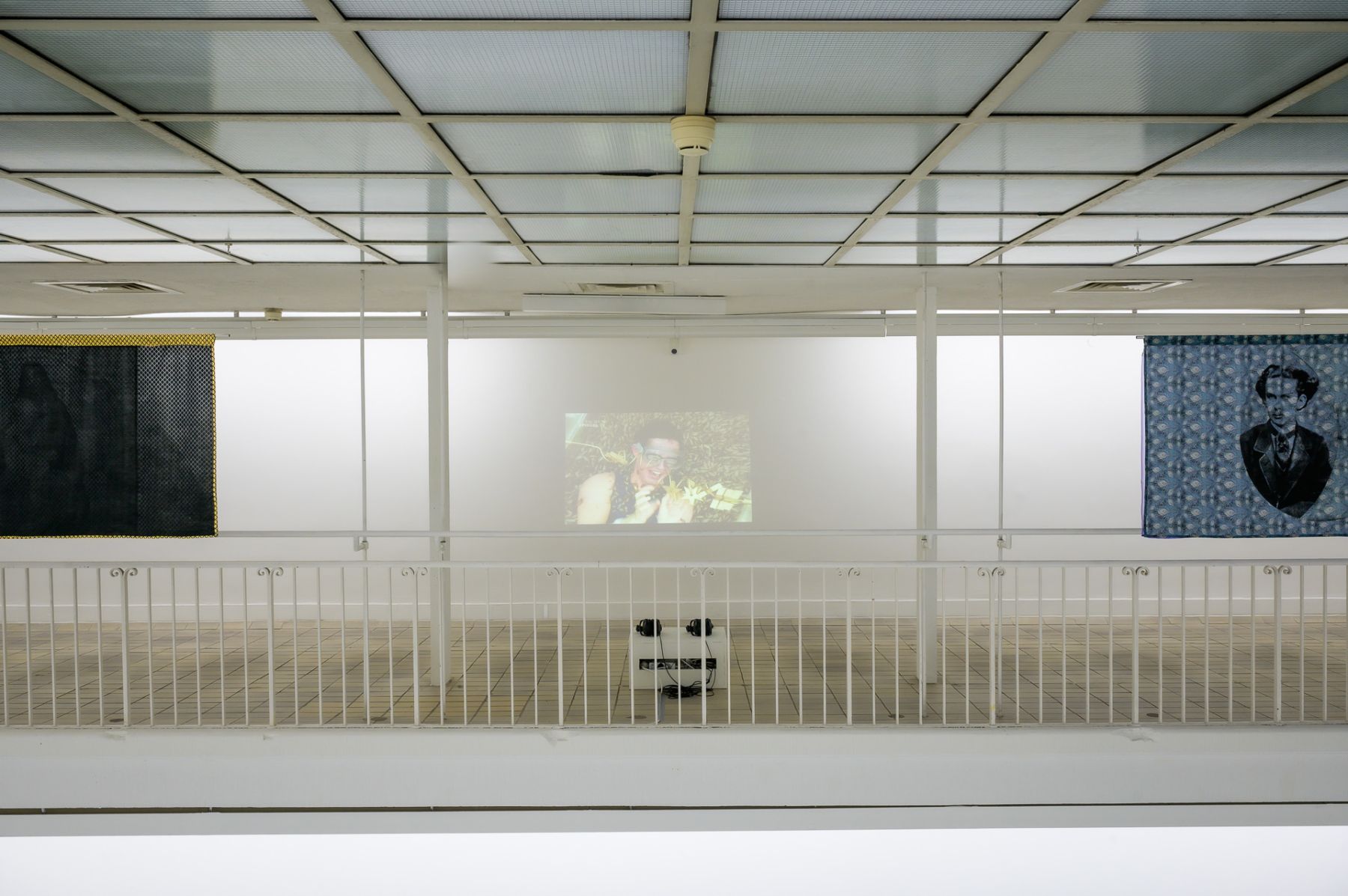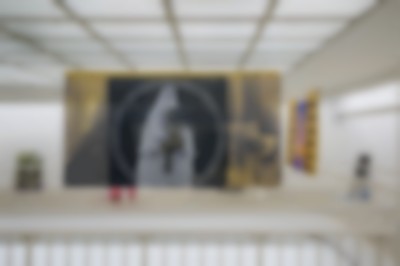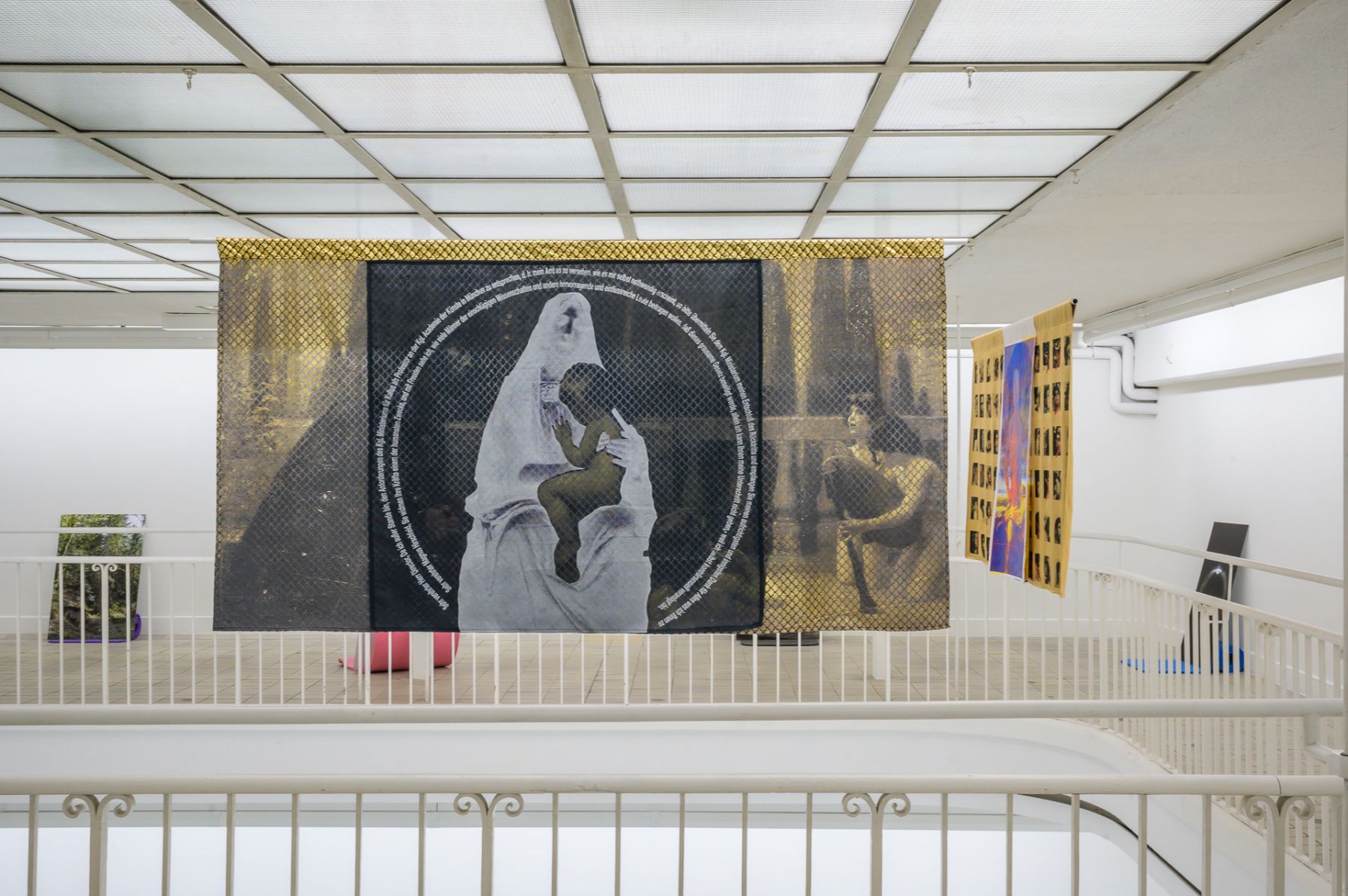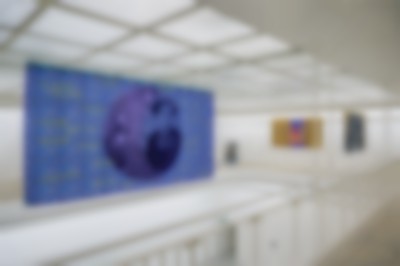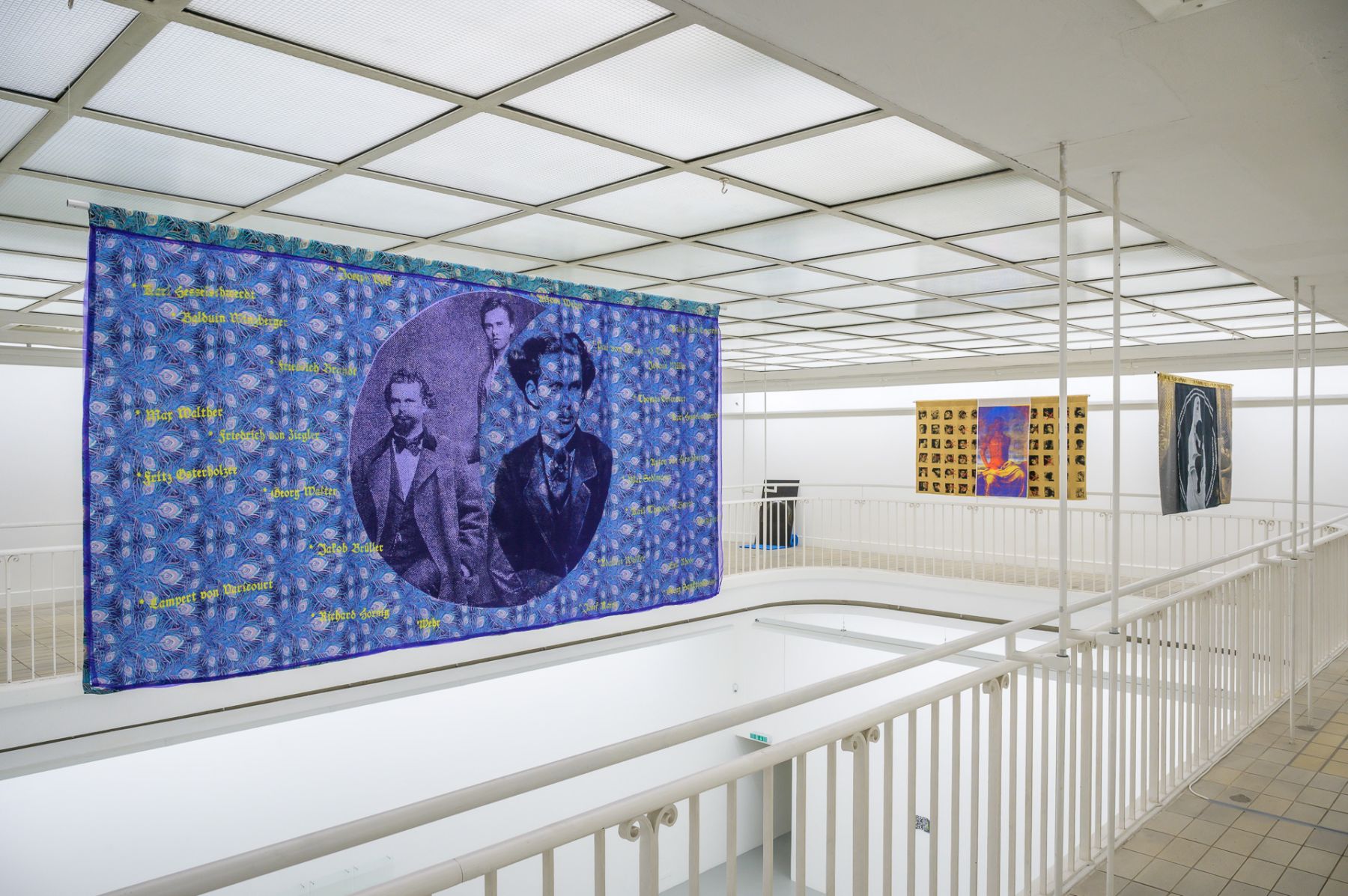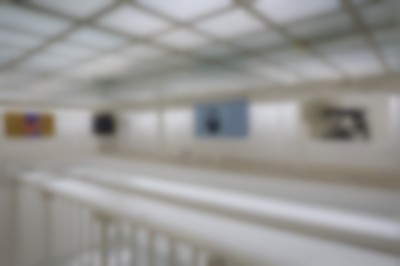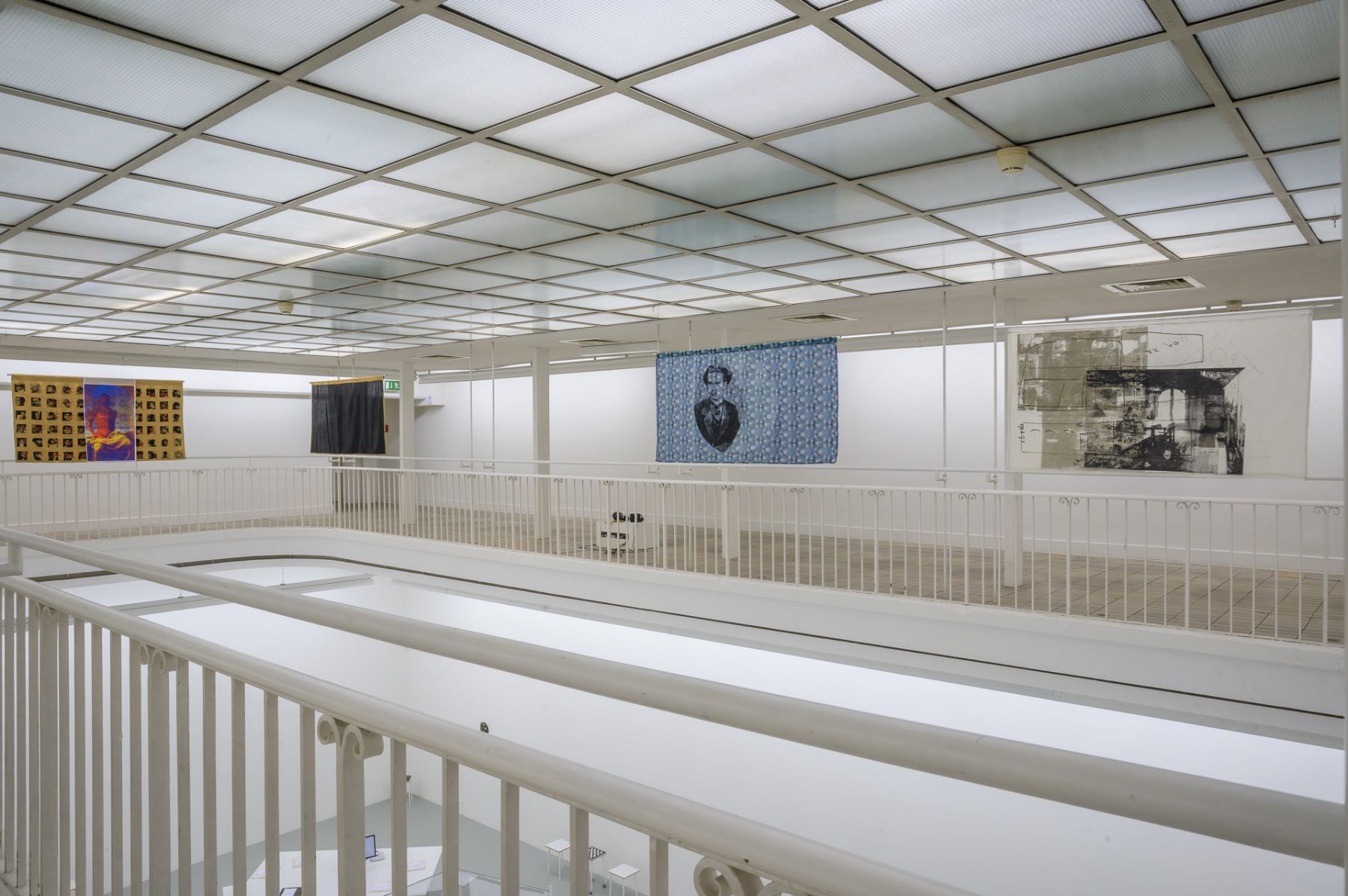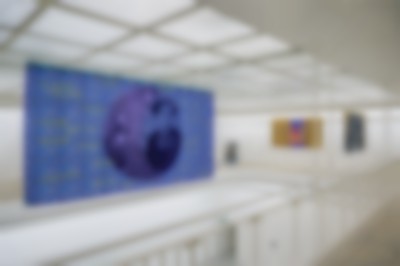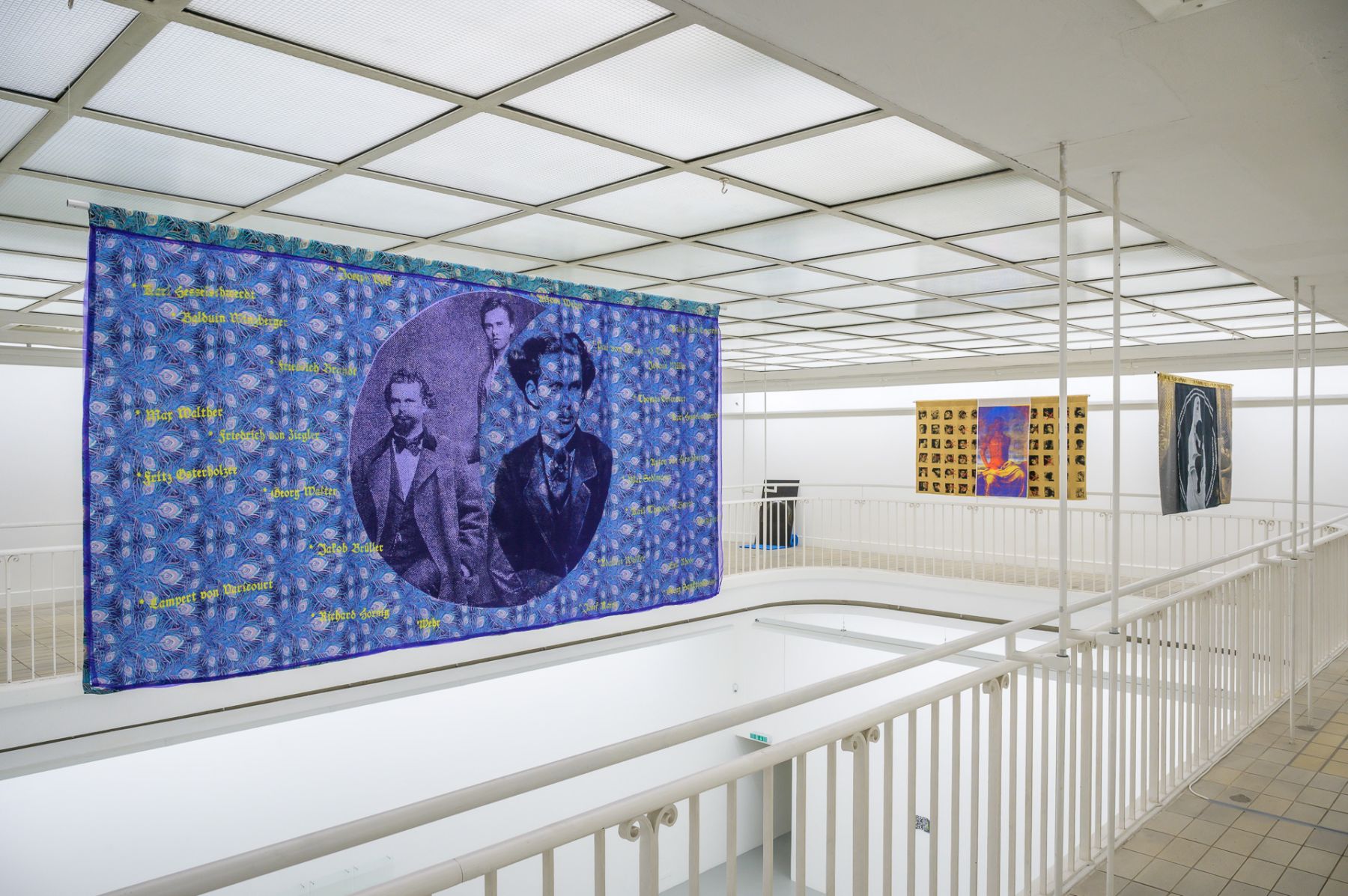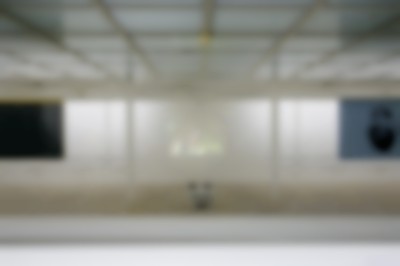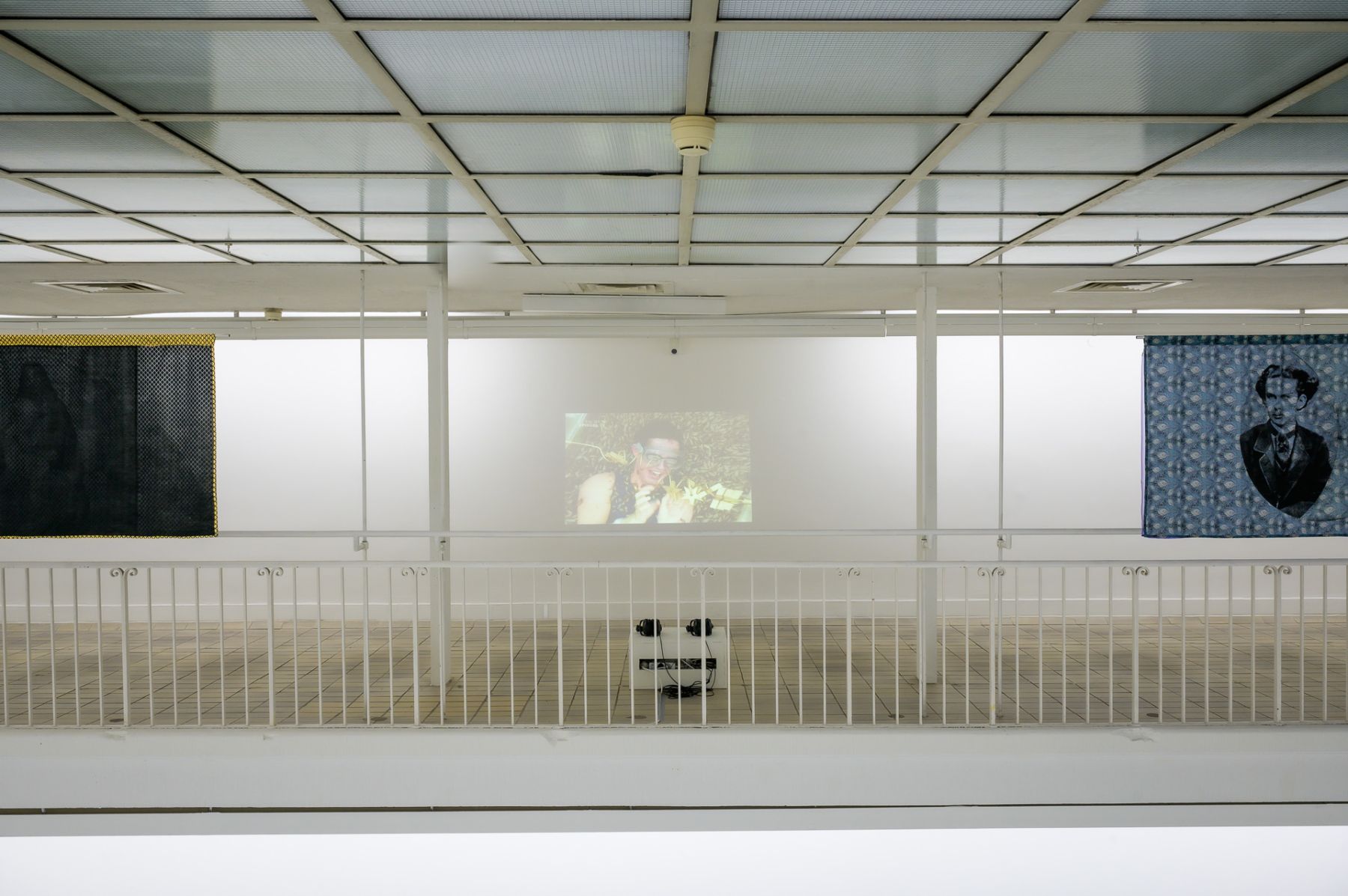 Hanakam & Schuller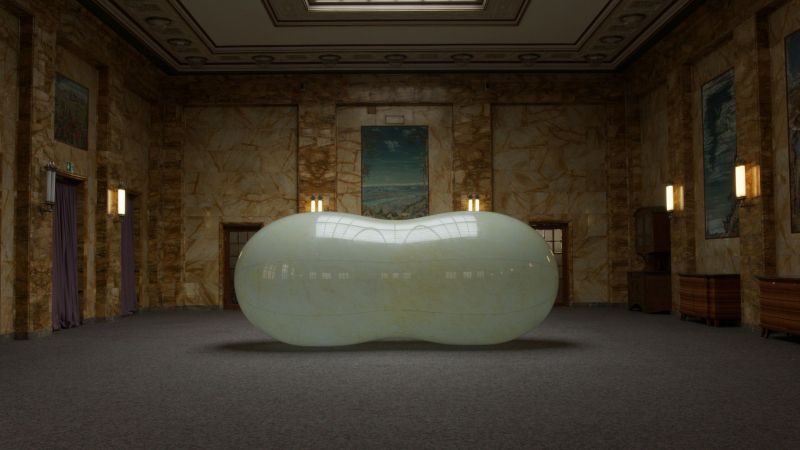 at the BfF Visitor Center
 …
More
Hanakam & Schuller
THE MOIST CABINET, 2021
Venue: BfF Visitor Center, Münsterplatz 6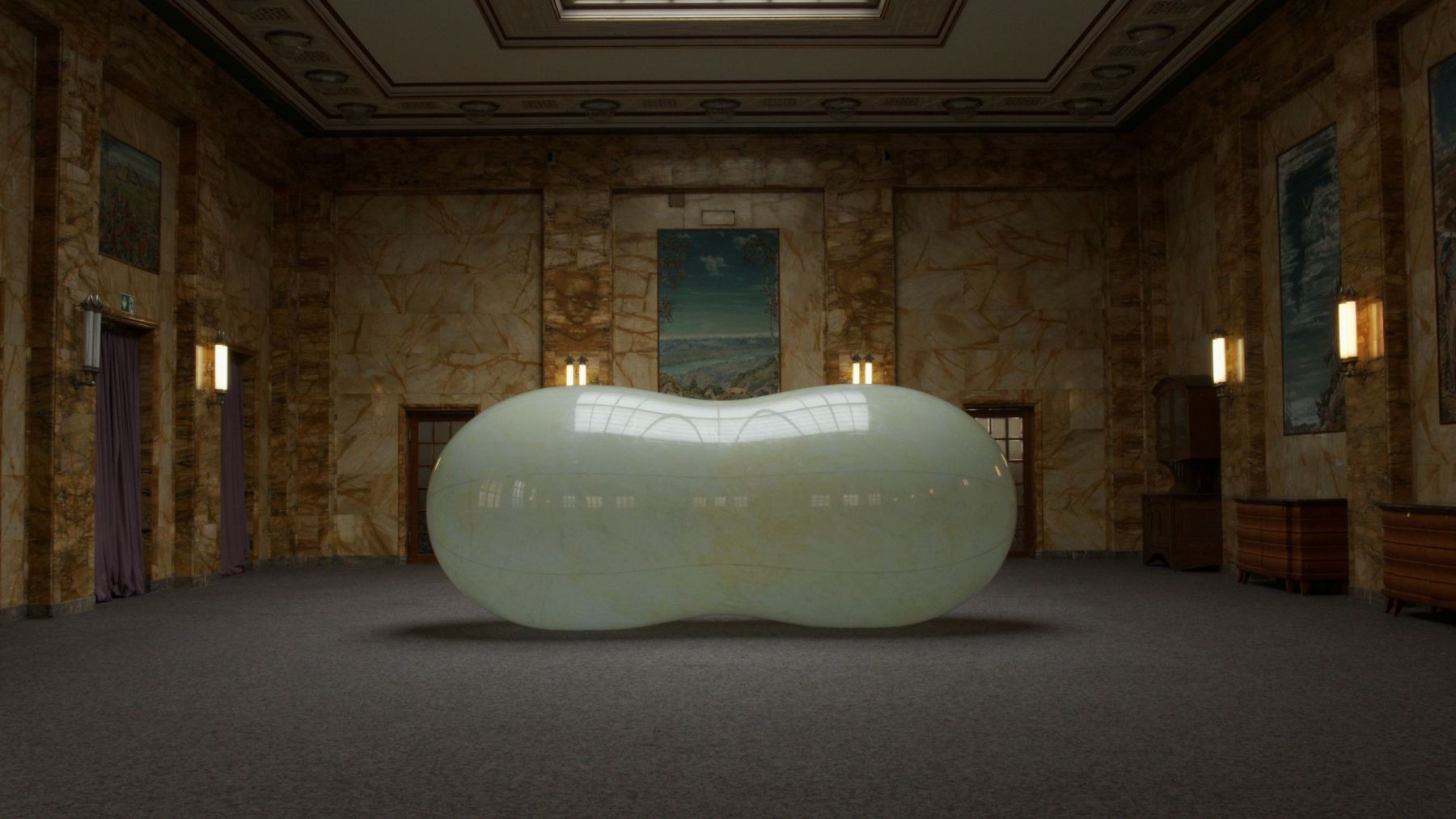 The new film by Hanakam & Schuller was created during the studio program of BfF#1 between May and August 2021. THE MOIST CABINET takes the nature of the Black Forest and the long history of its numerous climatic health resorts as its points of departure. In the process, the art duo introduces artificial objects into shots of the moisture-retaining landscape and dining hall of the recently closed St. Blasien Sanatorium – a peanut-shaped air chamber, colorful artifacts, and color panels. They seem to move by themselves or are guided by performers. Special attention is paid to the surfaces: the damp moss, the structure of the marble, the reflecting brook, the brushstrokes on the landscape paintings of the painter Adolf Hillebrand. The 2-channel video intertwines these landscape and interior spaces.
THE MOIST CABINET is inspired by the literary genre of climate fiction. Through the voice-over of the film, we encounter poems by Bettina von Arnim and William Shakespeare, each in the original language. Hanakam & Schuller view these poems from the 16th and 19th centuries a prequel to cli-fi. Both poets seem to be in dialogue with each other, yet testify to different attitudes: in Shakespeare, the description of nature serves as a catalyst of sexual desire; in Arnim, the physical encounter with nature triggers a need to preserve the source of erotic experience: "Your silence, nature, do not break. / Not on rustling leaf / With stylus wake thee." THE MOIST CABINET thus also describes the influence of literary narratives on the relationships between nature and humans, and the consequential actions. (LH)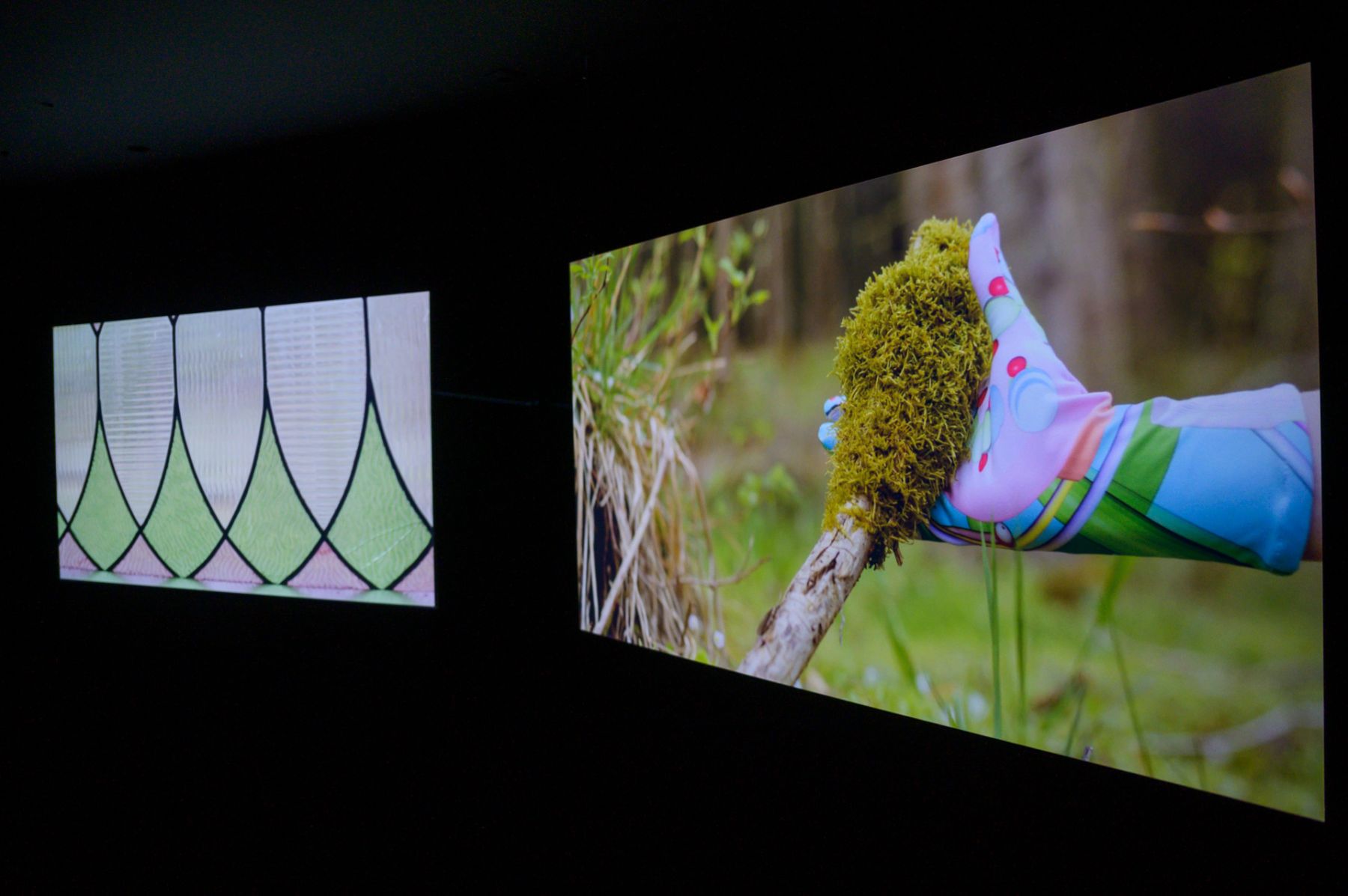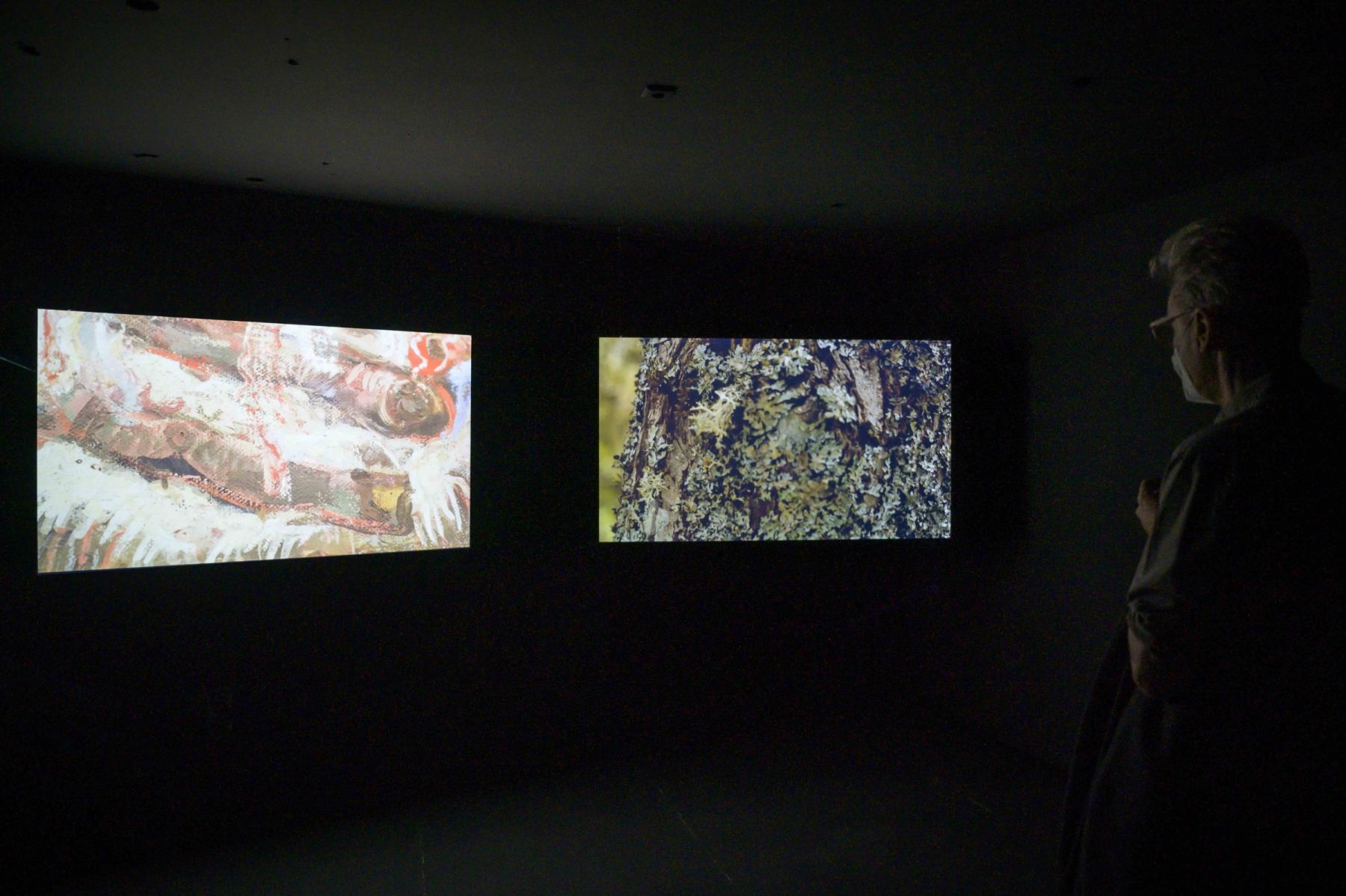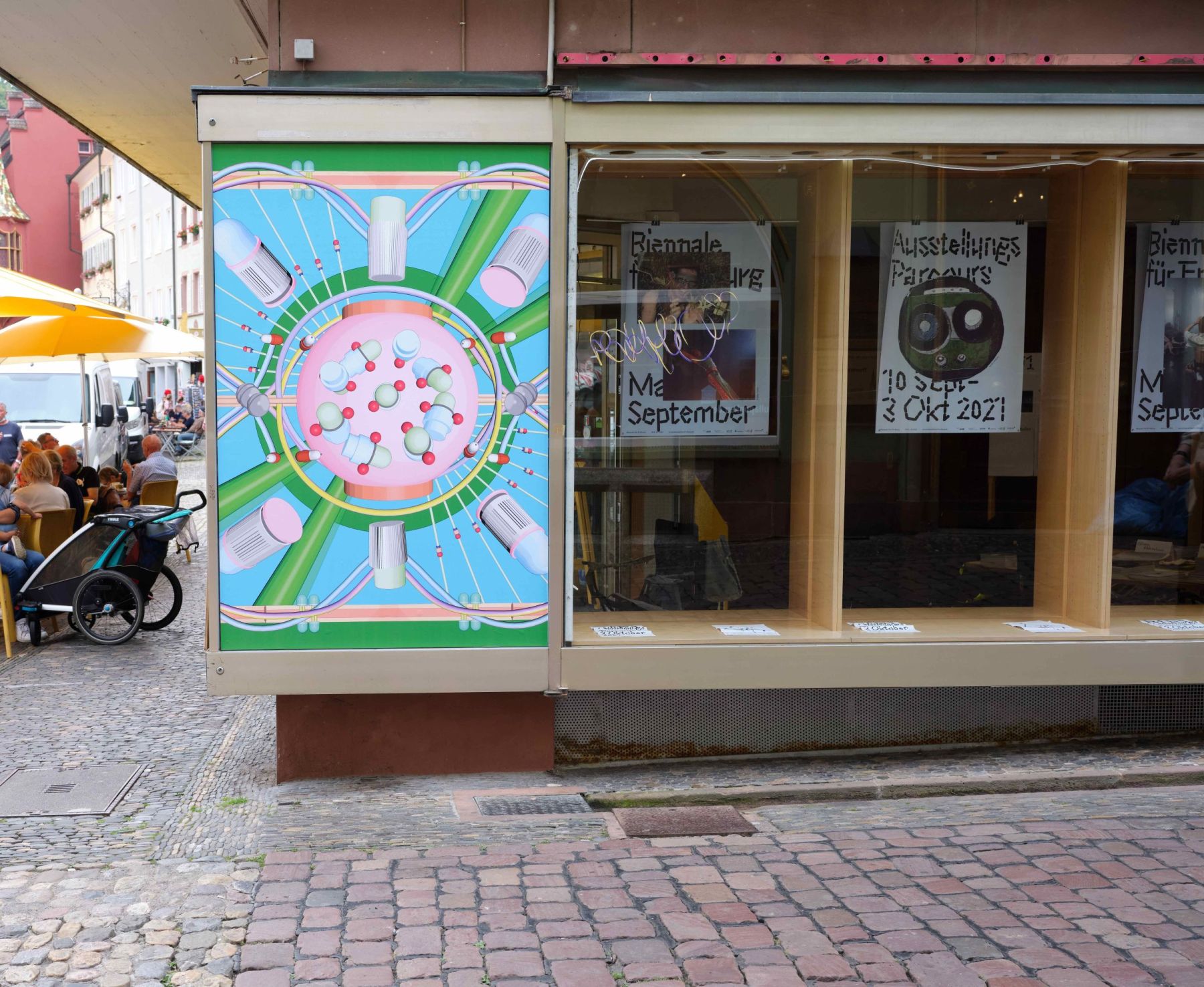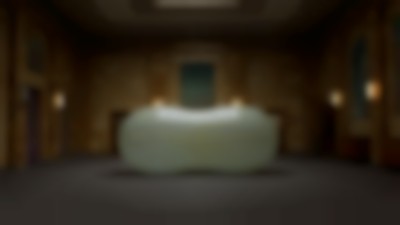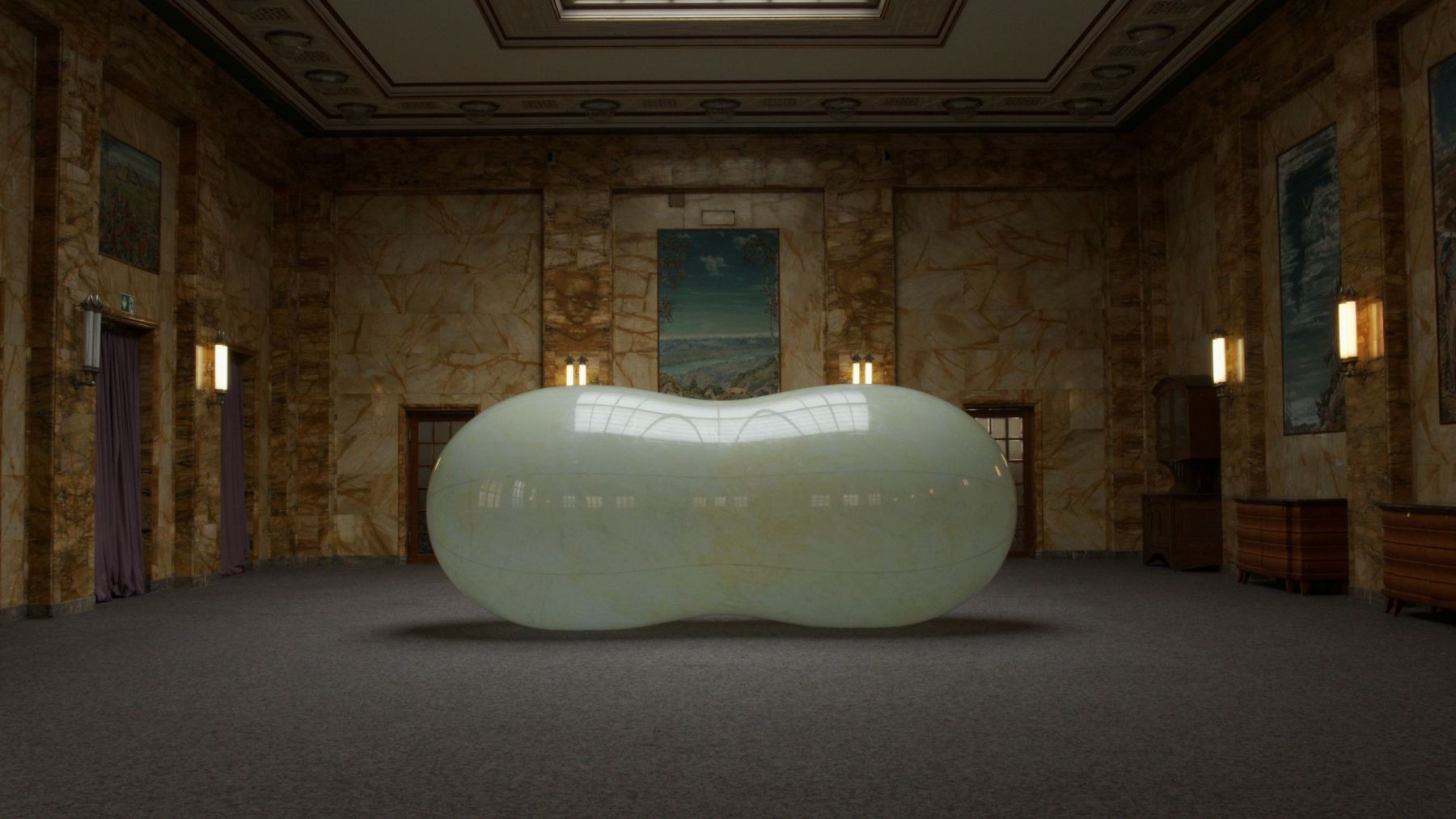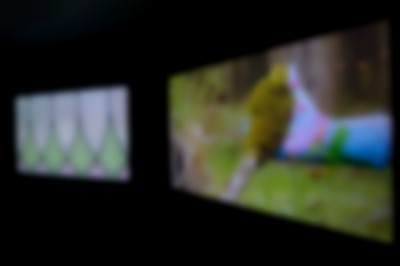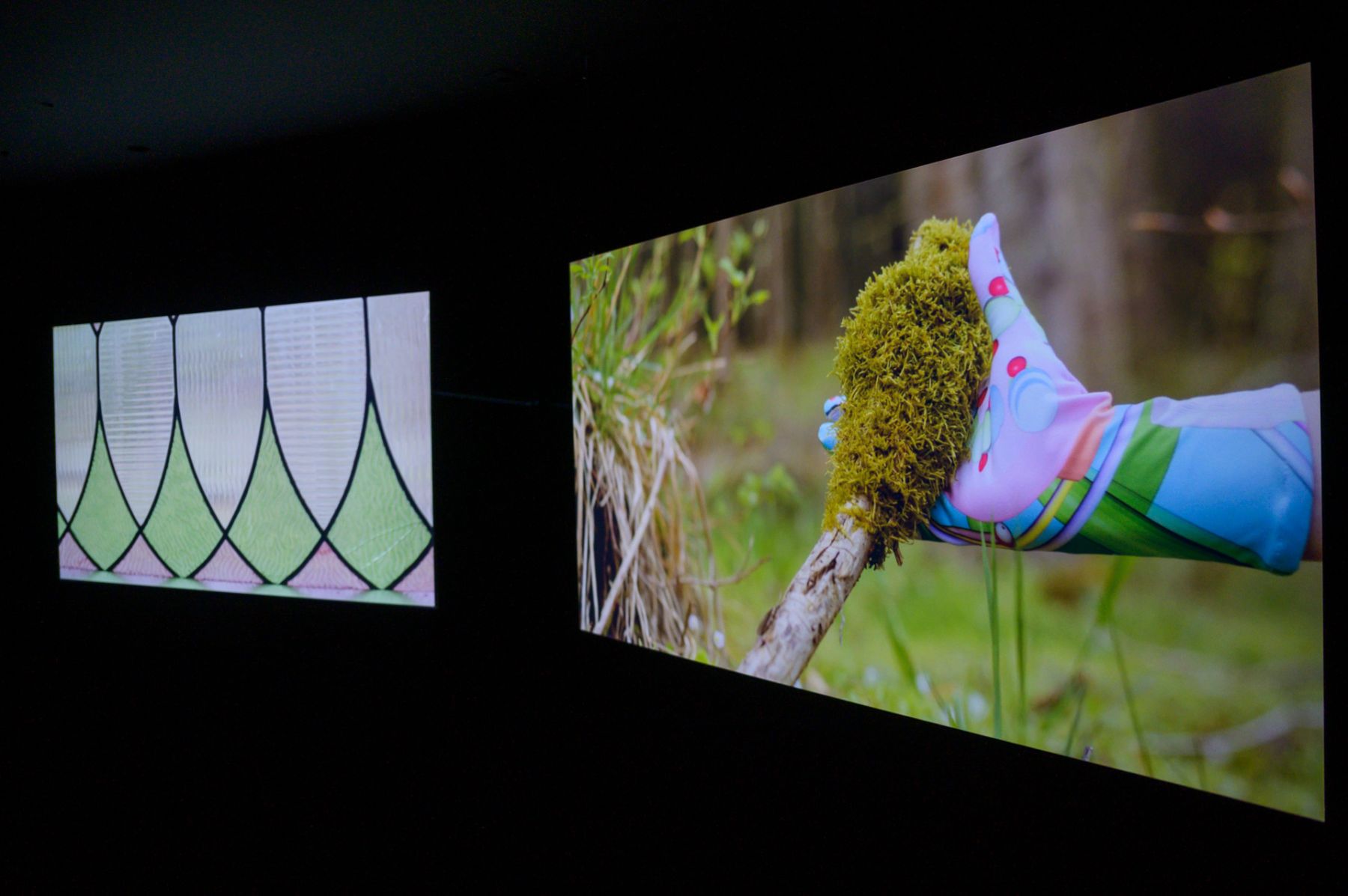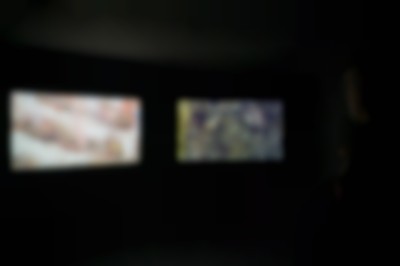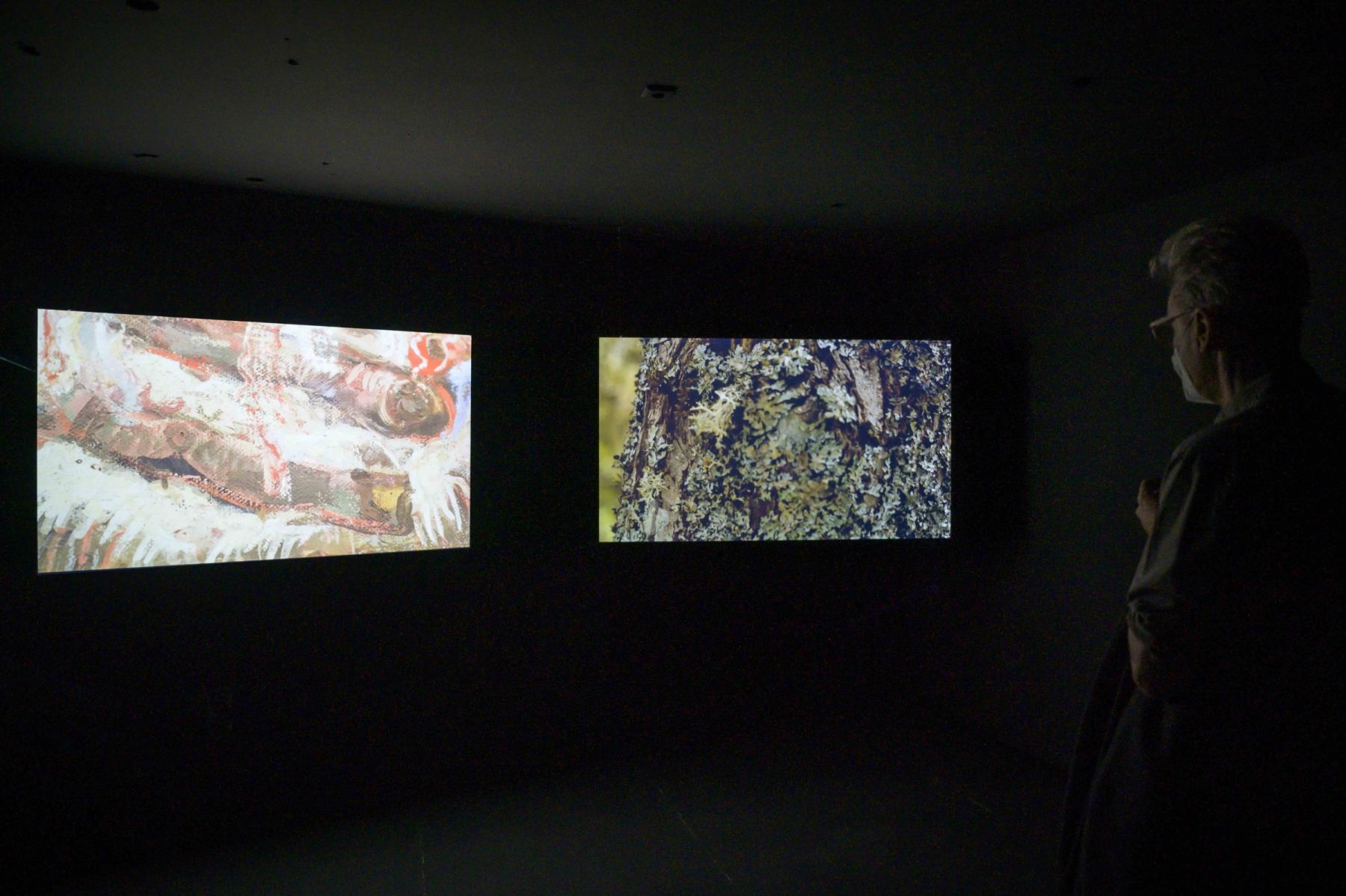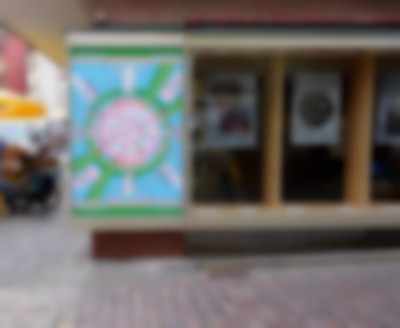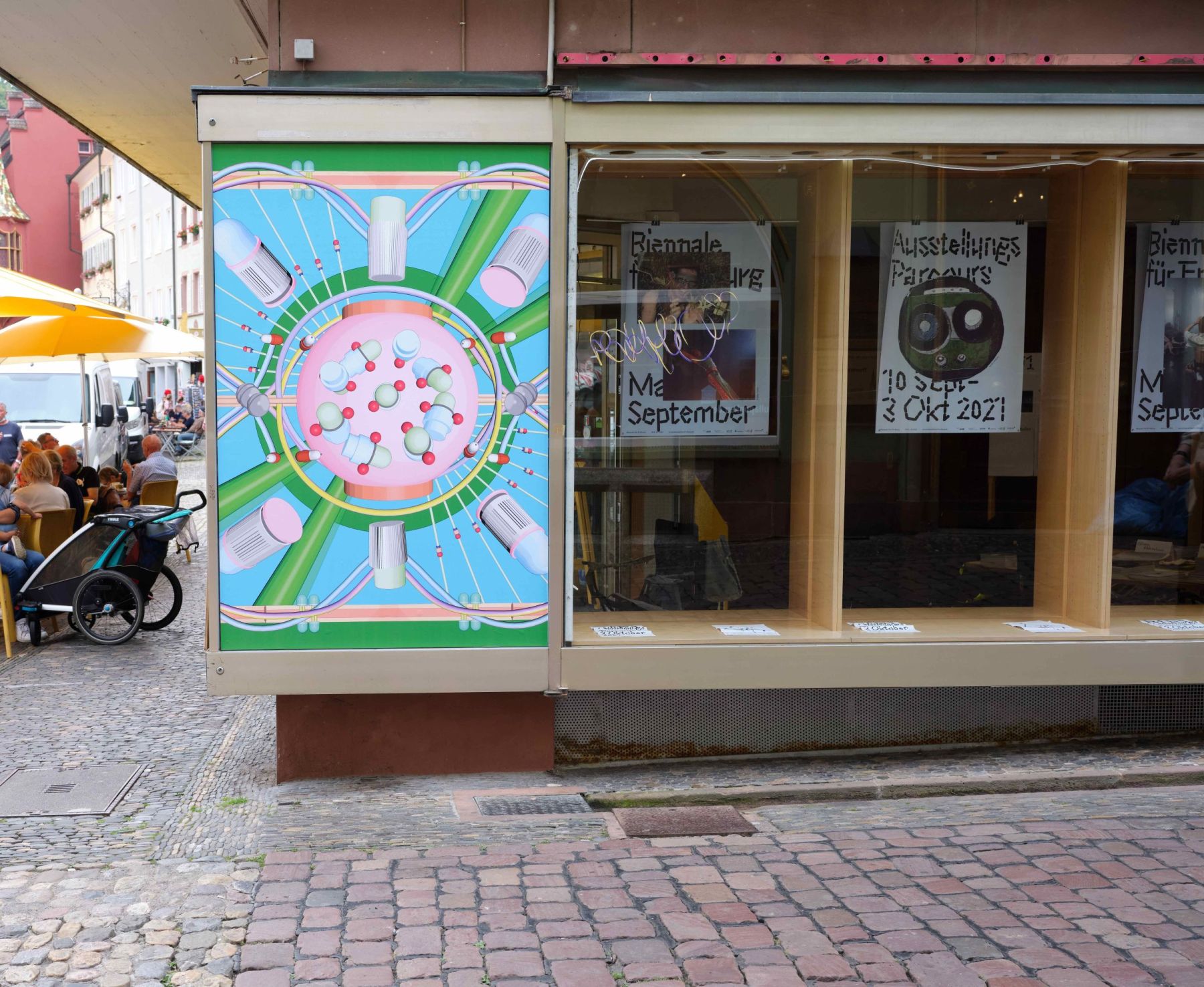 Diane Hillebrand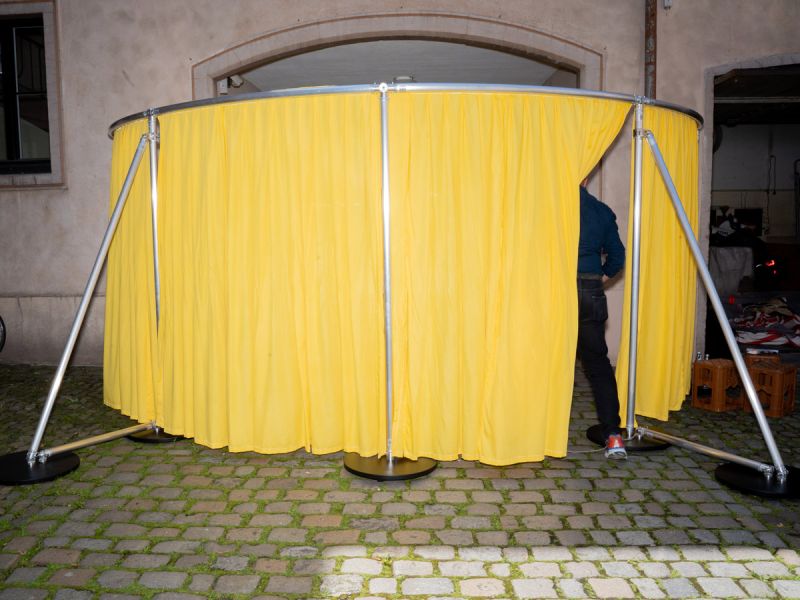 Scenography
 …
More
Diane Hillebrand
SCENOGRAPHY
Different locations and events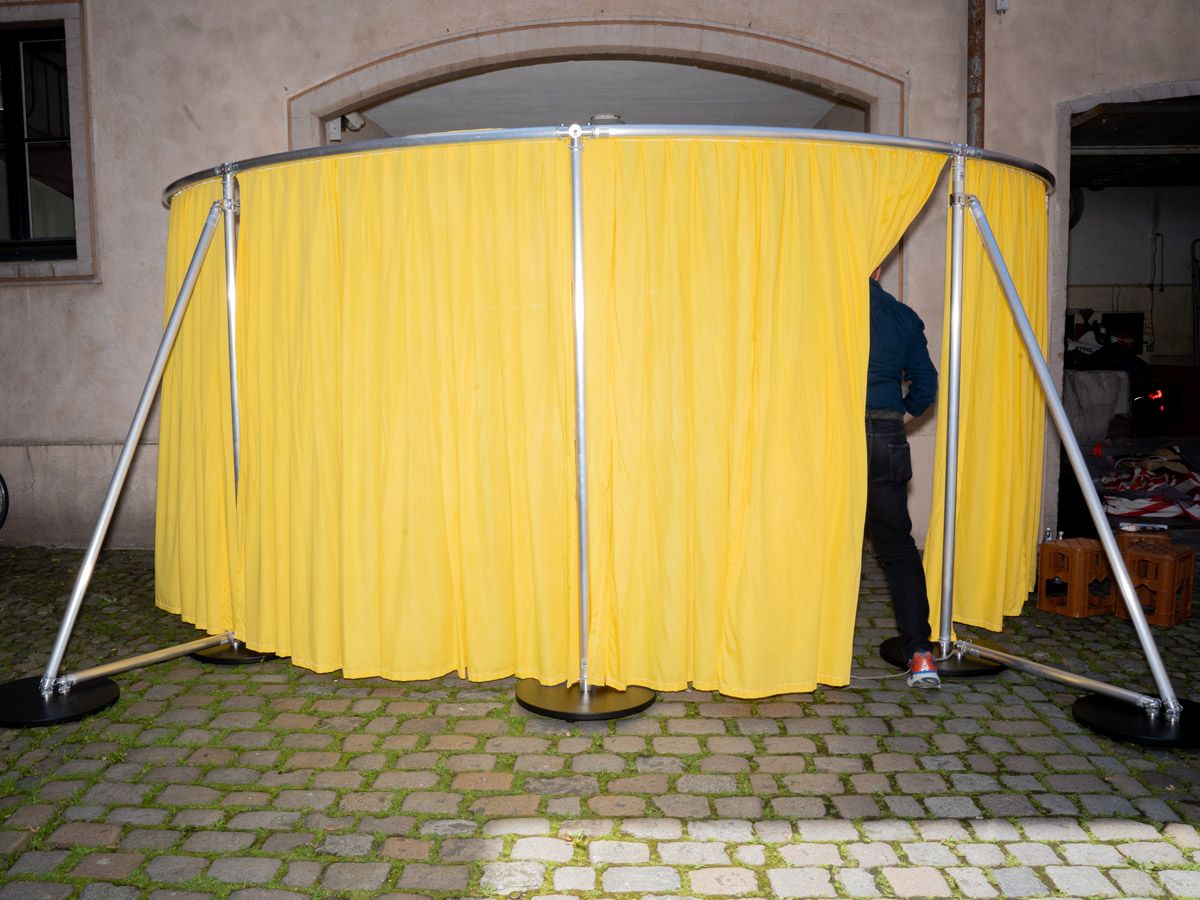 The scenography of BfF#1 creates an open structure of chairs, tables, and curtain elements which enables the creation of site-specific studio situations in public space. It picks up on the desire for spontaneous gatherings in outdoor spaces that has become visible during the pandemic. The camping chair, which has thus experienced a boom, can also be read as the outdoor equivalent of the museum stool. While the museum stool, however, is ergonomically designed to invite only brief lingering, the camping chair is suitable for occupying a place and forming camps. Such camps are created by the scenographic design—shielded and surrounded by curtain constructions as space-­creating elements. Visitors are also invited to gather at tables that show traces of Hillebrand's previous works as well as objects that have been reused in the respective workshops.
Parts of the scenography were produced in cooperation with Karlsruhe University of Arts and Design on occasion of the symposium "A COMMONPLACE IS NOT A CLICHÉ".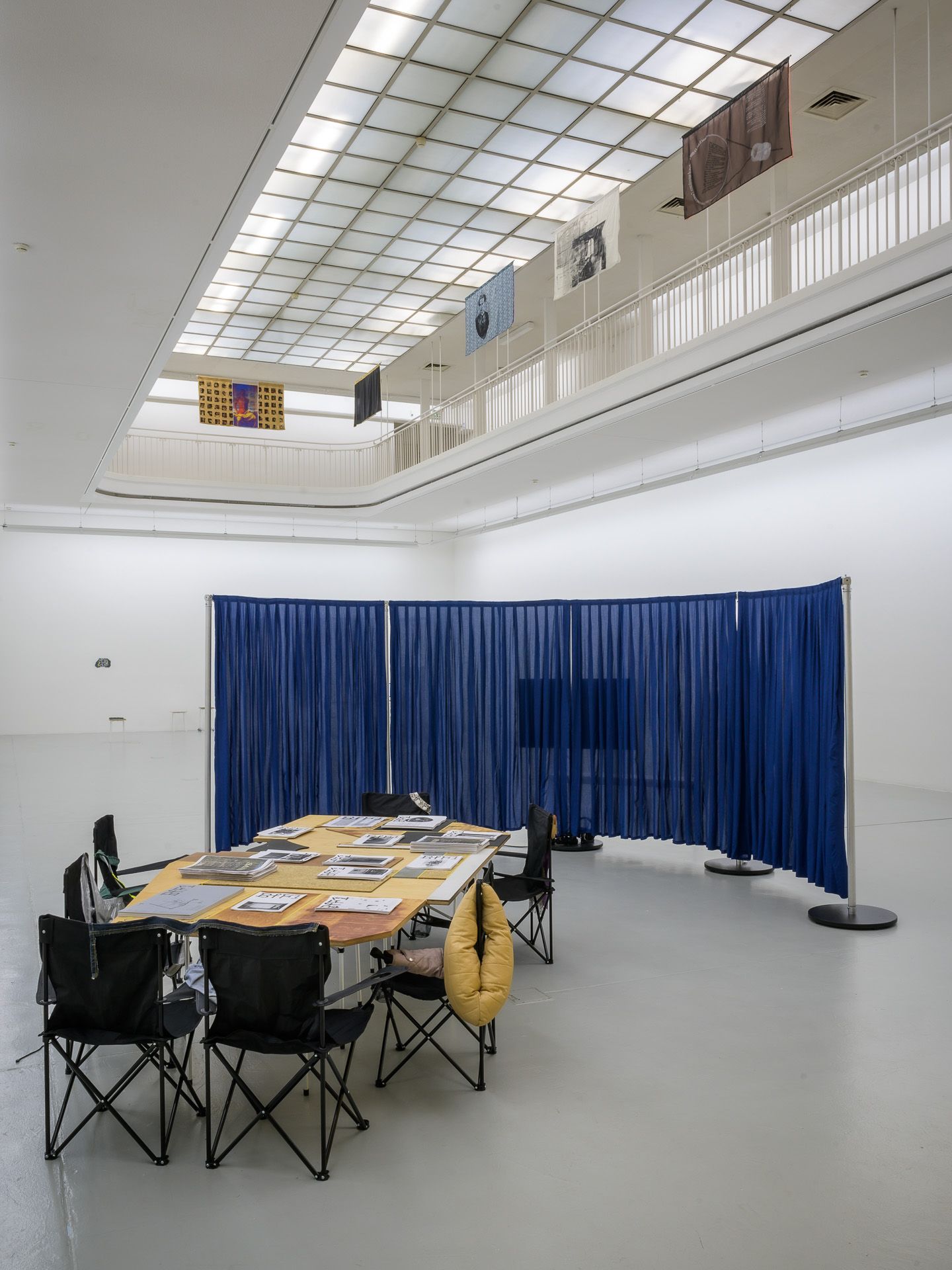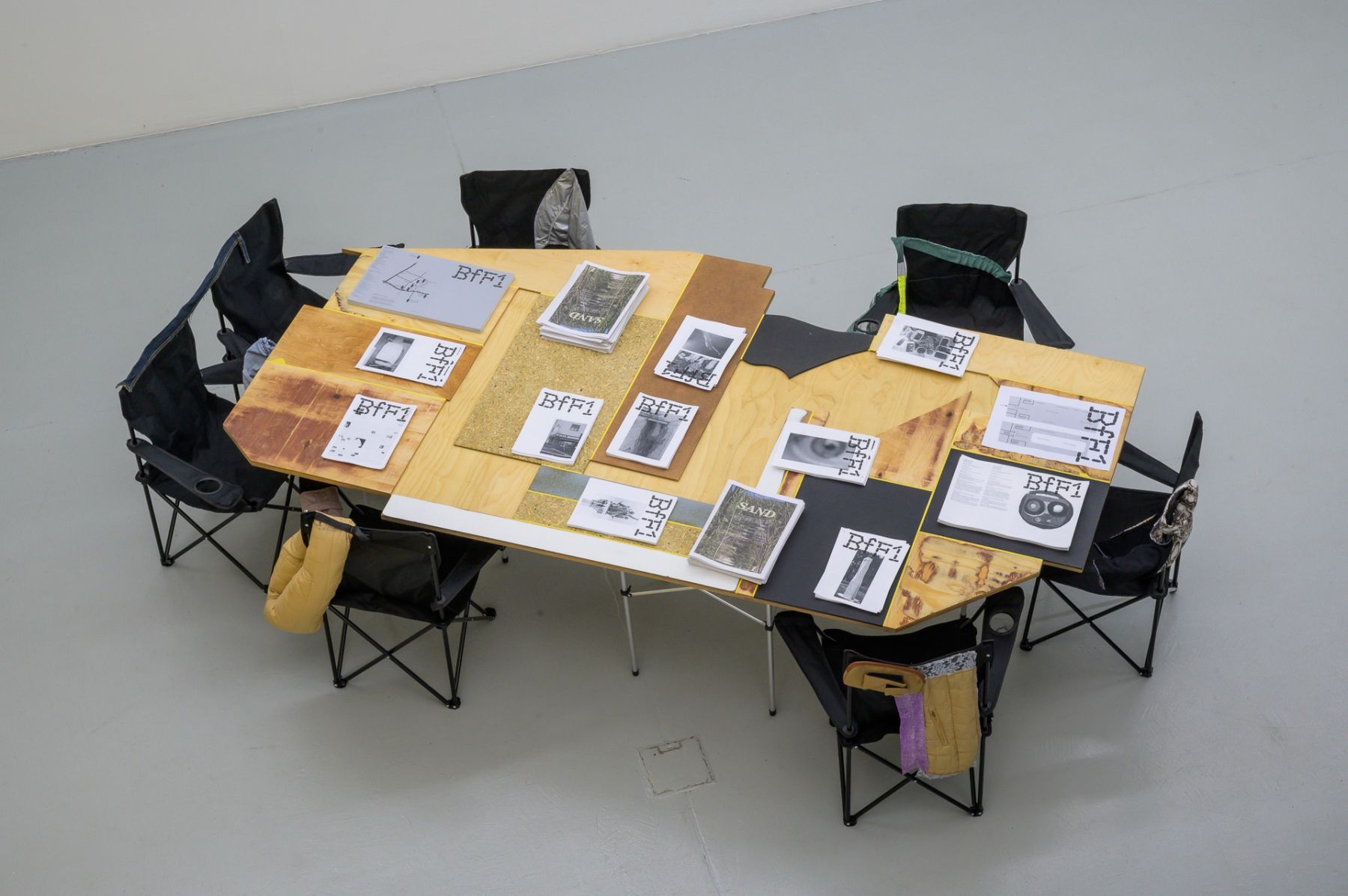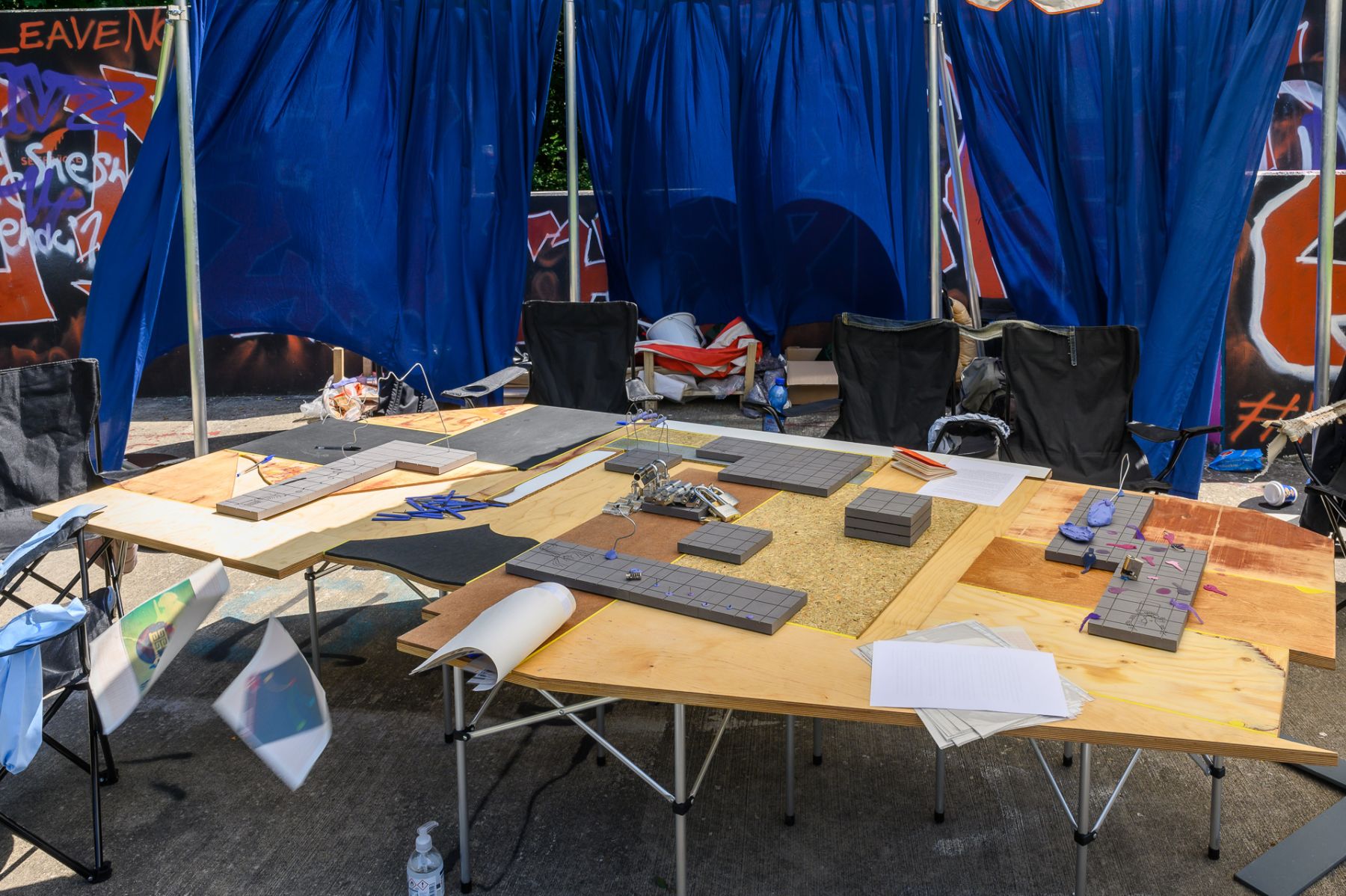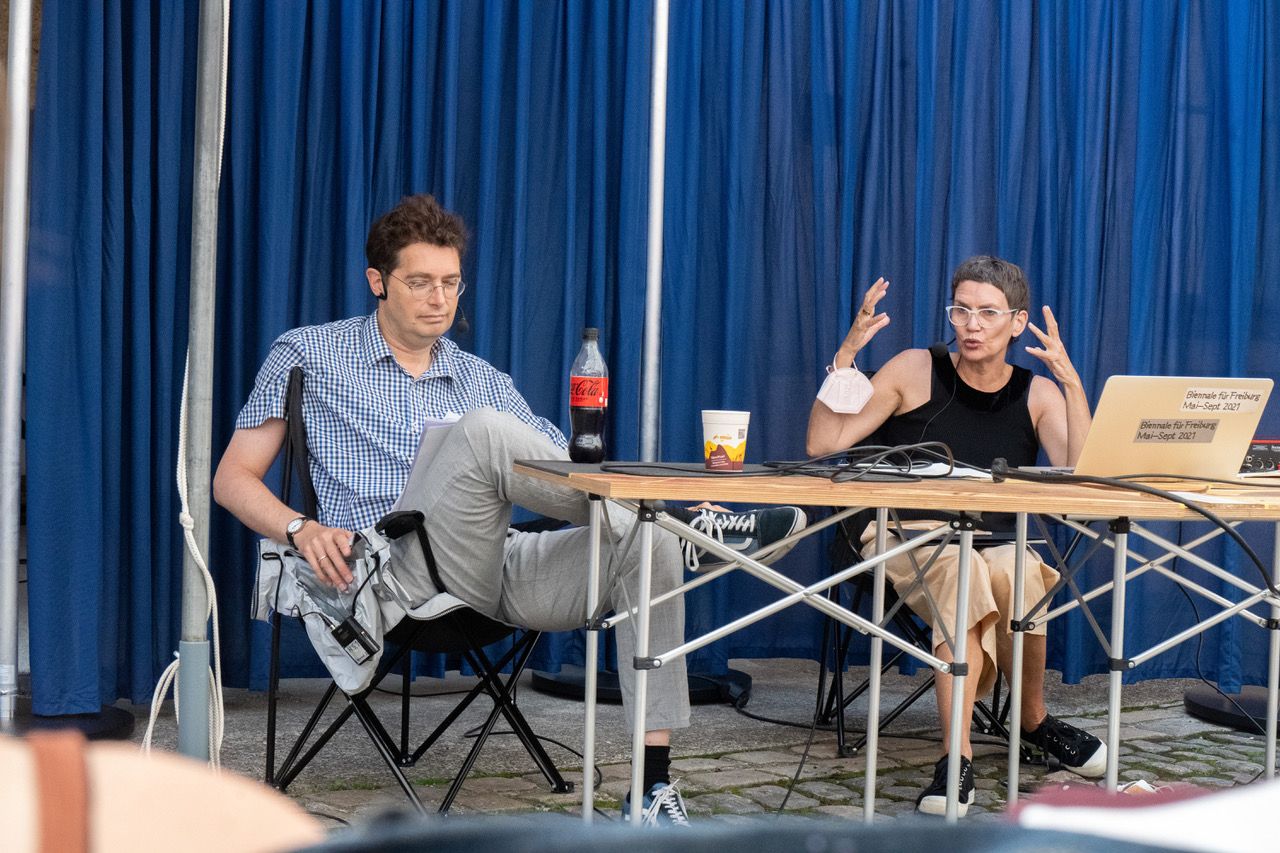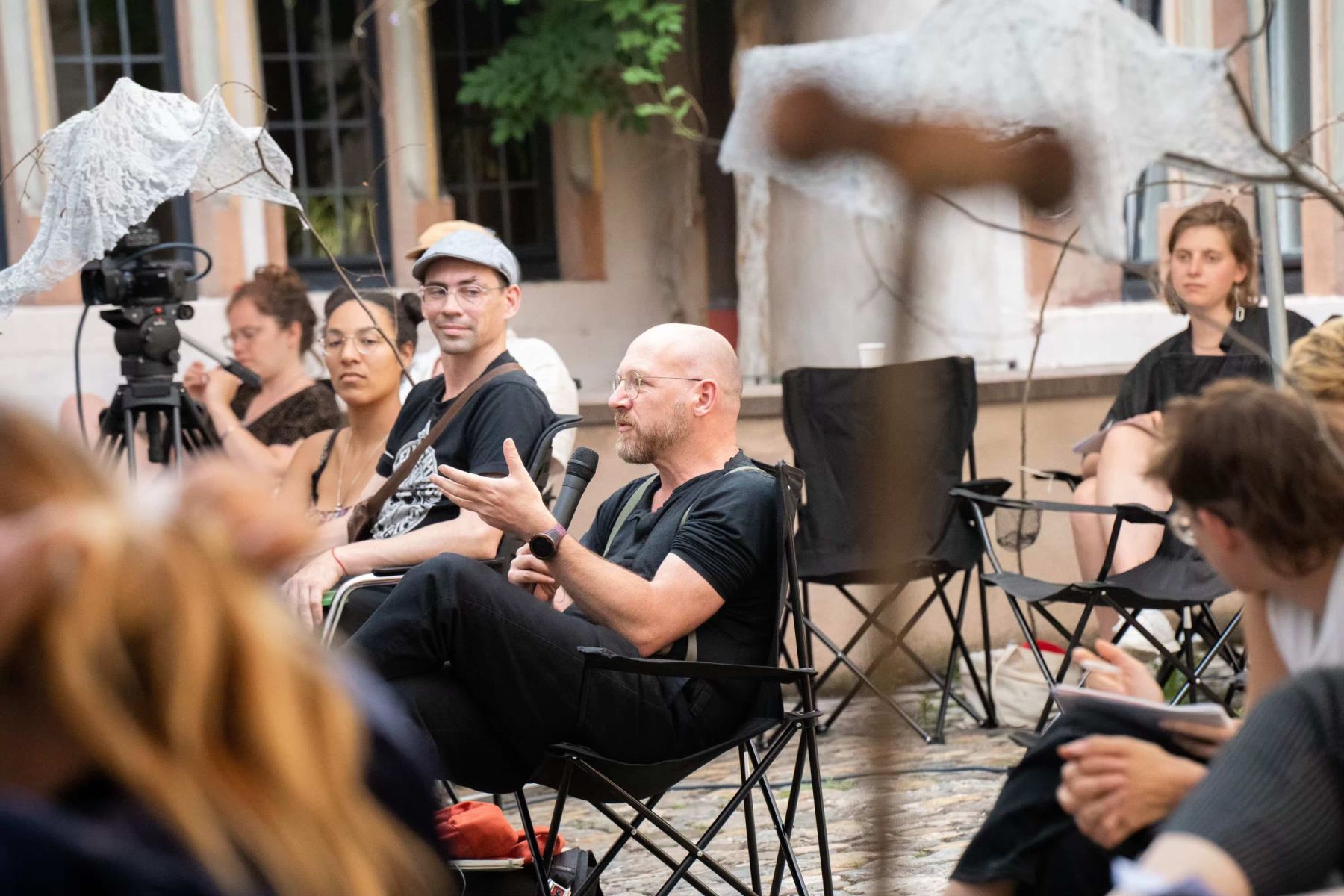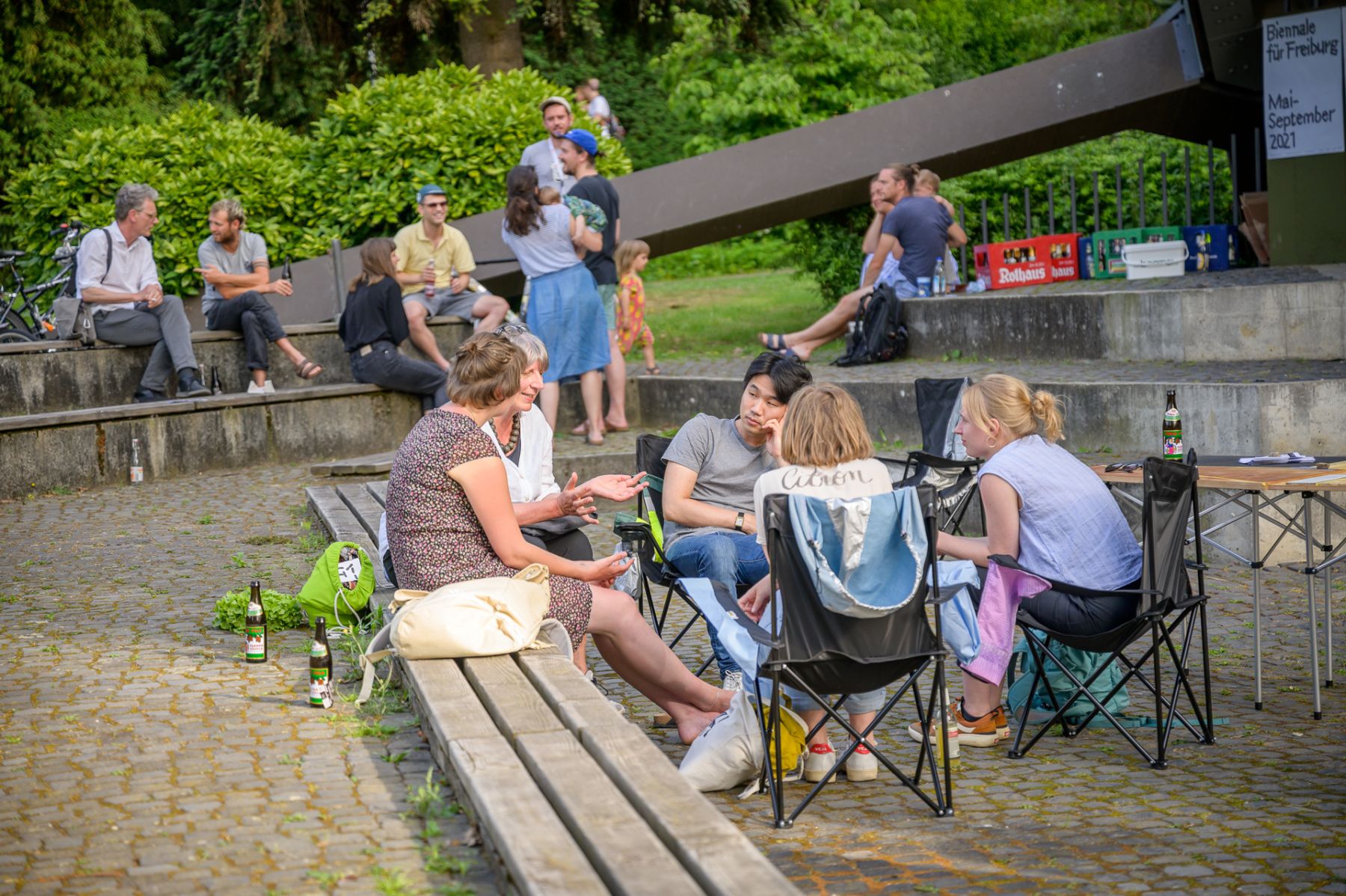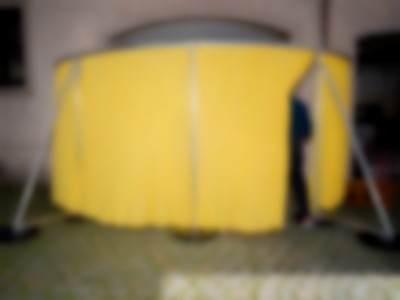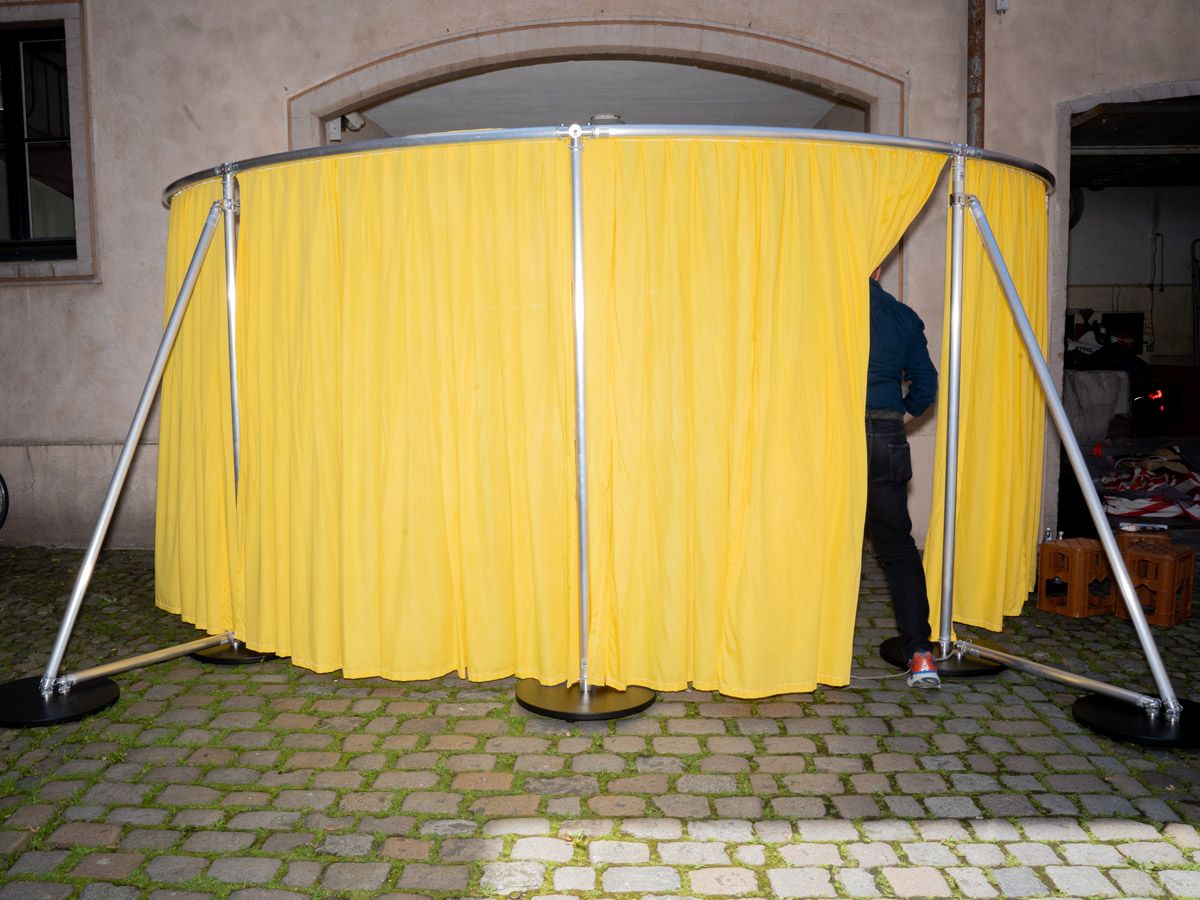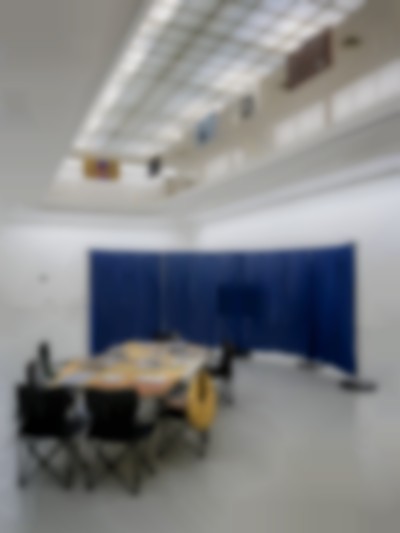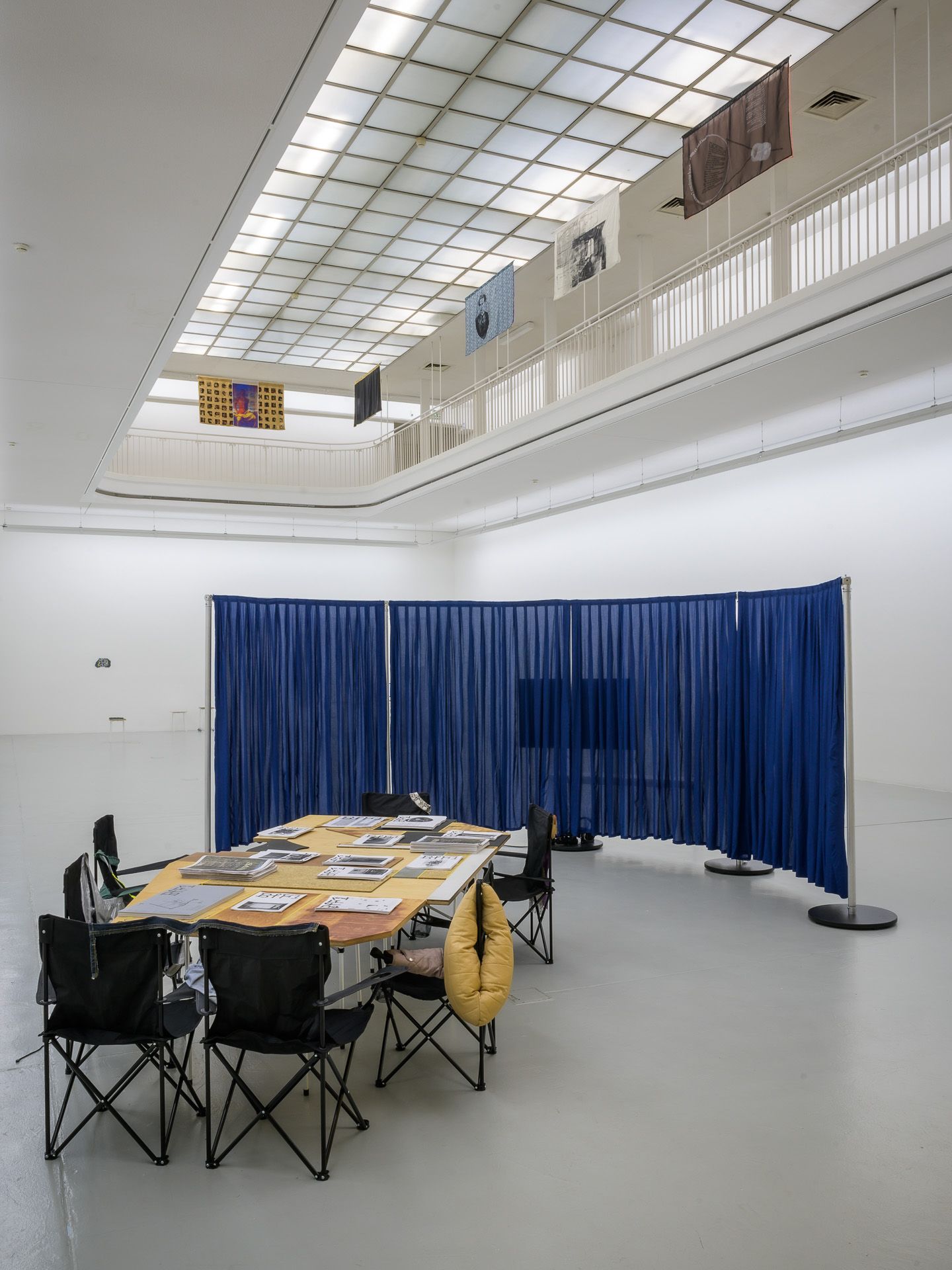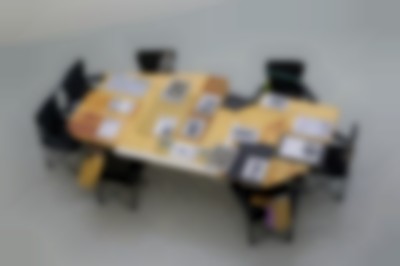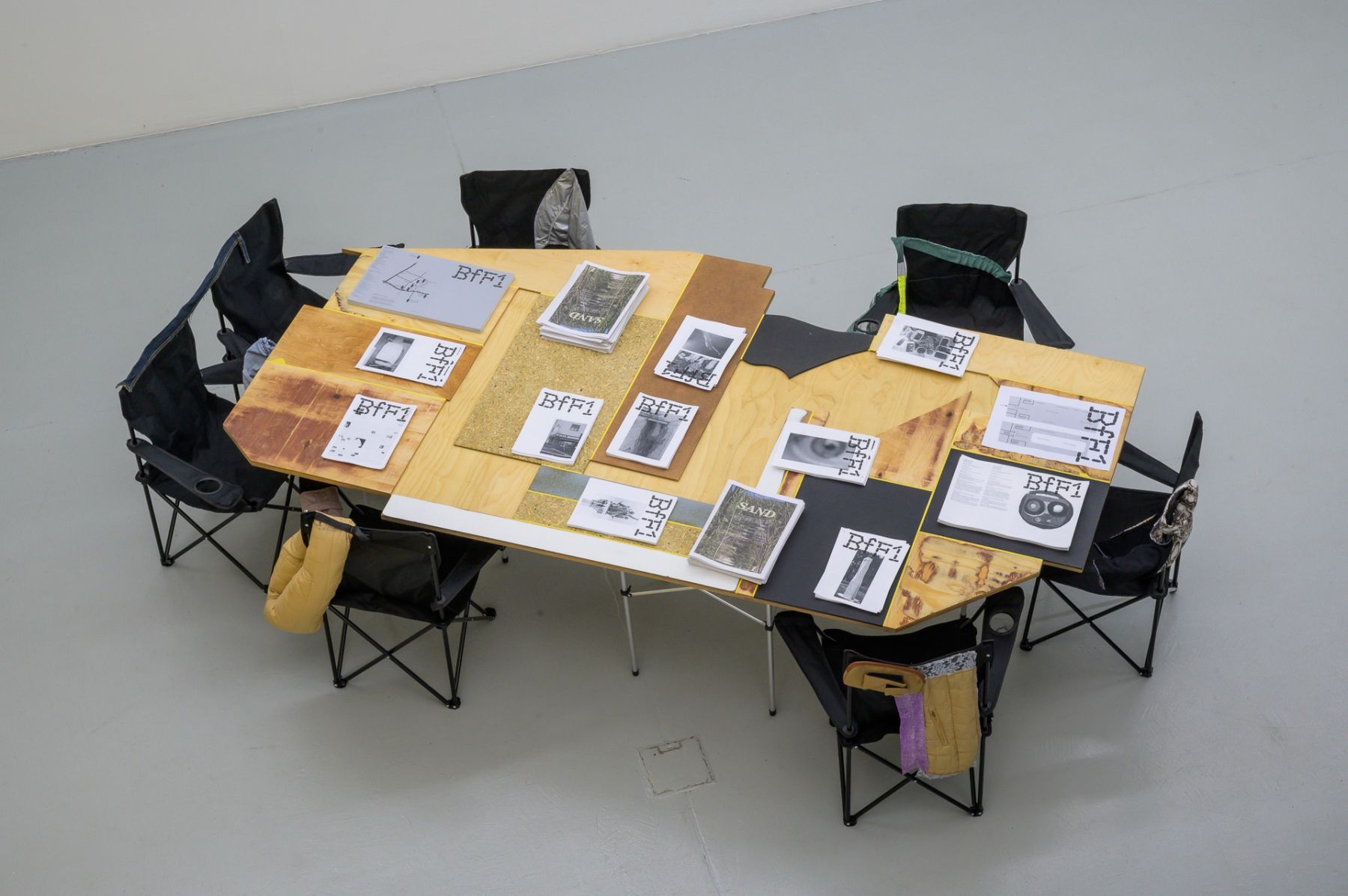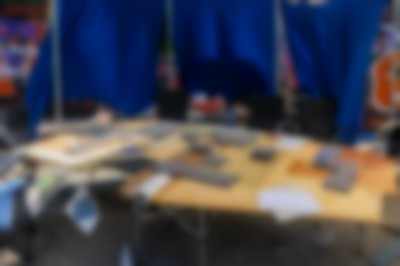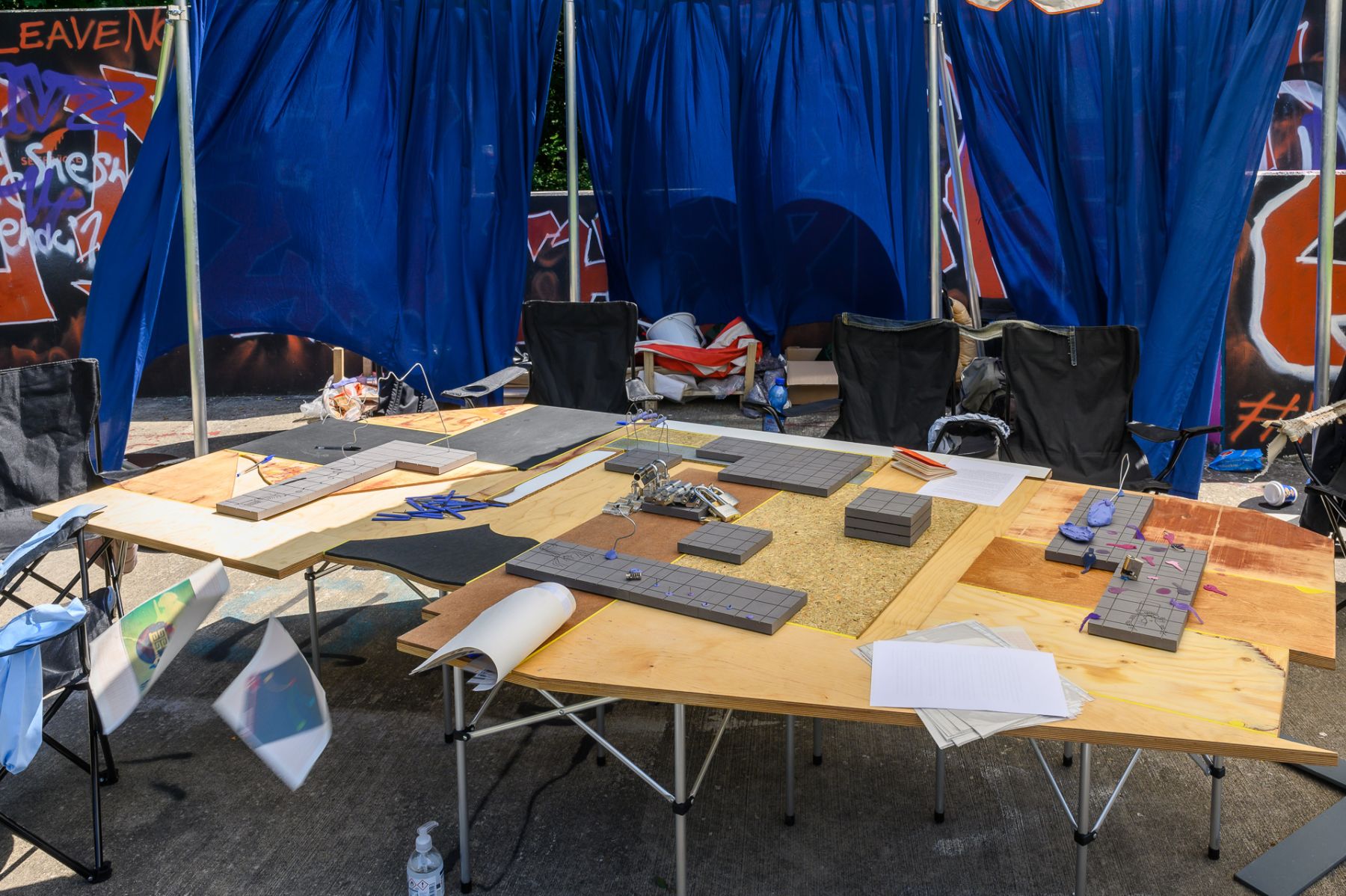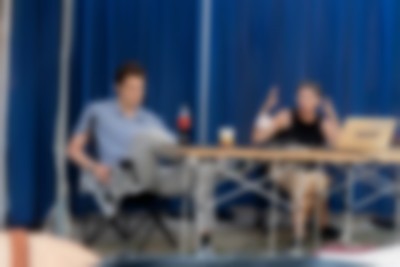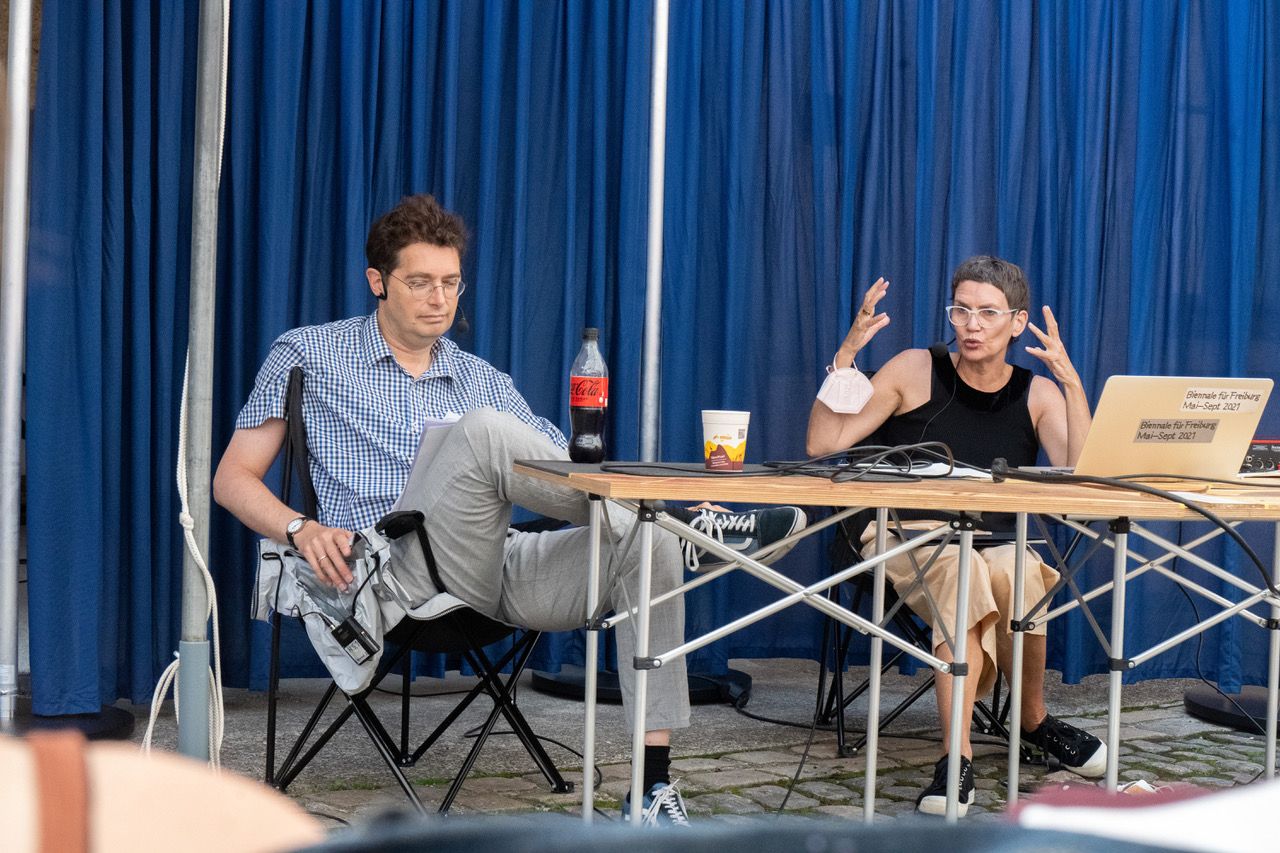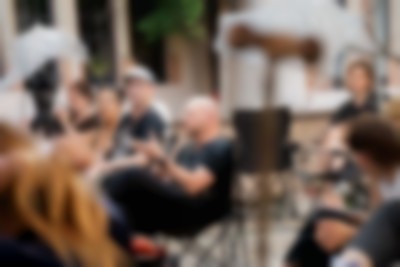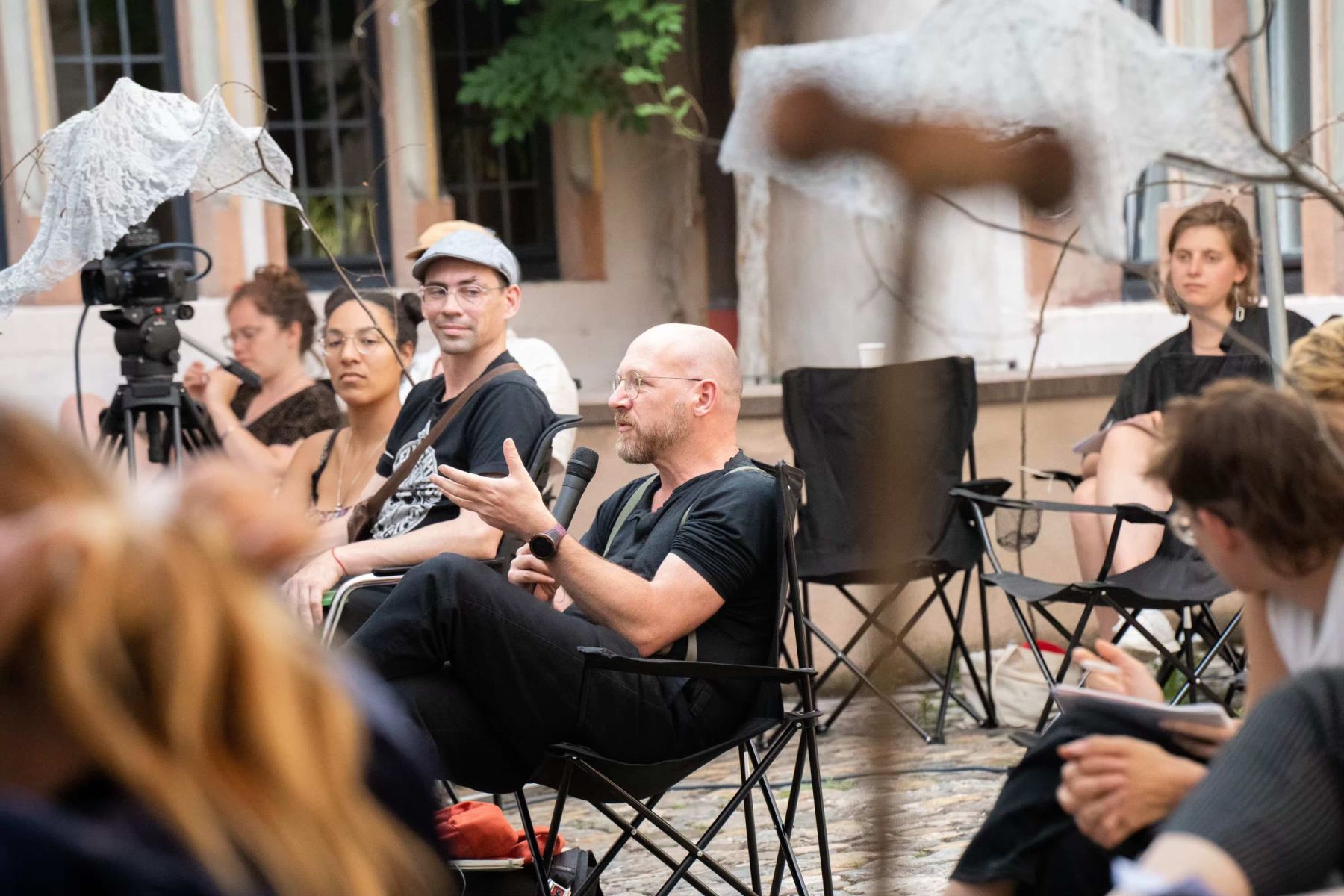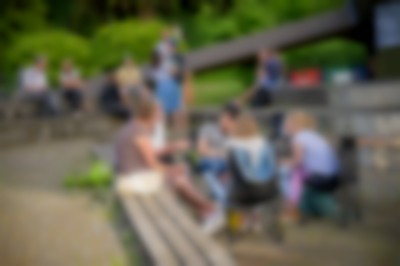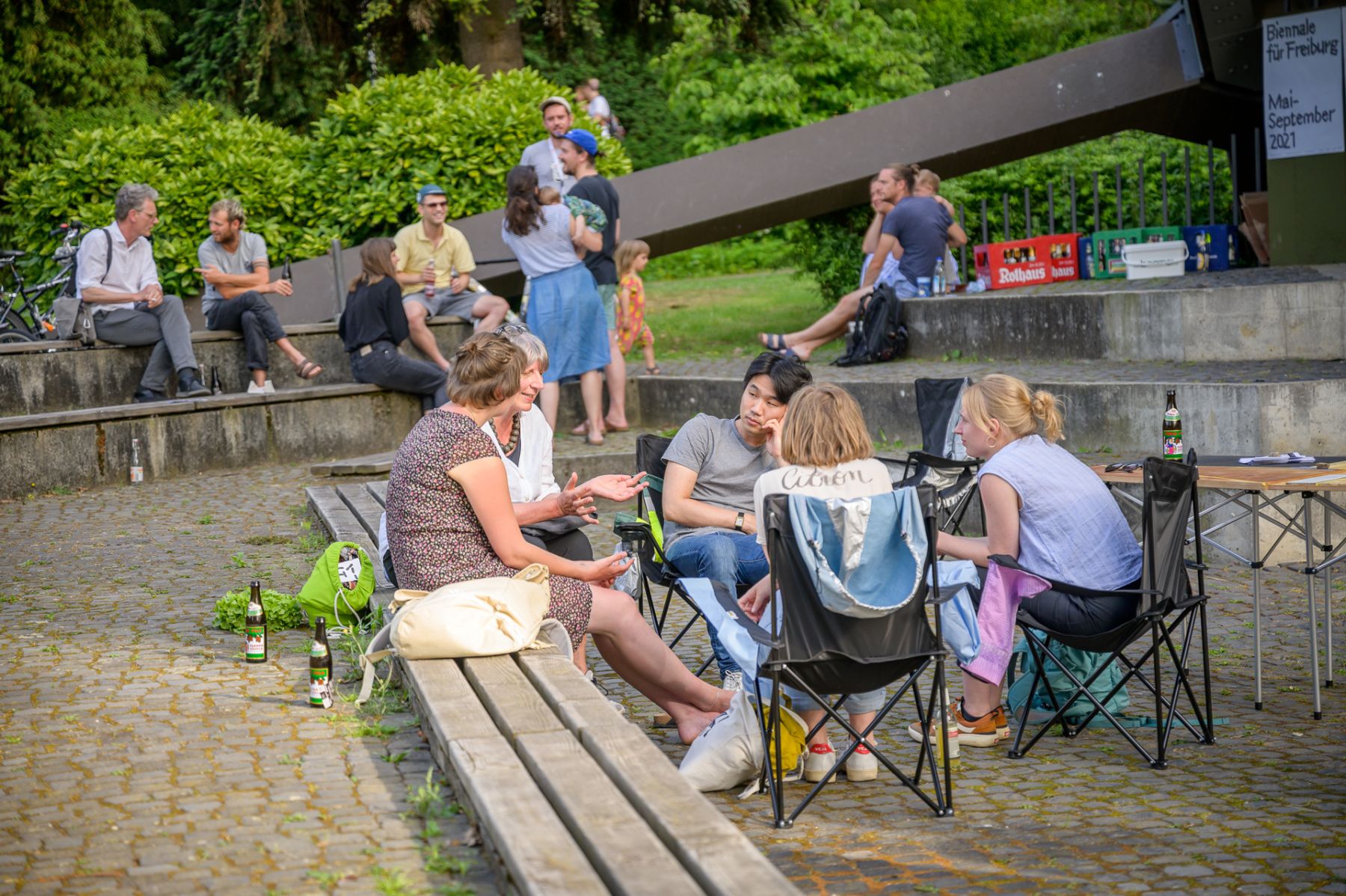 Belinda Kazeem-Kamiński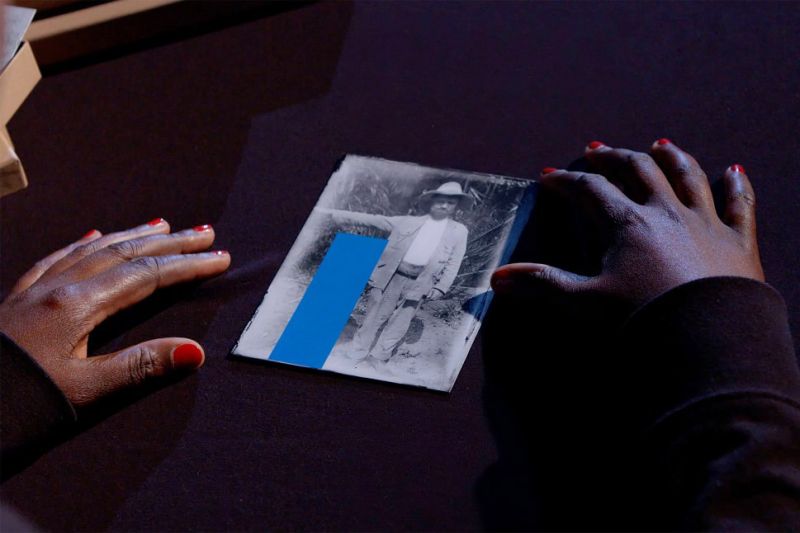 at Stadtbibliothek Freiburg
 …
More
Belinda Kazeem-Kamiński
LIBRARY OF REQUESTS #6, 2021
UNEARTHING. IN CONVERSATION, 2017
Venue: Stadtbibliothek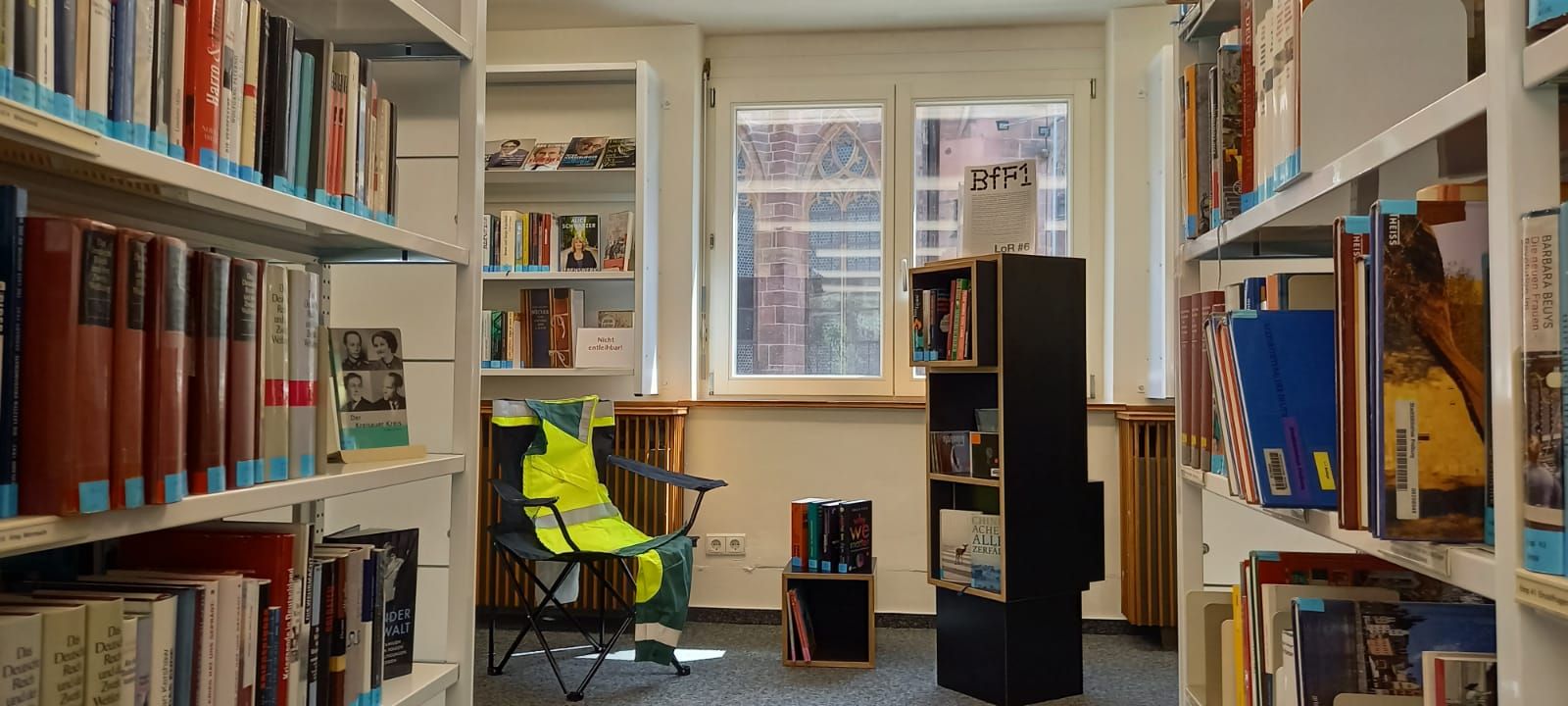 The LIBRARY OF REQUESTS by Belinda Kazeem-Kamiński is a project that explores the formation of established and marginalized knowledge, and the inclusion and exclusion of certain groups. In doing so, it examines gaps and voids in libraries and seeks to close them through selected works. LIBRARY OF REQUESTS #6 addresses the issue of colonial continuities: How to deal with the ever-­emerging re-­articulations of colonial violence? How to grasp a past that does not seem to have stayed in the past? With the compiled reference library in the Freiburg Public Library, the artist approaches this topic and invites visitors to read it. In her film UNEARTHING. IN CONVERSATION (2017), Belinda Kazeem-­Kamiński likewise examines the connection between knowledge production and colonial trauma: using the example of photo­graphs from the present-­day Republic of Congo by the Austrian-­Czech missionary, author, and ethno­grapher Paul Schebesta, the film addresses the violent history of archival material as well as representational strategies and mechanisms of othering.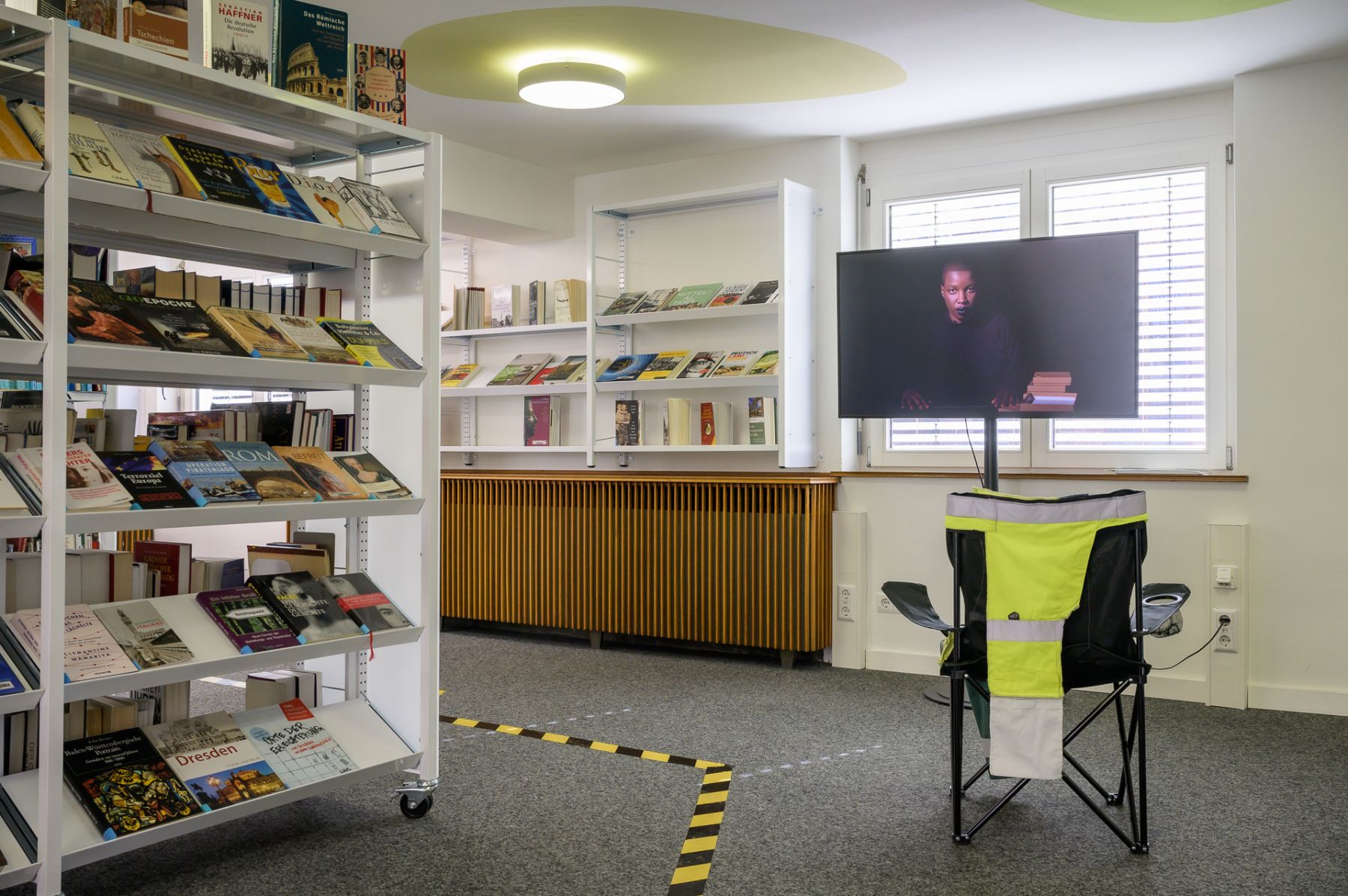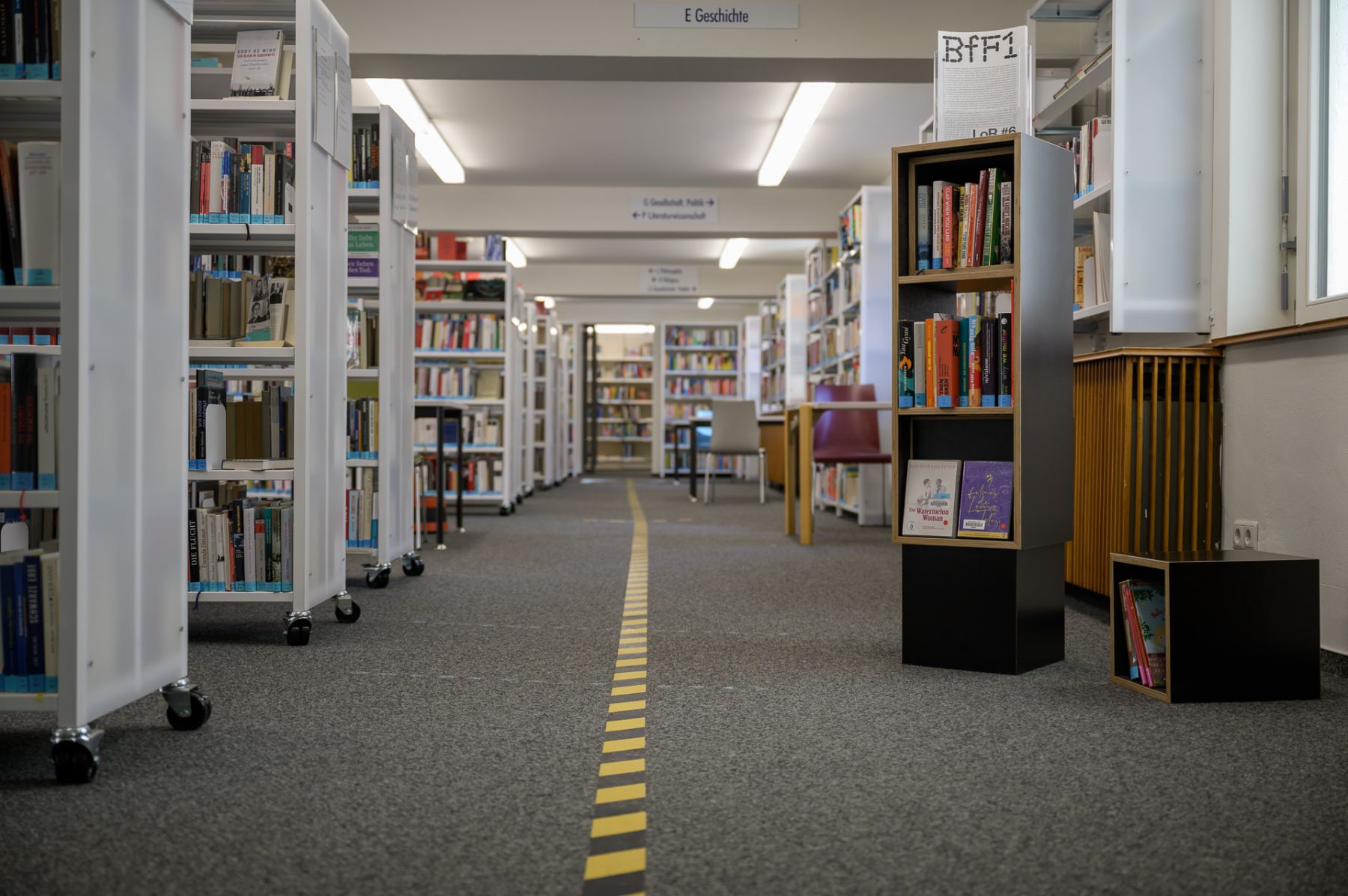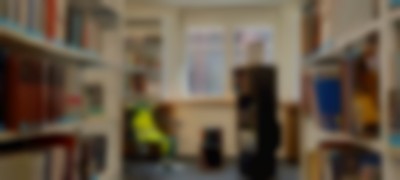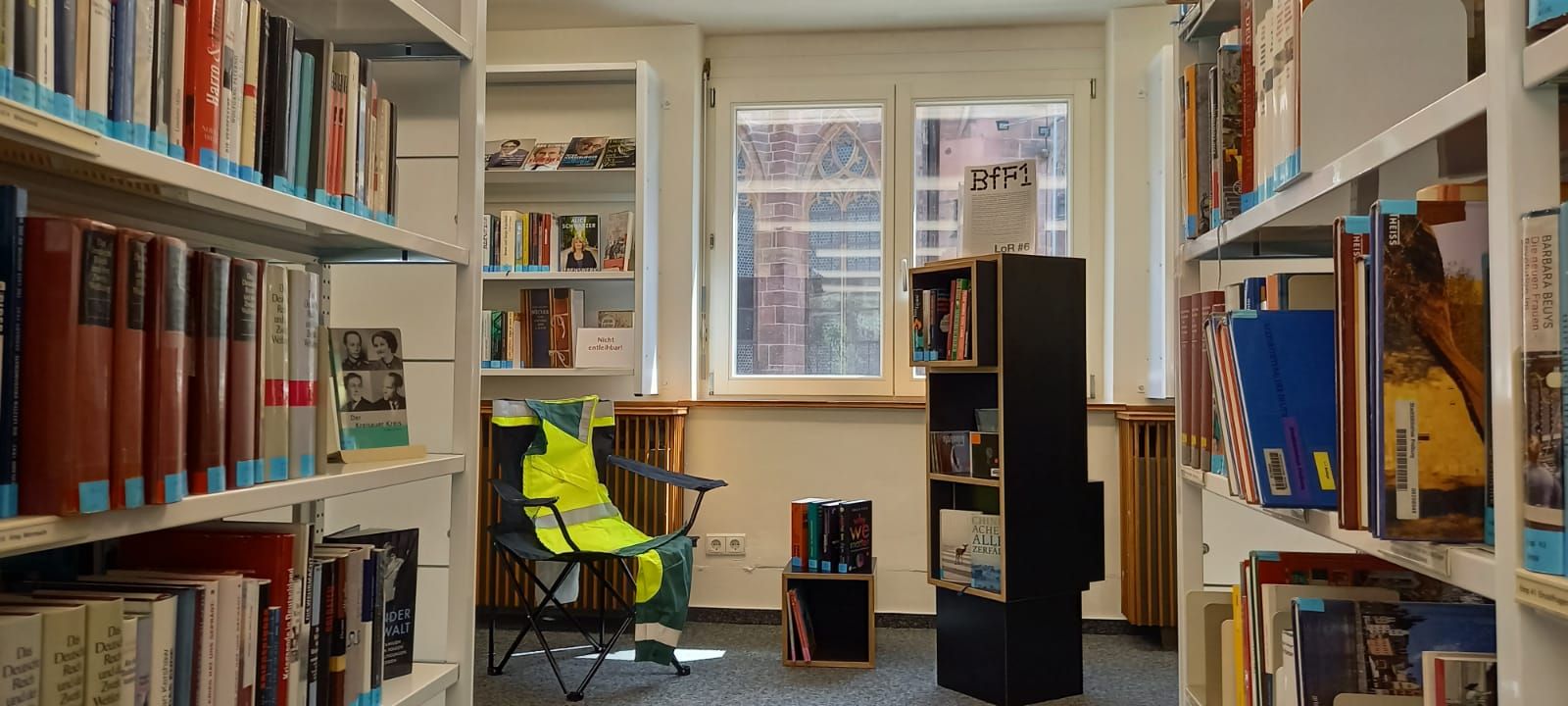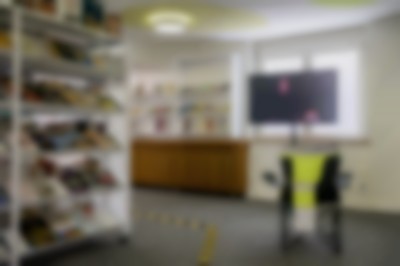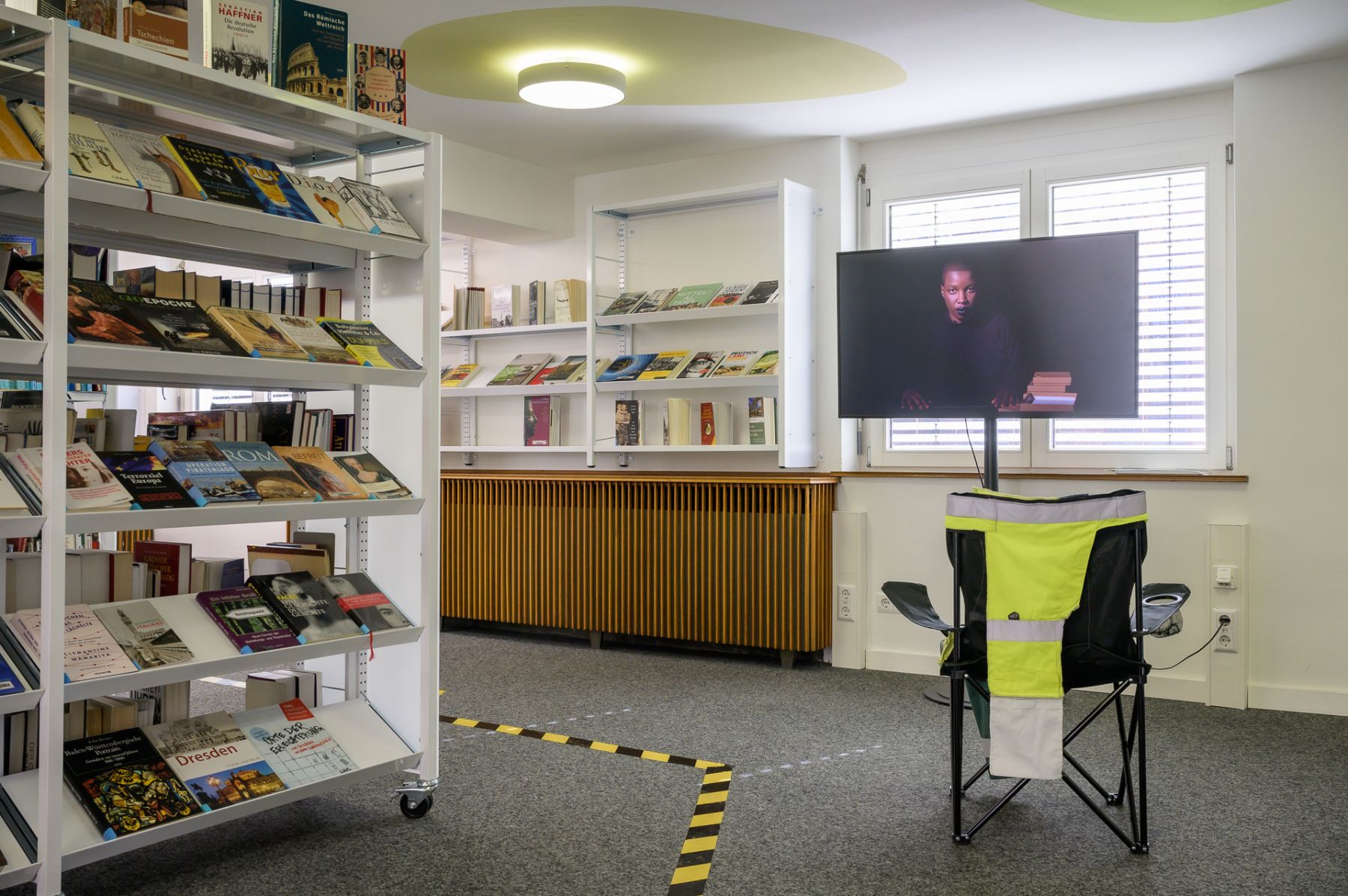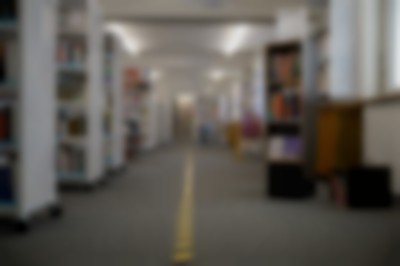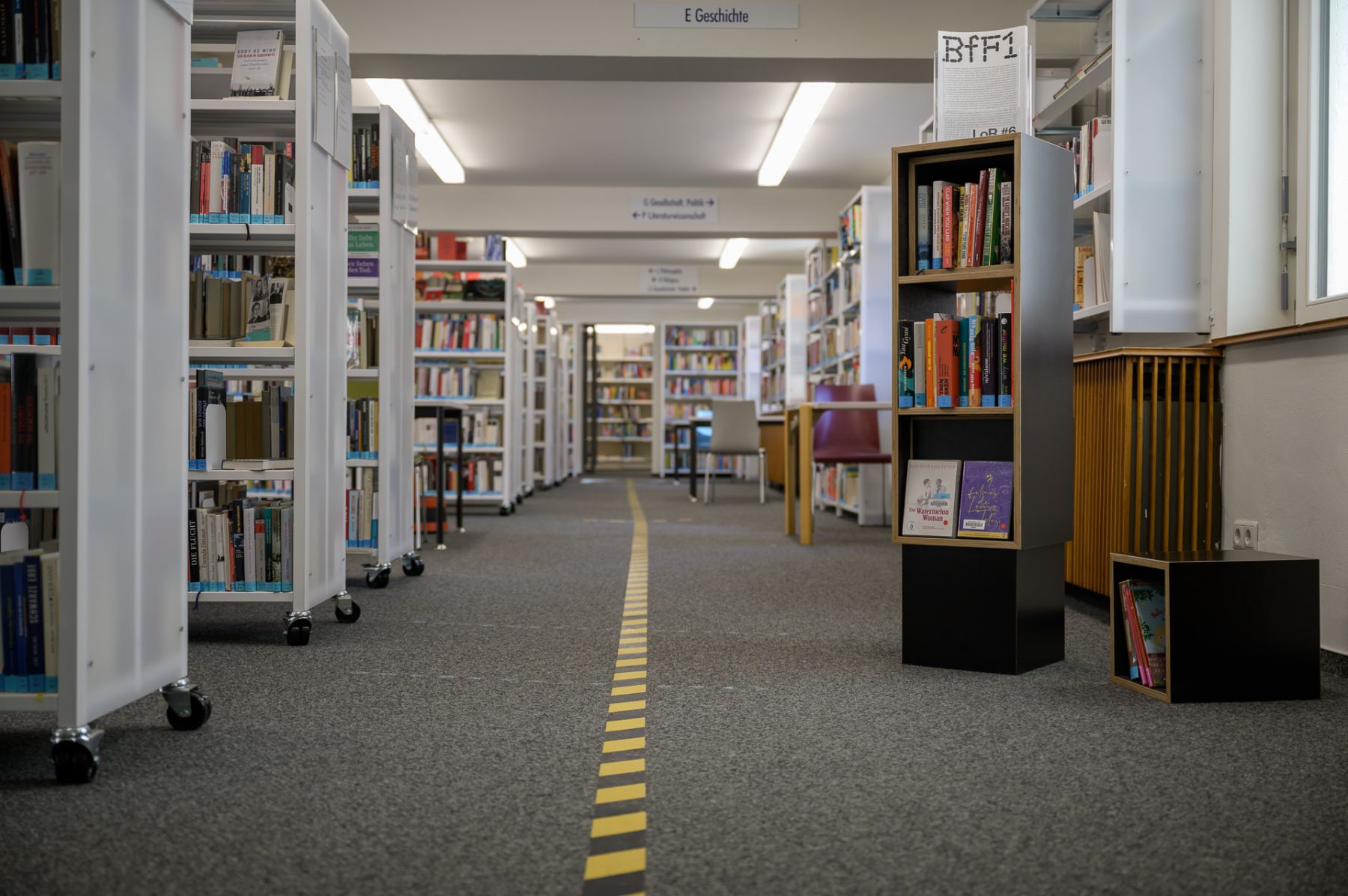 Vika Kirchenbauer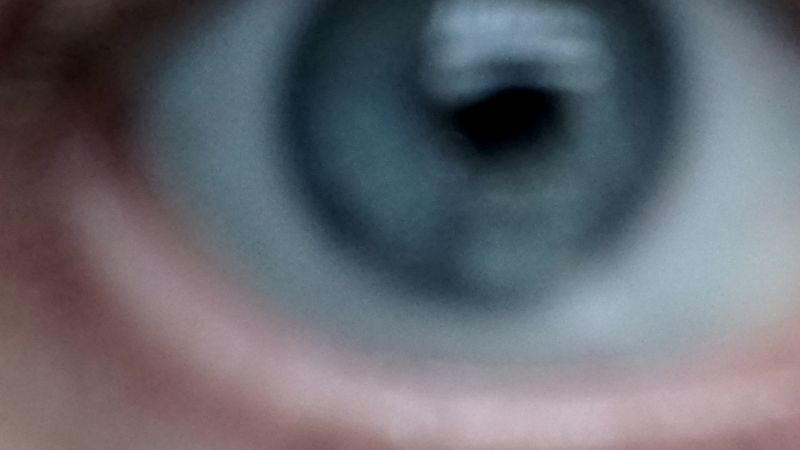 at Kunstverein Freiburg
 …
More
Vika Kirchenbauer
THE CAPACITY FOR ADEQUATE ANGER, 2021
Venue: Kunstverein Freiburg