Studio Program
May – August 2021
Exhibition Parcours
September 10 – October 3, 2021
Contributing Artists:
Michel Auder with Michael Stickrod in collaboration with Julius Martin-Humpert; Maristella Witt; Ilja Zaharov and Franziska Rist; Patrizia Bach; Patricia Esquivias; Rahima Gambo; Thomas Geiger in collaboration with Birgit Heidtke, Sévérine Kpoti, Oliver Matthes and Dietrich Roeschmann; Niklas Goldbach; Philipp Gufler; Markus Hanakam & Roswitha Schuller; Belinda Kazeem-Kamiński; Vika Kirchenbauer; Sarah Lehnerer with Jackie Grassmann and Inka Meißner and with guest lecturers Keren Cytter and Johanna Hedva; Luiza Margan; Kriz Olbricht; John Smith; Milica Tomić; Liesl Raff; Andreas von Ow; Young Boy Dancing Group
The Biennale für Freiburg #1 places the site of the artist's studio at the center of its considerations in order to investigate the relationship between temporary exhibition, public space, and artistic forms of teaching and knowledge production. BfF#1 is divided into two phases: the Studio Program that began in May and the Exhibition Parcours in September. The Studio Program consisted of walks, workshops, readings, screenings, discussions, and lectures. Formats with very different approaches, connected by one question: How do artistic processes work?
This question was raised in numerous collective and participatory situations and related to the public sphere and urban space. Thus, the processuality and the creation of (semi-)public work situations determine the approach of BfF#1 and reference the genesis of the new biennial: the closure of the Freiburg branch of the State Academy for Fine Arts Karlsruhe and the accompanying—at least temporary—end of public art education in the city. This void seems to have stimulated reflection on the role of contemporary art in Freiburg on various levels, the closure of the branch office ultimately resulting in the founding of Biennale für Freiburg. During the conception of BfF#1, in which the curatorial advisory board was also significantly involved through numerous preparatory discussions, it was thus soon clear that this development—from the closing of the academy to a new biennial—should also be reflected in the concept of the first edition of the biennial.
In this context, BfF#1 understands the art academy as a place whose essential quality is to provide a space for the perpetual critique of the mechanisms and possibilities of artistic processes. The loss of Freiburg's (academy) studios is therefore used as a metaphor for BfF#1 to highlight the immaterial qualities of a studio, which can also be understood as a classroom or study space:
A studio is a space of production, experimentation, and exchange. A studio can be a safe space for thoughts and actions to take place. A space for things in the making. A space for regular review. A space where actions are presented, tested, and reflected upon. A space to allow honest expression and doubt. A space to train, question and apply skills. A space for production and destruction, for deliberation and spontaneity. A space for suggestion.
If the studio walls fall away, the city itself becomes the studio; it determines the fields of work and proposes themes. The public space of the city of Freiburg is therefore crucial for this format, which, as a biennial for Freiburg, takes on local themes and issues and creates references between the city and artistic production. Places such as archives and libraries play an important role here, as they shape the canon of a place but can also produce hidden history(s). As do statues and monuments, which are meant to represent a specific historical image, but in doing so also omit much. In addition to exploring local narratives, the Biennale also looks at images created by the city, such as the cityscape of Freiburg's inner city, picturesquely inserted into the surrounding landscape of the Black Forest. Some of the artists approach this as walkers, taking unusual perspectives and highlighting its ruptures.
The Exhibition Parcours extends over eight exhibition sites in different parts of the city and presents works developed for BfF#1, which were often created in the processual investigations of the Studio Program. These local-specific points of view are supplemented by artistic perspectives that transfer similar questions to other places, thus referring to global contexts. In addition to BfF#1's initial reflections on artistic production processes,
the Exhibition Parcours and the Studio Program also raise questions about the role of art in the experience of our surroundings and our community, and the possibilities of utilizing the city as an artistic working space.
Biennale für Freiburg is conceived and organized by Leon Hösl together with the curatorial advisory board consisting of Christoph Chwatal, Aziza Harmel, Fanny Hauser, Magdalena Stöger and Fritz Laszlo Weber.
Biennale für Freiburg (BfF) is a new platform for the presentation, development and mediation of contemporary art in Freiburg, Germany. It dedicates itself to artistically approaching urgent socio-political matters through means of varying thematic and conceptual frameworks. The aim is to establish a continuous connection to Freiburg and to provide a lasting contribution to the cultural and artistic life of the city. The Biennale envisions itself as a beneficial addition to Freiburg's artistic landscape, juxtaposing an in-depth examination of local modus operandi with external perspectives, which are taken up by the participants. The choice for the commonplace acronym BFF and its meaning in popular culture, are quite intentional: a connection based on support and intimacy, conversation and honesty, combined with the genuine desire to never let this commitment end – Best Friends Forever.
The inaugural edition of the Biennale für Freiburg is overseen by Artistic Director Leon Hösl. The committee of the association Perspektiven für Kunst in Freiburg e.V., that executes the Biennale, commissioned Hösl for the conception and realization of its first iteration.
SUPPORT
The Biennale für Freiburg #1 would like to thank all supporters!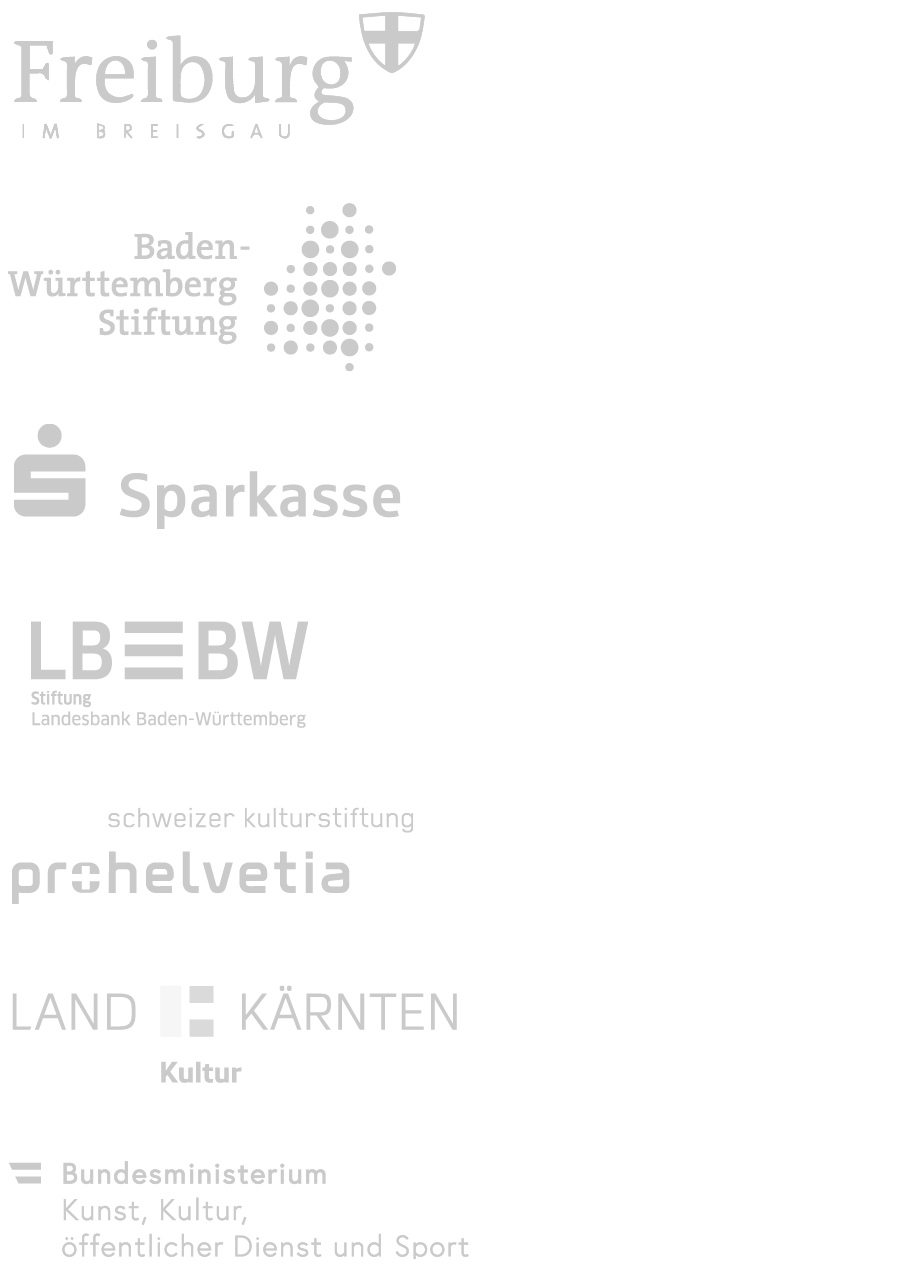 Media Partner

Dreisamstr. 21
79098 Freiburg im Breisgau
Germany
Team
Leon Hösl / Artistic Director
Catherin Schöberl / Project Assistant
Christoph Chwatal, Aziza Harmel, Fanny Hauser, Magdalena Stöger, Fritz Laszlo Weber / Curatorial Advisory Board
Arash Shahali / Press Advisor
Kathrin Heinrich / Editing & Translation
Marc Doradzillo, Alexander Frank, Robert Jaschke, Jonas Krauss, Karl Mainka, Martin Puchberger, Stefan Reisinger, Jan Steegmüller / Install, Technic and Logistics
Marie Klauder / Intern
Imprint
The Biennale für Freiburg is organized by Perspektiven für Kunst in Freiburg e.V.
Perspektiven für Kunst in Freiburg e.V.
Dreisamstr. 21
79098 Freiburg
verein@perspektivenfuerkunst.de
Committee:
Heinrich Dietz, Chairperson
Julia Galandi-Pascual, Vice Chairperson
Yvonne Ziegler, Treasurer
Ben Hübsch
Registration court: Amtsgericht Freiburg
Registration number: VR 702810
UST ID: DE331510618
Responsible for contents according to § 10 paragraph 3 MDStv: Leon Hösl (Director, address see above)
Graphic design: Ronja Andersen and Marius Schwarz
Programming: François Girard-Meunier
Typeface: Difficult Times
Copyright
Texts, images, graphics and the design of this website are subject to copyright. Reproduction or any other use of these pages or parts thereof in other electronic or printed publications is only allowed with our permission.
© Perspektiven für Kunst in Freiburg e.V., artists, photographers, authors, 2020
Disclaimer: Despite careful content control we are not liable for externally linked contents. The contents, design or caused damage of linked websites are the exclusive responsibility of their operators.
Privacy policy
A PDF with our privacy policy can be found here.